First Ascent Seaba Heli guide Jacket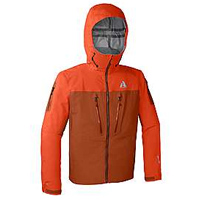 The First Ascent mantra is "Everything you need and nothing you don't". This is a solid foundation from which to build anything, it ensures you are putting thought and planning ahead of results. It's also the mantra that most backcountry skiers use to plan their outing each day, why wouldn't you? Who in their right mind would carry a full (glass) bottle of hot sauce to a three day cabin trip – don't answer that, I have seen it done. Further to this underlying Mantra, Peter Whittaker states "What can we get rid of without compromising functionality? Bells and whistles are just extra weight. We won't carry them." We will discover if this mantra is taken to heart, goes too far or not far enough and if this is on target for the backcountry skiing enthusiast.
Old Brand / New Brand:
The Eddie Bauer company (creators of the original 'puffy down jacket') was formed in 1920 by its' name sake in Seattle Washington and recently expanded its market reach in 2009 by creating the outdoor adventure brand 'First Ascent'. First Ascent features products which are designed and tested by mountain guides (true story). The entire First Ascent brand is over seen by Mountain Guide Peter Whittaker – son of Jim Whittaker, the first American to climb Mt. Everest in 1963.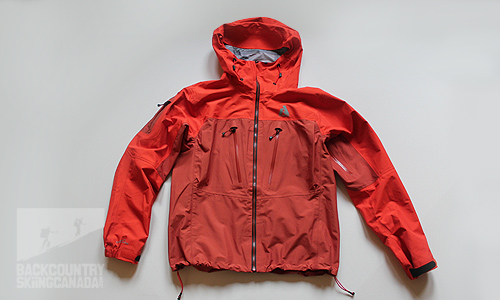 What you need:
The Seaba Heli Guide Jacket has many of the features we all crave in a solid backcountry ski jacket. I have listed those below but I wanted to cover a few of the most/least successful ones before we go any further.
All First Ascent jackets that we have tested put a priority on pockets. The two chest pockets are deep and can carry anything you can throw at them. With their deep pocket design things stay put even if you forget to secure the zipper fully. One of the chest pockets incorporates a media port to allow you to pass through a headphone cable, this is also integrated on the inside chest pocket allowing for multiple media storage options. Their is also an large mesh interior pocket for storing a toque (winter hat for our American readers) or light skinning gloves. If First Ascent had integrated another of these mesh pockets on the opposite interior side then they would easily accommodate a climbing skin each and be a huge asset to any backcountry skier. All of the exterior pockets come with an integrated gear loop perfect for affixing your keys or other valuables to.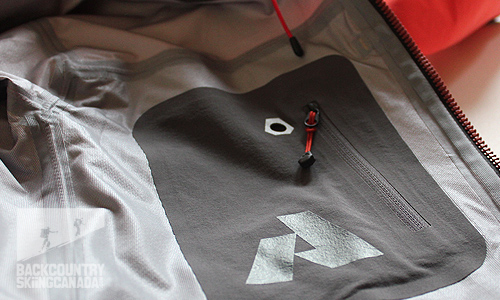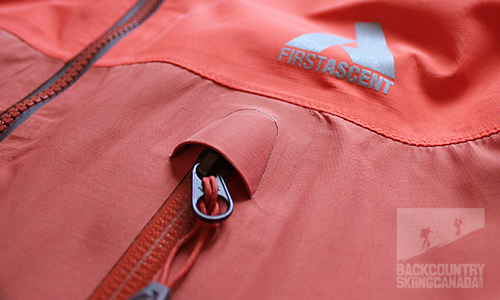 The high collar on the Seaba Heli Guide Jacket is great for when it starts storming out but it's border line 'Saturday Night Live' in size. This thing is huge, when not in use its fleece lining collects snow and this can be problematic. It would be ideal to be able to turtle the collar with the integration of a top draw string such as the First Ascent FrontPoint Jacket does. The FrontPoint also uses a smooth Nylon, Polyester blend instead of fleece on the inside of collar which is still soft on your face but does not collect snow.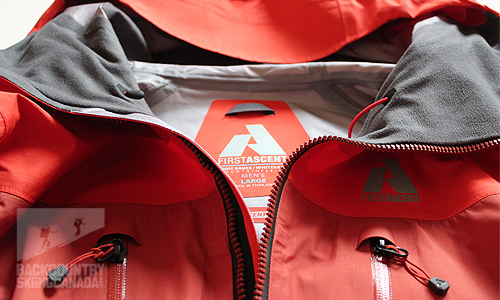 Some of the things that the Seaba Heli Guide Jacket doesn't have are a powder skirt and a stowable hood as these features would add extra bulk to the jacket. The slim fit design of the jacket along with the ability to tighten the waist has done away with the need for a powder skirt. I would personally prefer a stowable hood as it keeps it out of the way and dry for that rare time when you need it - thats just me.
Waterproof and breathable: Rugged three-layer 4.43 oz 70-denier WeatherEdge® Pro Fabric with StormRepel™ durable water-repellent (DWR) finish; rated to 20K/20K (more on this below).
Large Ergonomic pockets: Two large bellows pockets and two sleeve pockets placed out of the way of harness and pack straps.
Recco reflectors: Enables rapid directional pinpointing of one's precise location using harmonic radar.
Pit Zips: Long underarm zippered vents for breathability.
Water-resistant zippers: Sealed to eliminate need for flaps.
Fit: Articulated elbows facilitates easy movement, slim fit cut closer to the body eliminates bunching or binding.
Integrated Hood: Fits easily over a climbing or ski helmet.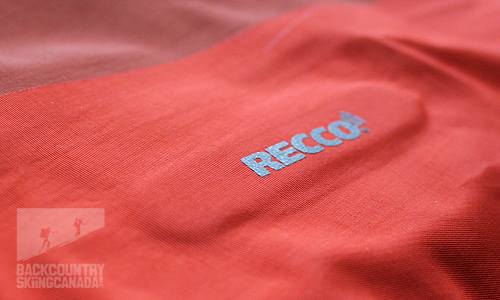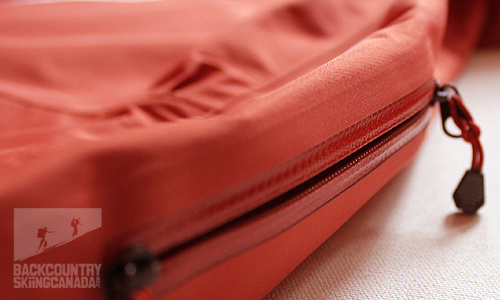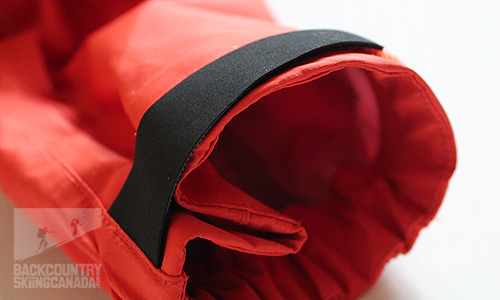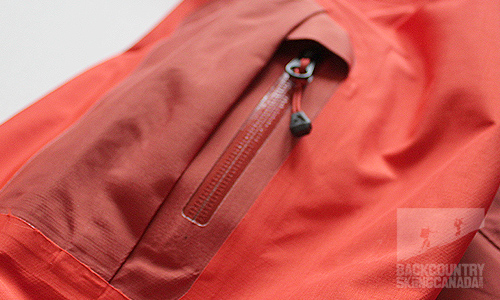 Waterproof with WeatehrEdge® Pro:
First Ascent uses there own waterproof material called 'WeatherEdge Pro' which consists of a 3-layer 100% polyester waterproof/breathable barrier with 'StormRepel™ durable water-repellent (DWR) finish to give this fabric a 20,000mm/20,000g rating. What this means is that the fabric can withstand 20,000 mm of water suspended over its surface before moisture seeps through. The second number shows its breathability: In 24 hours, it allows 20,000 grams of water vapour to escape per square meter of fabric. This is the same rating for most tent floors so you know it is water proof and WeatherEdge Pro is rated to be stronger and Lighter that other fabrics on the market.
The Verdict:
The Seaba Heli Guide Jacket was designed for/by the Seaba heli ski guides in Alaska so you know this thing has got to be tough. It will withstand abuse and a good Alder thrashing in the backcountry but its beef may be a little fat for the average backcountry skier. It is bulky and heavier than many other jackets out there. This is a heavy duty jacket ideal for all round use – mountaineering, resort, cat and heli-skiing. If you're looking for a more barebones, touring specific jacket the First Ascent Front Point (reviewed here) would be my go to choice.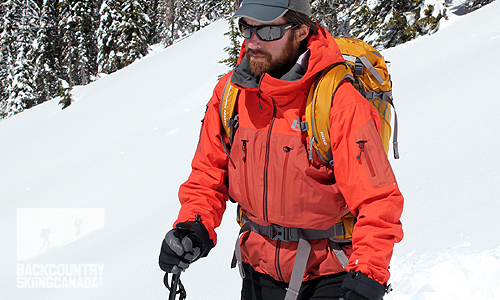 SPECS:
Price: $399 US
Colour: Picante (orange)
Fabirc: 100% Nylon
Size: S, M, L, XL, XXL
Weight: 20.2oz / 572 g
PROS:
A well designed, tough jacket that can take what it's made for - Mountain Adventure/fun.
CONS:
Stow-able hood would be a nice feature to add - keeps it dry and ready for the odd time you need it. The large collar collects snow due to its fleece lining. It would be good to integrate a high collar draw cord to be able to turtle the collar around your neck. A bit beefy for a backcountry skiing jacket specifically but welcome on those blistery storm days.
Rating: 8/10
Fit / Mobility 1.5/2
Packability 1/2
Waterproof / Breathable 2/2
Features 1.5/2
Quality / Price 2/2

This is only our opinion. Do you disagree? Did we miss something? Are we totally out to lunch? Join the discussion in the forums here, and let us know what you think. People like/dislike gear for different reasons so chime in and we'll get a well-rounded evaluation. Check back mid-season to see how our review stands up to our in-the-field testing.
Back to the rest of the reviews.
---