Alpine coming in.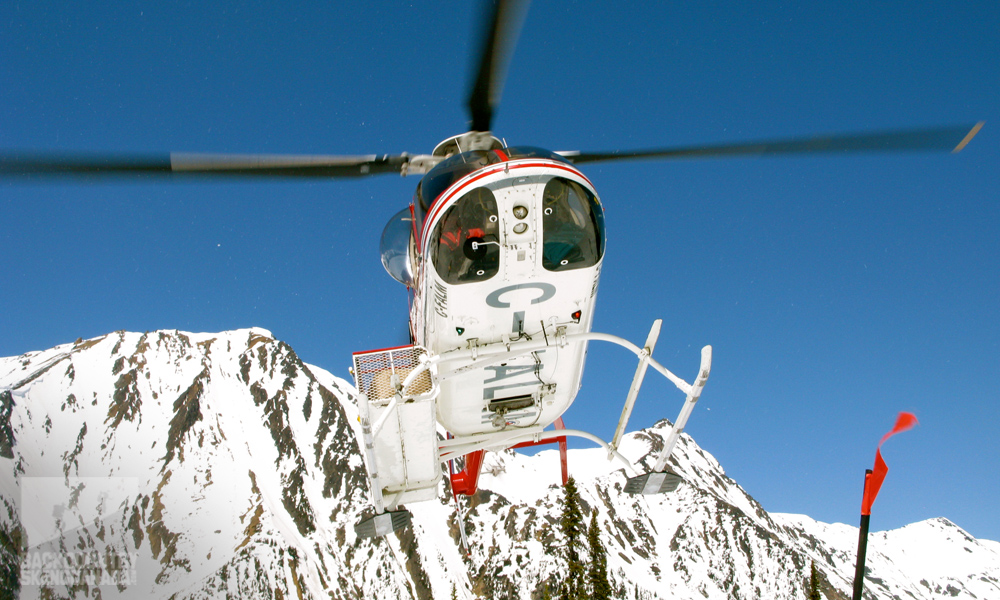 Bill Putnam (Fairy Meadow) hut.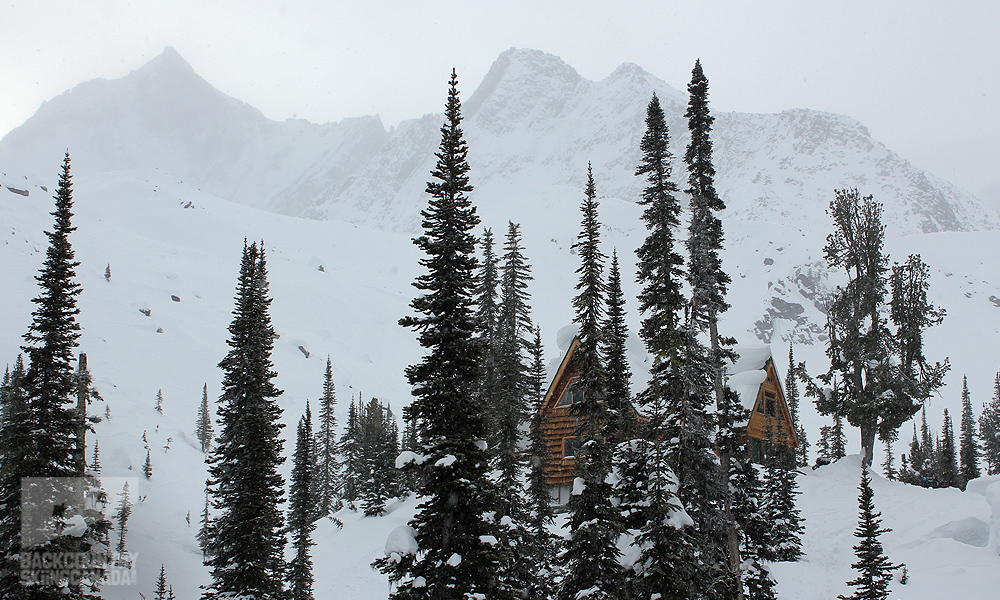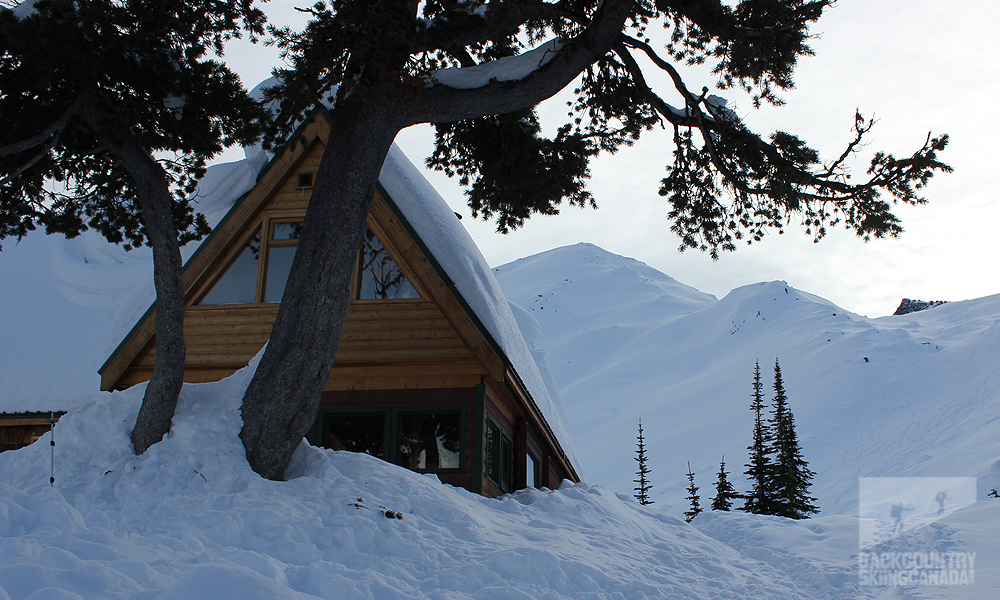 The Fairy Meadow hut is situated in the heart of the Selkirk Mountain range, right on the edge of the Granite Glacier, the Echo Glacier and the Gothic Glacier. It is what I would call a traditional old school hut. There is no running water, only outside biffies (2) and communal dorm style sleeping arrangements for 20. But it does have lots of propane burner stoves (8) for cooking, an oven, propane lights, a big kitchen with all the fixings, a large common room with a wood stove, and three large tables so everyone can gather after a great day and tell their stories of thrills and spills.
Nice wood burning stove with lots of drying room.

The large common area.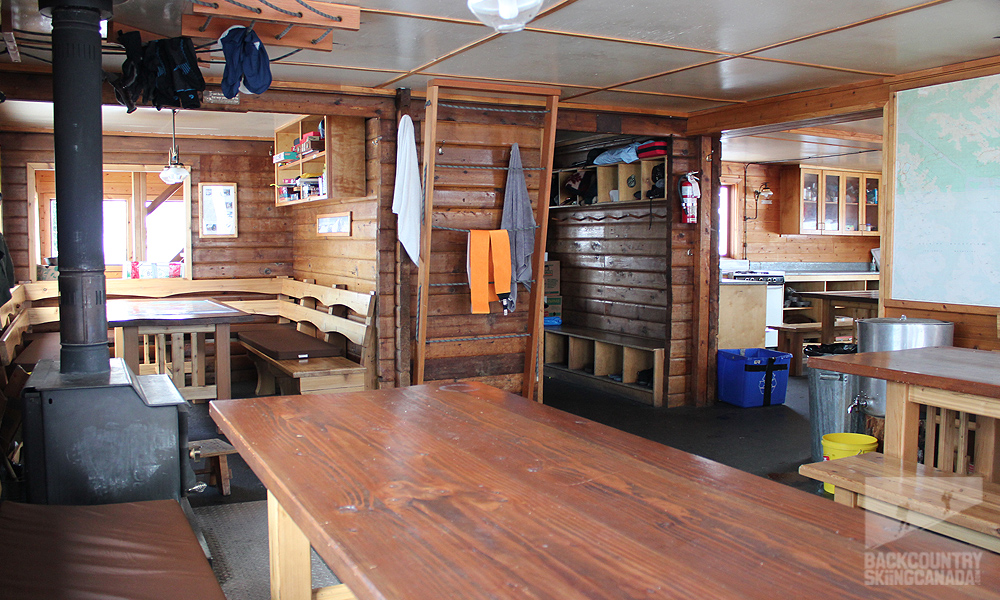 Full open kitchen.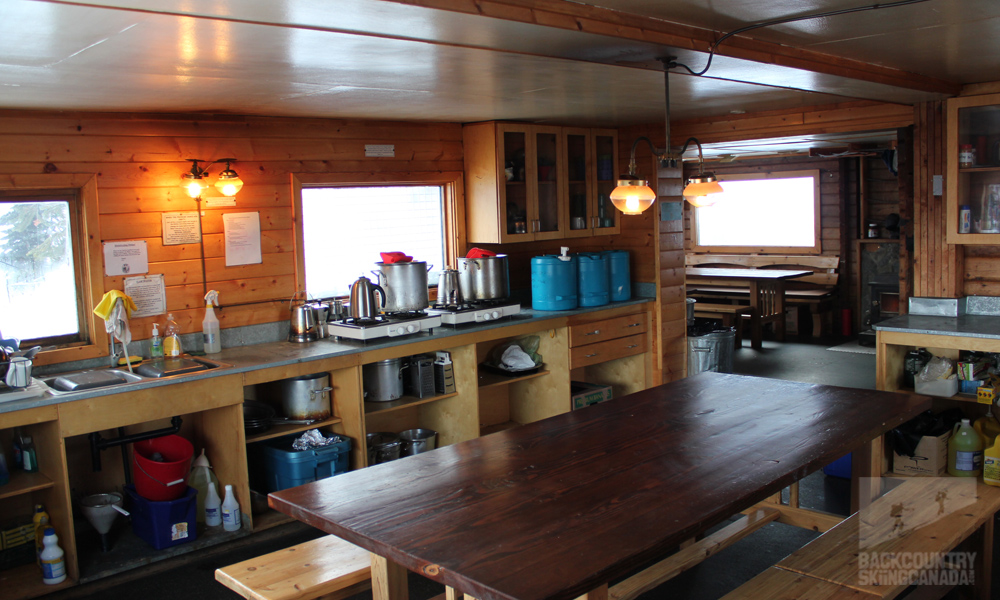 As our pilot from Alpine air brought us into the landing zone, I thought of the last time I visited this hut. It was in May of 2007 and at that time I was more zoned in on climbing in the area. Now being January, the heart of ski season, my thoughts were turning to steep chutes, pillow lines and epic tree runs. Would Fairy Meadow deliver the goods?
The first day was the day to find out. As with all hut trips the greatest enjoyment is the diversity of the other people in the hut. Our crew was a mix of folks from Whistler, Golden and a crew from Washington. For our first day we got to tour with Marilyn, a gal from Whistler. Marilyn was the oldest of our crew at 58, but you would hard pressed to see that as she charged up the mountain leaving us gen Xers in her wake. After sticking our head in the snow, we opted for the trees the first day. We were not disappointed, we found some great tree skiing with epic pillow fields and steep and deep tree skiing. After covering over 4500 vert in 4 laps we all returned to the cabin with smiles on our faces and stories to tell.
Skiing off of Echo Glacier.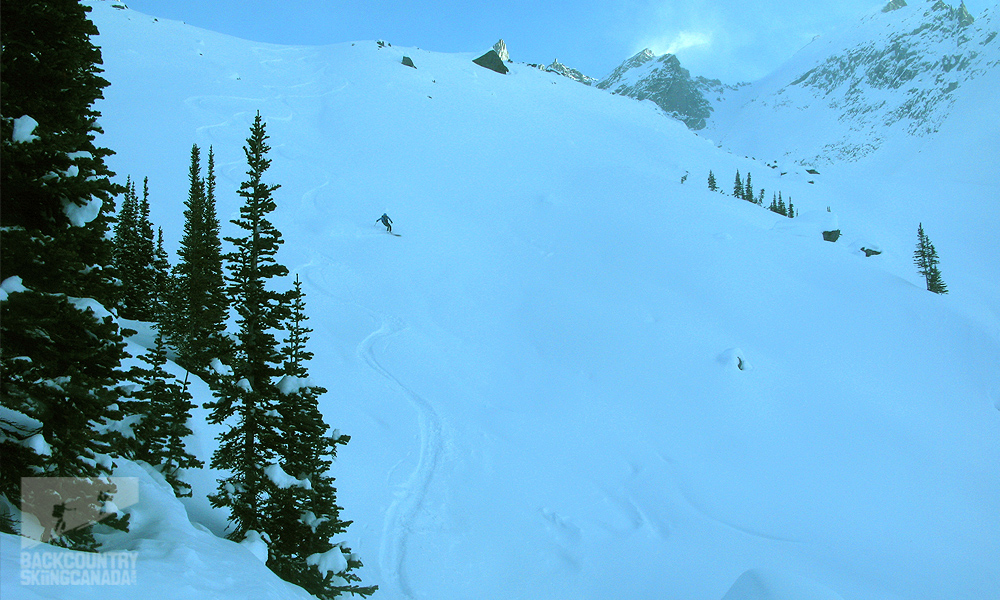 On day two, it was time to get up high. This is what I remembered about Fairy Meadow and knew well that Pioneer peak is a great destination. After touring up through friendship col we got on the Gothic Glacier. The traveling was easy up here as the glacier is not that slotted. Harnesses and rope still mandatory, but the traveling is straight forward. We opted for the west shoulder of Pioneer for our ascent, but due to the limited snow this year, the final 50ft was rock so we had to be satisfied with views off the ridge. Oh, to have such hard choices in life. From this ridge we saw Sir Sandford coming out of the clouds and Gothic peak standing like a sentinel before us. To say the views were stellar would not do justice to mother nature.

Climbing the shoulder of Pioneer peak.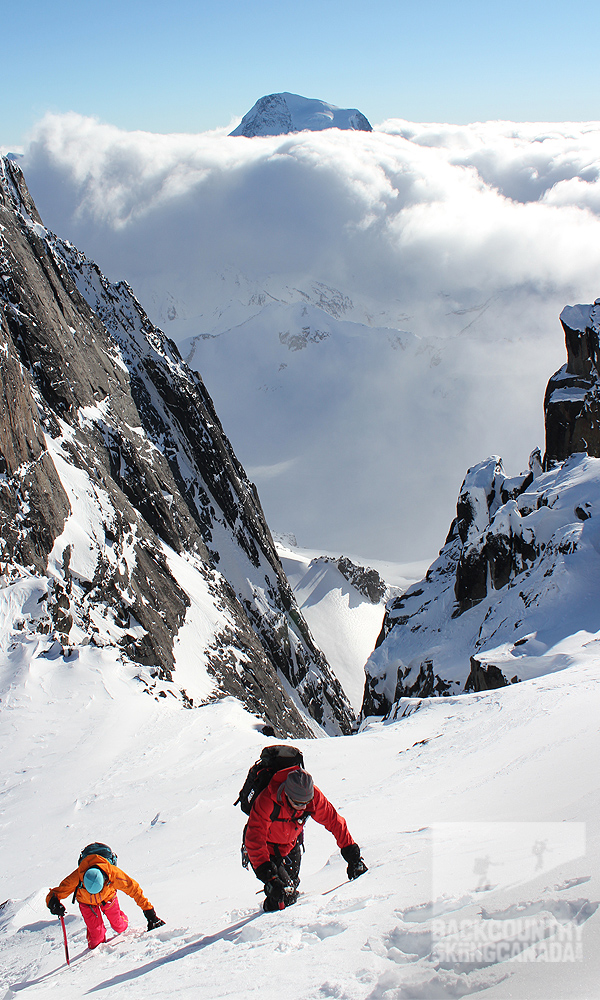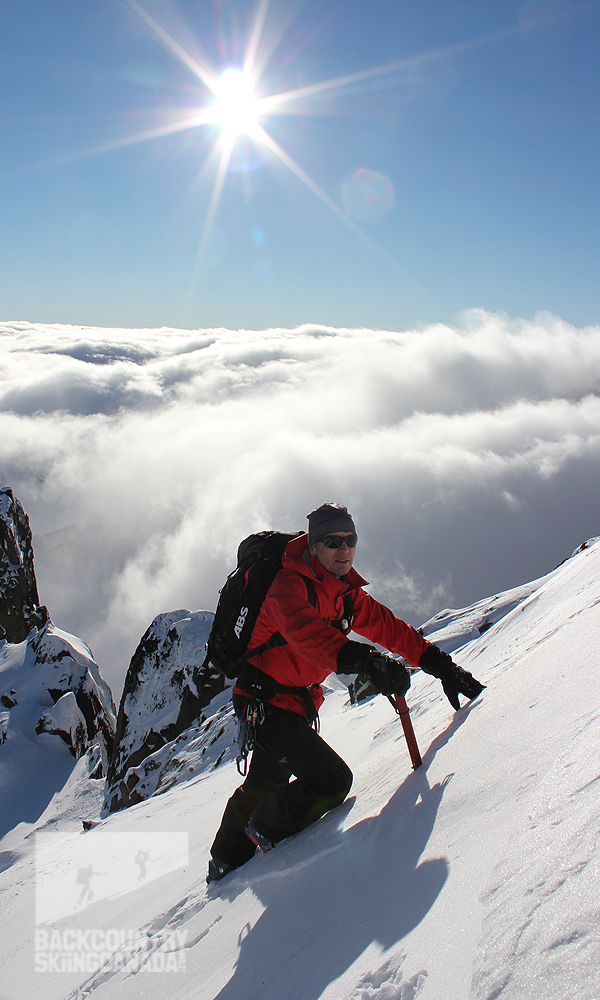 Below is an image of our route as recorded by the Suunto Ambit3 GPS watch to view this on our Backcountry Skiing Canada Moves Count page click here.
>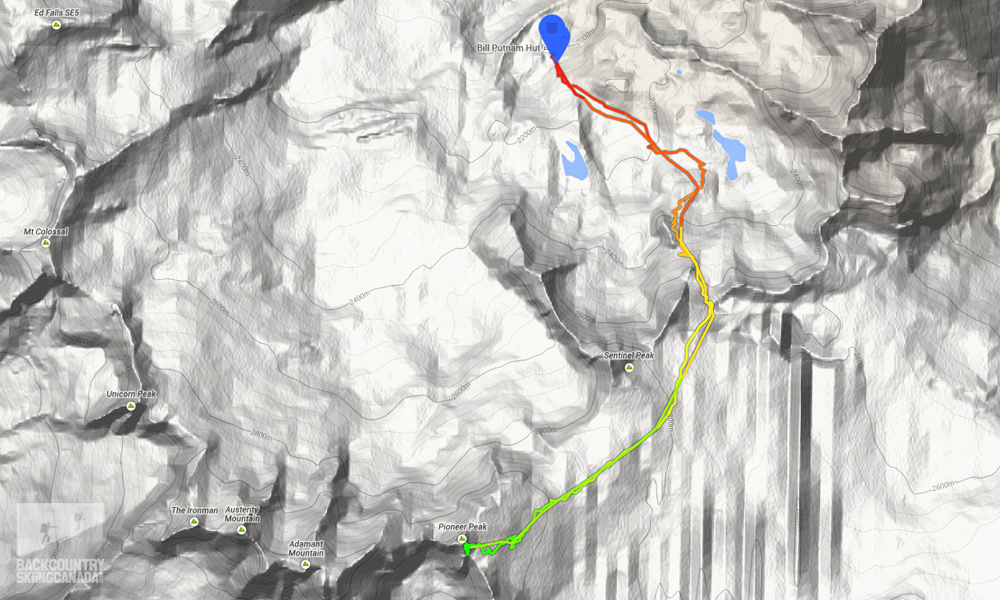 (Click on the images for a larger view.)
On day three, we chose to tour up onto the Granite Glacier. From here our destination would be Mount Colossal. Travel to the Granite Glacier is fast from the hut, but traveling on the glacier here does require more attention. The slots are bigger and the consequences severe for those who do not give them the respect they deserve. With harnesses and rope, we probed our way over snow bridges toward the peak. Again, the northeast ridge is described as an easy snow walk to the summit, but maybe because of the low snow year or just the new norm thanks to global warming, we meet an impassable rock buttress about one quarter of the way up. We backtracked and climbed a steep couloir to re-access the ridge. Much to our chagrin the weather moved in and our visibility dropped to 25ft., so it was time to go. We still had a great ski off the ridge and back below the clouds to the cabin.
Roped up on Granite glacier.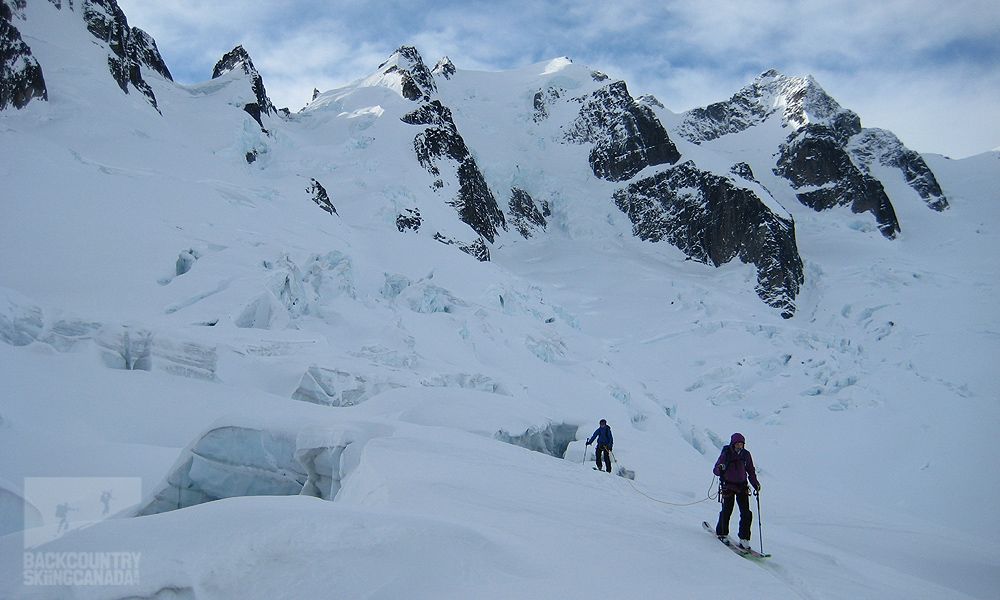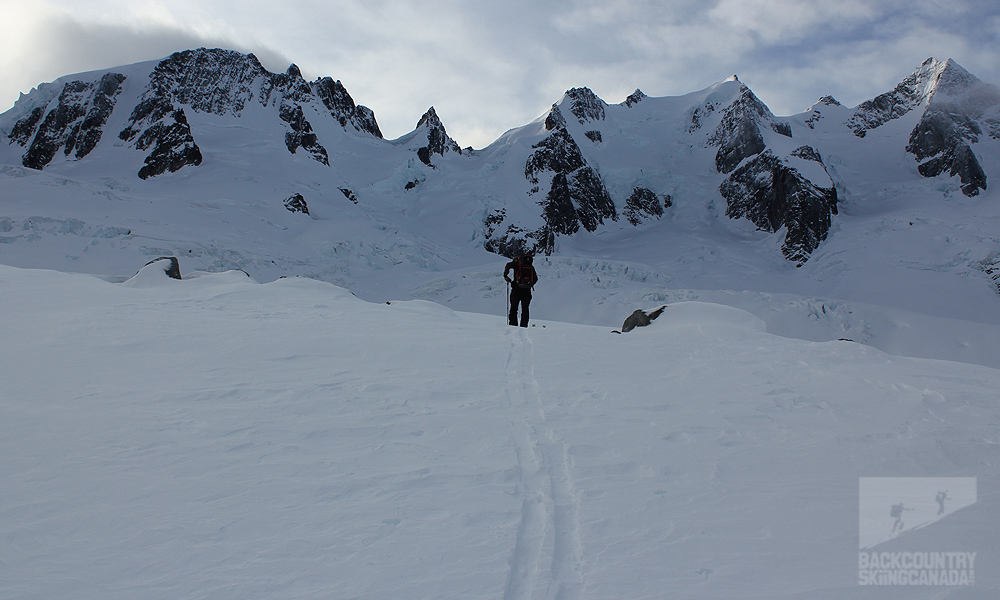 Below is an image of our route as recorded by the Suunto Ambit3 GPS watch to view this on our Backcountry Skiing Canada Moves Count page click here.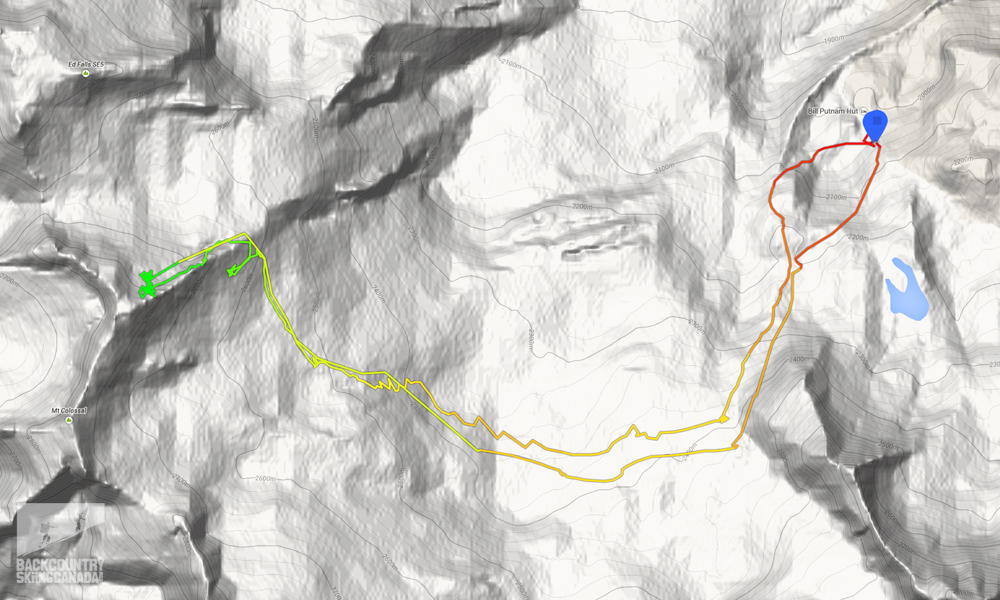 As day four rolled in we still had good visibility up high so the thought was to do a third day in the alpine. This time we would travel to the Granite glacier again but the objective would be to climb Pioneer pass and get back on to the Gothic glacier and explore Fria pass. The weather held for us and we enjoyed a sunny day in the alpine with moderate to high winds. The travel through Pioneer Pass proved reasonable with big slots to be navigated and high icefall to keep an eye on. But once we were through the pass the travel on the Gothic glacier was straightforward. We made good time and before we knew it we were on top of Mount Fria looking southwest toward Sir Sandford. After a few quick pictures, we clicked in and started our return to the cabin through Friendship col. The travel was fast and before we knew it we were again warm and dry enjoying the many comforts the Fairy Meadow hut had to offer.
Fria pass on the Gothic Glacier.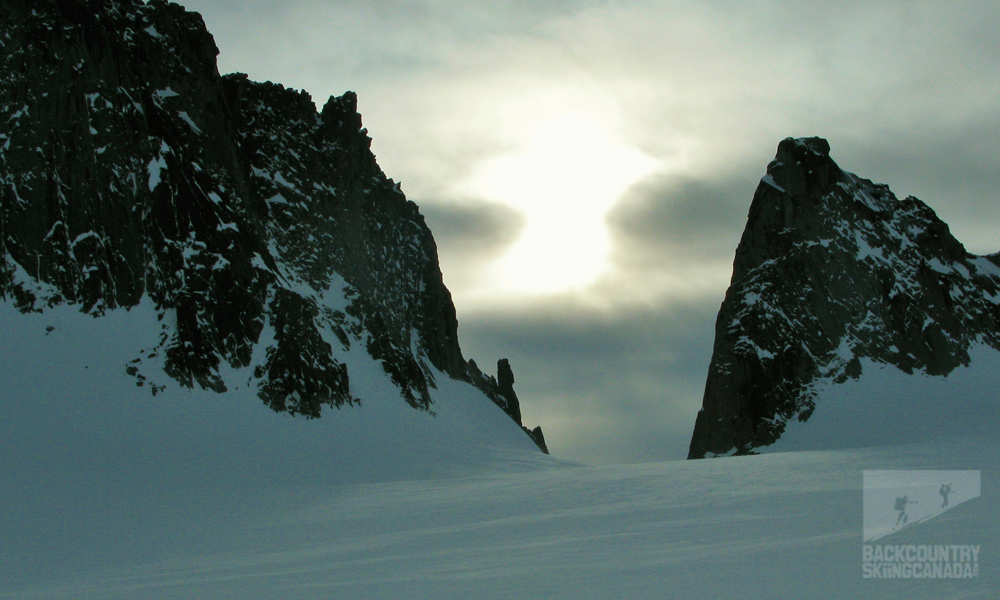 Below is an image of our route as recorded by the Suunto Ambit3 GPS watch to view this on our Backcountry Skiing Canada Moves Count page click here.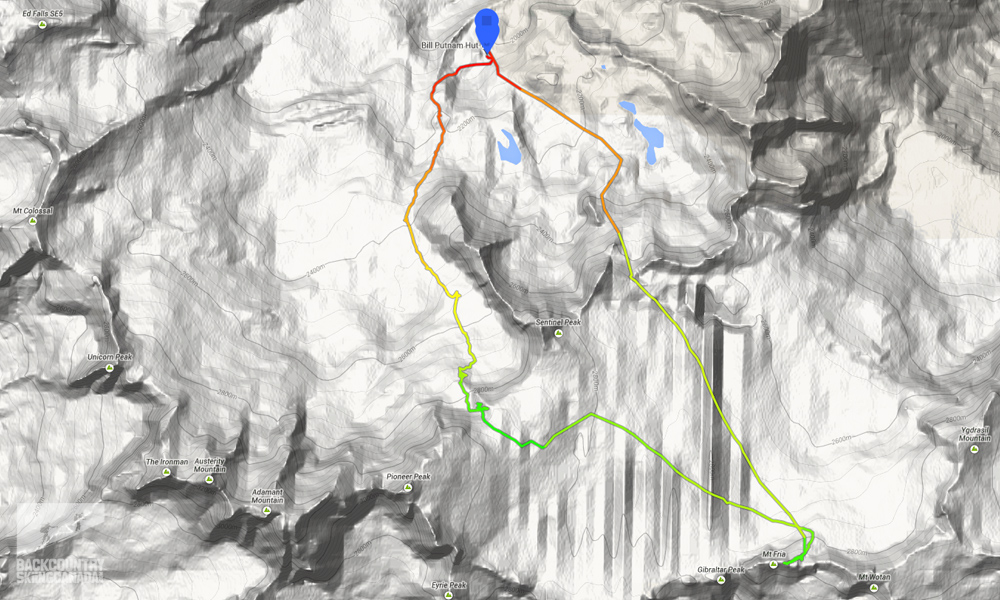 On day five what was left to do? Steep couloirs had not yet been checked off and Outpost peak was just calling us. From the kitchen window of the cabin, you can see this 800ft 30 degree couloirs, so this would be our objective for day four. We left the cabin and skied a great tree line down to the glacial moraine to access the far ridge that would lead up to the base of Outpost couloir. After some deep post holing and high winds we were ready to clip in and start our descent. Again, as with most things at Fairy, we were not disappointed. In and out of a sun-filled couloir with calf deep snow, we left some epic s-turns down the 30 degree face.
Climbing up Outpost couloir.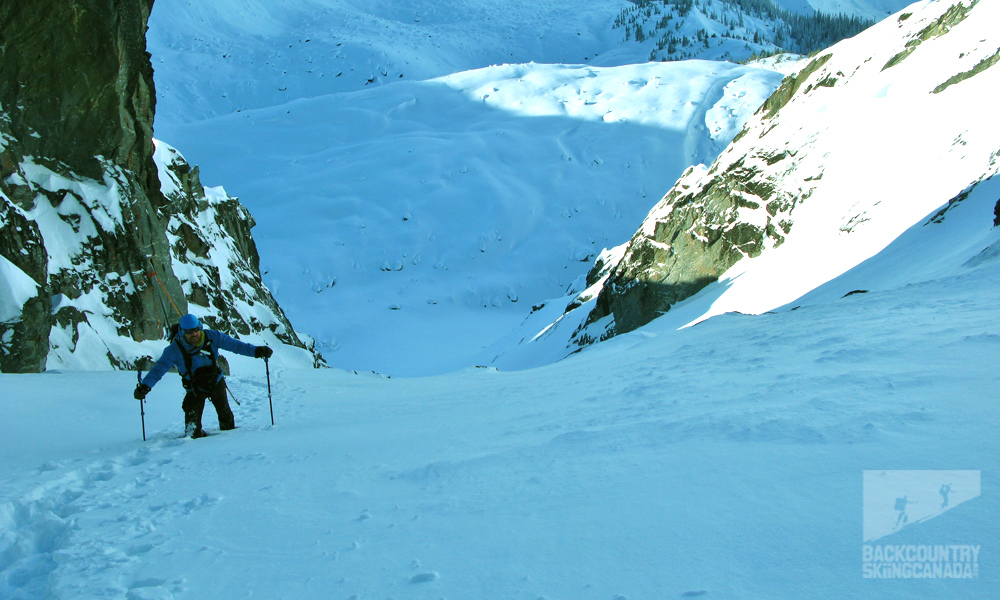 Our ski lines off Outpost couloir.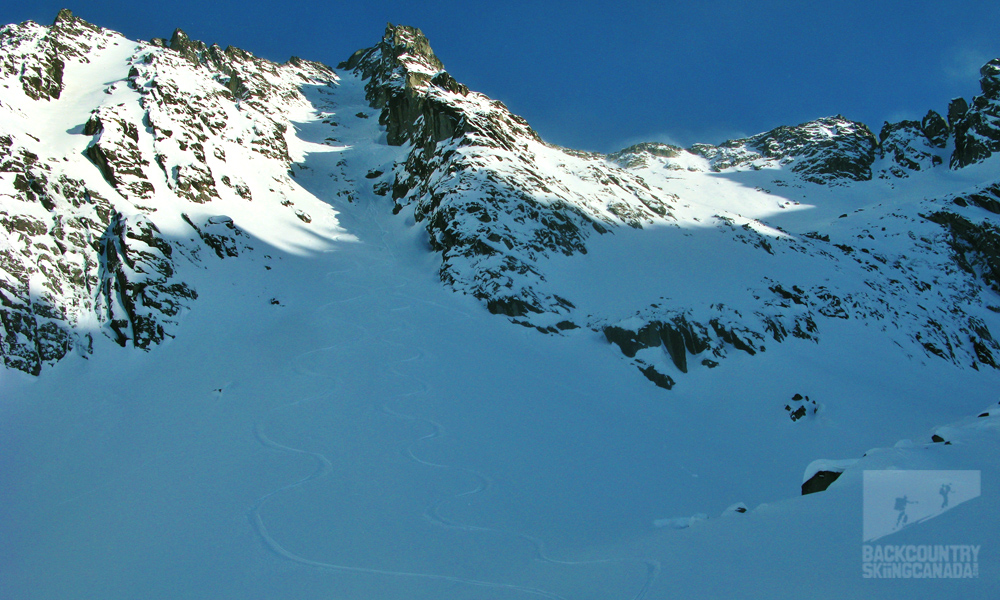 As we waited for the heli for our ride back to civilization, I thought about the week. Where else could I have got up high, jumped on a glacier, skied some great treed lines and got to ski a stable 800ft couloir. Bill Putman should be proud of the hut he helped build at Fairy Meadow. Bill passed away earlier this year at the age of 90, but left us all with a great place to explore both for skiers as well as climbers.
SPECS:
Location: In a grassy meadow in the Adamant Group of the Selkirk Mountains, BC
Open: year round
Rates: $25 members, $36 others
Sleeps: 20
Amenities: 8 propane burners, propane over, propane lights, sleeping foamies, wood stove.
Extras: Wood Sauna for 10, hot shower
Map and Grid Reference: 82N/13 (Sullivan River); Grid Reference 394352
GPS: 51°45' 48"-117°52' 36" NAD83 11U 439500 5735079
Hut Elevation: 2,050 meters (6,700 feet)
Access Description: Helicopter from Golden.
Rating: 8.5/10
Comfort 1.5/2
Accessibility 1.5/2
Terrain 1.5/2
Amenities 2/2
Quality/Price 2/2
PROS:
- Easy access to glacier travel
- Good tree skiing
- Great access to long travels in the alpine
- Old school hut to get away from it all (leave the cell behind)
- Great sauna with shower
- Large cooking area and lots of room for friends and stories
- Economical price at $930.00 self guided and self catered
CONS:
- Long flight in
- No creature comforts; wifi, power or running water
- Open sleeping (not good if you have snorers in your group)
- Lottery system to get your week
This is only our opinion. Do you disagree? Did we miss something? Are we totally out to lunch? Join the discussion in the forums here, and let us know what you think. People like/dislike lodges for different reasons so chime in and we'll get a well-rounded evaluation.
Back to the rest of the reviews.
---
A few more photos of the terrain and hut...