Exped Ultralite 500 Down Sleeping Bag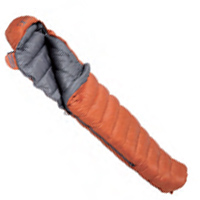 In 2009 Exped completely changed my backcountry sleeping experience. Until that time I had endured innumerable nights on a well-known brand name sleeping pad, which was like sleeping on a slice of tissue paper. No matter how tiny the rock, root or rodent underneath me, I could feel every poke and prod the second I lay on my back. Then along came Exped's Downmat 7 and suddenly I was sleeping on what felt like a warm, queen-size mattress. And I didn't have to sacrifice that much weight! So when I received the Exped Ultralight 500 sleeping bag to review, I was curious to see if the company would further transform my backcountry snooze experience – and I wasn't disappointed. The Ultralight 500 is comfortable, cozy and, above all, light. In fact, this bag is all about gram savings: by incorporating a super light-weight fabric, a 3/4 length zipper and 840 fill Down, Exped has ensured the Ultralight is indeed well named.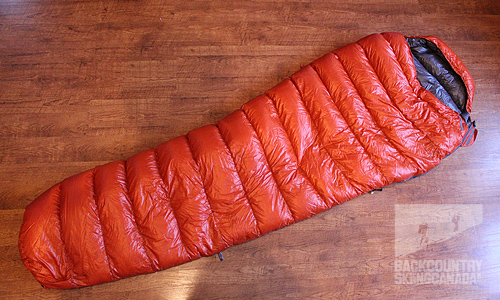 Features:
- Anatomically shaped hood that's easy to adjust with a single draw cord.
- 20 denier ripstop nylon which, unlike some types of nylon, is comfortable and quiet – not a lot of rustling noise when you move about in it.
- 840 fill Polish Goose Down that's certified sustainable and not plucked from living geese.
- 3/4 length zipper that "locks" into a padded housing pocket.
- Chin guard
- Moisture blocker
- Overlock stitching
- Draft Tube that prevents air from circulating through the zipper.
- Angled and trapezoid foot design
- Lengthways tricot baffle
- Bar tacking
- Hanging loops at the food end
- Ultralight roll-top dry sack
- The mesh storage sack that's also included with the bag doubles as a bug net.
Lots of loft with 850 down fill and a zipper baffle and hood.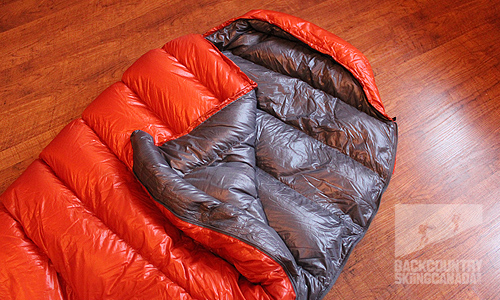 Velcro closure at the hood with a self velcro flap to keep it away from your face.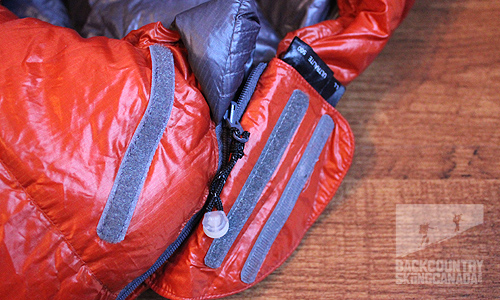 Hood cinch.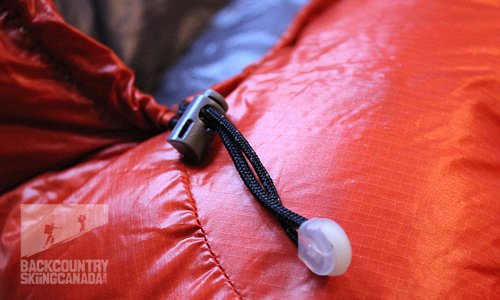 Lower two way zipper.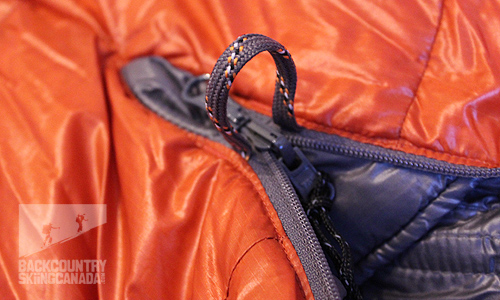 Hang loops at the end for hanging and drying.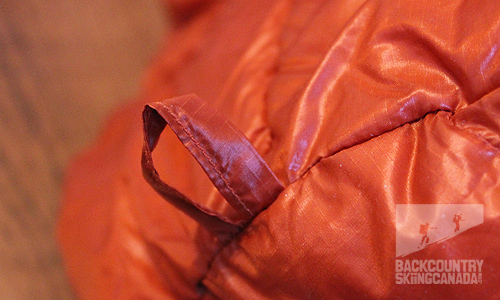 Waterproof storage compression sac included. Nice.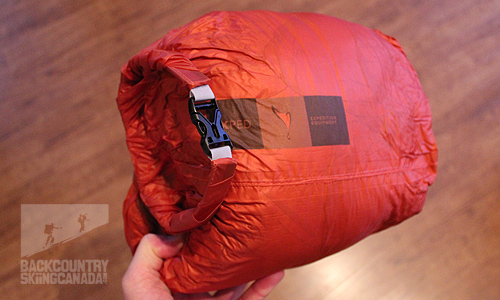 Mesh storage bag included.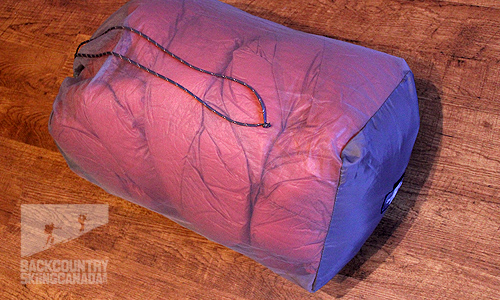 Verdict:
I first used the Exped Ultralight 500 at the Ripple Ridge Hut near the Salmo-Creston pass in southern BC. This hut is tiny and because the sleeping quarters are in the loft, it can get pretty warm when the stove is stoked. With a –1°C EN temperature rating (EN stands for "European Norm" and it means Exped has hired a third party to do the lab testing), this bag was perfect for that scenario. Had I chosen to bivy outside in a snowcave like my friend Nick (and thereby avoid the horrific snoring of my bunkmates) I definitely would not have used the Ultralight. The company bills the bag as a three-season but, again, in a warm hut environment where it's hot at the beginning of the night and chilly in the morning, this bag is perfect. I was impressed with the size and shape of the Ultralight and found that it hugged my 5'11" frame (although there was a bit of empty air in the toe area). When I moved, the bag moved with me, which is important to me considering I tend to roll from one fetal position to another. Also, the Ultralight didn't make a lot of rustling noise like other bags made from nylon tend to do. (Not that anything could have been heard over the snoring anyway.) The Texped PA35 nylon material is silky soft and the shape and give of the bag ensure I don't feel the least bit claustrophobic. The draft tube prevents air from circulating through the zipper and the padded chin guard where the zipper toggle rests is a nice touch. (Although the company could have put a bit more Velcro on the chin flap as I found it unfastened in the middle of the night.)
The best part about the bag however is its size. At just over a pound, the Ultralight is one of the lightest on the market that is rated to below zero. It stuffs down to the size of a small loaf of bread with the supplied stuff sack and, I should mention that when I used a Sea to Summit compression bag (size small), I could squish the bag down to the size of two pairs of thick wool socks. Since the Ripple Ridge trip I've tried to zip the Ultralight together with various other brands of sleeping bags to test whether my girlfriend and I would be able to sleep duvet-style and I found that because of the 3/4 length zipper there were few other bags that would match up. (The company does give you a choice of left or right zippered bags.) That's something to consider if you prefer snuggling with your partner in the backcountry. Overall, though, this bag is proof that Exped definitely cares about how well you sleep outside your bedroom.
Comfy-cozy.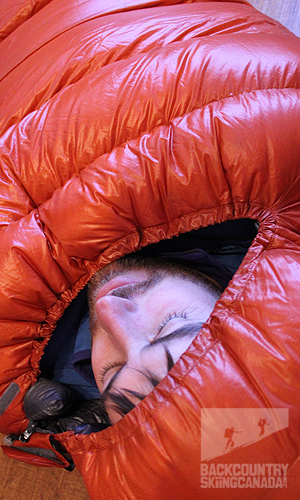 SPECS (for size Large):
Price: $529.00 CAN
Temperature limit: 5°C (comfort) to –1°C (lower limit)
Width: 73cm (shoulder) – 28.7 (foot)
Length: 225cm
Weight: 820g
Packed Size: 22x22cm
Insulation: 840 down
Fill weight: 500g
Fabric: Texped PA35 ripstop nylon
Colour: Orange
PROS:
LIGHT! It rolls up into a tiny ball and at only 820 grams is one of the lightest sleeping bags on the market
CONS:
With a temperature rating of –1°C, this bag is suitable for the backcountry cabin with a wood stove but not for winter camping and it's on the pricier side of things.
Rating: 8.5/10
Warmth 2/2
Compressibility 1.5/2
Features 2/2
Weight 1.5/2
Quality / Price 1.5/2

This is only our opinion. Do you disagree? Did we miss something? Are we totally out to lunch? Join the discussion in the forums here, and let us know what you think. People like/dislike gear for different reasons so chime in and we'll get a well-rounded evaluation.
Back to the rest of the reviews.
---