Rab:
We had the opportunity to test some outdoor clothing for Rab, who manufacture a wide range of products specific to the conditions we expected. Items included the Rab Infinity Down Jacket (for women), the Rab Heuco Pant, the Rab Sawtooth Pant, the Rab Scimitar Pants, MeCo Longsleeve Zip Tees, Phantom Grip Gloves and beanies. For the peak we also took our heavy-duty, trusted Rab Latok Hard Shell Jacket which we reviewed back in 2011. Each of these pieces performed exceptionally well. The Infinity Down Jacket was indispensible from 3500m and the MeCo tees kept us warm and more importantly odourless despite almost two weeks without a decent shower. Thanks to Rab we had the right gear for the job and it made the adventure a heck of a lot more comfortable.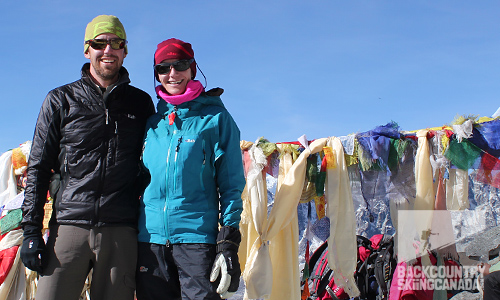 Some of the rab products on the summit of Lobuche East Peak at 20,000 ft with Mount Everest in the background.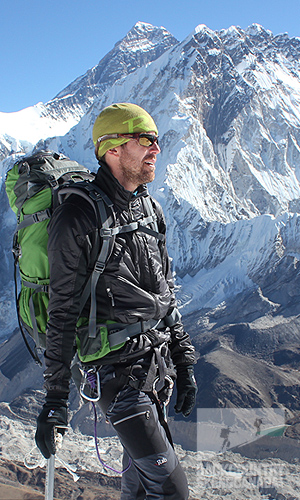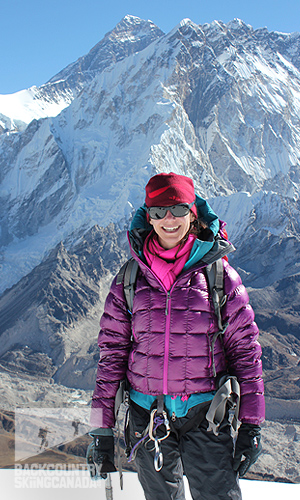 Trip Planning:
Trawling the internet for information had us turning up confusing results. Did we need a permit, did we not? How much is a permit and how do we get it? Is the peak glaciated? Did it require placing gear? Can we rent gear? Where? Then ... what's the weather like? How far below zero does it get to? What supplies are available? Do we need to take a tent? A sleeping matt? ... you get the idea. We backcountry ski and mountaineer here in Canada, we like to be self-reliant but we had a limited time frame for the trip and I was aware that in Nepal time was a commodity you needed in abundance if you wanted to be independent. I was starting to let go of the pride I had in being completely self-sufficient but my travelling companion wasn't there yet. Coincidently the Nepalese government announced the introduction of a law that trekking with a Nepali counterpart (aka guide/porter) will become compulsory in October 2012, this put a chink of doubt in his self-dependant idealism.
At odds with the information we could get our hands on, an old friend of mine still living in Kathmandu recommended the trekking company Himalayan Trails in Kathmandu. This was a turning point for us in organizing the trip as we could finally get solid on the ground answers and develop a reasonable itinerary with them via email. We settled on seventeen days—flying into Lukla, heading up the Gokyo Valley to Gokyo Lakes over Cho La Pass then climb Lobuche Peak and on to Everest Base Camp returning to Lukla down the Khombu Valley. Himalayan Trails then took care of everything, flights, permits, transfers and they introduced us to a climbing guide that would accompany us for the entire trek and who could get us onto the summit of Lobuche Peak (a climbing guide is compulsory by law for any trekking or climbing peak in Nepal).
Guide or no guide?:
Any doubt that was left in my trekking partners mind about whether taking a guide was a good idea quickly dissipated as we entered Kathmandu Domestic Airport on route to Lukla. October is one of the busiest trekking periods in Nepal and as we waited to check into our flight amidst (organized?) chaos in a sea of luggage, he turned to me and said: "I think the guide was a good idea". Our guides name was Chhiri, you can see his smiling face in the video above. Chhiri became our valued friend over the course of the trip, we developed a great appreciation for his local knowledge and a deep respect for the hardships he had experienced trying to eke out a living as a porter and now to a much lesser extent as a guide in the mountains of Nepal.
The eldest son of a large family, Chhiri left home to start working as a porter in the mountains at age 11. He worked to provide for his family, spending some years working with teahouses and then others with different expedition and trekking companies. Already fluent in Rai (is birth language), Sherpa and Nepali language he taught himself to speak English by speaking with tourists. Well into his twenties he becomes friends with a Canadian trekker who sponsored him to become a certified mountain and climbing guide. This was a turning point for Chhiri, as a guide he could make a decent wage and improve his working conditions as well as his families quality of life.
Chhiri nearing the summit of 20,000 ft Lobuche East Peak, smilling as always.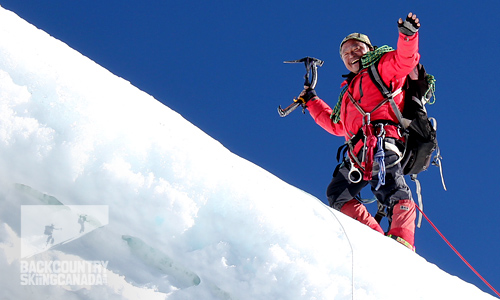 Chhiri leading the charge with the summit visible in the background.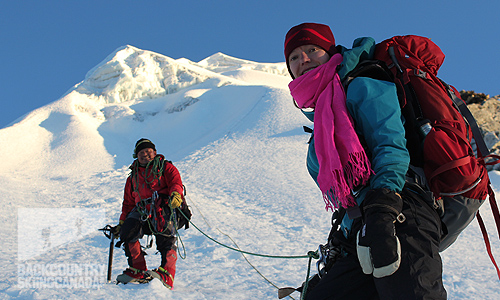 Chhiri setting the fixed ropes for the last 100 meters to the summit and then on the summit (still smiling of course).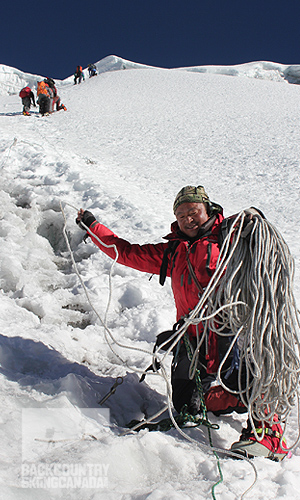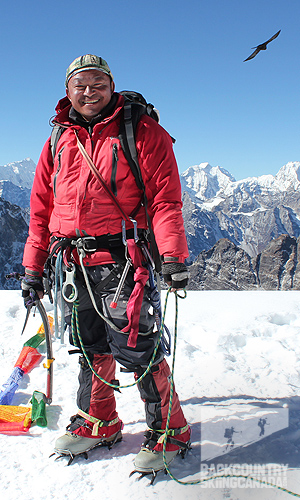 Life of a porter:
Historically, life as a porter in Nepal has been difficult, dangerous and unrewarding, only recently have regulations been made on the weight they are permitted to carry, though these are not always enforced. While a porter that carries your luggage may be within regulations (30kg is recommended but many we saw where in excess of this). There are some porters who carry more than 100kg of food supplies or building supplies to support and develop teahouses in the Himalaya. Whilst tourists sleep in down sleeping bags in lodges or tents, porters sometimes have to use caves or rocks, sleeping in damp clothes with little to keep them warm. We felt sad to observe the lack of awareness that so many trekkers have for their fellow human beings. Throughout the trek we witnessed porters carrying oversize bags, heard stories of trekkers who had packed hairdryers (there is no electricity in most teahouses), witnessed trekkers buying souvenirs on the way up the trail (and not on the way down) and saw porters carrying loads in flip flops with inadequate clothing all the way up to Everest Base Camp.
Despite the mythical endurance that porters are touted with they are still exposed to dehydration, hyperthermia, frostbite, altitude sickness and accidents. In fact, according to IPPG (International Porter Protection Group) porters suffer from more accidents and illness than Western trekkers. We did carry our own packs, aside from five days where the effects of altitude had me walking as slow as molasses. On those days, our young porter, Bir, carried my pack for me. He had joined us in Namchee Bazaar to fetch the gear we needed for Lobuche high camp. I was grateful to have him along. And have decided that on my next himalayan adventure I will be hiring a porter for the duration where I will pack as though I were carrying the pack myself. I have learned that hiring a porter with ethical working conditions is a great way to contribute to their quality of life and the local economy. If you do hire a porter be sure to tip them directly, we did hear stories of porters tips staying in the pockets of guides or less reputable agencies. Things are looking up for porters these days, there are porters shelters in a number of the busy destinations and there are a number of NGO's working hard to improve working conditions and livelihoods. If you would like to know more there is a tonne of information online.
A typical scene along the trail. A boy probably the same age as our 10 yr old son carrying more than his body weight and an older porter carrying three trekker's packs up to Cho La Pass.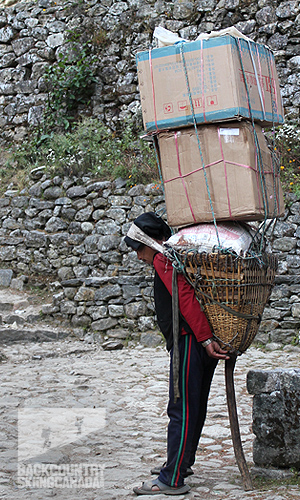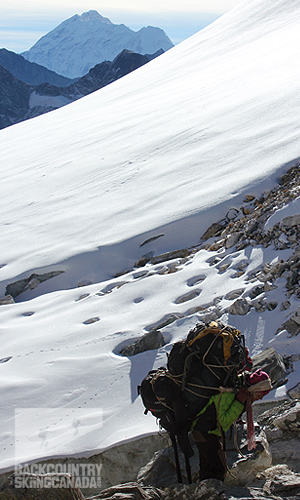 Acclimatization:
Choosing to make the first leg of our trek follow the valley up to Gokyo Lakes turned out to be a great way to acclimatize and get off the busy route striaght up to Everest Base Camp. We had rest days in Namchee Bazaar and Machermo—at every 1000m of elevation gained. Feeling fragile by the time we arrived in Gokyo (4750m) due to altitude headaches and fatigue I saved my energy and didn't make the push with Chhiri and the others up to Gokyo Ri (5483m). I learned the most important thing to do when experiencing symptoms of altitude sickness was to rest, stay hydrated and walk slowly. My counterpart suffered none of the altitude effects that troubled me, just the shortness of breath that came with exertion. Gokyo, is an attractive settlement by a turquoise glacier-fed alpine lake. We would have liked to stay and explore further up the valley to the base of Cho Oyu, however, concerned with keeping a decent weather window open for our ascent of Lobuche we made our way to Tragnag (4690m). Thankfully, this is where the worst of the effects of altitude subsided just in time for Cho La Pass (5420m). Approaching the pass from the Gokyo side seemed easier than coming from the East. There is a small receding glacier on the eastern side of the pass, the rotting ice made it very manageable without crampons, though I would expect this feature would change year-over-year and seasonally. After a night at Dzonglha (4843m) we made our way up to Lobuche high camp (5200m).
Taking it slow is the only solution to avoid altitude sickness.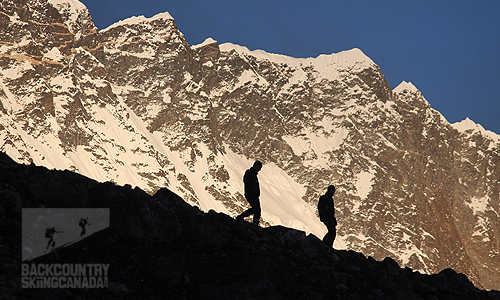 Acclimatizing with smaller day hikes to summits such as Gokyo Ri, no slouch at 15,583 ft.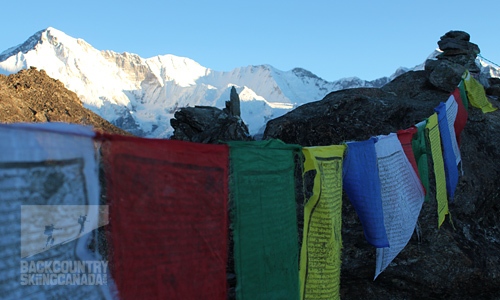 Lobuche – A 'Trekking' Peak:
Nepal Mountaineering Association (NMA) has classified 33 peaks in Nepal as 'trekking peaks' which is somewhat misleading given that all involve some climbing and mountaineering skills. The peaks range from 5650–6500m with some, including Lobuche, being of an accessible climbing grade and high enough for commercial expeditions. All peaks require harnesses and ropes. Lobuche is a popular and accessible trekking peak (though not overrun like Island peak) so we were not alone, there was one other guided group of 8-10 trekkers who also planned to make their ascent the next morning. With the little sleep we could get at 5200m we woke at 3:30am to scramble up the rocks in the dark. This felt like the most difficult part of the climb, the air was thin and cold and dry but fortunately it was still and quiet save the sound of our ice axes tapping on rocks and the intermittent sniffs of our dripping noses. As darkness receded on the horizon our moods lifted. We hit the glacier and roped up just before sunrise. The ascent was fairly straight forward with no major obstacles, only a few crevasses that could be avoided or bridged. For the last 100m it was steep and exposed enough to push our comfort level so we opted for a fixed line that Chhiri deftly set-up. With shortness of breath but high-spirits we made it to the summit of Lobuche East Peak (6000m). The true summit of Lobuche—a very technical knife edge—is seldom climbed.
Lobuche was a highlight, we were fortunate with blue skies and no wind and spectacular views which could easily have been strong winds, poor visibility and poor health. Despite the ideal conditions, it wasn't easy or comfortable to be at elevation, we reflected on how much simpler mountaineering is when you don't have the elevation to contend with. From Lobuche Peak we made our way down to Lobuche stopping only for lunch at high camp. My tent companion collapsed with exhaustion in the tent as we stopped for lunch, he hadn't slept a wink the night before and barely had it in him to eat. By the time we made it to Lobuche that day we had been walking for 12 hours, we were slow and tired.
The summit view from our base camp and a few guides setting fixed ropes for another climbing group.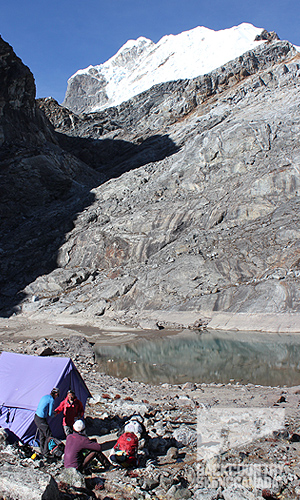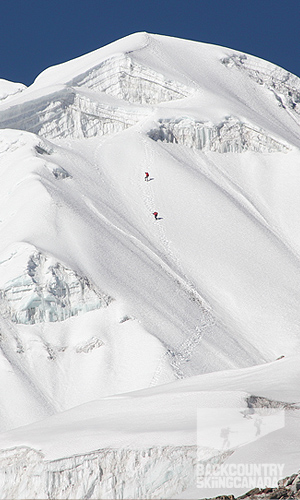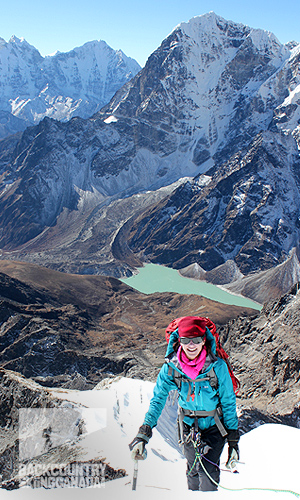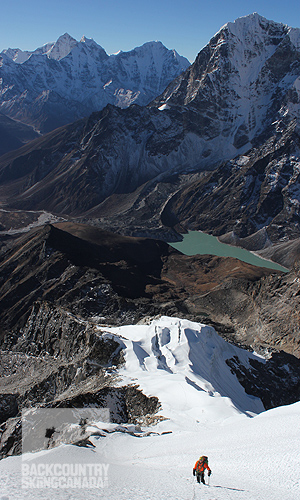 Naive Peak Hedonism:
We observed an interesting (and dangerous) phenomena in Nepal that we had noticed in other places such as Mt. Rainier in the US which can only be described as a naive peak hedonism where the focus is on saying you have made it to the top of a peak regardless of skill-level or experience. Fortunately for most, what they lack the Nepali guides make up for and they are coddled all the way to the top and down again. There are many stories of Nepali guides and Sherpas demonstrating incredible patience and commitment just to get a client to the top—sometimes risking their own lives. In not taking responsibility for their skill level the clients are taking uncalculated risks, in effect placing their lives in the hands of the guide—who had better be skilled and experienced. The trend in mountain hedonism seems to be growing as witnessed in the ever growing Everest summit bottle-necks.
A guide we met shared a story from Island Peak that season where thirty Japanese waited in line to summit—all secured on a steep slope onto the same fixed rope. That's a lot of potential tension on an anchor especially using a rope that I wouldn't trust my life with. It's common place for rough white nylon ropes to be using for fixed lines—think of your frayed laundry line outside. On our ascent of Lobuche we were surprised to observe climbers not using ice axes, some noticeably unfamiliar with using crampons and relying only on a jumar to ascend with—no real skill was required just determination.
Island Peak, peaking through the clouds, probably the most popular trekking peak.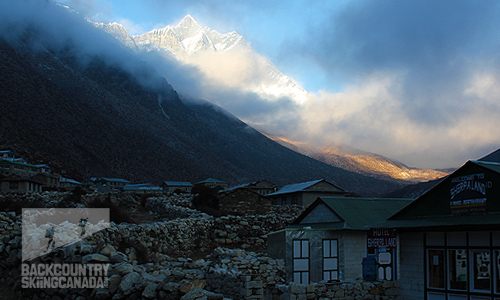 'Conquering' EBC:
We made our way up to Gorek Shep (5184m). From Kala Patthar (5545 m) we watched the shade creep up Everest at sunset (highly recommend that time of day). There are some spectacular peaks in the Khombu Valley, though for us, Everest was actually one of the least spectacular, it was big but it wasn't beautiful. Everest Base Camp (5375m) also known as EBC was fairly anti-climatic for us as well, though it would make an interesting anthropological study into why thousands and thousands of tourists make the 'pilgrimage' there every year. Many never venturing into the mountains again.
Eagerly waiting for the sun to set on Mount Everest.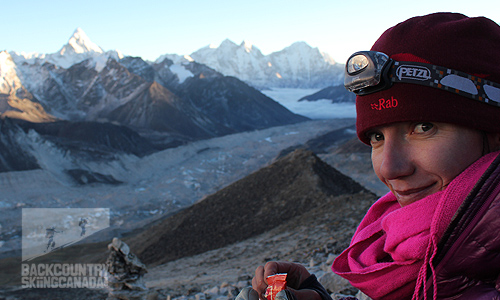 A good sunset never disappoints.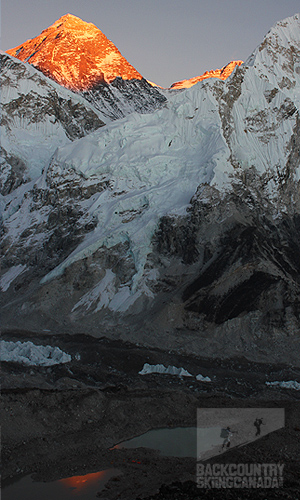 'Winding Down:
We returned back down the valley past the sobering memorial site above Pheriche and spent the night at Dingboche (4530m) which would be a great stop for a rest day. We continued our decent spending a night each in Tengboche, Namche Bazaar and then Lukla. It was a relief to be winding down and felt great to breath more oxygen, eat more substantial meals (the food is simpler the higher you go) and to clean up—it had been 12 days without a shower, walking dusty trails on the way down. Flights out of Lukla are weather dependant, sometimes you can wait days for clouds to be high enough for the planes to fly. Our morning flight was cancelled due to low clouds which broke up later in the day. Chhiri hustled us a seat on an afternoon flight through a friend who worked at the airport, who you know has a lot of currency in Nepal.
Back at Kathmandu we collapsed at Shivapuri Guesthouse in Shivapuri National Park for a few days, away from the chaos, noise and pollution of Kathmandu—the stay there was not long enough. Over two days we travelled by bus to Tansen in Palpa District, where we visited friends and took a day hike to Rani Mahal (also known as Rani Ghat, another highlight). We rounded off with three days in Tamil, Kathmandu, possibly the last time I will stay in Tamil. It's convenient and has everything you might want as a tourist but I prefer the quieter life these days. I guess that's why I like the mountain life, I am drawn to the stillness that the mountains offer. I'd like to take it slower next time so I can enjoy more of that stillness and immensity.
Early morning views of White Lake (really just a cloud layer over the low valley) in Tansen.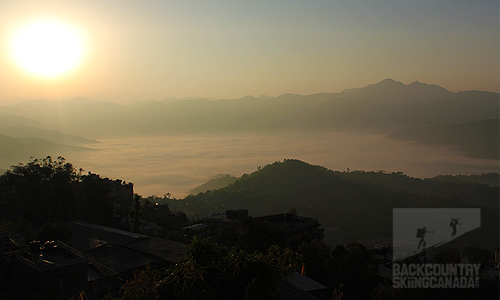 Rani Mahal is well worth the day hike. And for those into temples the monkeys at Swayambhunath are fun to watch—from a distance.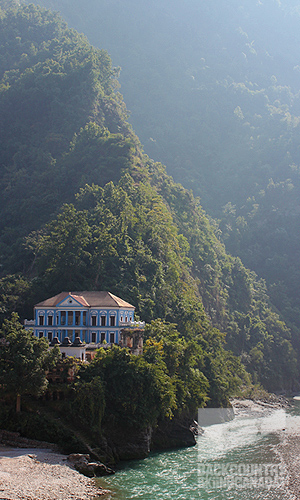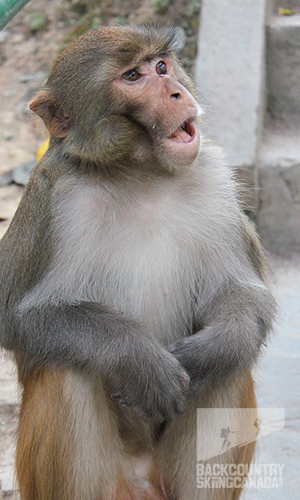 PROS:
The immensity and legend of the Himalaya. The diversity of culture. Our guide Chhiri and Himilayan Trails for taking care of the details. Rani Mahal in Palpa District.
CONS:
Possibility for altitude sickness. Staying in Tamil. Ignorance of other trekkers about the environment, locals and mountain safety. The treatment of porters.
This is only our opinion. Do you disagree? Did we miss something? Are we totally out to lunch? Join the discussion in the forums here, and let us know what you think. People like/dislike gear for different reasons so chime in and we'll get a well-rounded evaluation.
Back to the rest of the reviews.
---
Some additional photos of the trip: