Emergen-C flavoured drink mix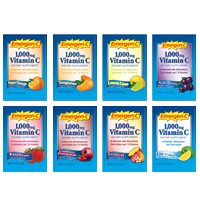 Unlike most items in this section you don't commonly find this product in a gear store. I have most often seen Emergen-C in health food stores.  Based on the claims on the box, it seems that a health food store is an appropriate place for it.  Emergen-C claims to give you a health boost, an energy boost and an Electrolyte Boost. As an active person, these are all boost that I would like to have!  Emergen-C comes in powder form contained in a 8g tea bag sized packet.  It is billed as a dietary supplement that you mix with water.  It contains 1000mg of Vitamin C, 24 Nutrients, antioxidants, electrolytes and 7 B vitamins - quite a lot for a little packet.  The 1000mg of Vitamin C works out to be 1667% of your daily value - which seems like a little bit of overkill, but beyond that it does seem to contain a lot of the same things as a multivitamin.
Taste Test:
I tried a variety of Emergen-C flavours - super orange, lemon lime, cranberry pomegranate, berry blue, pink lemonade, and tropical.  To be honest I had a tough time distinguishing between most of these flavours. To me they all tasted kinda citrusy with a hint of chalk, however after exercise I found it quite refreshing and not over powering.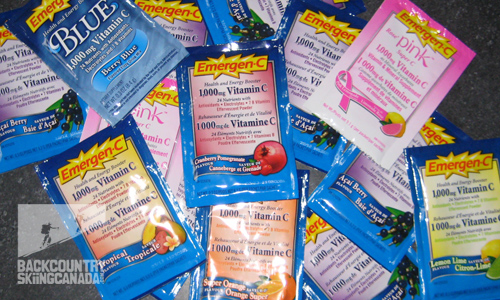 The Health boost:
It is really hard for me to tell if having an Emergen-C a day helped "Power up my immune system and promoted overall body health"  but I didn't get sick during the test period - coincidence?  Probably.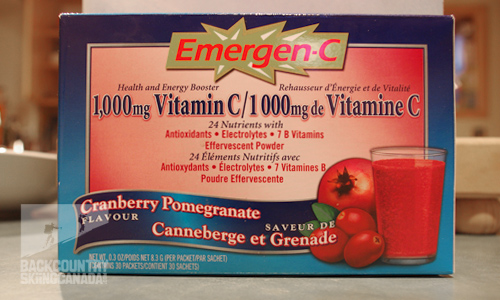 The Energy Boost:
This was the claim on the box that I was most dubious about, and as a result most surprised when a couple times I noticed it being true.  I wouldn't call it an energy boost, but when I had an Emergen-C in the morning I did notice a feeling of increased alertness, similar to after a morning tea. Emergen-C does this without caffeine - pretty cool.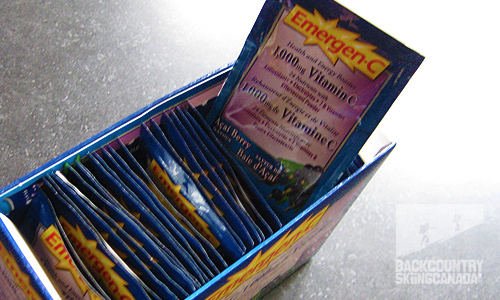 The Electrolyte Boost:
Again hard to measure, but as mentioned above, I did enjoy a glass of this after a work out. Given the choice between an Emergen-C and a Gatorade halfway up a skin track in spring I would likely take the Gatorade based on flavour alone, but for those of you who don't enjoy the super sweetness of sports drinks and the glucose-fructose that creates it Emergen-C might be a nice alternative.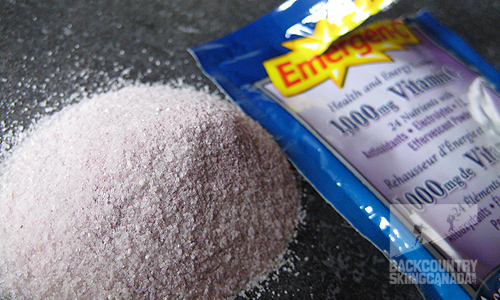 The Verdict:
I like it. In spite of its less than awesome taste, I am going to keep a couple of packets of Emergen-C in my ski touring pack. It is packaged in such a way that it doesn't take any room, and it is a nice alternative to water and super sugary sports drinks.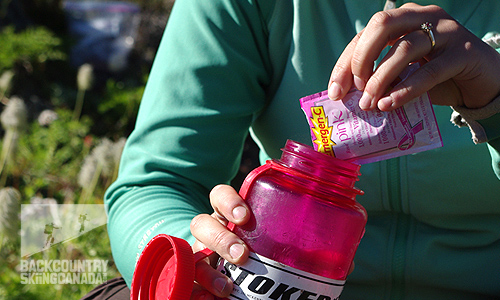 UPDATE: 
April 1st 2012
Over the course of the 2011/2012 winter I decided to put the Emergen-C flavoured drink mix packets to the test. I consumed 1 packet every day or second day for four months (December - April) to see if this extra vitamin C dose would keep me healthy over the winter. To my surprise I did not get one cold all winter and missed no ski days. I still maintained a healthy diet, gots lots of sleep and excercise and washed my hands regularly, but this has always been my mode of operation. So, given that I changed nothing in my daily routine except consure an Emergen-C flavoured drink mix packet regualary and the fact that I did not get my seasonal cold or two - I would have to say that the product worked and I will now do this every winter season. 
I know that this is by no means scientific but if it worked for me you may want to give it a try - I was pelasantly surprised.
SPECS:
Price: 59¢ US a packet, $15.99 US for a box of 30
Weight: 8g / .28oz per packet
Flavours: 11 in total
PROS:
Easy way to get your B Vitamins and Vitamin C, no stirring needed and you get an alertness boost without caffine.
CONS:
Less than inspiring taste.
Rating: 7.5/10
Ingredients       1.5/2
Taste                1/2
Effectiveness     1.5/2
Weight               2/2
Quality / Price   1.5/2

Join the discussion in the forums here, and let us know what you think. People like/dislike gear for different reasons so chime in and we'll get a well-rounded evaluation. Check back mid-season to see how our review stands up to our in-the-field testing.
Back to the rest of the reviews.
---
---
UPDATE APRIL 2013:
I have been using the Emergen-C Flavoured Drink Mix for over a year and a half now and I have noticed a difference of when I do and don't take it regularly. During the winter months I will have one a day and typically do not get the common cold anymore. In summer months I use them on each and everyone of my hiking, climbing and mountaineering trips to give my water a bit of flavour and also to replenish my bodies electrolytes. I have noticed on these trips that my throat no longer gets that dry itch that I used to get from drinking mountain water for multiple days (even if I filter the water). The handy single serve packets are ideal for daily use but it would be nice to see them offer up a low sugar option.
---