Deuter Rise 30+ SL and 32+ Pack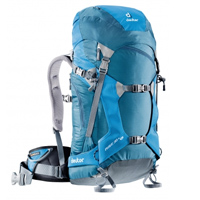 During the epic spring skiing we had this year I had the pleasure of testing out the Deuter Rise 30+ SL ski touring pack for woman. First of all, this pack is easy on the eye, it might be just the turquoise colour but it looks like a pack made with women in mind. A great start in a market dominated by gear designed for men. On that note, there is a men's version of this pack, the handsome Deuter Rise 32+. Both packs come loaded with all of the same features (more on those in a moment) only difference is size and colour.
The SL on Deuter Rise 30+ SL stands for short length, meaning the pack proportions have been adjusted to accommodate a shorter torso length. This may suit the average female proportions but alas I am not your average gal so I found the Deuter Rise 32+ a better fit for my longer than average torso. Good to know that the packs accommodate different torso lengths but darn that turquoise looks good, if I could squeeze into the SL it would be on my back this winter.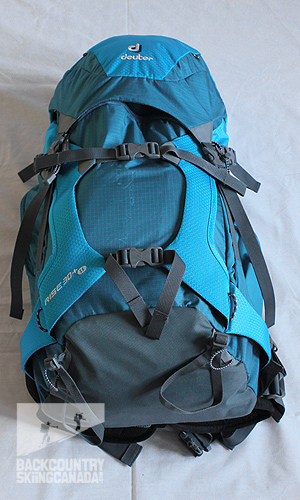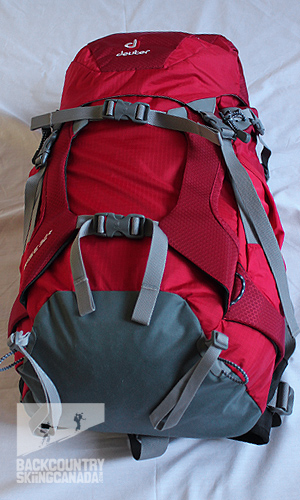 As an aside, it's worth noting that Deuter has been in the business for over a hundred years. The company was founded in 1898 and started out by supplying mailbags and post sacks to Bavarian Royal Mail. Within a decade or so they were producing old school backpacks, knapsacks and satchels. They supplied the first ascent of the North Face of the Eiger in 1938 and have been supplying expeditions since – teaming up with mountaineers and mountain guides for customised product development since the 80's.
Back to the Deuter Rise 30+ SL and the Deuter Rise 32+ … these packs are versatile and fully featured for backcountry skiing. They accommodate the needs of a snowboarder or a skier by providing beefy and durable attachments for carrying your snowboard, snowshoes or skis (two ways – vertical and A-frame). Made up of durable Deuter-Ripstop 210 and lightweight Deuter-Microrip-Nylon the pack feels solidly constructed. The pack offers the ability to be highly organized with your gear through a variety of pockets and compartments including an avalanche gear compartment, which is easily accessible via a zip on the front of the pack. As well as this there is an easy access external side zip pocket with ample space for stashing your toque (beanie), gloves, sunscreen etc. One essential pocket for me which is included is a pocket underneath the pack lid for stashing my valuables.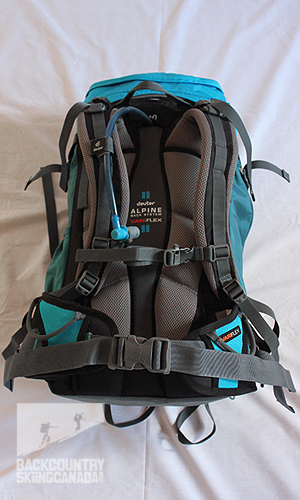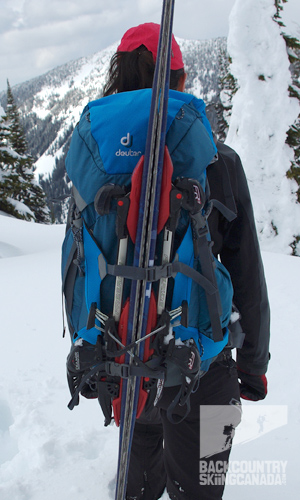 Features:
Following is a full list of the women's Deuter Rise 30+ SL and the men's Deuter Rise 32+pack features:
- Deuter Alpine Back System designed to maxmise flexibility, comfort and movement whilst distributing load efficiently.
- Derlin Frame provides stability and effective load transfer with little extra weight.
- Padded Hip Belt with gear loops and Vari flex system - pivoting hip belt that accommodates complex body movements, thus distributing weight evenly while allowing for ease of movement.
- Ski, snowboard and snowshoe fixation systems
- Ice axe fixation system
- Removable insulating sitting mat also acts a stabilizer inside the pack.
- SOS label with safety instructions underneath lid
- Hydration system 3.0L compatible
- Stretch side pocket, wet pocket, valuables pocket, shovel pocket
- Adjustable lid with haul loops
- flexible sternum strap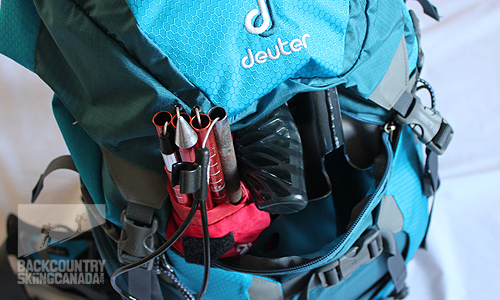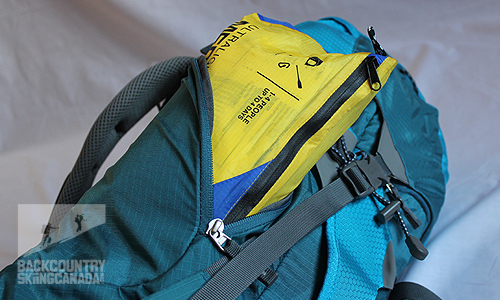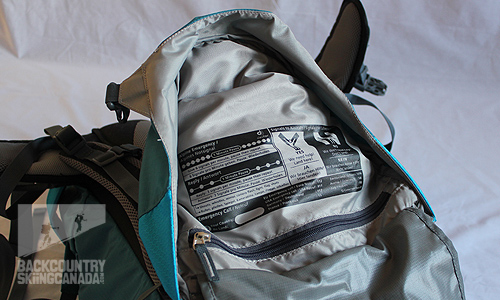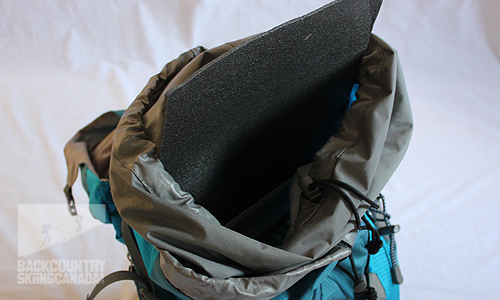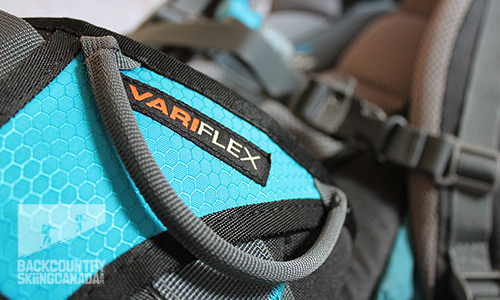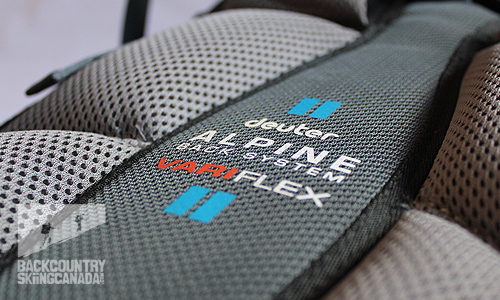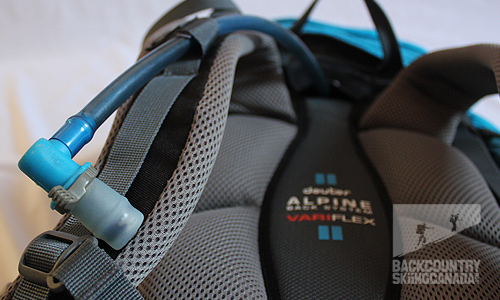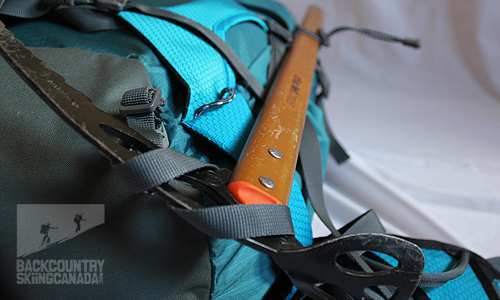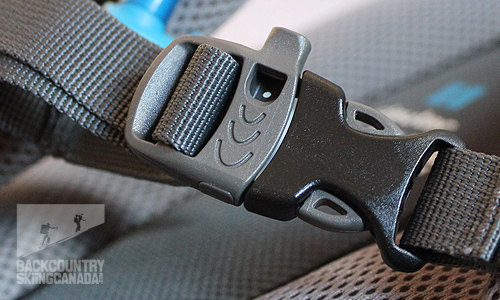 Verdict:
This pack ain't no one trick pony, it has all the bases covered whether you are on a snowboard or on skis. The Deuter Rise 30+ (or the Deuter Rise 32+) is ideal for me, I am not a fan of smaller packs since I am usually out for a full day of backcountry skiing at a time and I like to go prepared. If I do go out with less gear this can always be cinched up. The compartments in the Deuter Rise 30+ pack make it easy to find what you're looking for and make the pack feel bigger than it is. The external side pocket was the perfect size for storing my first aid kit, which I thankfully rarely use but if I had to I could access it in a second. For skiing I found it accommodated the A-frame ski-carry really well, the ski-carry loops on the side are solid and built to stand up to sharp edges. The pack itself is comfortable to wear, even when fully loaded, with ample padding where you need it. I am not sure how durable the mesh covering on the padding would be over time but it aids in breathability which is a bonus. The stretch sternum strap is a nice touch that accommodates movement well. The removable sitting matt is a great idea but I am not sure how much I would use it as it can take a bit of work to remove and put back if you have a full pack. This pack is a crowd pleaser due to is diverse features, there is nothing particularly innovative in it's design but it would make a versatile and durable workhorse.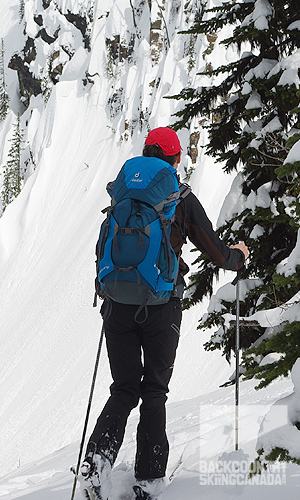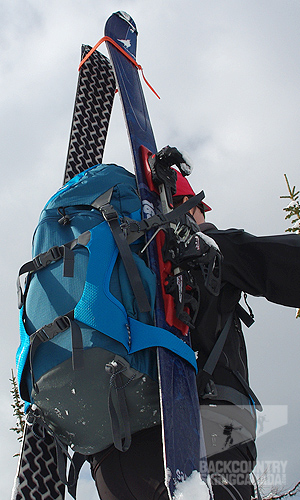 SPECS:
Price: $175 CAN
Colour: Fire / Cranberry (M's), Denim/ Turquoise (W's)
Weight: 1600 g (M's), 1550g (Ws)
Volume: 32 litre (M's), 30 litre (W's)
Size: 26" / 12" / 9.4" (M's), 66cm / 31cm / 24c (H x W x D)
PROS:
Comfortable, well-constructed, practical and versatile. The turquoise colour for the woman's pack makes it a stand out.
CONS:
For minimalists out there who like something streamlined and ski-specific or snowboard-specific this pack may offer too many straps for your liking.
Rating: 9/10
Comfort / Fit       2/2
Features              1.5/2
Durability            2/2
Function              1.5/2
Quality / Price     2/2

This is only our opinion. Do you disagree? Did we miss something? Are we totally out to lunch? Join the discussion in the forums here, and let us know what you think. People like/dislike gear for different reasons so chime in and we'll get a well-rounded evaluation. Check back mid-season to see how our review stands up to our in-the-field testing.
Back to the rest of the reviews.
---