Deuter Guide Lite 32L Pack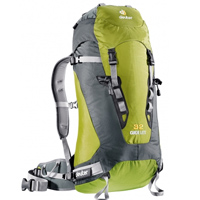 For those of you who are part time backcountry skiers as well as year-round mountaineers/hikers the Deuter Guide Lite 32L Pack is one you may want to consider. This pack, not designed specifically for backcountry skiing, is more of a light weight "pack of all trades". We have also reviewed the backcountry skiing specific Deuter Rise 32+ pack for men which weighs in at a full pound heavier than the Guide Lite 32. The Guide Lite 32 gives up many luxuries in exchange for being light on your back while still being well suited for rock climbing, mountaineering, hiking, and also ski touring. At 32 litres of carrying capacity the Guide Lite 32 is an ideal size for day trips - not too big and not too small, but if multi-day trips are your thing then you will want to move on up to the 40+ category.
Some of the backcountry ski specific features on the Guide Lite 32 are the A-frame ski carry (no diagonal ski carry is available) which has very rugged bottom straps that will stand up to your skis edges over time. The removable foam sit pad is a nice feature when you break for lunch in the snow, however, removal and insertion requires a bit of effort and I find I just sit right on top of the pack. The built in chest strap whistle is a minor feature but it provides big safety if you ever find your self in trouble or the wrong way down in a tree well. Large easy to use clasps, buckles and zipper tags allow you to keep your gloves on and still get into your pack for those items you need. The top pocket zipper is waterproof which will help keep your stuff dryer on those wet coastal ski days. And finally, the back system which uses '3D AirMesh' on all points of contact and is designed as a ventilation chimney to get airflow over your back when you start chugging up the skin track. The frame system is a Delrin U-shaped frame which gives the pack some rigidity and along with the integrated sit pad and load adjuster straps these make the A-frame ski carry feel pretty stable. The Guide Lite 32 is hydration compatible and also comes comes equipped with two ice axe loops, carabiner loops on the hip belt and SOS instructions under the lid.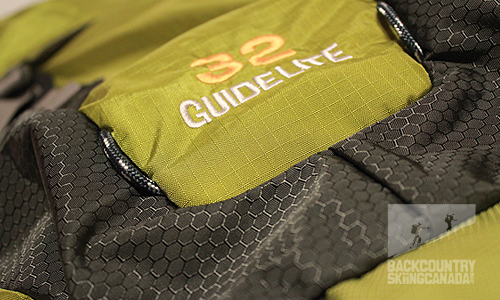 Materials:
Deuter-Ripstop 210
To keep the Deuter Guide Lite pack tough yet light an ultra-tight, hard wearing 210 Denier Nylon weave was used. This fabric incorporates ripstop threads to limit cuts and scuffs from ski edges or ice tools and just general wear and tear. To help minimize soak through from a light rain Deuter has used a PU (Polyurethane) coating on the inside of the fabric, this won't keep things bone dry in a down poor (so a pack cover is still recommended) but it will help the water run off the pack.
Deuter-Duratex-Lite
This durable 500 denier weave is lighter than the 1000 weight version yet still tear-proof and water repellant thanks to it's PU coating.
Features:
- Delrin U-shaped frame provides stability and effective load transfer with little extra weight
- Attachments points for optional helmet carrier
- Anatomically shaped Shoulder Straps with load adjuster straps
- Compression Straps
- Reinforcement ski straps at the side
- Long back lengths for those who are 170 cm to 195 cm tall
- Lid compartment with central zip, valuables pocket, lashing loops on top and SOS label under lid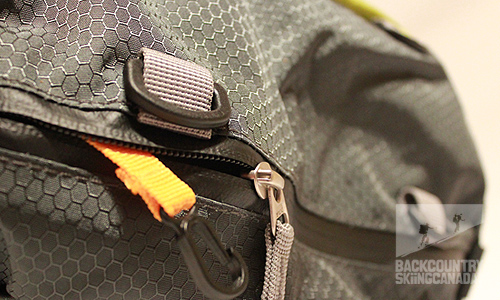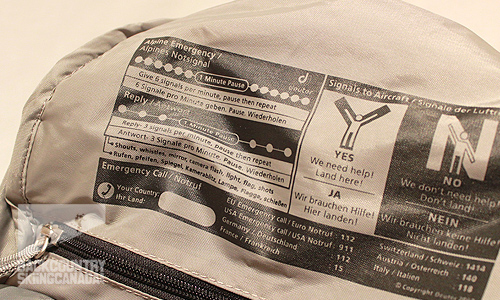 - Hydration Compatible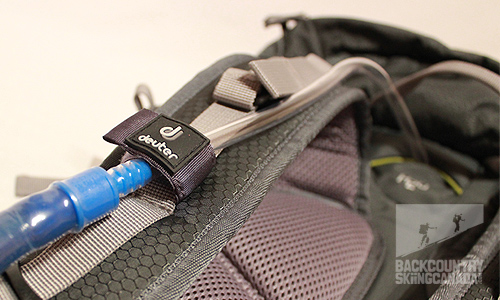 - Removable insulating sitting mat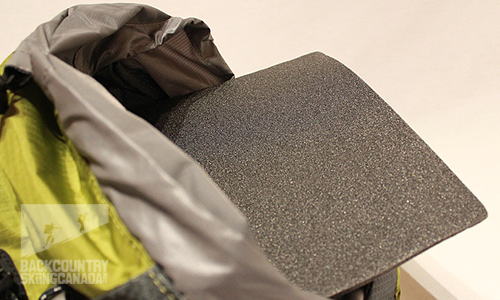 - Ultra-compact ergonomically shaped hip fins with compression and pull forward straps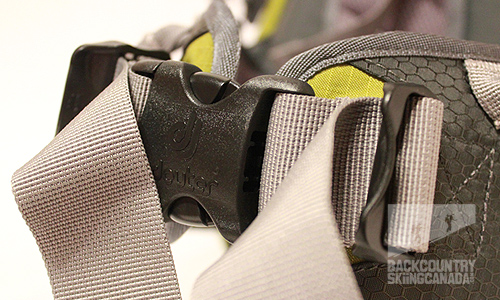 - Carabiner loops on hip belt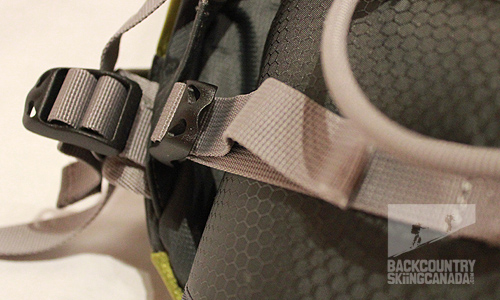 - Integrated chest strap whistle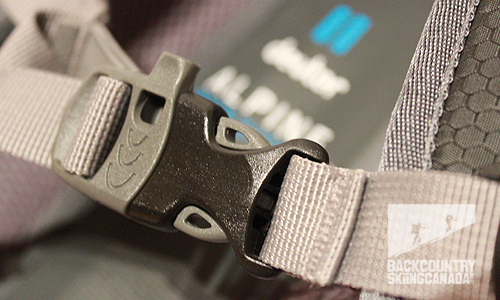 - Very breathable back design which uses two padded foam stripes that provide carrying stability and comfort with 'chimney effect ventilation'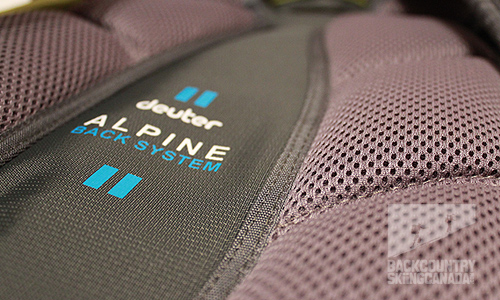 - Ice Axe Loops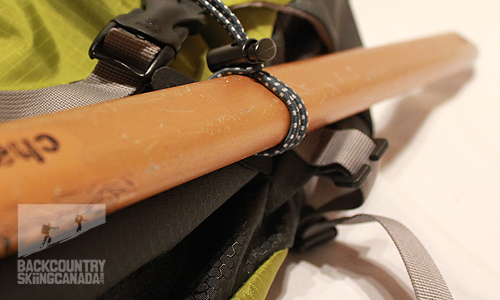 Verdict:
This is a great all-mountain/all-season pack offering diverse features without the added weight. It is super comfortable thanks to the back and shoulder strap padding. Also the innovative chimney effect ventilation system really does allow air to flow through keeping you dryer than traditional flat back designs. At 32 litres it is just big enough for a backcountry skiing day trip, sure you can always use more room but then you are putting more weight on your back and slowing down your progress. The Deuter Guide Lite 32L Pack does not have avalanche gear specific pockets or compartments so your probe and shovel just sit in the pack with your other items. This is not ideal for being organized and efficient in winter activities, however, it's not the end of the world if you are intending to use this pack year-round, in which case, those features would be of no use to you for six months of the year anyway. You need to remember that this is not a ski touring specific pack but one that will allow you to get out in the backcountry occasionally for a slackcountry laps or day trips. If you are a hardcore backcountry skier it would probably be worth saving the weight elsewhere and opting for a pack specifically designed for the job at hand. That said, this pack will keep you comfortable and eliminates the need to purchase multiple packs for numerous pursuits.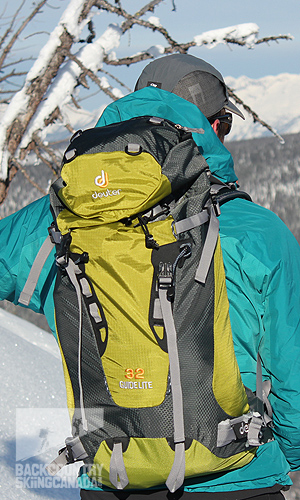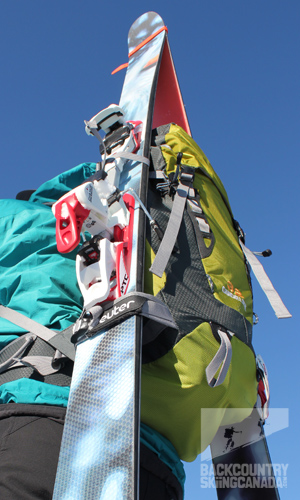 SPECS:
Price: $135CAN
Weight: 1150g / 2lb 9oz
Colour: moss-anthracite, fire-cranberry
Dimensions: 62x32x22cm / 26x13x8.7 inches
Volume: 32 litres / 1950 cubic inches
PROS:
A really comfortable all season pack that will work sufficiently for day-tripping backcountry skiing excursions and other adventures.
CONS:
The Lid is fixed to the pack body and it would be nice to have a little bit more adjustability in order to really take advantage the the "+" in the 32 litre capacity, simple Avi gear compartments or pockets would be a nice added touch.

This is only our opinion. Do you disagree? Did we miss something? Are we totally out to lunch? Join the discussion in the forums here, and let us know what you think. People like/dislike gear for different reasons so chime in and we'll get a well-rounded evaluation. Check back mid-season to see how our review stands up to our in-the-field testing.
Back to the rest of the reviews.
---