Deuter Freeride Pro 30 Backpack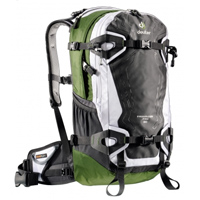 After years of working in a gear shop I have become frustratingly picky about the specs of my gear. It is my job to be aware of every feature on the market. Knowing all that is available I get annoyed when there is not one single product that does not has all of the features I am after. With that said, when the Deuter Freerider Pro 30 came to me for review, I tried to review it for what it had, not what I thought it should have.
Deuter has been on my pack radar for a while. They are a German company that build sturdy well-featured packs that always look very promising. Unfortunately, I have never found one that has fit me quite right. Too late for a spoiler alert, but those last two sentences pretty much sum up what I found with four days of testing.
I am a switch hitter in the backcountry – I have a ski setup that I use about half the time, but I also like to strap on some slow shoes and take my board out. So ideally I would like to have a pack that can comfortably carry a board , as well as give me easy access to all of my stuff when I am skiing. Deuter bills the the Freerider Pro 30 as such " This amazing fully featured pack will easily stash everything you could possibly need for an extended journey into the backcountry. An additional large two-way zipped opening at the back allows access to the main compartment, without having to unfasten your snowboard or snowshoes." Based on that billing it would seem that the Freerider Pro 30 would do the trick. Here is a breakdown of what I found while testing:
The opening at the back allowed really great access to the main compartment, even with a board strapped to it.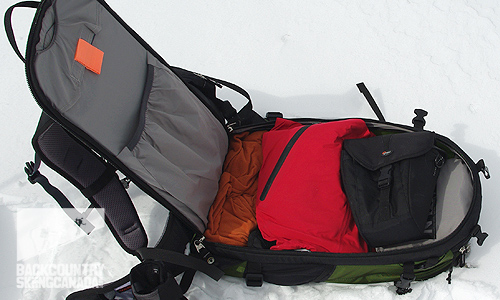 Pockets/Access
I really liked the setup of the Freerider Pro 30 in terms of access. The back panel opens completely so you don't have to take your board off of the bag. It also has a traditional top access, which is what I used most of the time (on the way down, or when I was on skis). The safety gear pocket is also a good design and size, it is separated from the main pocket (good for wet and dry storage). This area also had lots of zippered mesh pockets so you can easily keep your snow study equipment or snacks organized. The top of the pack also fits a good sized, fleece lined goggle pocket. The only pocket/ access downside was minor in that, the pocket on the hip belt was too small for my liking – it did not fit my point and shoot, and was tricky to get into even with light gloves on.
The vertical board carry system on this pack is great – holds the board super solid, and appears to be super durable.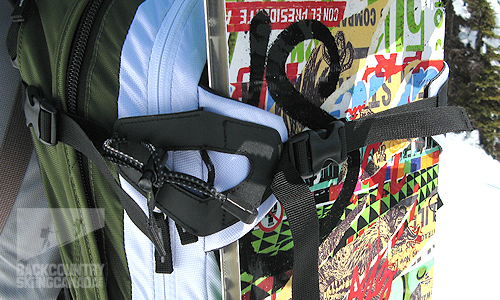 Carry Straps/Attachment
I found the strap set up on this bag to be a decent compromise for my needs. The ski carrying options were not very good, but the board carry is very well set up. There is an A frame ski carry option, but I am not sure how well it would hold up if you were using it a lot and had sharp edges on your skis. The angle ski carry does not work well, and is a pain to get your skis into. The board carry has great straps and holds the board really well, there is even a detachable net that allows you to strap your helmet to the pack so it sits between the bindings (till you loose the net). One of my favourite things about this bag was the super durable face fabric (hyperlon) on the board straps and the front of the bag. Time will be the true test but, I think that it is going to be great for holding up against snowshoe cleats and board edges. On the micro attachment level there are bungees for pole and/or ice axe attachment. For my needs I think that they are unnecessary but, I can see them coming in handy when I need easy access to my poles for boarding through a flat section.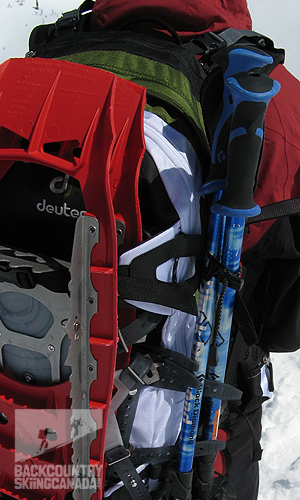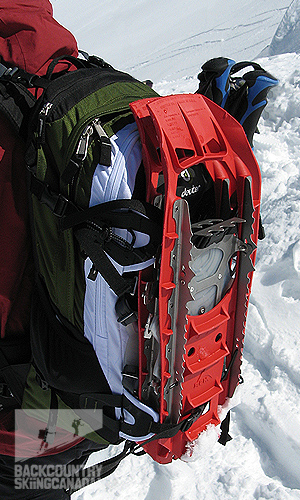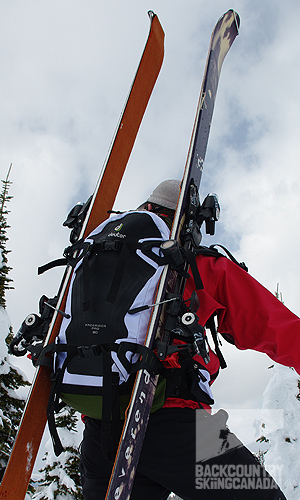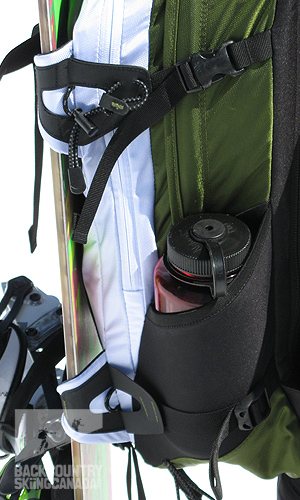 Size/Fit/Harness
At 30L this is probably the smallest pack that I would consider taking into the backcountry. I fit all of the stuff that I normally take skiing and riding into it, but barely. As I alluded to above I did not find that this pack fit quite right. I am 6'2" and there definitely was not enough length in the pack to match up with my torso. The harness system seems to be set up quite well and I think that the "vari flex" system would be good for carrying a board on your back. I could not get a good feel for this as I was fighting most of the time to keep the hip belt on my hips. 
Transferring all my stuff from my current pack to the Freerider Pro 30 – it fit, barely.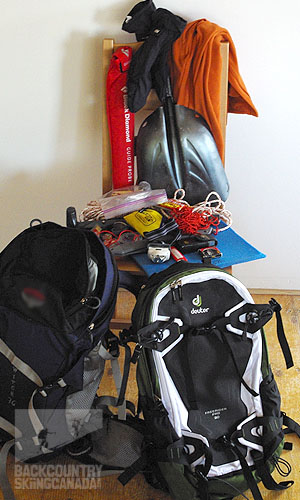 Verdict
I think that this would be a great pack for a snowboarder under 6' that is doing mostly slack country and/or side country riding.
SPECS:
Price: $129.95 US
Weight: 3lb 15oz / 1780g
Colour: White-Pine, Black-Black
Volume: 30 litre / 1830 cubic inches
Size: 22" x 12" x 7.1", 56cm x 31cm x 18 cm (H x W x D)
Material: Hyperlon / Deuter-Ballistic
PROS:
- Great pocket configuration and access
- Durable front panel and board carry
CONS:
- Not for tall riders
- Poor ski carry set-up
- Seems to be a small 30L
Rating: 8/10
Comfort / Fit       1.5/2
Features              1.5/2
Durability             2/2
Function              1.5/2
Quality / Price     1.5/2

This is only our opinion. Do you disagree? Did we miss something? Are we totally out to lunch? Join the discussion in the forums here, and let us know what you think. People like/dislike gear for different reasons so chime in and we'll get a well-rounded evaluation. Check back mid-season to see how our review stands up to our in-the-field testing.
Back to the rest of the reviews.
---