Deuter ACT Lite 65+10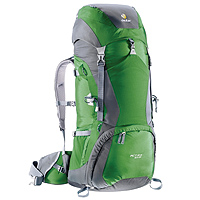 We often scrutinize the content of our pack to determine how best to reduce overall weight so we can climb/hike/ski a little more comfortably with less weight on our backs. This is the very routine I went through repeatedly prior to my five week trip to Nepal this fall. That was until I discovered that Deuter produces a line of trekking packs that are almost a full kilogram lighter than their standard trekking packs. The Deuter ACT Lite 65+10 trekking pack is one such pack, weighing in at 1760g. For comparison, the Deuter non 'lite' version (the Aircontact 65+10) is 2710 grams. This translates to a weight savings of 950 grams—try and save that kind of weight by cutting the end off of your toothbrush!
The Deuter ACT Lite 65+10 is ideal for extended travels and trekking and that's just what we did. We spent five weeks in Nepal with an 18 day trek from Lukla to Gokyo Lakes including the popular Everest Base camp circuit. We also threw in a climb up a 6100m peak for good measure. The Deuter ACT Lite 65+10 was the pack of choice given its incredible weight savings but also because it offered 75 litres of carrying capacity, the Air Contact System (more on that below) and a long list of features you would assume most manufacturers would have thrown out the window in order to maintain the 'lite' classification. Believe it or not, the ACT Lite is hydration compatible, has 2 lid pockets, a stretch front pocket, side stretch pockets, a separate zippered bottom compartment and can carry two ice axes and even a pair of skis in a pinch.
Durable light materials are the name of the game with the Deuter ACT Lite 65+10. Deuter-Duratex-Lite is used for the majority of the pack (all of the green areas) as it is a robust and durable Duratex in a 500 denier weave. This is a much lighter version than the typical 1000 weight version yet it is still tear-proof and strong. Deuter-Ripstop 210 Denier fabric (the grey areas on the pack) is an ultra-tight weave, which is hard wearing and incorporates tough ripstop threads. These technical materials help achieve Deuter's lightweight goals for the ACT line up.
Features:
- Lid Attachment loops: For quick and easy attachment of lighter gear
- SOS Label: Located under the lid with emergency numbers and international instructions for emergency cases.
- Valuables pocket under the lid: To store valuables
- Lid Pocket: For quick to grab items
- Height adjustable lid: The volume of the pack can be increased by approximately 10 litres.
- Stretch front compartment: To quickly store a jacket or other light items.
- Attachment loops for helmet holder: Available as an accessory and allows easy and safe helmet storage.
- Side compression straps: For reducing pack volume and improving load stability. Can also be used to attach extra gear such as skis in a pinch.
- Stretch external side pockets: Provides access for water bottles.
- Ice axe loops: For secure transport of two ice tools.
- Hip belt pocket: Accommodates valuables, snacks or a digital camera.
- Separate bottom zippered compartment: With removable zippered separator for ideal gear access and load placement.
- Hydration compatible: Internal pocket, built-in tube exit point and tube clip on the shoulder strap
- Contoured Hip Belt: Anatomically shaped and made from multiple layers, soft foam on the inner layer with 3D AirMesh lining. Outside layer is molded harder foam to retain the anatomic shape and transfer the load to the hips.
- Shoulder straps: Contoured with 3D Air mesh lining.
- Vari-Quick system: Allows easy adjustment to any back length.
- X-frame construction: Semi-rigid back panel and aluminum stays that cross in an X are big-load capable and offer a balance of torsional rigidity and flexibility to follow your body's movements.
Durable rip-stop fabric which is still incredibly light.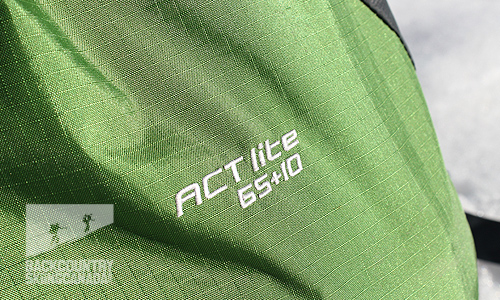 Bottom compartment access for heavy items or sleeping bag.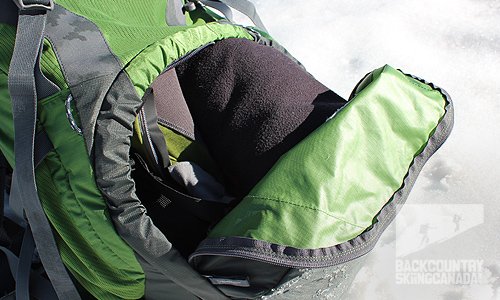 Side mesh pockets for gear or water bottle.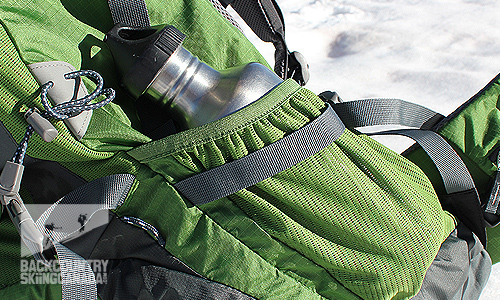 Hydration strap to keep your sippy straw secure.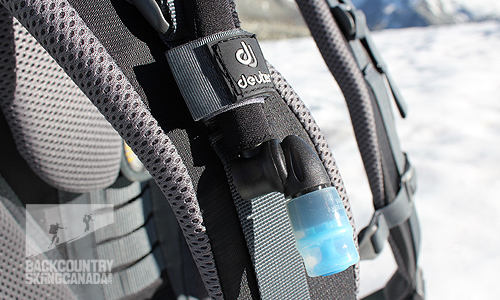 Ice axe loops to easily carry two tools.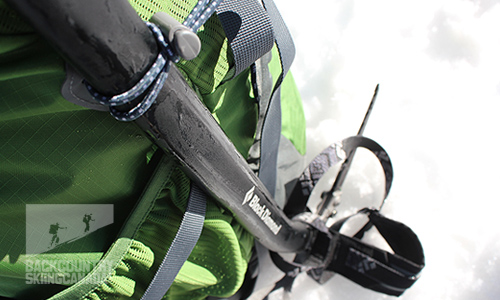 Big top pocket with key retention strap.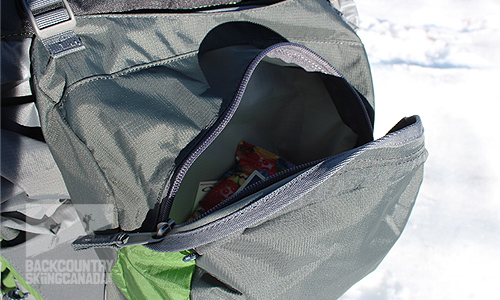 Hip belt pocket for food on the go or a small point and shoot camera.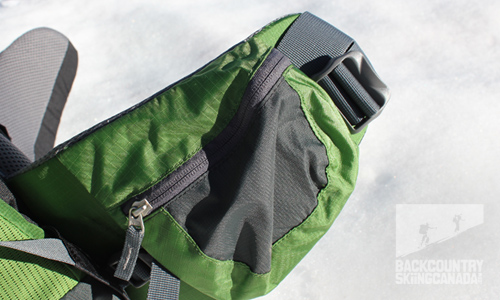 Safety instructions under the lid, just becuase you never know - and room for storing valuables.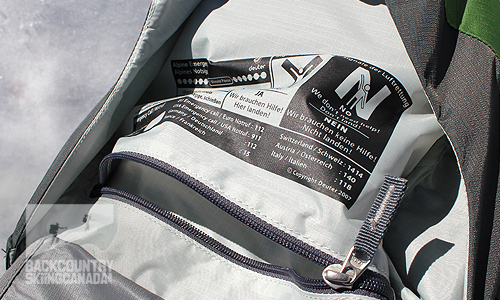 Hydration compatible and a wet locker for those items that need to air out.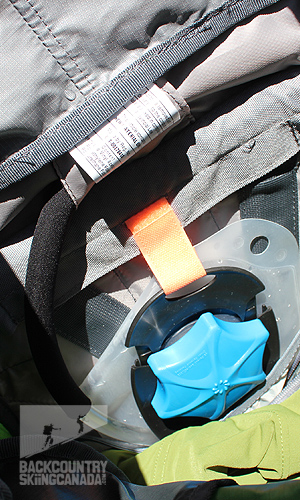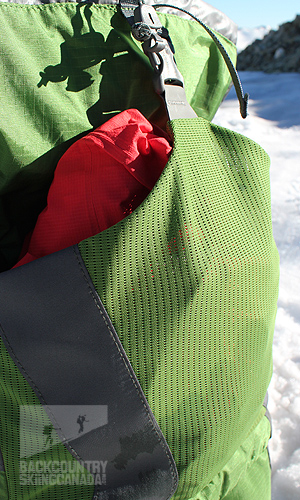 Deuter Aircontact (ACT) Lite System:
Deuter has implemented the Air Contact System (ACT) into three of their trekking products lines: the ACT, Aircontact and Aircontact Pro. The ACT employs breathable padding with hollow chamber foam to increase ventilation as well as large air channels that allow air to flow between you and the pack to keep you drier even when you're working hard.
Although Deuter claims that with every movement a pump effect circulates air through the Air Contact cushions our testing showed this might be stretching it a bit. We did find, however, that the ACT is incredibly comfortable (more so that other packs I have tried) and does keep the pack away from your back and, therefore, does reduce sweating. Interestingly, a test performed by Gabriel L &T in conjunction with the University of Erlangen showed that the Air Contact system was up to five degrees Celsius cooler and reduced sweating by up to 15% when compared to packs without ACT. These are impressive numbers and while we cannot vouch for them we can say that the ACT Lite was somewhat cooler than other packs we have tried and did keep our backs drier.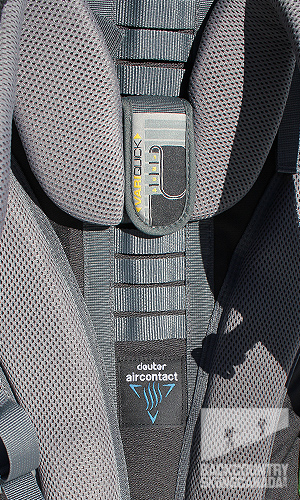 Speed Lite 15:
A good sidekick to the Deuter ACT Lite 60+10 is the Speed Lite 15 pack. This ultra minimal and light daypack provides 15 litres of space for your essentials on a summit bid or, in this case, a compact daypack that can come along on a trip to Nepal. The weight and size are ideal as this pack spent most of its time in my larger Deuter ACT Lite 60+10 pack and came out for excursions around Kathmandu and day hikes in the Khumbu region. The Speed Lite 15 has a tapered shape that allows more swing room for your arms when you walk or scramble. It adequately carried my Digital SLR, water bladder, rain shell, wallet/keys (in the smaller secondary pocket) and snack for the day. Retailing for $74.99 the Speed Lite 15 pack provides a lot of convenience and eliminates the need to empty the much larger ACT Lite 60+10 pack for each day trip.
Side mesh pockets and comfy mesh back padding.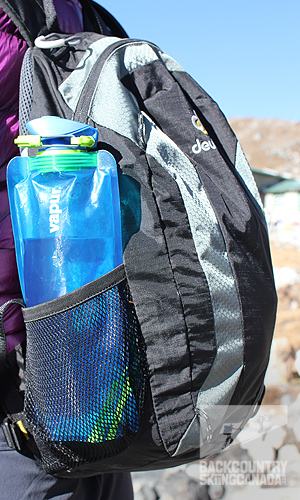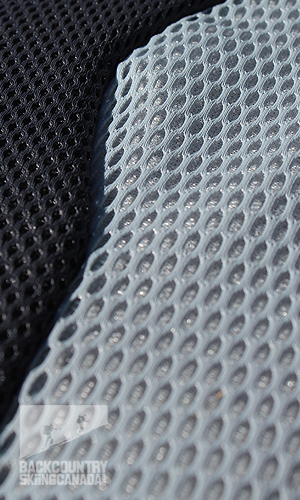 Big access and hydration compatible.

Smaller pocket for snacks, iPod and cash.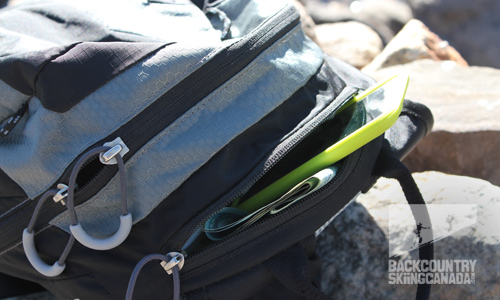 Zipper pulls are easy to grab (even with gloves on).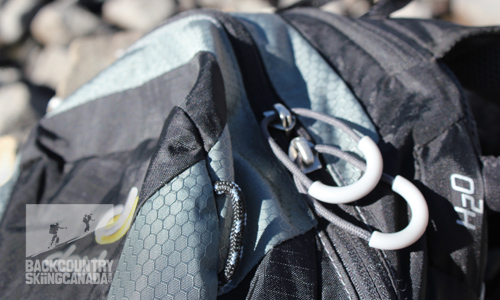 Wash Bag Lite:
Another add-on to the Deuter ACT Lite 65+10 was the Deuter Wash Bag Lite. At just 38 grams with dimensions of 12cm x 18cm x 1cm this is a pretty small kit for carrying your essential grooming accessories. There is just enough room for a toothbrush, toothpaste (not a big tube), a razor, small tube of anti-stink, some dental floss and a small tube of sunscreen. The outer mesh pocket is ideal for the toothbrush and/or razor as it will allow things to dry while they are stored. A built in loop with clip allows you to hang the Wash Bag in your tent or cabin for easy access. At $11.99 it is reasonably priced but be warned it is small (and light as the name suggests).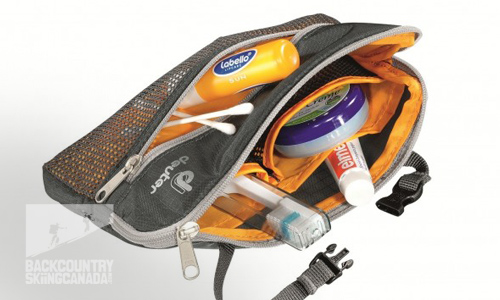 Rain Cover III:
With any pack you need to consider how to keep your contents dry when a downpour comes along and the Deuter ACT Lite 65+10 is no different. Thankfully Deuter sells the Rain Cover III ($34.95), which provides protection from the elements for packs from 45-90 litres. This translates into a pack that is 97x37x30cm. With a PU coating and taped seams it performed well the few days we had to deal with rain and weighing in at only 130g/5oz there is no reason not to take one along.
The ACT Lite 65+10 even made it to the summit of 20,000' Lobuche East Peak in Nepal, that's 27,940' Lhotse in the background.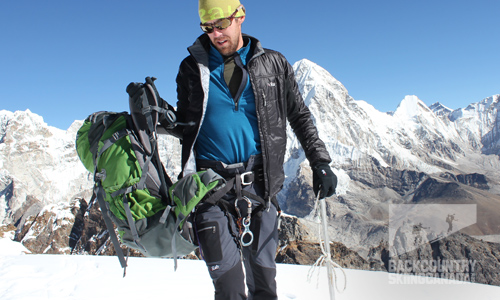 Verdict:
I must admit I was skeptical with this pack. Knowing that is was almost a full kilo lighter than the non-lite version I was sure that it would be uncomfortable and not have the features I wanted. Boy was I wrong. Not only did the Deuter ACT Lite 65+10 feel lighter on the trail it also gave my back and old knees a break from the added stress of too much weight. If I had taken my (previous) go-to 85 litre pack, I would not only have paid with the extra weight of the backpack but I would have filled up the additional 10 litres and taken along much more weight than necessary. I enjoyed using the 65+10 litre pack as it made me pack that little bit smarter and saved me a bunch of weight.
The one-two punch of the Deuter ACT Lite 65+10 and the Deuter Speed Light 15 was an ideal combo for this month long trip and two week trek. The Deuter Speed Light 15 was just large enough for day trips and ridge walks while not being too bulky when it spent time in my larger pack. At only 380g / 13 oz it didn't add much to my total pack weight but provided a sturdy well built daypack for my camera kit and other necessities.
Although this pack is not designed for backcountry skiing it can carry skis A-frame style and given its weight savings I think this will be my go-to backcountry skiing hut pack as it will carry just enough gear for a multi-day adventure without the extrta kilo of the pack.
The Deuter ACT Lite 65+10 is the most comfortable pack I own and will be getting a lot of use this winter as my ski touring multi-day and traverse pack. At $199 how can you go wrong with what is essentially a 75 litre pack? Add in a heap of standard features, bomber construction and materials at only 1.7 kilos and you have a winner.
SPECS:
Price: $199CAN
Weight: 1760g / 3lbs 14oz
Colour: midnight silver, emerald anthracite
Volume: 65 litre / 3970 cubic inches
Size (H x W x D): 80x36x33cm, 31x14x13inches
Material: Deuter-Duratex-Lite, Deuter-Ripstop 210
PROS:
- A full kilogram lighter than comparable packs of this size
- Plenty of features given its weight
- I like the valuables pocket (my other pack has a removable lid and therefore does not have this feature)
- A big pack that is light on price and weight
CONS:
- Side water bottle holder could be better designed to allow you to retrieve your water bottle without assistance or having to remove your pack
- Wash Bag Lite could be a little longer to accommodate a full sized toothbrush and paste
Rating: 9/10
Comfort 2/2
Durability 1.5/2
Features 1.5/2
Innovation 2/2
Quality / Price 2/2

This is only our opinion. Do you disagree? Did we miss something? Are we totally out to lunch? Join the discussion in the forums here, and let us know what you think. People like/dislike gear for different reasons so chime in and we'll get a well-rounded evaluation.
Back to the rest of the reviews.
---