Dalbello Sherpa 5/5 AT Boots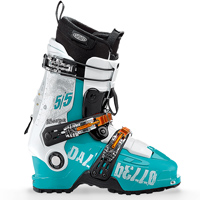 If you are in the market for new alpine touring boots, or 'AT' boots as they are commonly referred to, then you will want to consider a pair that has integrated tech fittings like the Dalbello Sherpa 5/5 AT Boots. Tech fittings in the toe and heel of the boot provide a required interface for use with Tech bindings which are typically 1/3 the weight of traditional frame-based AT bindings. Most backcountry skiers eventually switch over to tech bindings at some point so purchasing an alpine touring boot with tech fittings is a wise decision. It provides the opportunity to switch to a much lighter set up down the road which is a good thing as we age and our gear seems to mysteriously get heavier with each passing year. However, since this is a ski boot review and not a binding review we'll end the tech talk here.
Let's do a 360° shall we?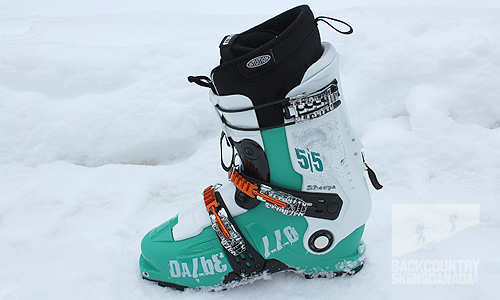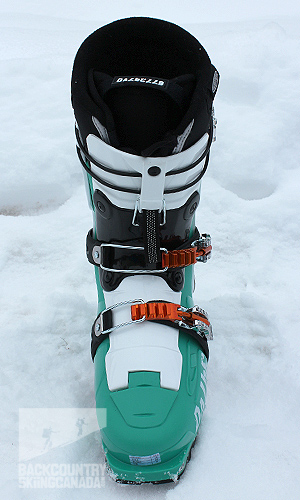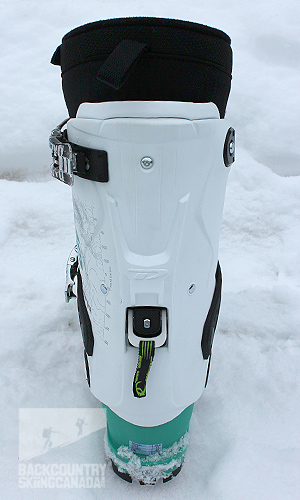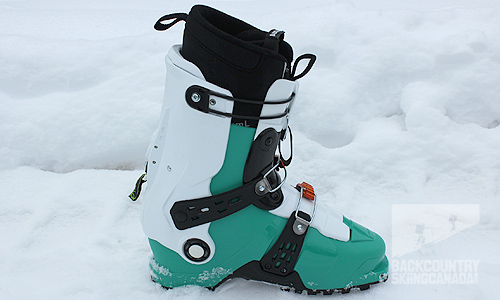 If you haven't read my review of the Dalbello Sherpa 2/8 ID AT Boots from last season you'll want to start there before proceeding much further as it will cover many of the features also found in the Dalbello Sherpa 5/5 AT Boots. The main difference between these two AT boots is that one is designed for skiing in the backcountry 20% of the time and skiing at the resort 80% of the time while the other is a 50/50 split between backcountry and resort. I will leave it up to you to deduce which is which. Aside from the tech fitting, the Sherpa 5/5 Boots share all the same features as the Sherpa 2/8 Boots including Cabrio Design, Dual Dynalink Buckles, Intuition liners, Vibram soles and a must have walk mode. These features are all described below in more detail where I'll try to demystify some of that ever present marketing techno-speak. Incidentally, the Sherpa 7/3 AT Boot is no longer in Dalbello's line up.
So what makes the Dalbello Sherpa 5/5 AT Boots such a good candidate for the backcountry skier besides the tech fittings? For starters they use a lightweight construction that makes going up less of a chore. They also have a Bio-Stride Tongue which is able to split in order to maximize cuff mobility. The 3-piece Cabrio shell design provides a solid foothold, rigid lateral support and a smooth, progressive flex so there is no shin bang with these boots. The Dual Dynalink system provides a heel/instep closure band that crosses the top arch of your foot which effectively secures you in the heel pocket, eliminating heel lift. Finish things off with warm and comfy Intuition liners and lugged Vibram rubber outsoles for excellent traction on rock and you have a ski touring boot with a heap of features. Read on for details of each of these features below.
The walk mode is located on the back, the same for the Dalbello Sherpa 2/8 boots. Super simple to use.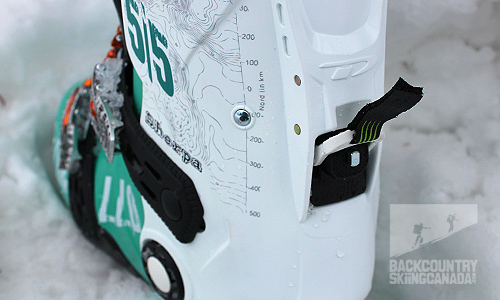 Tech fittings are what serarate the Dalbello Sherp 5/5 from the 2/8 boots.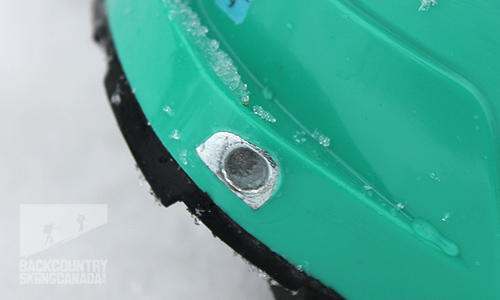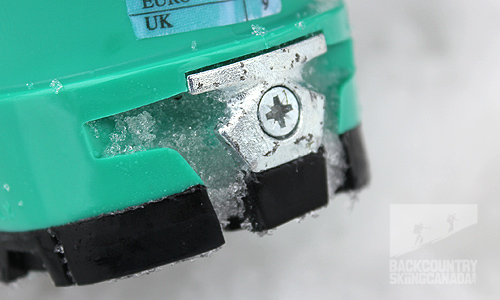 Features:
Bio-stride Tongue
The 'Bio-Stride' tongue as Dalbello calls it is a patented two-piece polyamide nylon plastic hinged tongue that allows you increase the range of motion during walking or gliding on the skin track. When the tongue mechanism is open it separates the tongue into two pieces and provides more flex, when it is closed it functions like that of a regular tongue.
The two piece Bio-stride tongue is joined with the top buckle open and then in the bottom photo it is separated.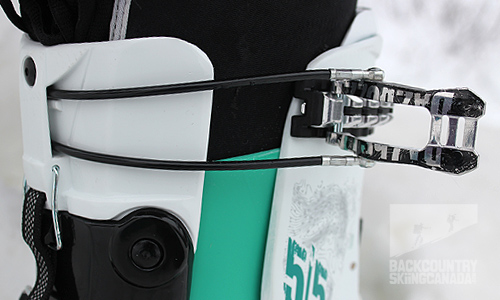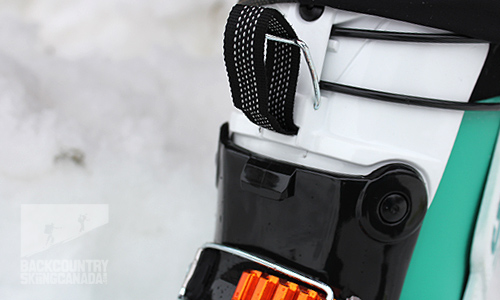 Cabrio Design
Dalbello's 'Cabrio Design' uses 3 pieces to build the shell of the Sherp 5/5 ski boot: the lower shell, the upper cuff and an external shell tongue. This design is unique and reminiscent of the old Raichle Flexon boots that were so popular in the early 80's. It allows the use of stiffer plastics in the lower shell compared to that of the upper and tongue. This provides strength and support around the foot while still having a smooth, progressive flex that ensures good power transmission to the ski. Dynamic rebound, increased shock absorption, and an ease of entry are unparalleled in other boots.
A unique three piece shell provides a smooth progressive flex and no shin bang while still being plenty stiff.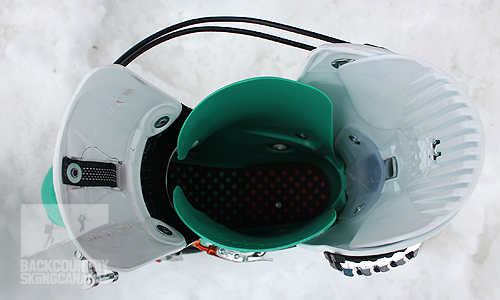 Dual Dynalink
This is Dalbello's rear foot closure system that works to hold your foot firm and keep your heel in place for a better fit. The middle buckle is placed over the arch of your forefoot to pull the foot down and back into the heel pocket of the Intuition liners. It also helps to limit the boot's shell distortion for better control and performance.
Adjustable buckles are easy to use and the middle one (top right in the photo below) is part of the Dual Dynalink system that keeps your heel held down so that you can maximize energy transfer and ensure a comfortable fit.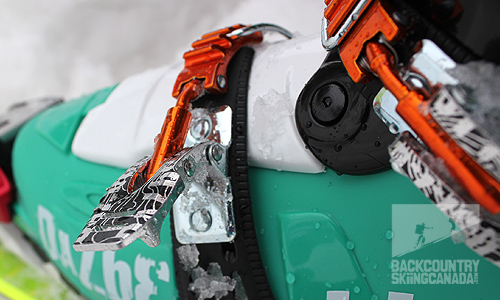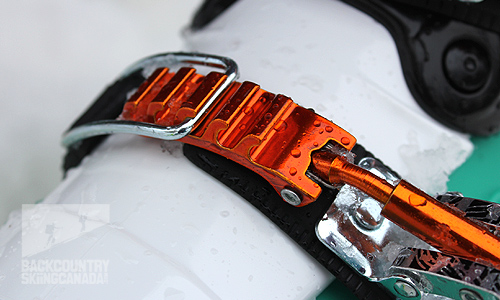 ID Thermo Pro Liners
These liners were jointly developed by engineers from Dalbello and Intuition Sports and are reported to be "the lightest, warmest and easiest to fit [liner]" according to Dalbello. While this is a hefty claim, I have to agree after skiing in them for several chilly days. The liners use 100% heat mouldable 'ultralon EVA foams' which allows you to heat mould the liners, greatly improving the fit for your foot as well as the fit of the liners to the shell.
Super warm and super comfy, Intuition liners are the only way to go!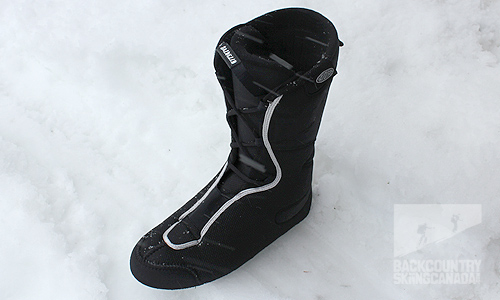 Sole
A lugged, hard rubber Vibram outsole provides great grip on slippery resort floors and rocky ski mountaineering trips alike. The slight rocker sole design eliminates that common frankenstein walk of alpine boots for a more fluid, natural stride. Four 'Quadralock' stability Pylons made of High durometre reinforced polyurethane reduce sole wear and provide solid boot to binding/ski contact, which helps to minimize sole compression and flex.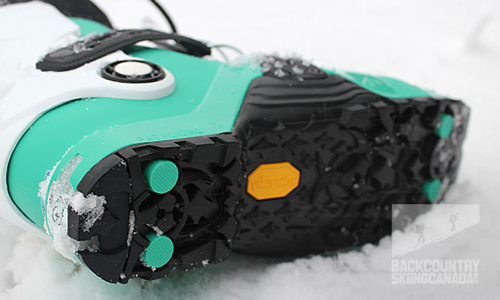 Verdict:
Like the Dalbello Sherpa 2/8 ID Boots that I reviewed last season, the Dalbello Sherpa 5/5 Boots offer up all the same great features and comforts only now with tech inserts. Tech bindings are much lighter and the future seems to be that of light and fast ski touring so the 5/5's have a big advantage over the 2/8's especially considering you can pick them up for roughly $100 more.
I did find the Sherpa 5/5 AT Boots slightly stiffer than the Sherpa 2/8 ID Boots however I don't think I would agree with the 110 rating that they have been given.This is rating is purely subjective and varies from manufacturer to manufacturer.
I am glad to see that Dalbello doesn't try and skimp on cost with the liners and still uses an Intuition liner (Canadian made btw). Instead of a wrap around liner as found in the Sherpa 2/8 Boots the 5/5's use a more traditional tongue liner design which works just as well and keeps your feet just as warm and toasty.
As with the Dalbello Sherpa 2/8 Boots I feel that the 5/5's suffer from the same poor colour choice and somewhat dated graphics and styling. I know Dalbello is trying to make the boots look cool and hip but the ski touring market is a little more conservative and refined than that of a park rat. Aesthetics are of course personal and subjective so you make your own call, that's just mine. Overall a great boot! 
(Note that all Dalbello Sherpa models are not designed for use with ISO Alpine ski bindings but do conform to the ISO 9523 Alpine Touring Norm bindings.)
SPECS:
Price: $650 US
Weight: 3826g / 8.4lb (pair)
Sizes: 26.5, 27.5, 28.5
Flex Rating: 110
Last 102mm
Buckles: 3
Warranty: 1 year
PROS:
- Warm and comfortable Intuition liners.
- Vibram soles for ski mountaineering or simply slick resort stairs and floors.
- Great walk mode.
- Easy on/off.
- Big toe box.
CONS:
- The colour (who picks these colours?).
- Bio-stride Tongue increases rear flex but not front flex.
- Rockered soles fit all AT bindings but not alpine ski bindings (but this is an AT boot after all!).
Rating: 8.5/10
Fit/Comfort       2/2
Cuff Rotation     2/2
Function            1.5/2
Weight              1.5/2
Quality / Price   1.5/2

Join the discussion in the forums here, and let us know what you think. People like/dislike gear for different reasons so chime in and we'll get a well-rounded evaluation.
Back to the rest of the reviews.
---