Dakine Biking Clothes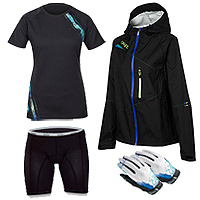 THE COMPANY
Dakine was founded in 1979 by Rob Kaplan in Maui, Hawaii. Dakine comes from the Hawaiian work DA KINE (the kind, or the best). Dakine's first product was a surf leash. They now produce much more than surf gear, and sponsor over 70 athletes. Dakine was bought by Billabong in 2008, and currently has their base in Hood River OR.
THE GEAR
This review covers five items of women's biking gear from Dakine: the 3/4 sleeve Xena Jersey, short sleeve Static Jersey, Shield Jacket, Comp Short Liner, and Exodus gloves. I also reviewed two biking packs, which you can read about here. Over the past six weeks, I have taken everything out in the rain, sunshine, heat, cold, wind and mud.. sometimes hitting all of these conditions on the same day in typical west coast mountain fashion.
---
Dakine Xena Jersey 3/4:
The Dakine Xena Jersey has a 3/4 sleeve, and is built for downhill / freeriding. The raglan sleeve and roomy cut are designed for ease of movement. The body and sleeves are 220g quick dry antimicrobial polyester.
Both sides of the shirt are 110g quick dry vented polyester mesh from the waist straight up through the arm, providing excellent ventilation, which is key for the up. (Pretty wonderful on the down too.) This is by far the best feature of the Xena Jersey - I loved the mesh sides and would choose this design over a solid fabric hands down. You still get the coverage of a 3/4 shirt but without the weight or heat. It's the only shirt I wear biking now. A+.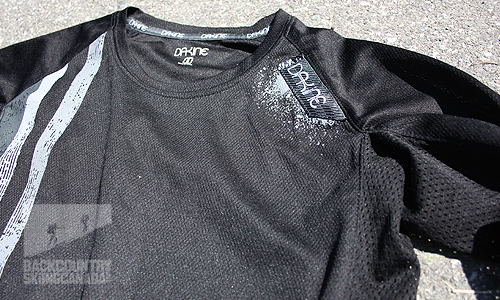 SPECS:
Price: $55CDN
Sizing: S M L XL
Fit: Women's Downhill/Freeride
Features: raglan sleeve, high scoop neckline, mesh side vent panels, interior sunglass wipe
Materials: 220g quick dry polyester with Microban® antimicrobial technology
Colors: Black, red, houndstooth, monaco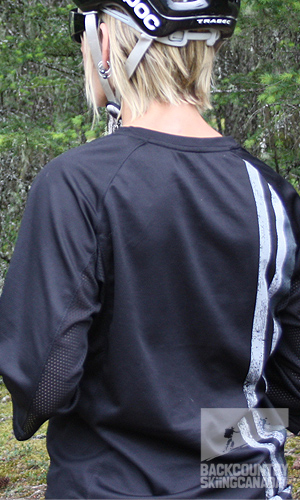 ---
Dakine Static Jersey S/S:
The Dakine Static Jersey is a lightweight, short sleeve all mountain shirt. It uses the same material (220g quick dry antimicrobial polyester) as the Xena, but does not have the mesh sides.
The cut of the all mountain shirt is very different from the downhill / freeride cut; it is much more form fitting and would be best suited to someone looking for a streamlined look and fit. I prefer a looser shirt like the Xena on the trails myself, so I have not used this item as much as the Xena. The Static does not give quite the same range of movement, as the neckline is quite high, and the sleeves are fitted. All of the Dakine shirts have their cut listed beside the product on the website, so you can choose the one you prefer.
Aside from personal preference, this is yet another well made piece of gear from Dakine. It comes in a couple of pretty colors and is clearly a top quality shirt, based on its' construction and materials.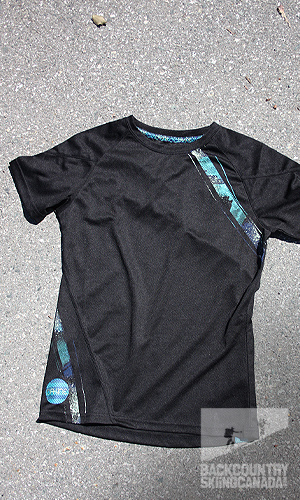 SPECS:
Price: $45CDN
Sizing: S M L XL
Fit: Women's All Mountain / Trail fit
Features: raglan sleeve, high scoop neckline, interior sunglass wipe
Materials: 220g quick dry polyester with Microban® antimicrobial technology
Colors: Black, lime, watermelon
---
Dakine Shield Jacket:
The Dakine Shield Jacket is a breathable, waterproof technical biking jacket. Designed for a downhill / freeride fit, this jacket is roomy and super comfortable. It has articulated sleeves, adjustable cuffs and a nice big hood to cover your helmet in the rain. The sleeves are generous so when your arms are extended there's still lots of coverage, and the back hem is longer to keep the rain and mud out.
The women's Shield Jacket only comes in black, which is good because it's going to get covered in mud on a rainy ride anyhow. There are quite a few little graphics hidden around the design, which I liked. See photos below to check out the arrows, lines and trees, all placed out of the way of a pack, shoulder straps and waist straps.
Living in Whistler, it was pretty easy to test this one out in our mixed bag of weather conditions. The pit zips and vented back panel give good ventilation when you're peddling, and I found the jacket quite breathable overall, even when it was fully zipped up.
This jacket is bike specific, so it feels better on the ride than any other jacket I have, being tailored to the way your body is positioned on a bike. I've worn most of my waterproof jackets biking at one time or another, and this one is now my first pick for sure. There is no restriction of movement and it's great having the back longer than the front. It's also lightweight and can easily fit into a pack.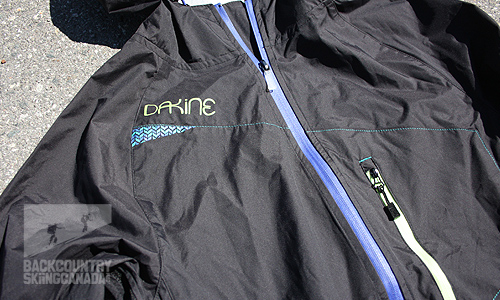 SPECS:
Sizing: S M L XL
Fit: Women's Downhill / Freeride
Features: Waterproof and breathable, helmet compatible hood, vented back panel, pit zips, articulated sleeves, adjustable cuffs, extended back hem, media pocket, reflective logos
Materials: 5,000mm breathable waterproof membrane
Colors: black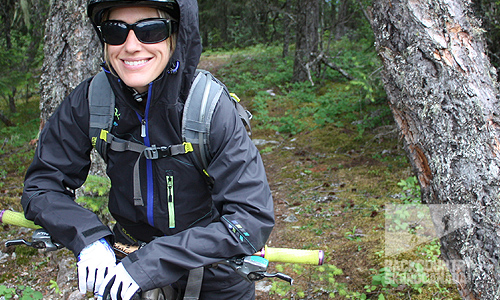 ---
Dakine Comp Liner Short:
The Dakine Comp Short Liner is designed to go under a pair of outer shorts. The liner gives a little bit of a cushion between you and the bike seat. I prefer the stand alone liner to the built in liner, because you can wear it under all of your biking shorts.
The Dakine liner is made of 4way stretch polyester, spandex, and high density open cell foam with antimicrobial treatment. The open cell feature provides maximum breathability. The pad is made in Italy by Dolomiti, a company that specializes in top of the line pads for biking. Dolomiti does extensive testing with athletes to create a product that offers ultimate performance, using the newest technology available. Combined with Dakine's flat seam construction, this liner is a high quality piece of gear.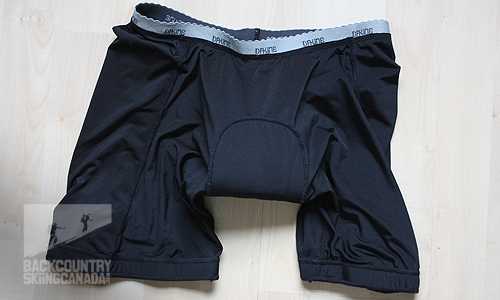 SPECS:
Price: $45CDN
Sizing: S M L XL
Fit: designed to be worn with outer shell shorts
Features: Flat seam construction, silicon grip tape at leg openings, 8" inseam, high density multi-thickness open cell foam, antimicrobial treatment
Materials: Shell: 150g 4way stretch 93% polyester 7% spandex, Padding: Italian Dolomiti women's specific high-density 8mm foam with antimicrobial treatment
Colors: black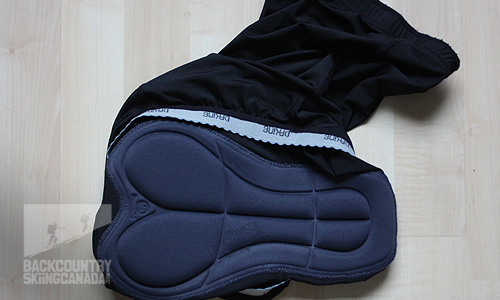 ---
Dakine Exodus Gloves:
White biking gloves, you ask... ? Being a gear reviewer and all, I thought I would test out the white and see if they actually stayed this way. They went through the laundry a lot, but actually still look surprisingly new and sparkling white I must say! I don't know if I would go for this color again, but the gloves themselves are awesome.. I have lots of good things to report about them.
First off, they are super comfortable and are made for women's smaller hands. With the velcro wrist strap attached, it's pretty much impossible for them to come off. They are lightweight, breathable and provide excellent grip, thanks to the silicone gripper fingertips and Clarino® suede. The fingers are articulated so they flex when your hands are curled around the handlebars. There's a handy little fleecy section on the outside of the thumb to wipe your face when you get splattered with dirt.
I took a few good bails using these, and was thankful they are built as tough as all the other Dakine products. Even though they're white, these are no sissy gloves.
All these features for $25 makes the Exodus an easy choice for quality and price.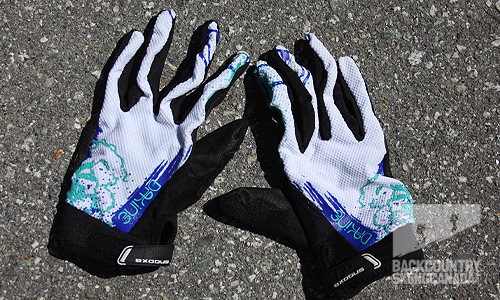 SPECS:
Price: $25CDN
Sizing: XS S M L XL
Features: Back of hand: lightweight moisture wicking 4-way stretch nylon mesh, Palm: Clarino® synthetic suede, 3 pad, 2mm foam padding, seamless palm construction, adjustable hook and loop closure, performance articulation, micro fleece thumb panels, silicone gripper fingertips
Materials: Nylon mesh, 2mm foam, microfleece, silicone
Colors: Black, white, watermelon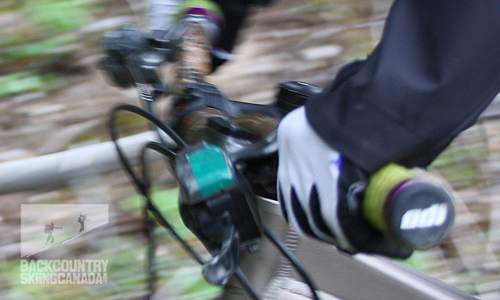 Verdict:
The thing that struck me most about all of these Dakine products (including the 2 biking packs in my separate review) is the Quality / Price factor. The level of craftsmanship, design and functionality you get for the price is incredible. Aside from my own personal preferences on fit and color, I found it difficult to think of ways these products could be improved. Everything is thoughtfully designed, and entirely bike specific. Although a very specialized item of clothing means you can't use it as easily across all of your sports, it does mean that you are going to feel incredible using it for the one it was intended. Everything I tested used really nice technical materials, and while there were some extra little special details (like the graphics on the jacket), I didn't feel like there were unnecessary bells and whistles on anything. The Shield Jacket has just the right number of useful pockets, and the Xena shirt even removes part of it's own surface area with the mesh because it's not needed. It is clear that Dakine has been around long enough to know exactly what they are doing when it comes to the boardsports and biking industries.
PROS:
The materials and construction are top notch, and everything is well priced. There are just the right number of features, and each piece is bike specific.
CONS:
The plaids and wacky patterns on parts of the Dakine line aren't really my thing, but that's just me. At least there's a toned down version for most items. I prefer the branding on the men's line (their Dakine logo is way cooler), but again this is just my two cents. Overall, I found there was such a wide range of cuts, I didn't get quite the right combo of sizes this time around. The liner shorts and Shield Jacket seemed a little big; the Static shirt was a little too fitted, and Exodus gloves were just right. Everything was marked as Small, but there was quite a range of what Small meant. Now that I know how each piece is cut and understand the fit categories, I am better equipped to choose my next round of Dakine gear accordingly.
Rating: 9/10
Innovation 2/2
Function 2/2
Aesthetics / Fit 1/2
Features 2/2
Quality / Price 2/2

This is only our opinion. Do you disagree? Did we miss something? Are we totally out to lunch? Join the discussion in the forums here, and let us know what you think. People like/dislike gear for different reasons so chime in and we'll get a well-rounded evaluation.
Back to the rest of the reviews.
---