Canada Goose Coastal Shell Jacket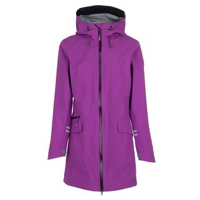 With 50 years in the biz, Canada Goose has true cred, especially in this current gear-saturated world of options. There has to be some mettle there, me thinks. The brand also has become somewhat of a status symbol with Claire Danes wearing it - if she wraps up in Canada Goose, I'm in. In fact, there are several other high-profile folks out there wearing CG, including Amelia Rose Earhart who, yes, just last year, circumnavigated the globe in a single engine plane. A Canada Goose jacket (and not much else) also made it onto the 2013 cover of the Sports Illustrated Swimsuit Edition, worn by Kate Upton.  
So how did the little brand that we used to associate with arctic working men become so hip and pervasive? Some smart marketing on the part of the third-generation CEO from Toronto, for one. Perhaps it's the circular logo's placement on the arm, the inclusion of the word "Canada," the company's determination to keep production local (and pricing at a premium level). Likely, it's a combination of all these things—with a little luck and some investment capital thrown in to make it all happen. The idea was to become the "Swiss army knife" of the cold weather apparel world, and appeal to people's positive associations with Canada—gritty, honest, comfortable in the cold, etc.. Once the brand got rolling, they were able to expand into other fabrics, styles and new markets. They've gone waaay beyond the iconic big, puffy, heavy coats with the fur-lined brim and now offer many different styles using different materials (like softshell, for example). We applaud the company's success—it's always good to hear about family run, Canadian-based manufacturers kicking butt globally.
So this is all fine and good, but what about the jacket? We've had the Coastal Shell model for a few months and would like to tell you about it.
This breathable, waterproof mid-thigh-length layer has it all dialled: form and function hang in sweet balance. Starting at the top: I love the hood. Commodious (could cover a deceitful wolf's head) and adjustable in 3 ways—so, over a helmet or hair, can be fitted as needed. Its large size may have been a design decision. We think it contributes to the overall aesthetic. Note the reflective accents on the hood's back side.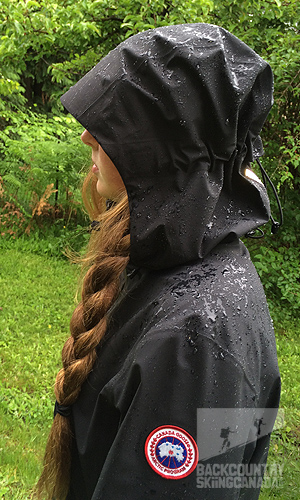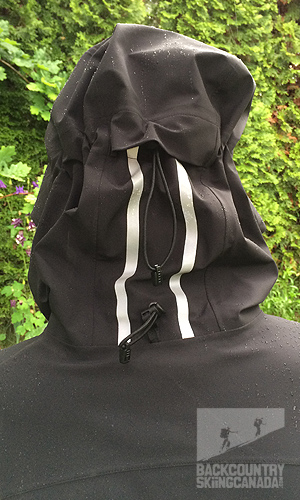 My most appreciated element, by far, is the YKK® AquaGuard® water-repellent locking zipper. Sturdy and 2-way, it accommodates your chosen activities. It excels when biking—just open it up a smidge and allow the jacket's back to fall on the outside of your saddle. If it's raining or windy, and you have no fender, the Coastal Shell will protect your butt from the tires' mess and give your legs room to move. When hiking up inclines in the rain and/or wind, you have the option to open up from the bottom while staying closed, warm and dry, up top.
My favourite functional design gestures: the wee flap over the top of the zipper so you don't catch your chin in the metal and, wait for it, the brushed tricot lined interior collar—brings softness we all appreciate inside while proving our worth in action outside.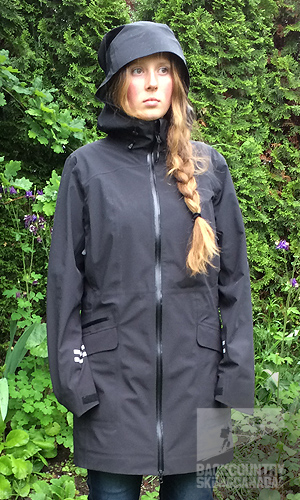 In the photo below, you can see where the interior draw string sits, just above the waist. You can see the black "piping" in the internal shots further below as well. Tightening up this cord makes for a more fitted look that can serve to highlight a woman's curves. Adjust as you please or leave it slack.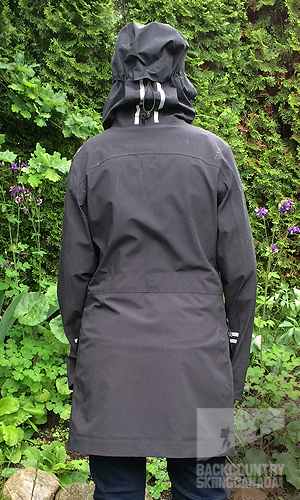 There is a thoughtful variety of pocket possibilities that are both discreet and efficient: lean, flat (as in not bulky) deep outside pockets with velcro; an extra smaller zippered one on the right side just above.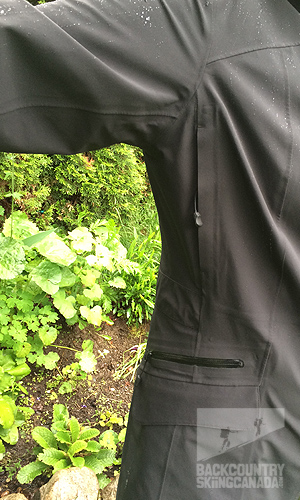 There's a secret zippered pocket inside lower left for unmentionables and two small upper pockets with zippers and an inside strap for keys. Just out-of-frame of the first pic below (don't worry, we fired the photographer) is a security/media pocket with a cool media port that busts out of a rubberized CG logo. We all have our organizing neuroses so I won't bother telling you what to put where. All options and needs are covered with a wide variety of pockets and all very lean so style and slimness still sing out.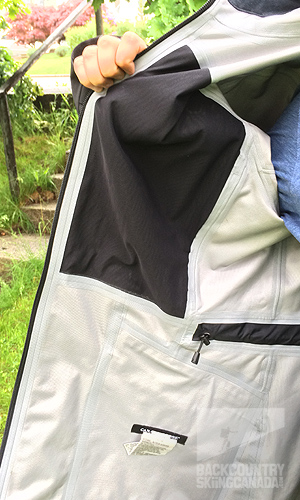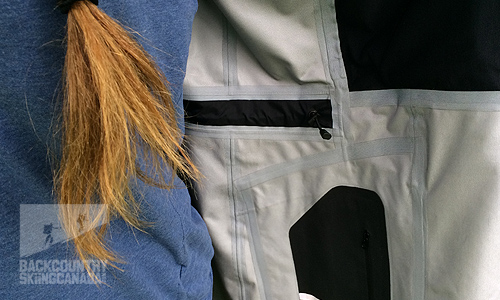 Sleeves are long and taper nicely—great for hand cover while biking—with adjustable Velcro closures. There are glow-in-the-dark double stripes on the lower back sleeves and at the back of the hood. This is good news and makes me feel a little better about biking with a black jacket when the sun drops.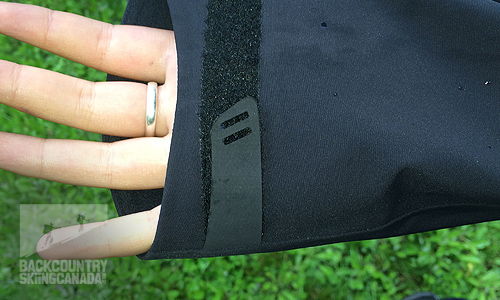 Features:
- Waterproof, breathable, fully seam-sealed
- Mid-thigh length
- 3-way adjustable, helmet compatible hood (hood opening, horizontally, vertically)
- Centre front YKK® AquaGuard® water-repellent 2-way locking zipper
- Two chest hand pockets with 1-way locking zippers with interior mesh pocket bag for added ventilation
- Lower drop-in pockets with Velcro® closure flaps
- Ticket pocket with YKK® AquaGuard® water-repellent 1-way locking zipper
- Reflective tape under sleeve and back hood for added visibility
- Adjustable drawcord at waist
- Interior security pocket with media port
- Brushed tricot lined interior collar
- Adjustable cuffs
- Centre back length: 33" / 83.82cm
Verdict:
Overall, two thumbs up for this gear with snazz. Tailored enough that it is more versatile - not just gear, I feel 'put together' wearing it while heading off for that wet Monday morning work presentation. You can even draw in the waist to accentuate your curves, and keep the draft out.
It's "Coastal Shell" name is on-the-money. It's a great bit of clothing for the Pacific or Atlantic coasts where wet-weather combines with wind, making the just-above-the-knee length a life saver. It's likely more at home in town than on the backcountry uptrack. But it'd work for both if it had to. Officially, it's called a jacket—but "coat" may be a more apt descriptor.
Heads up: The jacket fits on the larger side of sizes so a medium feels like a large; this is probably to accommodate an insulating layer in very cold wet weather.
You spin me right round, baby
Right round like a record, baby
Right round round round
(note the falling rain)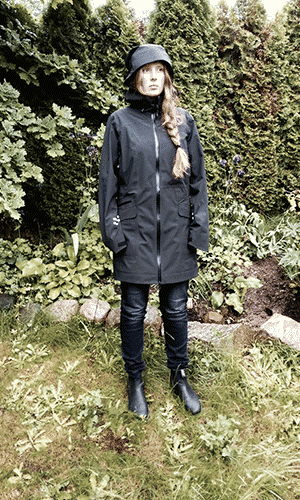 SPECS:
Price: $675CAN
Colours: Black, Aurora Green/Altitude Blue, Tundra Blossom/Arctic Dusk, Altitude Blue/Pacific Blue, Torch/Mid Grey
Sizing: 2XS – 2XL (the 2XL must be reeeeally big)
PROS:
- Light, durable, well crafted, good length.
- Matte charcoal colour is very versatile and, let's face it, fits into the current dark urban mod.
- For the "fashion flashy," there are vibrant colour options with contrasting dark zippers as stand outs. 2-way zipper for flexibility
- Technical rain and wet weather coat
- Flattering cut
CONS:
- Zipper pull is a little on the small side, fussy especially if wearing gloves
- Pocket flaps a little too 'sealing' making easy access trickier (remove some of the Velcro?).
- The CG insignia on my arm makes me feel a little like a Red Cross worker - could be placed along the bottom or above a pocket?
- A little more reflective material would be good—especially with the black model
- Spendy
Rating: 8/10
Fit/Mobility                  1.5/2
Packability:                  1.5/2
Waterproof/Breathable 2/2
Features:                      1.5/2
Quality/Price:               1.5/2

This is only our opinion. Do you disagree? Did we miss something? Are we totally out to lunch? Join the discussion in the forums here, and let us know what you think. People like/dislike gear for different reasons so chime in and we'll get a well-rounded evaluation.
Back to the rest of the reviews.
---