Brooks-Range Alpini Bivy Sack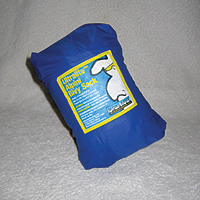 I have been lucky so far and never had to spend an unintentional night out—but it has been close on a few occasions. There was the time we had to break trail for 25km in waist deep snow and the time the old Fritschi's finally gave out which we patched up with duct tape and a tree limb. Spending a night out in summer would be ok, fall would be bearable but in January at elevation... well you are not in for a lot of sleep, never mind dry comfort. Let's face it, we don't always want to carry a tent with us everywhere we go. This is when a makeshift shelter, like a Bivy Sack, comes in handy. Ideally an alpine-specific bivy is under a pound in weight and very compact. It can remain in your pack and you wouldn't even know it was there - until it's really required.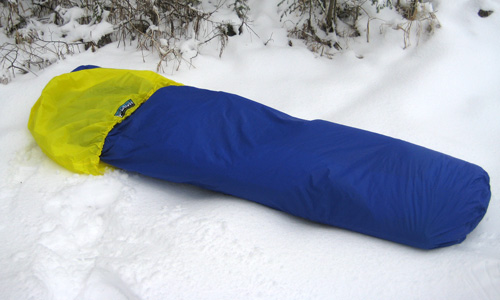 Materials:
The Brooks-Range Alpini Bivy Sack is an ultra-light, single-person shelter made from ultra-lite 20-denier ripstop waterproof/breathable material that Brooks-Range has specifically designed and manufactured. The floor is made of ripstop nylon and is coated to be extra durable. A short side zipper makes set-up and getting in and out a breeze. The Alpini Bivy also has an extra deep cowl-cover (essentially an oversized hood) to keep you protected from the elements. It's light yellow material lets in extra light and a draw cord keeps it cinched up tight. The seams are taped for improved water resistance and the fabric is fire retardant treated however you need to keep it clear of direct flames and all heat sources. The Alpini Bivy is meant to be a sub-zero alpine bivy and not suitable for use in sustained heavy rainfall as it is not 100% waterproof.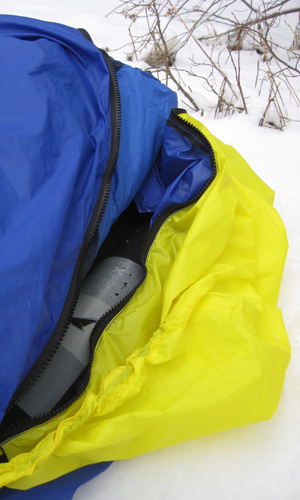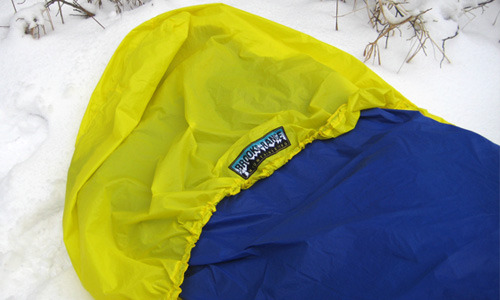 Weight:
The biggest feature of the Alpini Bivy is that it is extremely light and compact. Weighing in at only 410 grams, the Alpini is not the lightest bivy on the market but it's definitely in the running when compared to the weight of the average Bivy.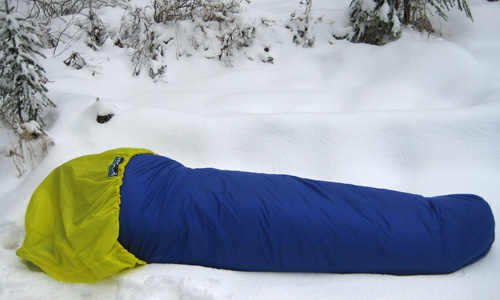 Packability:
The Alpini Bivi packs down into an integrated clam-shell storage stuff bag that is about the size of a can of beer and can be stowed in your pack for a dedicated backcountry trip or as an emergency shelter.
Guarentee:
Brooks-Range places their customers first with a "no hassle satisfaction guarantee" - if the Alpini Bivi does not perform to your satisfaction when used under normal circumstances you can return it for repair, replacement or a full refund.
The Experience:
Bivy sacks are not for everyone and some say they feel cramped and claustrophobic inside them. Other people though, use them exclusively for backcountry trips where weight is of utmost importance and they do not have room for a full tent. You would likely not want to spend a week sleeping exclusively in any bivy sack; however, they are ideal for summit bids, or single/multi day trips. The other important use for the Alpini bivy is as an emergency shelter - if you spend enough time in the backcountry sooner or later you are going to spend a night out whether it is due to circumstances beyond your control or your own error in judgment. Even if you have expert snow cave building techniques it would still be more comfortable, warm and drier inside an Alpini Bivy sack while the hours slowly tick by until daylight.
We tested the Brooks-Range Alpini Bivy Sack on a recent trip into the Selkirk Mountains where we bivied at approximately 5000' with the temps going down well below zero degrees Celsius at night. An Exped down Mat 7 sleeping mat was used along with a -9° Mountain Hardware synthetic sleeping bag. Overall, the Alpini bivy felt a little cramped but given that I placed the down mat 7 inside the bivy this used-up considerable room as it measures 42" x 98". The cowl-cover is more than adequate to cover you in a storm, but, without a way to keep it off your face while you sleep, considerable condensation builds up quickly and oxygen intake is restricted. Overall the bivy was very quick to set up, comfortable and warm to sleep in however condensation does build up in the bivy bag over the course of the night - given the cold temperatures on this night the condensation was more of a factor. We did a second test with maximum lows of around seven degrees Celsius and the condensation was much less. Be aware that you will still get clammy unless you can vent with the side zipper adequately.
Having spent several trips in bivy sacks I am a firm believer in their specific use and while other bivy sacks may have more features than the Alpini Bivy, you pay for it in weight. In the least this bivy sack is good insurance, it will have a permanent place in my backcountry ski touring pack as an emergency shelter. I would also use this Bivy for summit bids and other trips where weight savings are important and a tent just won't make the cut.
SPECS:
Price: $179 US
Weight: 15 ounces / 410grams
Max Dimensions: 13 x 21cm / 5.1 x 8.3″
Typical Use: Alpine
Color: Frame Red, Royal Blue, Yellow
PROS:
Extremely light weight and very packable. Great piece of gear for emergencies.
CONS:
Not 100% waterproof - only the bottom is waterproof the top is water resistant to allow for breathability. The primary colours of the fabric are a little "primary," they will help if you get lost but a more mature colour palette would help give this piece of gear a more reliable appearance. The zipper would be more helpful if it was double sided so you could zip it up from the inside. A loop on the top of the cowl would allow for tying a line to it to keep it off your face while sleeping.
Rating: 6.5/10
Ease of Use 1/2
Technology 1.5/2
Features 1/2
Weight 1.5/2
Quality / Price 1.5/2

This is only our opinion. Do you disagree? Did we miss something? Are we totally out to lunch? Join the discussion in the forums here, and let us know what you think. People like/dislike gear for different reasons so chime in and we'll get a well-rounded evaluation.
Back to the rest of the reviews.
---