Bounce Protein Balls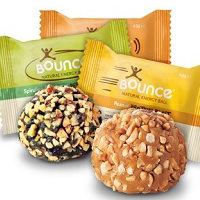 Bounce Natural Energy Balls are a healthy, effective nutrition supplement when out on the skin track or banging off endless powder laps at your local resort. They have no artificial preservatives, are gluten free and are made with natural ingredients.
Bounce Energy Balls come in a good selection of flavours/ingredients, including Almond, Cacao Mint, Cashew and Pecan, Coconut Macadamia, Fudgie Walnut, Peanut, and Spirulina and Ginseng. Each flavour has its own intended benefits, ranging from slow-releasing protein energy to anti-oxidant and high fibre benefits. The small size of the Bounce Balls is convenient for storage, and boasts a significant protein punch for the size.
The Bounce brand was founded by husband and wife team Andy and Paula Hannagan in Australia in 2003, expanding to global distribution. In 2011, they launched their Canadian distribution. "Passionate about life, health and good quality nutrition, this energetic couple wanted to create a brand which inspires people to eat well, feel well and live well."
So, how do the Bounce Energy Balls taste? We received a wide variety of the Bounce Balls and their ingredients and slow-release energy boost fit the bill. On extended hikes they gave an extra kick to get you back to the top for another lap…or three. The tastes vary, and are true to their ingredients, but like other similar products they are a bit firm and dense, and are assisted nicely with a few gulps of water. I found it hard to eat an entire ball at once, preferring to eat it in bits as I travelled.
The beutiful packaging makes you hungry for what's inside. The Second photo below shows the products cut so that you can see inside.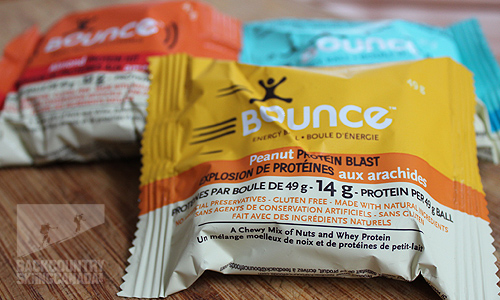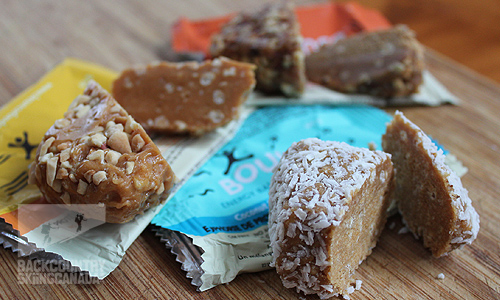 Features:
- No artificial preservatives
- Gluten free and are
- Made with natural ingredients
- High in protein
- Slow-release energy
- Small package (40-49g average weight)
- 7 flavours with various ingredient benefits
We sampled three flavours, Coconut Macadamia Protein Bliss...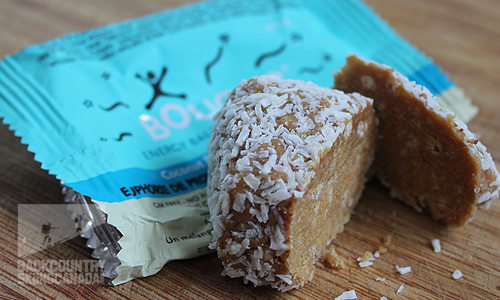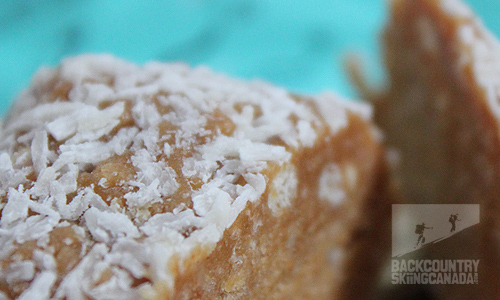 Peanut Protein Blast...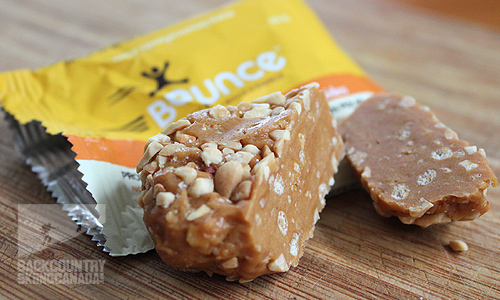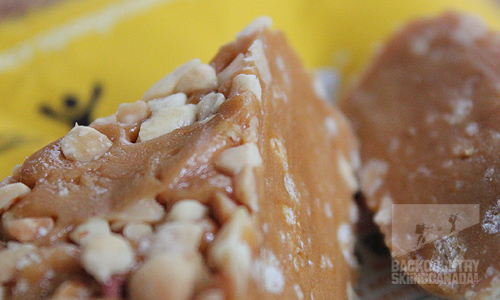 And Cashew and Pecan Delight.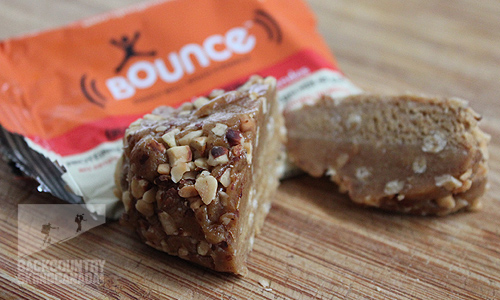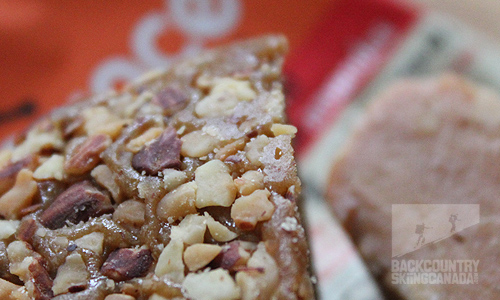 Verdict:
Overall the Bounce Energy Ball is packed full of healthy goodness providing excellent slow-release energy to keep you tromping up the skin track in between meals. Its small size-to-energy boost ratio makes it an excellent choice. While it may not be as chewy and soft as some other bars out there, the guarantee of no artificial preservatives, GM-free, gluten free and high protein and fibre content make it a natural choice.
And as they say "Bounce is committed to providing high quality, 100% natural food - giving you the energy to gain the most out of life.What would you do if you had the Balls?" 
SPECS:
Price: $28 (Box of 12), $92 (tub of 40)
Size: 40 - 49g average weight
Flavours: Almond Protein Hit, Cacao Mint Protein Bomb, Cashew and Pecan Delight, Coconut Macadamia Protein Bliss, Fudgie Walnut Treat, Peanut Protein Blast, Spirulina and Ginseng Kick
PROS:
- Nutritious
- Natural
- Gluten Free
- Wide variety of flavours/ingredients with various benefits
- Packs a punch
CONS:
- Stiff to chew especially when it gets cold out
- Recyclable packaging would be nice
Rating: 8/10
Ingredients         1.5/2
Taste                  1.5/2
Effectiveness       1.5/2
Weight                 2/2
Quality / Price     1.5/2

Join the discussion in the forums here, and let us know what you think. People like/dislike gear for different reasons so chime in and we'll get a well-rounded evaluation.
Back to the rest of the reviews.
---