Bonk Breaker Energy Bars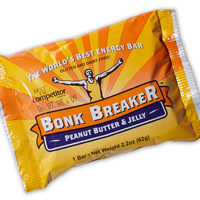 They say 'necessity is the mother of invention' and this is the driving force for Bonk Breaker Energy Bars founder Jason Winn. At 23 he was a new Ironman triathlete and with the help of his mom's kitchen (and surely his mom) he went to work creating a better bar. For Jason, he wanted to create something new, something great tasting and moist. Jason has moved beyond his mothers kitchen but he can still be found baking on a regular basis to ensure his products are shipped fresh. 
"Bonking" refers to the loss of energy and fatigue setting in as your body is starved of energy, nutrients and calories. It can happen in any competitive endurance sport  or while simply trying to keep up to the person in front of you on the skin track. The result is a sudden drop in performance, the solution is to eat something nutritious with calories and energy to get you going again. The challenge is to find something that is healthy, portable and easy to access so you don't have to break stride and 'take 5'.
With literally a zillion companies now in the energy bar space it is often hard to separate the good from the bad. What makes Bonk Breaker Energy Bars different is their moist consistency and home baked appeal. Many energy bars go down about as easy as sawdust and glue, Bonk Breakers have the appeal of real food, sort of like a tasty treat you would bake yourself (if you had the time). Add to this the fact that Bonk Breaker Energy Bars are Dairy and Wheat-free* and you have a product most people will love.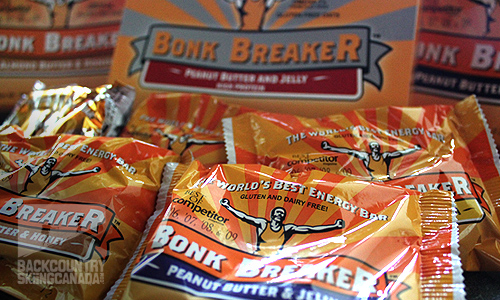 Flavours
Bonk Breaker Energy Bars are currently available in 5 flavours with a newly released 6th flavour: Espresso (for those coffee heads out there). As mentioned, all of the flavours are dairy-free and Wheat-free*, with 4 of the 5 flavours also containing no soy. The current flavours are:
Peanut Butter & Jelly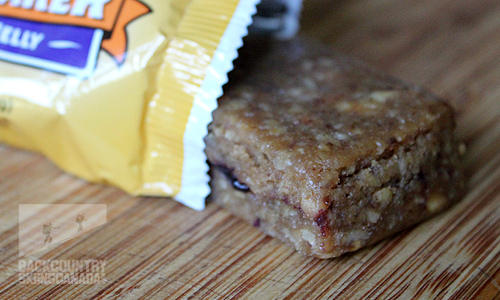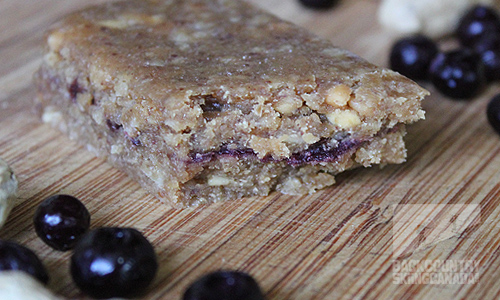 Peanut Butter & Jelly High Protein (15grams of protein vs the regular 8 grams)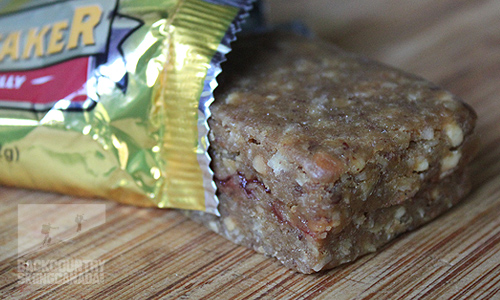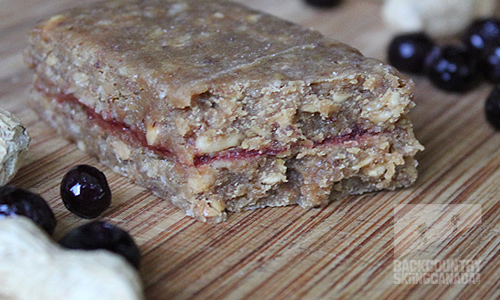 Peanut Butter & Dark Chocolate Chip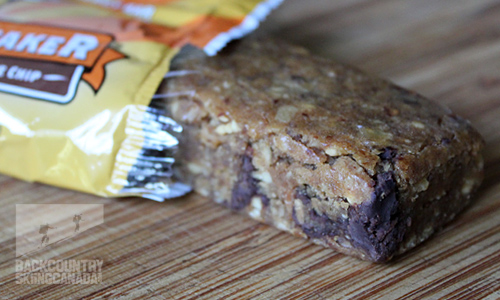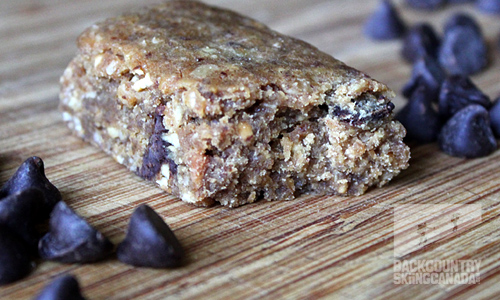 Peanut Butter & Banana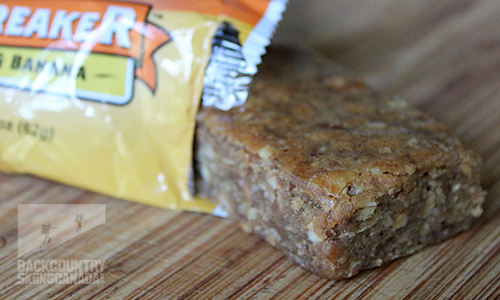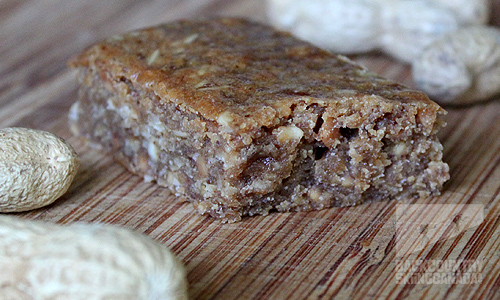 Almond Butter & Honey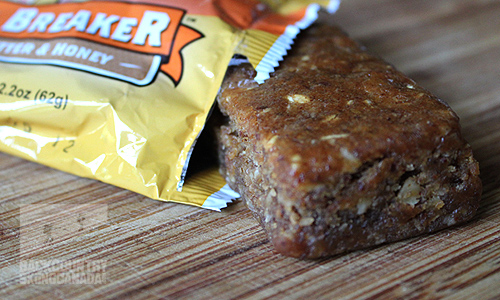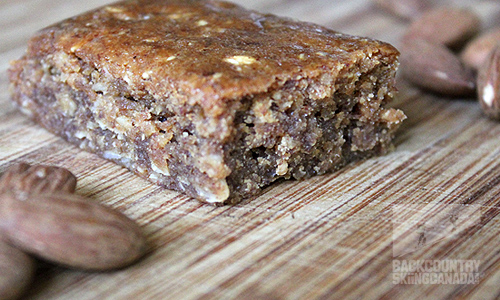 Expresso Chip (NEW - available May 23rd 2011)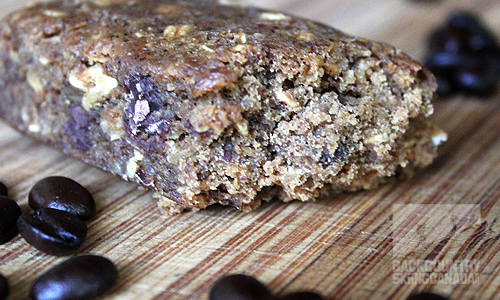 Nutrition
If you are concerned with your health it's a nice rule of thumb to be able to pronounce all of the ingredients in the products you consume and even better if the ingredient list is shorter rather than longer. Bonk Breaker Energy Bars conform to these first two ideals and also includes the following in all of their bars:
8 grams protein (15grams in the High Protein PB&J flavour)
2 grams fiber
healthy fats (low saturated)
potassium to prevent muscle cramping
For a full breakdown of each flavours ingredients and nutritional content have a look to the Bonk Breakers web site at: www.bonkbreaker.com
*NOTE: The oats used in Bonk Breaker Energy Bars are uncontaminated oats, produced in wheat and glutin free facilities, however the jury's still out on whether oats affect people diagnosed with coeliacs. If you are diagnosed with coeliac disease it would be wise for you to do your homework and determine what works for you personally.
Verdict
Most energy bars look and taste pretty processed, their dry texture requires a lot of hydration afterwards and overall they are just not all that palatable. It's refreshing to see a new take on this product in an over-saturated market. Bonk Breaker Energy Bars are delicious and something you look forward to eating - which is a nice change. Their tag line states: "Where homestyle baking meets sports nutrition" and I think that this is a pretty fair summary.
Currently Bonk Breaker Energy Bars are only available in a handful of canadian locations, but you can always purchase them online at the company web site www.bonkbreakerstore.com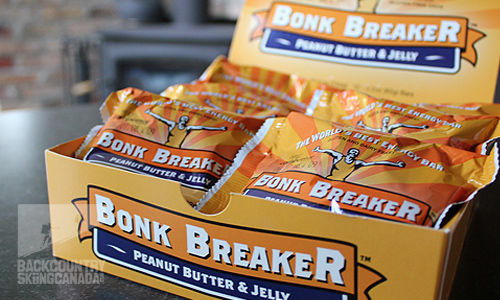 SPECS:
Price: $24.99 / box 12
Weight: 62 g / 2.2 oz
Flavours: Peanut Butter & Jelly, Peanut Butter & Jelly High Protein, Peanut Butter & Dark Chocolate Chip, Peanut Butter & Banana, Almond Butter & Honey, Expresso Chip
Awards: Competitor Magazine, 'Best of 06-07-08' for Energy Bar Category
PROS:
Great taste, moist, nutritious, home baked appeal, conveniently packaged.
CONS:
Would be great to see them evolve into an organic product with biodegradable packaging.
Rating: 8/10
Ingredients      1.5/2
Taste               1.5/2
Effectiveness   1.5/2
Weight              2/2
Quality / Price  1.5/2

here, and let us know what you think. People like/dislike gear for different reasons so chime in and we'll get a well-rounded evaluation. Check back mid-season to see how our review stands up to our in-the-field testing.
Back to the rest of the reviews.
---