Bolle Gravity Goggles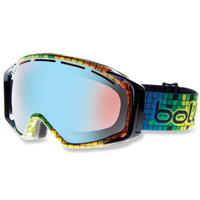 Optics is one of the most personal choices one can make when choosing snowsport accessories. While most of us prefer not to pay exorbitant amounts of money for the colorful plastics that cover our eyes in the outdoors, there are those who will empty their ski bum bank accounts in the name of acquiring the "best performing product." Truth be told, the expensive optics companies make great products that last for years, but much of the expense can be attributed to the styling and branding of the products, as well as the millions of dollars of marketing and sponsorship those companies choose spend their budgets on.
But no one wants cheap stuff either. The lower end of optics price spectrum looks good on the shelf, but can often suffer from poor building quality and require replacement after a year of heavy use.
There is however, a fertile ground in between the overpriced brands that pay for pro skiers to ride in helicopters and the affordable shades that lose their lustre after a while, and that's if you don't physically lose them first.
Bolle is one of those companies that has sat quietly on that fertile ground of the snowsports industry, all the while making quality optics that stands up to it's overpriced competition. They have been making optics since the 1950s and released their first pair of ski goggles in 1960. In 2001 the company was acquired by Bushnell, an American company known for it's tactical optics and scopes.
Having had great experience with Bolle products in the past I was excited to test the Bolle Gravity Goggles and Bolle Speed sunglasses this winter. Both stood up to Bolle's reputation for affordable quality.
The first impression of the Gravity was its resemblance to the Oakley Crowbar, which isn't a bad thing. The frame design has the strap attaching to outlying 'struts' for a balanced fit that provides even pressure over the face for all day comfort – especially with helmets. The Gravity achieves this, helped by the mulit-density triple layer foam which finishes with a cozy layer of fleece against the face. The foam is usually the first part of the goggles to fail with the glue eventually breaking down. Though no sign of disintegration was visible after one season, a longer term test would be required to see if all three of those foam layers can stand up to repetitive compressions.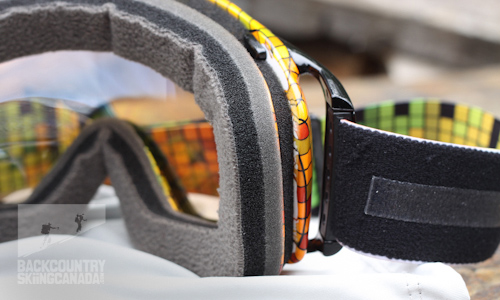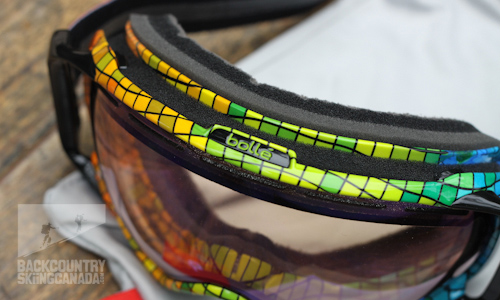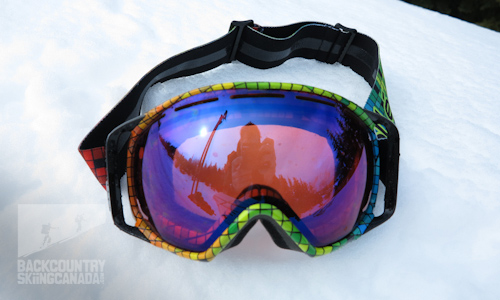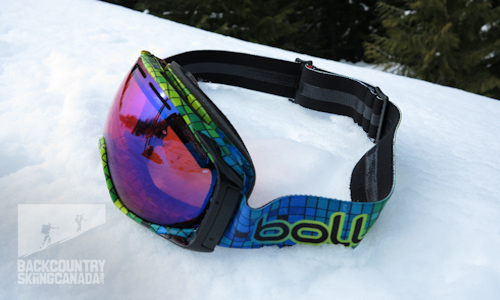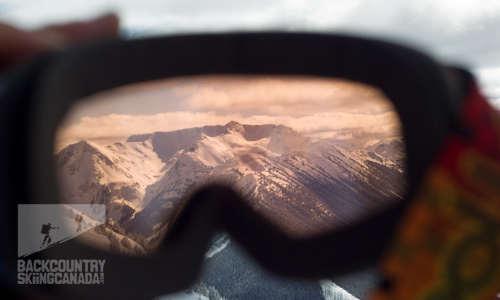 A strip of silicone on the strap keeps the goggles firmly planted on your helmet and the fit with a Smith Variant ski helmet was good (no gorby gap), but not quite as snug as my old Smith I/Os. The Gravity also fit remarkably well on a full face DOT helmet used for snowmobiling.
The Modulator Vermilion Blue (MVB) lens was my favourite feature of these goggles, providing excellent peripheral vision perfect for unpredictable weather days in Whistler. Choosing what lens to use is a daily chore on the coast, as sunshine can be unceremoniously interrupted by incoming cloud. While I would prefer to use a darker lens for the sunny days, the MVB was the perfect go to for any other type of weather from partly cloudy to full on white out. It was difficult to tell weather the "modulator" was very effective in changing tint as this happened gradually and does not try for the unrealistic goal of being the "one lens to rule them all." That said, when travelling backcountry I have wear my sunglasses 90 per cent of the time and these goggles were great for scoping lines down shady couloirs on both sunny and flat light days.
Standing up to physical activity was where the goggles also shined. While I did not wear the goggles while skinning I did do quite a bit of work digging out a snowmobile while wearing them. The perspiration eventually creeped in but was gone soon after getting the airflow going by skiing, riding the chair or hitting the sled throttle.
The only issue was the frame-lens interface feeling a bit loose after detaching and reattaching the lens and required a but more force to snap into place. This is a goggle that you don't interchange lenses with unless you are replacing the lens.
Verdict:
The Gravity goggles represent an excellent balance of price point and quality-built product. The MVB lens was the standout feature with uncompromising definition and standing up to plenty of perspiration. The goggles are advertised to fit medium/large faces but be sure to check the fit and compatability with your own helmet before purchasing.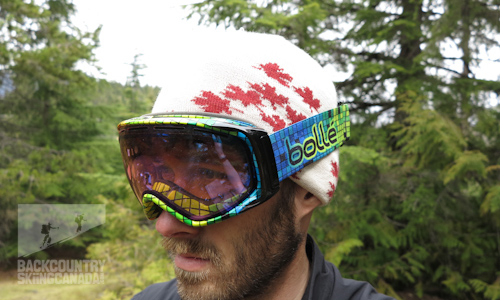 SPECS:
Cost: $150
Weight: 140g / 5oz
Size/fit: Medium-Large
Colours: Pinstripe Modulator Vermillon Blue, Shiny Black Polarized Aurora, Shiny Black Modulator Vermillon Blue, Black Mosaic Vermillon Gunmetal, Sunburst Vermillon Gunmetal, Red White Fade Vermillon Gunmetal, Space Vermillon Gunmetal, Mural Fire Orange 35, Earth Stones Amber Gunmetal, White Vermillon Gunmetal, Chumpy Pullin Vermillion Gunmetal, Seth Wescott Vermillion Gunmetal, Lindsey Jacobellis Vermillion Gunmetal, Blue Aurora, Green Amber Gunmetal
PROS:
Solid product built to last.
Excellent field of vision with great definition
CONS:
Frane/lens interface could be a bit more sturdy
Not everyone would be a fan of the colored mosaic design on the frame and strap
Rating: 8/10
Comfort / Fit 1.5/2
Features 1.5/2
Function 1.5/2
Quality 1.5/2
Price 2/2

Join the discussion in the forums here, and let us know what you think. People like/dislike gear for different reasons so chime in and we'll get a well-rounded evaluation.
Back to the rest of the reviews.
---