Black Diamond Revolt Headlamp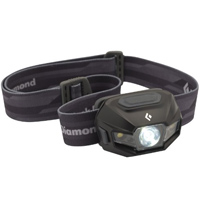 Having a rechargeable headlamp is all about piece of mind. As long as you have the USB cord and power source handy, you are golden. Keep the USB cord in your car and charge up on your way for early dawn patrol or a late night expedition into the wild, or use any computer, solar unit or USB adapter. It's that simple. The Black Diamond Revolt Headlamp comes with three rechargeable AAA batteries (NiMH) as well as three alkaline batteries, so even if you are on a long trek, you're all set.
The slick looking Revolt comes in 4 colors and has just as many light modes. The most powerful 'distance' mode can aluminate up to 66-70m depending on battery type with its triple powered LED. Proximity mode, useful for reading or in tight spaces uses 2 single powered LEDs. Both distance and proximity modes have a dimming option by simply holding down the button. Standard strobe lighting will keep your battery use minimal incase you're in need of a night rescue or backcountry rave, and infrared can be accessed from the off position for light sensitive operations.
The adjustable headband doesn't have an inner grip that I would have expected from a headlamp. Because of this you may notice some slipping on longer adventures. However the headband is removable from the light itself in case you want to clean or attach it to anything else you see fit, such as a harness or waistband. It is also built with a pivoting tilt so you can adjust where your light is focused.
The entire headlamp is waterproof; so don't start making excuses about the weather. The battery life and light may vary with temperature flux so ensure you keep it protected when not in use. A handy lock feature will ensure battery power remains on reserve until you say "let there be light".
The Revolt's Black Diamond batteries are the only rechargeable batteries that will recharge and activate the battery meter within. Green means go, you have more then half of battery power left. Red means stop, it's time for a recharge because less then a quarter of battery power remains. Between these is orange, and blue means that it is locked. The battery meter will activate for three seconds after the Revolt has been turned on. Battery use will last 12 to 80 hours depending on use and preferred mode.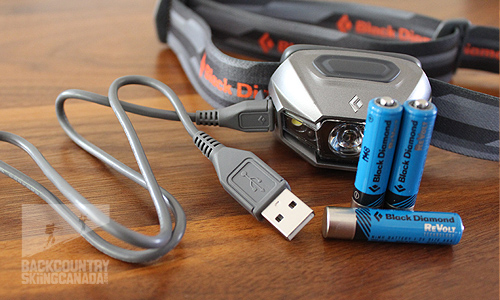 Features:
- 3 AAA USB Rechargeable Batteries
- 3 AAA Alkaline Energizer Batteries
- 4 Light Modes: Distance, Proximity, Strobe, and Infrared
- Light Dimming with Distance & Proximity modes
- Battery Meter
- Power Trickle during overcharge
- Waterproof casing
- Multiuse Attachment
- Lock mode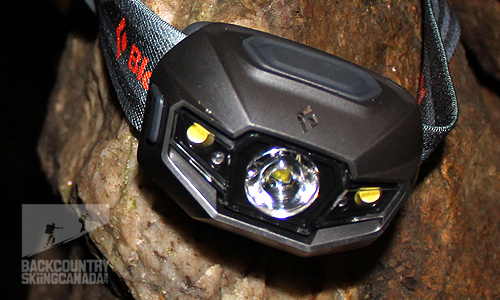 A quick recharge via USB cable to your computer while you read up on all the latest backcountry news on BackcountrySkiingCanada.com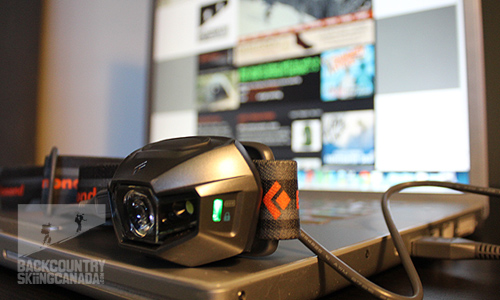 Heavy duty strap and construction.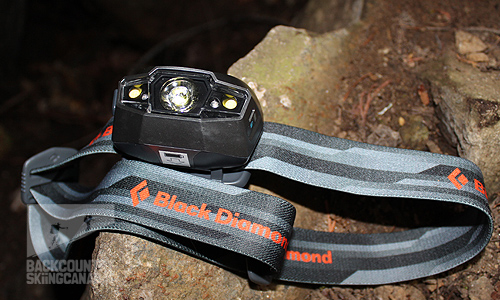 Traditional batteries versus rechargables, the choice is yours.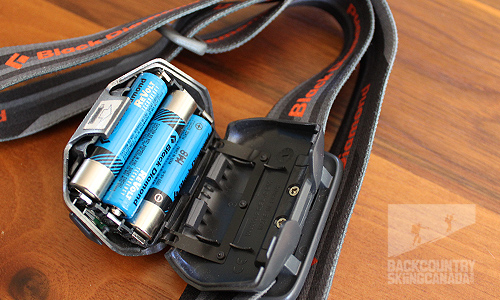 Verdict:
One feature of this headlamp I couldn't decide whether to place in the pro or con category was the 'one button' feature. Only one button controls all of the Revolts light modes. Some may argue that this is better, as long as you know how the button works, how many times (or how long) you should press it for to get your desired mode. Others say that regardless of what you know, you will find yourself fumbling throughout the modes, from strobe to infrared, and annoying fellow adventurists. You can't please all the people all the time, and as you can see from the long list of pros/features, and short list of cons, this headlamp could be the only one you will ever need again. It has every light mode needed and is brighter then most I have seen at this price. I do suppose that sooner or later the rechargeable batteries will need replacing, at which time Black Diamond will have no problem shipping them out.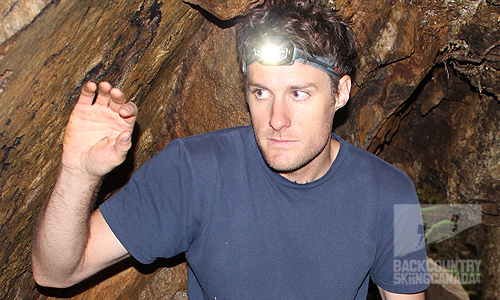 SPECS:
Cost: $60 USD
Weight (with batteries): 97g
Colors: Matte Black, Titanium, Metallic Citron, Ultra White
Lumens: 110
Max Distances: Alkaline 70m; NiMH 66m
IPX rating: 4
Warranty: 1 year
PROS:
- Batteries included! Three rechargeable & three regular AAA batteries.
- Only one button.
- Battery meter will tell you when you are >50% (green), 25-50% (orange)and <25% power remaining (red). When light is blue it means it is locked off.
- Dimming extends battery life.
CONS:
- On/Off button is more difficult to find then other models.
- Only the BD Revolt AAA batteries will recharge inside the headlamp, so other rechargeable batteries are no good.
- The battery meter only works with Black Diamond batteries.
- Only one button.
Rating: 8/10
Innovation       1.5/2
Function          1.5/2
Aesthetics        2/2
Features          1.5/2
Quality / Price  1.5/2

This is only our opinion. Do you disagree? Did we miss something? Are we totally out to lunch? Join the discussion in the forums here, and let us know what you think. People like/dislike gear for different reasons so chime in and we'll get a well-rounded evaluation.
Back to the rest of the reviews. 
---