Bergans Stryn Jacket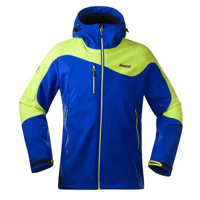 Bergans is a Norwegian company with a 100-year history of making everything from apparel to backpacks to canoes. Though very popular in Europe, and Scandinavia in particular, the Bergans brand is just starting to pop up here in North America. Look around you this winter; you'll likely spot the distinctive colours, unusual cut and telltale Norse skier logo in the backcountry this year.
The Bergans Styrn Jacket is made specifically for ski touring but it works well for lift service skiing also. The most remarkable attribute of the Stryn may be the 4-way stretch fabric and Dermizax NX membrane with which it is constructed. Though not sold as a softshell (there's actually a Styrn Softshell jacket available also—which I find a little confusing) it is stretchy like one. The fabric is really halfway between a softshell (like Schoeller) and a hard shell (like Gore-Tex).
Seems like every manufacturer has a different idea on sizing. A large in the Bergans Stryn Jacket fits me a little looser than many brands. If at all possible, make sure to try this on at your local retailer.
Let's drill down to the bells and whistles with some photos, shall we? (Metaphors mixed for effect.)
I'd call this jacket "feature rich" rather than something paired down and minimalist, like the Arc'teryx Beta FL. See the powder skirt which you can zip off, allowing for the onesie combo with the Bergans Sirdal pants? Cool feature. Why the ski pass slot for a dedicated ski touring jacket you ask? Perhaps Norway, like here in the Kootenays, has a lot of lift-assisted touring.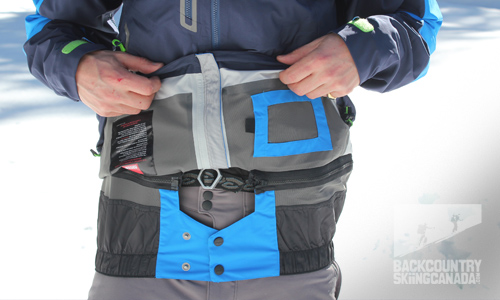 There's a whack of pockets. Outside ones are high enough to not interfere with a pack's hipbelt (see at bottom). Here's an interior pocket, with zip, taped seams. Slick. All pockets are mesh lined to allow for optimal breathability.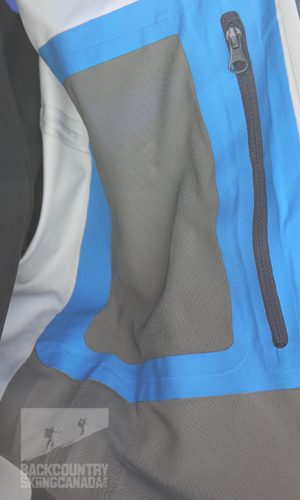 Sizeable right-side pocket that may actually fit a pair of skins; unlike so many jacket pockets claiming they do, but don't.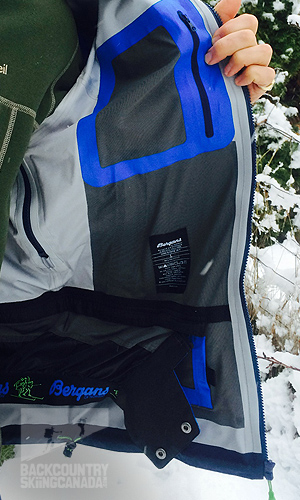 I love the colour accents and the funky little touches like the wrist closure below. Well constructed and distinctive.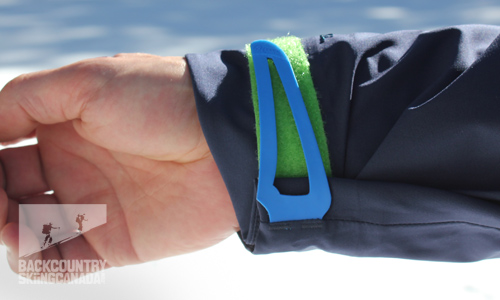 More funkiness with the contrasting colour breast pocket zipper pulls, integrated zipper garage and reinforced laser cut welded seams (again with a little contrasting grey).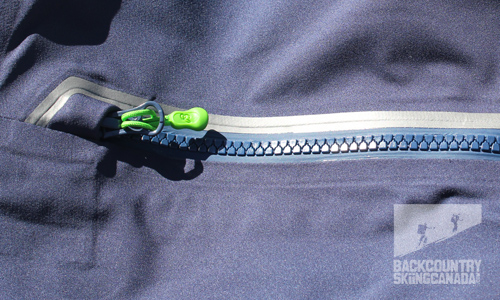 One mysterious element. The pit zip zippers are placed at opposite ends of the zip--this, rather than the usual meeting in the middle program. 'not sure if this is because the jacket is a media sample (with a flaw) or if it's the way it's meant to be. It's not a big deal either way, just a little counter intuitive.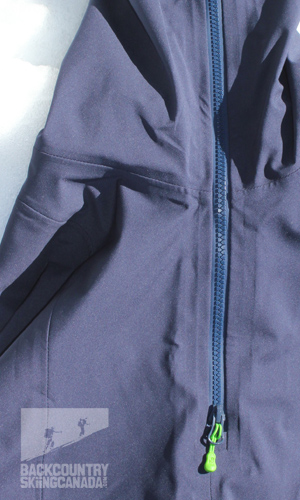 Here's a close-up of the fabric and the Bergans branding. Note that there's also a RECCO reflector strip to help locate you in case of burial.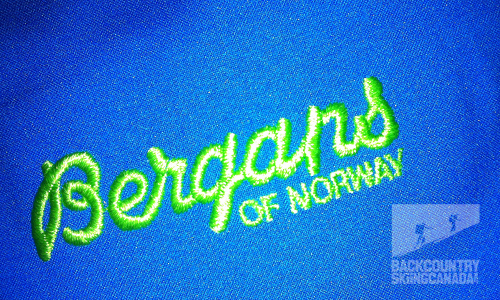 Here's the whole enchilada. You can see from this photo that the jacket is cut a little longer than many North American jackets. It gives it a distinctive look. The collar is high and the hood is totally helmet compatible. Note the little Norse skier dudes on model's right hip. They appear on the backside too.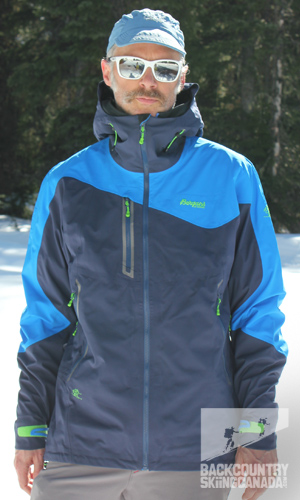 Verdict:
The Stryn Jacket falls between a hard shell and a soft shell. I guess you could call it a soft hardshell. I wore it touring and at the ski area and it performed well for both. I found it warm on the uptrack but our local climate hovers just a little below zero in the winter. I'll bet you you could leave it on climbing if the temps were 5 degrees lower. I wore it lift skiing one super windy day and I felt like the wind cut through the shell just a teensy bit—but it could have been my lack of a good mid-layer. I'm not much of a style puppy, but this jacket has a cut and design that sets it apart from other apparel now available in the North American market. If you care about this stuff, it's a plus.
SPECS:
Price: $625-ish CDN
Sizes. Men's: S- XXL, Women's: XS-XL
Colours. Navy Blue w/ Winter Sky/Timothy Green accents, Timothy Green w/ Dark Timothy Green/Navy accents, Dandelion w/ Red/Light Sea Blue accents, and Light Sea Blue w/ Red/Bright Sea Blue accents Weight: 770g / 1lb 11oz
Material: 4-way stretch fabric, Dermizax NX membrane
PROS:
- Distinctive styling
- Comfortable, stretchy, move-with-you fabric
- Dermizax™ NX seems like a miracle membrane
- Good ratio of breathability to weatherproofing
CONS:
- Neither a softshell nor a hardshell (pro or con?)
- Not readily available in North America
- Collar may seem a little high to some wearers
- The weight is a tad heavy for a dedicated touring jacket
Rating: 8/10
Fit / Mobility 1.5/2
Packability 1.5/2
Waterproof / Breathable 1.5/2
Features 2/2
Quality / Price 1.5/2

This is only our opinion. Do you disagree? Did we miss something? Are we totally out to lunch? Join the discussion in the forums here, and let us know what you think. People like/dislike gear for different reasons so chime in and we'll get a well-rounded evaluation.
Back to the rest of the reviews.
---