Backcountry Skiing Utah 2014

This past January, we had the pleasure of visiting Utah once again. Salt Lake City is home to the annual, massive Outdoor Retailer Show. We shot a whack of videos on new products, met with partners, exhausted ourselves and hightailed it out of then-smoggy Salt Lake City to the town of Ogden, also in Utah.
As was the case with our last visit to The Beehive State, the snow was a little thin. We revectored accordingly and shifted our focus to some guided touring at Snowbasin and the Interconnect Tour, a super-cool way to spend a day, put on by Ski Utah. In Ogden, we stayed at the Ben Lomond Suites just off the main drag. Though the hotel's heyday was likely about 60 years back, it had a certain charm and functioned for us perfectly. Ogden is a cool town which, because of an aggressive business incentive strategy employed by the mayor and others, has managed to attract some big outdoor brands to set up shop—like Salomon and Amer Sports Winter and Outdoor. There's also a funky, old-town section with some cool bars and restaurants—including Moxie, where our Snowbasin ski host, Jared Allen, is owner and keg slinger.
We hadn't been to Snowbasin before, and it surprised us. Perched across the valley from Powder Mountain, it has a decidedly different feel. Snowbasin is considerably more "ritzy" than powmow – perhaps due in part to the tastes of Earl Holding, the owner (now deceased) who also owned Sun Valley, ID. The lodges are a little opulent for my tastes with brass fixtures and patterned carpets all over. Hey… I'm up for resorts doing whatever they must to survive—I just can't see how this kind of décor attracts skiers like me. Luckily, for everybody, the terrain is sick and there's some great touring to be had. One run—we could see but were unable to ski due to conditions—brings ski tourers off the backside and right into the edge of downtown Ogden. Cool.
As usual on these trips, we covered a lot of ground. Here below is a sampling of pictures, starting with Snowbasin.
Here's the little Allen Peak Tram (also known as the keg) that brought us up to the Allen Peak at 9465'. This was the starting point for the men's downhill race when Salt Lake and Snowbasin hosted the Winter Olympics in 2002.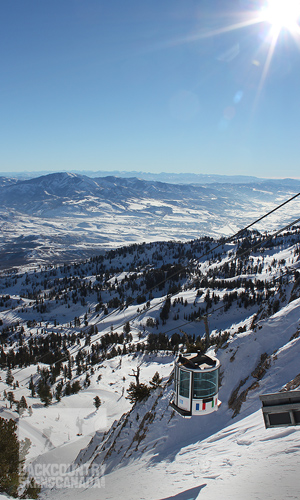 Here we are boot packing along the ridge between Allen Peak and Mount Ogden. 'seems like we always bring our skins but wind up boot packing.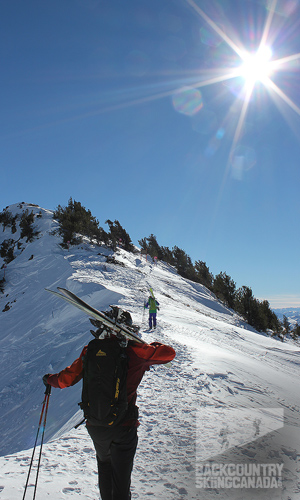 Here we are looking off the backside of the mountain into the town of Ogden. In better snow years, there's a spectacular run down into town. Not this visit. "Look, there's the massive temple in downtown Ogden, right across the street from the punk rock bar."

More backside touring possibilities here. The smog was remarkable but, with snow, this would be an amazing zone.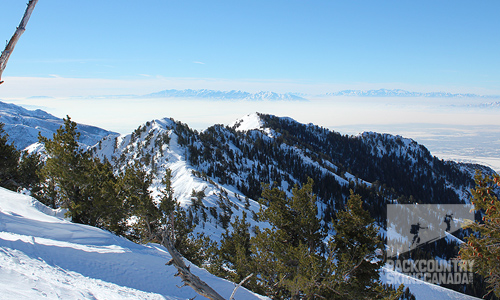 Here's one of many ritzy chalets on the hill. Don't whip out a bag lunch or you'll be ejected. This is, I believe, looking up at Ogden Bowl.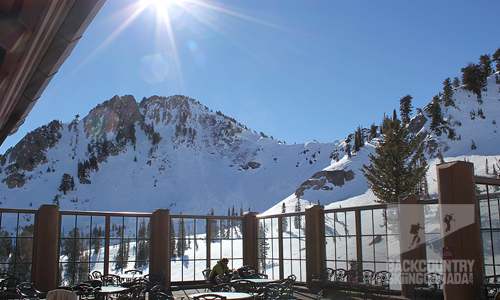 Next up on the itinerary was the Interconnect Tour that links up Deer Valley, Park City Mountain Resort, Solitude, Brighton, Alta and Snowbird—all in one day. There's also a four resort in one day package, but we went for the six. We left Ogden and headed back toward Salt Lake City and Big and Little Cottonwood Canyons. Make sure you give yourself enough time, because we arrived at the Deer Valley meeting spot a little later than was ideal.
The Interconnect Tour is highly recommended. It's an amazing way to understand how Big and Little Cottonwood Canyons are connected. It'll give you a great sense of the geography and, at days' end, you can say you skied six resorts in one day. The Skilink, One Wasatch debate continued to rage, it's nice to know you can do this all under your own steam.
Like most of our experiences in Utah thus far, the word "tour" doesn't necessarily fit. Or not in the way we think of it anyway. Skins are not needed and any uphilling is done via bootpack. Our group was about seven guests total, accompanied by two guides. To sign on to the program, you are required to be an expert to advanced skier. In our group, there were a couple folks who didn't quite make it into either of these categories. This resulted in a bit of a hold up on the biggest traverse while we waited for one of our party to cross. This was no problem at all—just be aware that, regardless of the suggested skill level, you may be waiting on a couple members of your groups.
It turned out to be a good long day. Unfortunately, we got shut at Snowbird end of the day, so we only hit six resorts. The guides were fun, friendly and knowledgeable. They even bought us a great lunch at the Solitude baselodge.
Here's a shot from Park City looking into Big Cottonwood Canyon and Solitude/Brighton. This was early in the day. Nice weather and excellent viz for the day.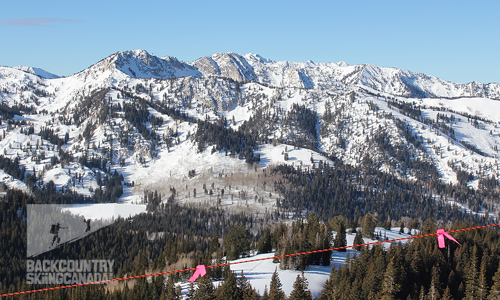 Here's the traverse from Solitude to Brighton Resorts. This is the stretch that proved a little sketchy for the less-experienced people in the crew. The guides were great at getting everyone across safe and sound.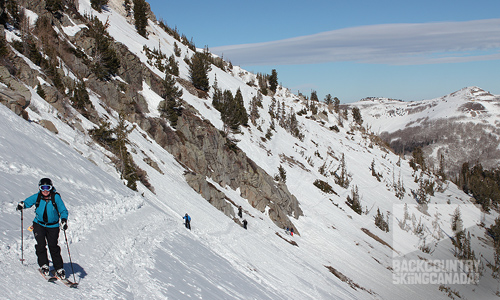 Here's proof that skiers do skin in Utah! Another group we met just after the Solitude to Brighton traverse.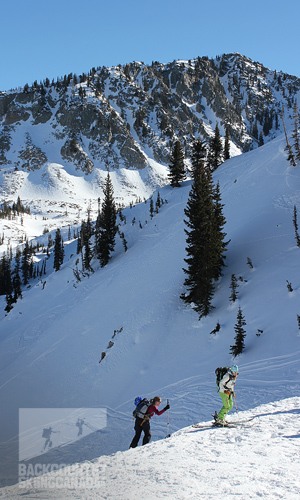 This was one of the highpoints early in the day. Note the snow cover.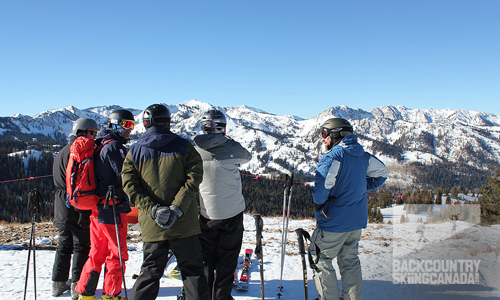 SPECS:
www.snowbasin.com, Day ticket: $89
Interconnect Tour, $325 per person
Ski Utah ~ Our hosts.
PROS:
- Both Snowbasin and Interconnect experiences were an awesome way to get the lay of the land
- Experiencing Ogden was interesting. Cool little town.
CONS:
- Depending on the day, air pollution can be a factor—at least visually
- The snow wasn't great when we were there. Of course, they got hit just after we left.
This is only our opinion. Do you disagree? Did we miss something? Are we totally out to lunch? Join the discussion in the forums here, and let us know what you think. People like/dislike gear for different reasons so chime in and we'll get a well-rounded evaluation.