Super sexy, iPhone-esque design.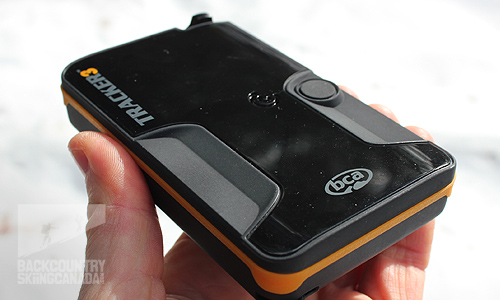 The included harness is a very simple design, maybe too simple?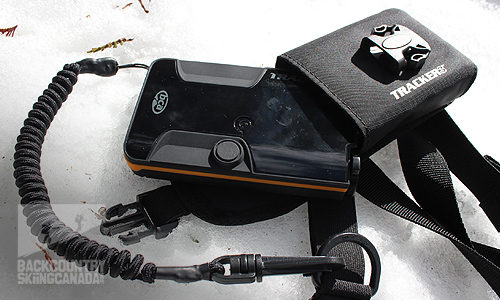 The back side shot, nothing to see here but clean lines and the battery access.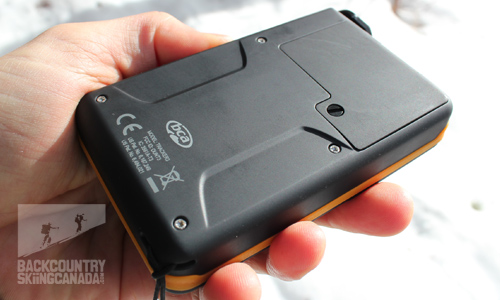 BCA has renamed and changed the features of what was previously known as the 'special' button. The old 'special' button (I never liked that name) reduced the size of your signal search field in order to help locate additional transceiver signals. Unfortunately, this sounded better on paper than it worked in reality and hence why it is no more on the Tracker 3. Instead there are now two new features contained within the renamed 'options' button both designed to make multiple burial scenarios easier. First up is the "Signal Suppression" feature which suppresses the strongest signal for approximately one minute and shows the second strongest signal complete with direction and distance. This is not a marking feature but rather a method of distinguishing between multiple signals, especially when they are close together.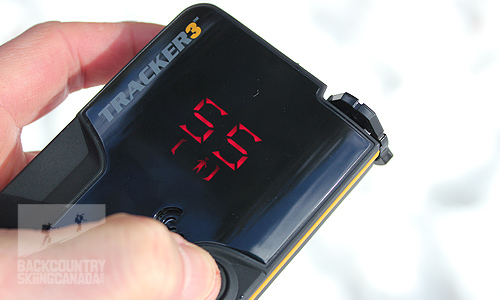 The other feature which is activated with the 'options' button on the Tracker 3 is the "Big Picture" mode. With this feature the Tracker 3 provides the functionality of an analog transceiver in that it will display the distance and direction of each signal in a successive manner. This essentially provides you with a 'big picture' of how many transceiver signals your are dealing with in your search senario. The Tracker 3 will also always display a custom icon on the bottom of the display to show both how many signals are present (one, two or more than two) and if there are two signals within six metres of the searcher. The 'Big Picture' and 'Signal Supression' features along with the custom icon display greatly improve multiple burial scenarios especially when signals are quite close to each other. Please remember that even with such a user friendly transceiver consistent practice is essential in order to master these features.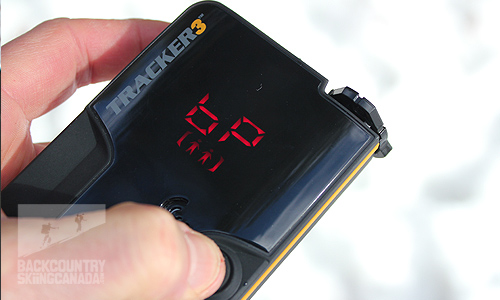 The search/transmit button on the previous Tracker 2 was large and obvious, so simple that my 6 year old could work it with no prior instructions. In contrast, on the Tracker 3 you need to have nimble fingers in order to work the all-in-one on/off/search/transmit lever. While it's handy to have all the controls in one location, in the event of a secondary slide I know that I would fumble with this new interface trying to switch from search to transmit in a hurry. I think that the Tracker 2 had the simplest search/transmit switching functionality on the market and I am sad to see it gone. Perhaps in order to compensate for this BCA has now included an auto revert setting in the Tracker 3. This setting will switch the Tracker 3 from search to transmit if the unit does not move for 1 minute or if you are in search mode for more than 5 minutes. You will hear a warning tone 30 seconds prior to the switch automatically occurring. In order to stop the auto revert all you need to do is move the transceiver in any direction. If you are not a fan of this automation, (count me in) fear not as it needs to be turned on by the user each and every time you turn on the Tracker 3. Although there are benefits to a transceiver reverting to send (for example, if you are buried in a secondary slide) there is the possibility that the transceiver may change to send in the middle of a search which can lead to huge confusion for the searchers.
Off, Search and Transmit are now all located in one switch.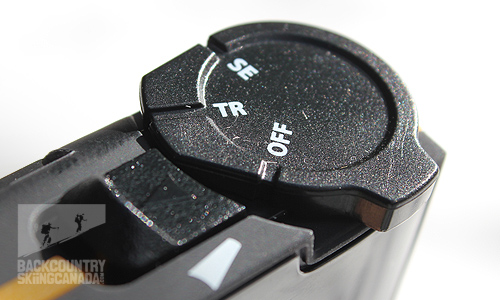 The BCA Tracker 3 is a 3 antenna transceiver just like the Tracker 2 and the range remains the same at 50 meters. In contrast, the Tracker 3 is 20% lighter and smaller than the previous Tracker which translates to a weight savings of 15 grams and a decrease in size of 1.3 x 1.1 x 0.3cm. In the backcountry skiing game smaller and lighter is always better and when it comes to the Tracker 3 these small numbers mean a lot.
Features:
- Rapid processor and simple user interface
- Real-time, digital display shows direction and distance
- Multiple burial indicator light
- Bright red LEDs (light emitting diodes)
- Includes a protective carrying case
- Frequency: 457 kHz
- Range: 50 meters
- Batteries: 3 AAA alkaline batteries
- Battery life: Approximately 250 hours in transmit mode or 50 hours in search mode
- Warranty: Limited 5-year
- Antenna: Three
The Tracker 3 display showing "TR" means you are in transmit mode.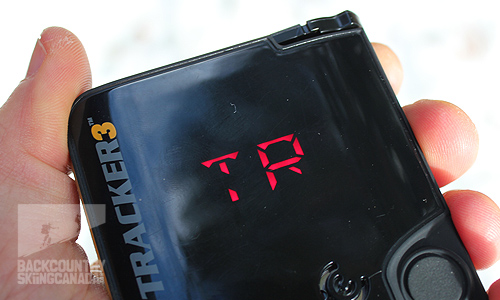 While in search mode the Tracker 3 displays both distance and direction details.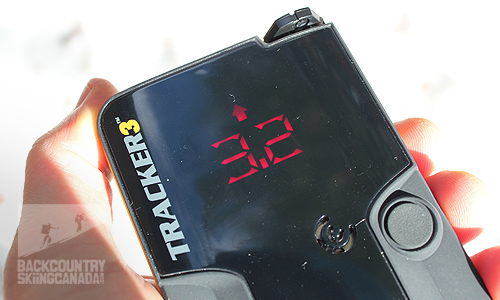 If there is more than one signal being received you will see an icon of two small figures on the display.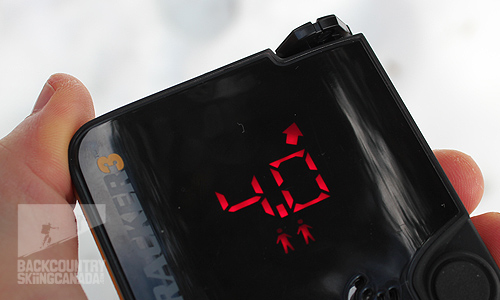 If the signals being received are both within six metres of the Tracker 3 then the icons will display two figures contained within a bracket.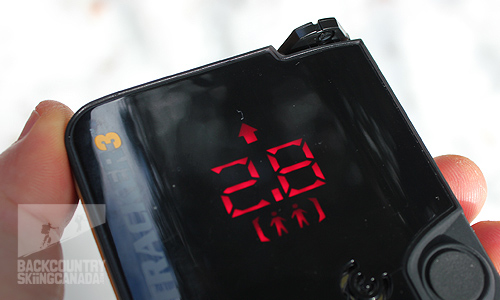 If you can see the blinking red light when you look down at the Tracker 3 while it's in its harness this means you are in transmit mode and also have it orientated the correct way in the harness.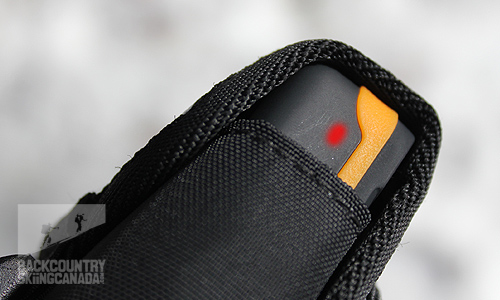 Verdict:
The Backcountry Access Tracker 3 Avalanche Transceiver carries on BCA's tradition of making super simple avalanche rescue products. The Tracker 3 is simple to use and the basic learning curve is a matter of minutes; having said that, there are definitely more features to master with the Tracker 3 than the Tracker 2. First, the "Signal Suppression" feature is an effective way to simplify multiple burials, especially for those who are a novice or just can't grasp the concept of masking signals. As well, the "Big Picture" option provides analog-like functionality by displaying the direction and distant of all signals within range—a huge benefit to get a, well, big picture of exactly what kind of scenario you are dealing with.
When compared to the Tracker 2, the new Tracker 3 design is vastly improved and will turn heads as soon as you pull it out given its pseudo iPhone facade. Unfortunately the harness design took the "less is more" mantra too literally and feels cheap when compared to other transceiver harnesses and especially when you look at the Tracker 2 harness; it rocked.
After a season of using the Tracker 3 on multiple ski tours and performing dozens of avalanche scenarios we are super impressed with BCA's improvments and have every confidence that the Tracker 3 would serve well in a real life avalanche scenario. Over all we found that the processing time was swift, the range was spot on and there was not a scenario where the Tracker 3 didn't shine. The BCA Tracker 3 is a big upgrade to the Tracker 2 in my opinion. Is there room for improvement, you bet, but these are trivial things for a transceiver that does it all.
If you are in the market for a avalanche transceiver then consider the BCA Tracker 3 as it is super easy to use for any skill level and has the advanced features that hardcore backcountry skiers would want in the field. Click on the links below to get the best deal on a BCA Tracker 3 and if you are interested in comparing various transceivers be sure to check out our transeiver review page.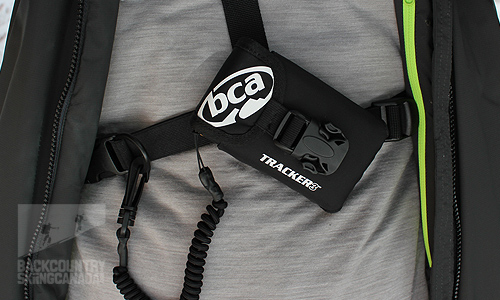 SPECS:
Price: $350 CAN
Weight (with batteries): 215 grams / 7.6 ounces
Harness weight: 100 grams / 3.5 oz
Dimensions: 11.5 x 7.1 x 2.4cm / 4.5 x 2.8 x .9 inches
Range: 50 meters
PROS:
- The Suppression function is an easy way to temporarily mask out the closest signal to hone in on another signal—easy and intuitive.- The Big Picture function provides an overview of all signal distances so you can easily locate other signals that are farther away.
- Smaller shape and way cooler design than Tracker 2.
- The Tracker 3 leash is a spring coil to provide far more reach without the need for additional leash length so it stays out of the way when not needed.
- Light and compact.
- Auto revert mode (if you like to use this feature).
- Updatable software.
CONS:
- Switching from search to transmit is not as easy as with the Tracker 2.
- The array of video game like blips and bleeps that the Tracker 3 constantly emits cheapens the seriousness of the device and distracts the user from the business at hand.
- The harness feels cheap and almost an after though when compared to the Tracker 2's harness.
- Updatable software is only for PCs for now.
Rating: 8.5/10
Ease of use 1.5/2
Technology 2/2
Features 1.5/2
Weight 2/2
Quality / Price 1.5/2

This is only our opinion. Do you disagree? Did we miss something? Are we totally out to lunch? Join the discussion in the forums here, and let us know what you think. People like/dislike gear for different reasons so chime in and we'll get a well-rounded evaluation.
Back to the rest of the reviews.
---