Backcountry Access Arsenal shovel with Saw and A1 shovel with probe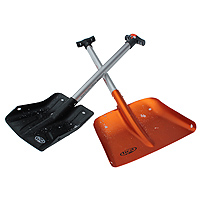 (Be sure to scroll down and watch the video at the bottom of the review. Note also that we mistakenly referred to the shovel with the bigger blade as the A-2 when it's actually the Arsenal)
To say that we have come a long way since Neolithic times when scapula from larger animals were used as shovels is an understatement…We have been testing two versions of shovels from Backcountry Access -- the BCA Arsenal with Companion blade from 2010 and the BCA A1 from 2011. Backcountry Access has a wide range of shovels (and all things avy) and these are just two examples. Other models come with different shaped and sized blades and extendable shafts, some are smaller overall—you can pick what you want. To see what we think of another shovel (this one from K2) click here.
At the time we shot the video, we weren't as educated as we could have been on the intended purpose for both shovels. This past season, there have been many smaller bladed shovels on the market which are best used for the strategic shovel method where people shoveling are below the buried individual. The smaller bladed, BCA A1 model with a short shaft is good for this type of shoveling.
What's different about these BCA shovels is that they have either a probe or saw incorporated into the handle. This is a benefit if you have limited space in your pack and you want a tidy little package. Some manufacturers make tiny shovels to save on weight and space. We think this only makes sense if you are happy with how they perform if you are trying to dig your friend or loved one out from under a meter of set-up snow. If it doesn't work when things get hairy, why bother carrying it all? Which brings us back to the probe tucked into the handle (it's available with either blade configuration by the way). I wouldn't feel comfortable bringing a probe of this quality with me out on a day's tour in the backcountry. It's not that it's that bad; rather, some sacrifices may have been made in designing it to fit into the shovel handle. A probe is the kind of item you don't want to see fail in the field. I am more confident with a dedicated carbon fiber probe (like the ones BCA makes).
The saw is a different story. In my mind, it's more of a "nice-to-have" if you want to dig a pit or clear some timber off the uptrack. I don't often carry a saw but, because it's stashed in the handle in the case of the BCA shovel, I often bring it along. Let's let some pictures do some of the talking for us, shall we?
The handle common to both models. The orange part, with the little release thingy directly underneath, is the handle of the saw or the probe—depending on the model. With the saw/probe removed, the shovel functions perfectly. There's no need for the tools to be together.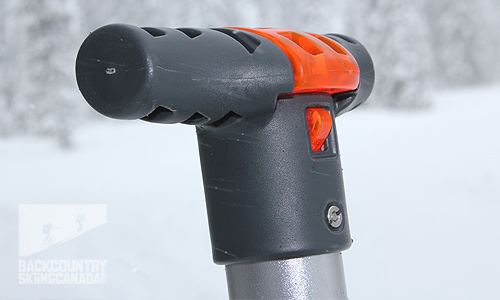 Here's a top-down view of the probe in the handle. It comes in and out pretty easily.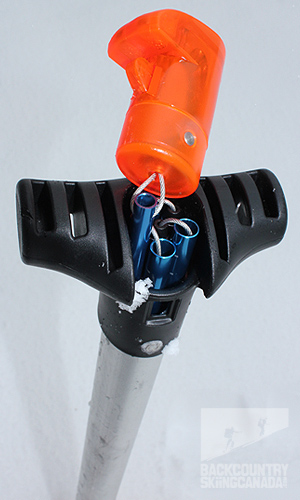 Here's a close up of the reinforcing weld on the A1. This is the sleeve for the shaft.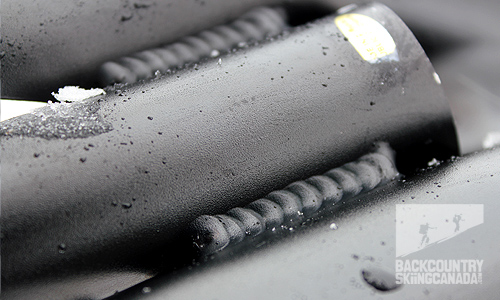 Here is the same area on the older model. We haven't experienced any failures with either shovel yet but this is the likely area that would buckle. Note the extended sleeve feature here. No longer on the A1 above.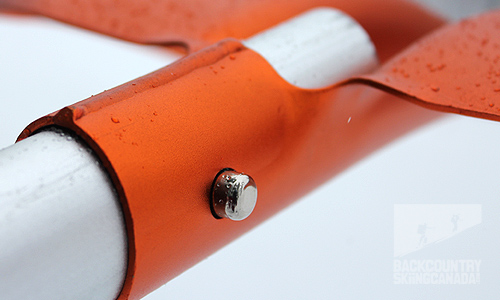 New blade deign for the A1. May be slightly less easy to cut a clean edge in a snow pit but the slight curve on the blade's end is better for cutting into harder snow. Note the lack of the stem sleeve on the blade—makes it easier to fit into your pack. For some reason, the uninterrupted shaft allowed may hand to bonk up against the blade a little more than with the older Arsenal model. Perhaps put a little hockey tape on the shaft near the blade?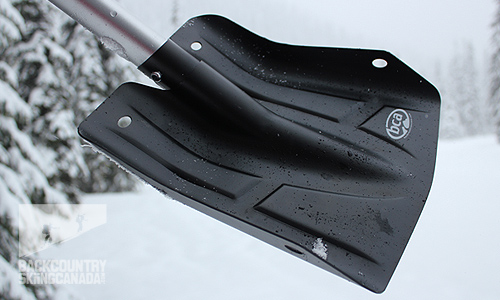 Older Arsenal blade.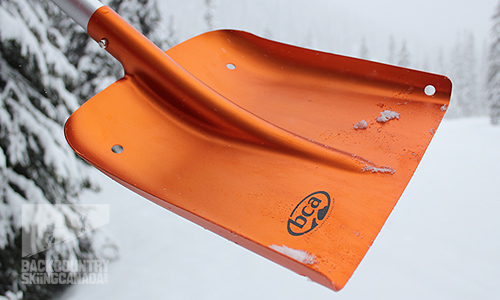 Full A1.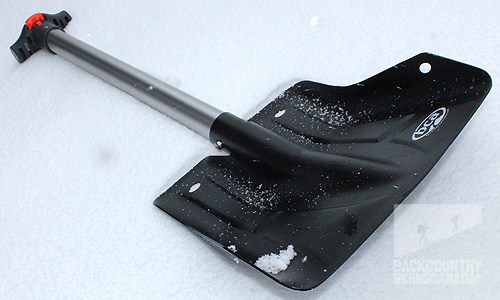 Full Arsenal.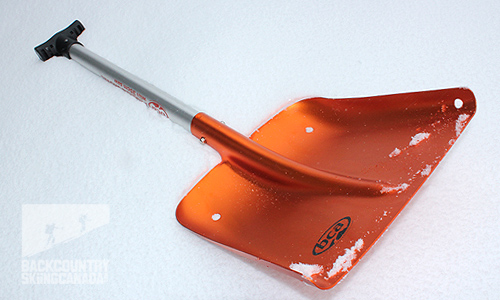 The two blades nested together. You can see the two different blade designs here.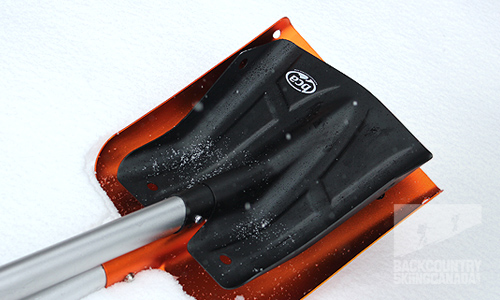 Here's the probe. It's a little wimpy and, depending on conditions, we discourage you from counting on it as your only probe. Why not carry beefier probe?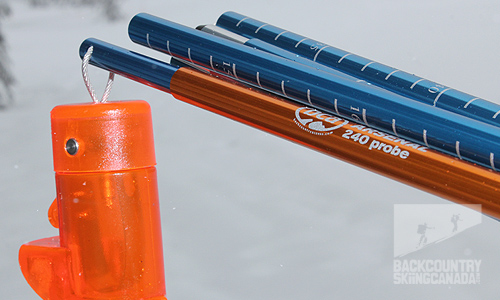 See the saw.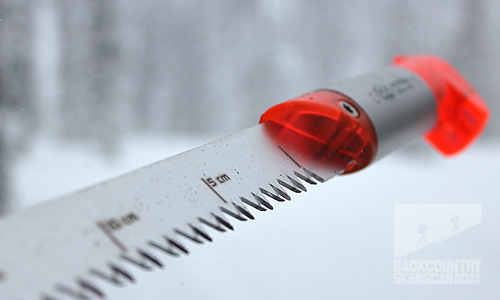 Verdict:
If we were going to be digging snow pits all day and practicing our snow science skills, we'd likely take along the bigger-bladed Arsenal. For an everyday, bomber shovel that is best at the new style of strategic shoveling, we'd pack the smaller-bladed A1. The probe doesn't get high marks but the shovel is a handy item to bring along—and it fits in the handle! I pack an A1 with saw and stand-alone probe in my bag.
SPECS:
BCA A1 shovel with probe
Shovel length: 28.75 inches/73 cm
Probe length: 240 cm
Blade dimensions: 9 × 10 inches / 23 × 25.5 cm
Weight: 26.5 ounces/749 grams
Material: aluminium
Price: $80
BCA Arsenal shovel with saw
Shovel length: 27.5 in / 70 cm
Saw length: 35cm
Blade dimensions: 9.5 / 12 in or 25 / 30 cm
Weight: 28oz / 793g
Material: aluminium
Price: $85
PROS:
BCA is focused on avy gear so you know there has been a lot of thinking and design iterations in developing all their products. Both of these shovels have strong points depending on how you want to use them.
CONS:
I say the probe is a "leave behind" or something you can use to practice with.
Rating: 8/10
Ease of use: 2/2
Technology: 1.5/2
Features: 2/2
Weight: 1/2
Quality / Price: 1.5/2

This is only our opinion. Do you disagree? Did we miss something? Are we totally out to lunch? Join the discussion in the forums here, and let us know what you think. People like/dislike gear for different reasons so chime in and we'll get a well-rounded evaluation.
Back to the rest of the reviews.
---