Arcteryx Atom LT Hoody Jacket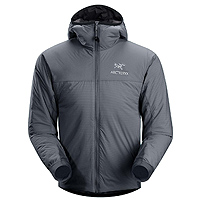 Arc'teryx apparel has the ability to fill holes in your gear spectrum you never knew existed. A mid-layer! !? We don't want to test a mid-layer. We are lousy with mid-layers! And then the Arc'teryx Atom LT hoody arrived. In tungsten. I wear it in town, I wear it as a mid-layer under a Beta FL jacket and I often wear it as a primary layer—on the uptrack or otherwise. We spent a week up at Ice Creek Lodge recently and Russell Hulbert, the über guide, wore his Arc'teryx Atom LT hoody over a midweight hooded fleece almost always. Only when the wind was "blowing the dog off the chain" did he whip out a hardshell.
So what's so special about this jacket? If we can boil it down to three key attributes, they'd be: 1) comfort (including fit), 2) weight and 3) warmth. Let's knock off one of these at a time, shall we? 1) - the Atom LT fits me perfectly. I am a tall and slender guy and the large is just right. Arc'teryx calls the fit "athletic" and this works for me in all the Arc'teryx pieces I own. The "relaxed" or "expedition" sizing works less well for me but that's just a personal preference (and maybe because I ski tour for the most part and don't like the baggy look). À chacun son gout! Next, #2—the thing weighs in at a paltry 375 g / 13.2 oz. Under the Beta FL, which comes in around 322 g / 11.4 oz, you have a complete touring system for around 700 g. I am not a weight weenie but this fact is significant. Not only in terms of efficiency weight-wise; it also feels like you are naked—in a good way. Finally, #3, warmth: the Coreloft™ insulation is very warm for its weight. Not quite as warm as a down layer but heck, when would you wear down as a mid-layer while touring? Anyway, I always keep a down jacket in my pack in case of emergencies.
We've done a thorough video review of the Arc'teryx Atom LT so take a look below.
Let's drill down a bit and look at some pics, shall we? The primary outer-face material is a kind of taffeta that's been branded Luminara™. At first look, the material seems a little "weak" but, after hammering on the jacket for many days, I know this isn't the case.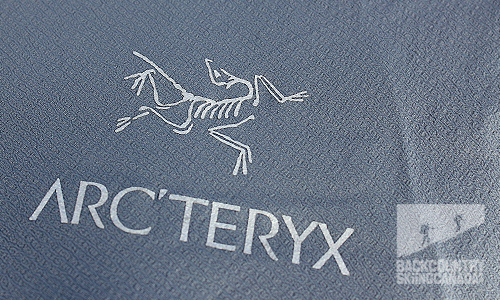 The hood is very simple. No draw cords, nothing. The elastic works fine and, if cold and wind are a factor, you'll likely pull on a shell so you can use its cords.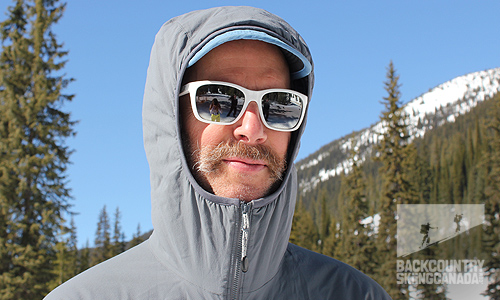 The cuffs are made of a different fabric which is cut to progressively hug your wrist. It looks cool too.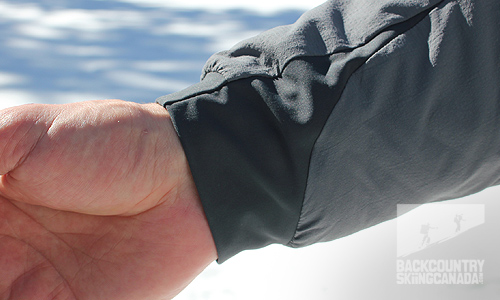 There's one internal zip-up pocket (pictured) and two cozy, zippered, hand-warmer pockets (not)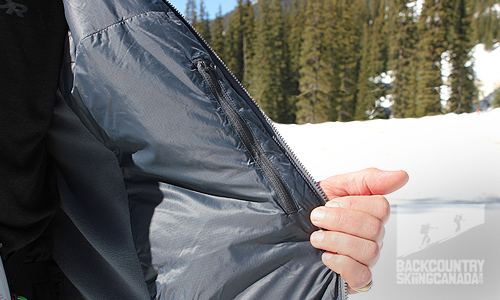 Other stuff: Side panels are made of Polartec® Power Stretch® fabric which contributes to the jacket's breathability. Coreloft™ is the magic insulation that gives the jacket its puff and warmth. To really show you the insulation I'd have to cut into this jacket. And I'm not going to. If you'd like to see some of the other Arc'teryx stuff we've reviewed, have a look-see: Arc'teryx Alpha SV Glove, Arc'teryx Beta FL and Acto MX Hoody, Arc'teryx Silo 30 Pack, Arc'teryx Theta SV Bibs.
Features:
Construction
- DWR finish (Durable Water Repellent) helps bead water from fabric surface
- Composite materials
- Breathable, stretch side panels for enhanced comfort and mobility
Patterning
- Articulated elbows
- Gusseted underarms
- Hood Configuration
- Insulated. "scuba" hood
- Hood fits under helmet
- Zippers & Fly Configuration (not sure what is meant by configuration here and below)
- Full front zip with wind flap
- Cuff & Sleeves Configuration
- Stretch-knit cuffs
- Hem Configuration
- Drop back hem
- Laminated hem
- Adjustable hem drawcord
Materials
- Polartec® Power Stretch® with Hardface® Technology
- Luminara™—Stretch nylon ripstop fabric with wind and water resistant, air permeable PU coating and DWR finish. A super lightweight and breathable stretch fabric with great water repellency and wind resistance.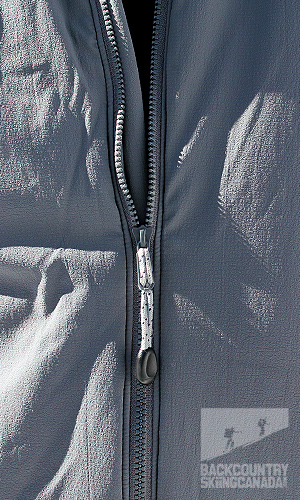 Verdict:
Wow. Great mid-layer that fits wonderfully and functions very well. If you can get over the sticker shock associated with this and many other Arc'teryx products, you should pick one of these up.
SPECS:
Price: $240 CAN
Colours: Brown, black, orange, two blues, a grey and a green (Arc'teryx uses other, more evocative names, for their colours which might leave you guessing).
Weight: 375 g / 13.2 oz Sizes: S to XXL
Fit: Athletic fit, hip length
PROS:
Many. Lightweight, slick cut, high-performance mid-layer that can double as an outer layer or semi formal mountain town coat. With its sub-three-bill price point, the Atom LT may be a gateway garment for new Arc'teryx initiates.
CONS:
Um…. None, really. It may be spendy for some.
Rating: 9/10
Fit 2/2
Packability 2/2
Warmth 2/2
Features 1.5/2
Quality / Price 1.5/2

This is only our opinion. Do you disagree? Did we miss something? Are we totally out to lunch? Join the discussion in the forums here, and let us know what you think. People like/dislike gear for different reasons so chime in and we'll get a well-rounded evaluation.
Back to the rest of the reviews.
---