Arcteryx Alpha SV Bib Pants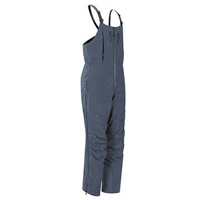 Launched in North Vancouver, British Columbia, in 1989 the Rock Solid company set out to redefine the outdoor soft goods market. Two years later the founders, Dave Lane and Jeremy Guard, changed the company's name to Arc'teryx (after Archaeopteryx, the earliest known bird), adopted a fossil logo, and offered up the Vapor climbing harness, which integrated groundbreaking heat lamination technology. Since then they have kept true to their mission and reinvented the backpack, rock climbing and outdoor clothing markets. There was concern that Arc'teryx would lose its edge when it was purchased by Salomon in 2001 and again when Salomon was bought by Amer Sports in 2005 but the improvements kept coming – most especially in the fabrics department. I was excited when I learned I'd be testing the company's Alpha SV CZ Bib pant because I had heard great things about their space-age fabric and, well, I'm an unashamed bib pant aficionado. Whether I'm skiing my local hill or heading into the backcountry I wear bibs because of the warmth and increased coverage. (I haven't had snow down my pants in years. And no, that is not intended as a challenge for my ski buddies out there.) Plus, the patriot in me likes Arc'teryx: even though they're owned by a conglomerate in Finland, they still have offices in North Vancouver and a factory in Burnaby, BC, where a number of their harnesses and backpacks are made.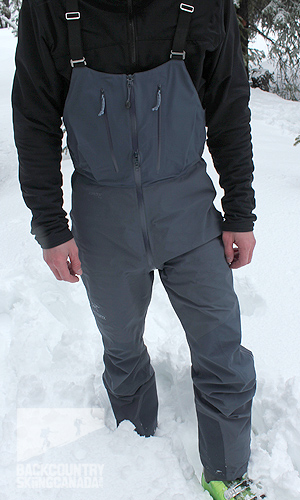 Features:
- Articulated knees and seat
- Laminated waist drawcord
- Gusseted crotch
- Waterproof, breathable and durable GORE-TEX Pro 3L fabric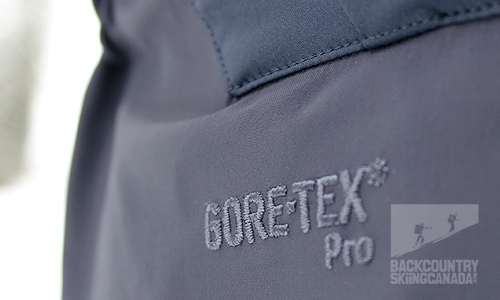 - Taped seams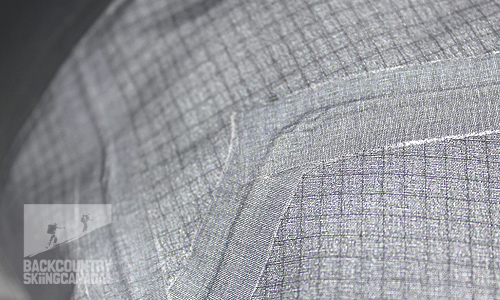 -Length side leg ventilation zippers that stop below the harness/hipbelt area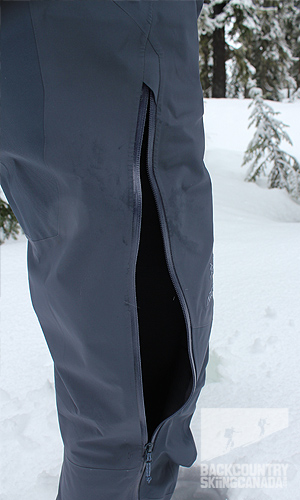 - WaterTight™ through-the-crotch zip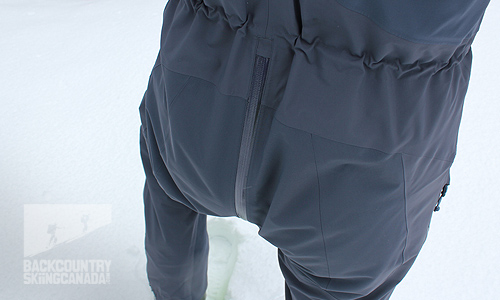 - Adjustable pant cuffs with stowable lace hook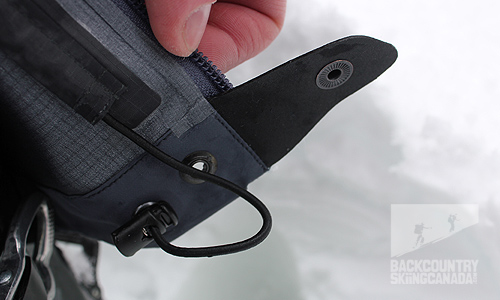 - Two pleated bib pockets with laminated zippers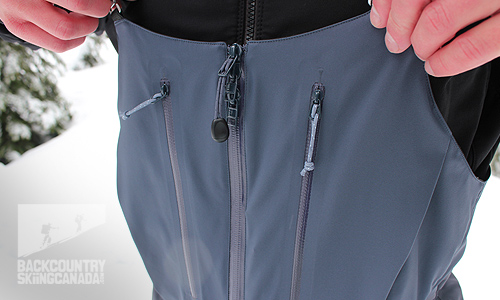 - Keprotec™ instep patches to protect against damage by boots, crampons and ski edges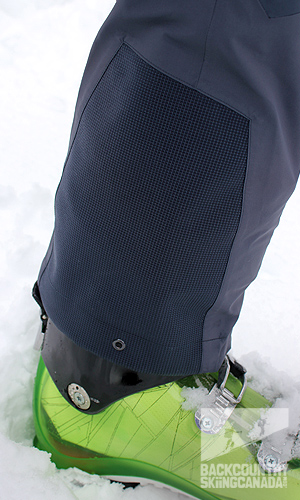 - High-cut breathable stretch-woven bib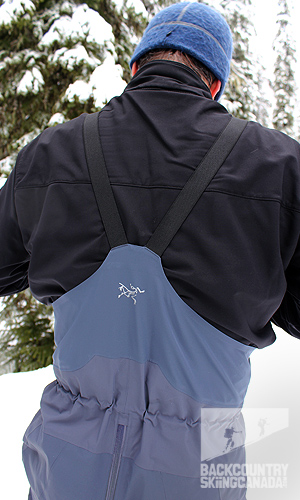 - Quick adjust suspenders with metal clips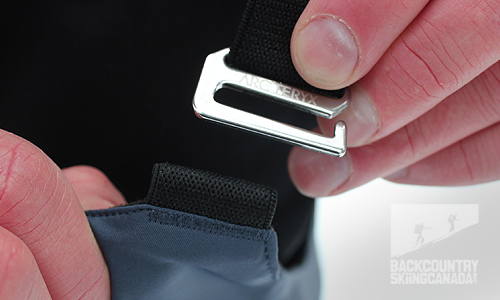 - Removable internal LegWrap system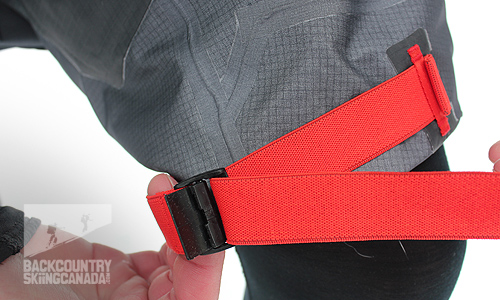 Verdict:
I've owned Arc'teryx gear since 1994 when I ignored the better-known offerings by foreign companies and purchased a Canadian-made Vapor rock climbing harness. Those were the days when the masses could afford Arc'teryx. Today, you can expect to throw down a lot of bills for an item with the dead bird logo on it. Take these Alpha Bib pants for example, which, at $650, cost the same amount as my skis. But there are two really good reasons that Arc'teryx stuff is expensive – innovation and quality. Really really good quality. (To wit: after 20 years that Vapor harness of mine is still in good enough shape to use although I prefer the company's newer B360a model.)

In the case of the Alpha Bibs, the main innovation is in the fabric or, more accurately, the three fabrics: N80p-X GORE-TEX® Pro 3L, the Fortius 1.0™and the N155p-X GORE-TEX® Pro 3L. The latter is exclusive to Arc'teryx and engineered for high impact and abrasion resistance. According to the company, "this fabric plies together multiple yarns in an Ottoman weave for maximum bulk, ruggedness and durability." In layman's terms, this stuff is practically bulletproof. But it breathes. And it's comfortable. (Batman eat your heart out.) As for the Fortius fabric, which is located on the upper portion of the pant, it's a combination of nylon (84%) and spandex (16%) and it weighs only 160 grams per square meter. Not quite as light as tissue paper, but close. And a helluva lot stronger.

Before I continue with this review let me just say that the Alpha Bibs are not for everyone. If you're a halfpipe boarder, for example, I recommend staying away from these unless you want your friends to pistol whip you with their Lib Techs. Nor are these suitable for Toronto executives who heli-ski for one week a season. Why? The full through-the-crotch zipper. These pants are for serious outdoor enthusiasts –climbers and alpinists in particular—who spend days on epic adventures, bagging big peaks, and climbing tall ice – the ones who will be living in their pants for days. If you do not fall into this category, do yourself a favour and get the Arc'teryx Theta or the Stinger Bib instead: similar style without the full zip-through crotch that, according to the company literature, "is the most practical means to solving private moments." I'm not a fan of the full crotch zipper because firstly, I think it makes the seat of the pants a bit bulkier and secondly, the three YYK tassels tend to jingle. (It also detracts from the aesthetic look of the pants in my opinion.)

However, I do love other aspects of the Alpha Bibs. As mentioned above the fabric is space age: soft, breathable, durable. So durable! On one run I took a spill and landed with my legs wrapped up against an evergreen – its small twigs poking me everywhere. After close inspection the fabric didn't even show signs of impression, let alone nicks and scratches. It's also incredibly comfortable: it conforms to your body yet isn't restrictive. One thing you want to consider about sizing, though, is the thickness of your base layer. My pair of Alphas are size large, which gives me enough room to wear a thin merino layer underneath and still allow for a full range of motion. But the first time I was going to try these was on a hut trip in -25°C weather and after putting them over my super-thick base layer, I felt like that kid in A Christmas Story, stuck and immobile in his snowsuit. I left the Alphas home that trip. So if you're regularly outdoors in very cold temperatures, or you prefer a thicker base layer, consider going one size up.

On subsequent days with the Alpha Bibs (in much milder weather) I came to appreciate all the amazing details. The instep patches near the cuffs are made of Keprotec and are even more durable than the other fabrics, repelling cuts and tears caused by crampons or ski edges. The knees are reinforced (great for skiing and mountaineering) and the adjustment buckles are metal, not plastic, so they're not going to break halfway through a trip like another pair of pants did for me a few years back. There are drawcords located at the waist and cuffs to keep the snow and cold out and on the cuffs you'll also find hooks for attaching them to your boot laces or buckles. The cool thing is if you're not using the hooks, they can easily stow away behind an inner-corded loop. The super-soft fabric on the back of the bib is so comfortable you almost don't want to wear an under layer and the pleated bib pockets are large, but streamlined. On the topic of pockets, though, I'd love it if there was an external one on a leg but I know that's not really in keeping with the company's minimalist design strategy. Still, every time I wanted to access the pockets of the Alpha Bibs, I had to open my jacket. There are also some red-coloured, inner leg straps that took me awhile to figure out what they're for but then I realized they're used to cinch the pant tightly around the calf muscle so when you open the side ventilation zippers, the loose fabric doesn't get caught on your crampons or skis. Not exactly minimalist – but pretty darn smart.

In conclusion, I recommend the Alpha Bibs for those who: a) regularly journey into the backcountry for days on end; b) want a pant made from some of the most technical fabric on earth; and c) can afford them.
SPECS:
Price: $650CAN
Sizes: S-XXL
Colour: Heron
Inseams: Reg, Short, Tall
Weight: 570g / 1lb 4.1oz
Men's and Women's versions available
PROS:
These pants are made of some of the most technical fabrics on earth. At 570 grams, they're exceptionally light but they're also durable and they don't skimp on comfort: my favourite part is the super soft liner on the inside of the chest bib. Other pros include: metal latches, so there are no plastic buckles to break; two chest pockets that don't interfere with your harness; draw cords at the waist and foot cuffs; and a stowable hook latching system to attach the cuff to the front of your boot. Also, I warmed up to the idea of the inner leg strap system around your calves that allow you to cinch the pants tightly so, when you open the side vents of the pants, the loose fabric doesn't get caught on your crampons or skis.
CONS:
(Admittedly, some of these points are because the Alphas are not a ski-specific pant….) Firstly, I'd like to see an external pocket on the leg – something to shove my toque into when I'm skinning up and getting warm. (The only two pockets on the pants are at chest level and require me to open my jacket in order to access them.) Secondly, I'm not a fan of the full zip through crotch. For one thing it makes the seat of the pants a bit bulky and, because there aren't zipper garages, the three YYK tassels tend to jingle. Besides, I don't go on multi-day winter odysseys anymore unless there's a hut involved so I'm comfortable having to drop my drawers when the coffee kicks in.
Rating: 8.5/10
Fit / Mobility                    2/2
Packability                       1.5/2
Waterproof / Breathable   2/2
Features                           1.5/2
Quality / Price                  1.5/2

This is only our opinion. Do you disagree? Did we miss something? Are we totally out to lunch? Join the discussion in the forums here, and let us know what you think. People like/dislike gear for different reasons so chime in and we'll get a well-rounded evaluation.
Back to the rest of the reviews.
---