Arc'teryx Theta SV Bib Pants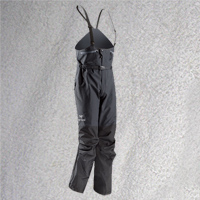 I had a pair of hardshell pants for years then I made the switch over to softshell bibs—and that was years ago. For anyone who has ever tried softshell pants for ski touring, you'll know that they are near perfect for not-too-cold, not-too-wet conditions. Hardshell pants are perfects for colder days and any days where the snow tends to be a little wet. If you happen to work-in a lift-service day and things are a little moist, a good hardshell pant will keep your butt dry after it hits a wet chair.

I succumbed to the Arc-teryx brand and got my hands on a pair of Arc-teryx Theta SV bibs. The quality of my old hardshell pants made me realize how much fabric technology has advanced over the last few years. The Thetas seem to feature more of the good associated with softshell (and my old hardshells) and less of the not-so-good.
Bells and Whistles
Arc-teryx has a bit of a less-is-more philosophy and the Thetas are no exception. These bibs have simple, high-performance features that make all the difference in the battle to stay warm, dry and comfortable.
Material – Da bomb.
The Theta SV material may rank highest in the "bells and whistle" departments. The 480N GORE-TEX® Pro Shell 3L is the latest in the GORE-Tex line of fabrics and it seems, so far anyway, to be bombproof and breathable. The beauty of it is that you can wear different under-layers to accommodate different temps and uses. The softshell pants I have been running don't have this kind of versatility—they only work with a "non-catchy" and thin baselayer. This Pro Shell 3L is a three layer fabric that is designed to handle just about anything you can throw at it. Because it's three layer, it doesn't mean it's super heavy. In fact, the GORE-TEX Softshell fabrics I have seen appear to be both thicker and heavier. Snow shedabilty with the Pro Shell is also very high—no sticky. Though I have yet to ski in the rain (I mean really, why bother) the fabric seems very water proof and has passed the dry butt on a wet chairlift test, hands down.

Many other gear makers use materials other than GORE-TEX with varying levels of success. My feeling is that Gore, with all its experience making and perfecting fabrics, has other fabric makers beat. These guys know their stuff and it shows in the performance of the Thetas.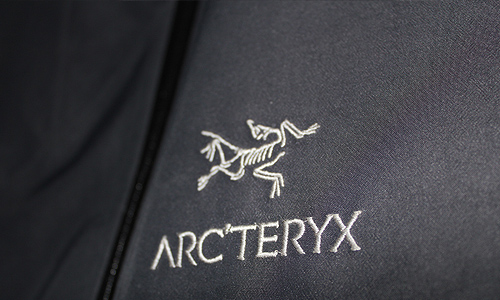 The Cut – Like a glove.
It seems that Medium is the new Large. Rumour has it that people's increasing girth is changing gear sizing and I have definitely noticed this with some of the brands I enjoy. Arc-teryx pants, for example, may run a little big for some. Don't assume that you'll be your "normal" size and make sure to try on a couple pairs and styles to see what fits best. The Theta SV bib is cut to fit like a glove…articulated knees, gusseted crotch –not too baggy and not too tight. Some of the others pants in the Arc' line are a little bigger and more "fashion forward." The Theta's don't have a lot of extra fabric flying around so be aware of this if you are considering a pair. Think bespoke more than zoot-suit. The bib is a super nice feature for powder skiing and colder days and I'm totally sold on bibs because of the protection they provide. It may be a matter of personal taste but if you have yet to go bib, give it a try; you may never look back. The bib part of the Thetas fit nicely too. I am a thin guy and enjoy the fact that I can tighten the little belt a bit to provide further sealage.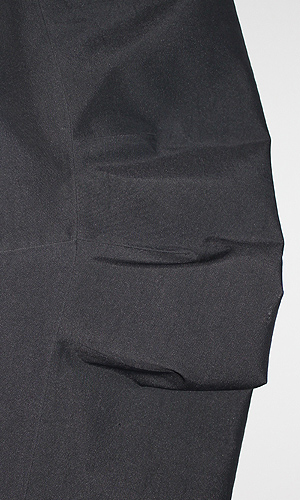 Pockets – Less is more.
There are but two pockets on this pair of pants. I assume the thinking behind this is to allow for harnesses and pack hip belts to wrap around freely. Makes sense but be aware that you might have to depend on your jacket for stashing many of your day-to-day items.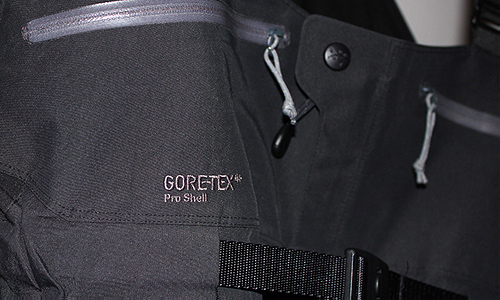 Heat Dump – There if you need it.
Though the Pro-Shell fabric does breathe remarkably well, if you are huffing it on the uptrack, you'll find dropping the thigh zippers to be handy if you are overheating. These zips go up and down no problem and do a great job of regulating your temperature if you feel the need.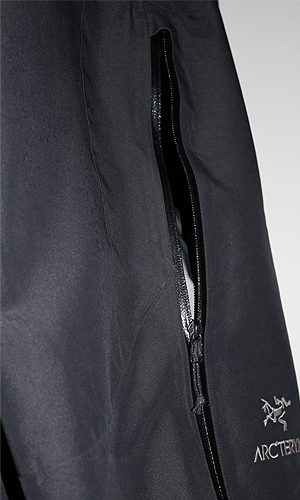 Varia
We just hit on the main features of this pant. Little details like the waterproof zipper garages, a ski-specific gaiter program and Keprotec instep patches all add to the package.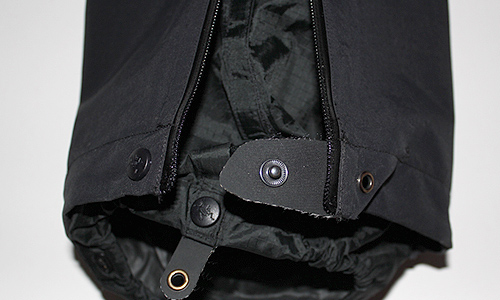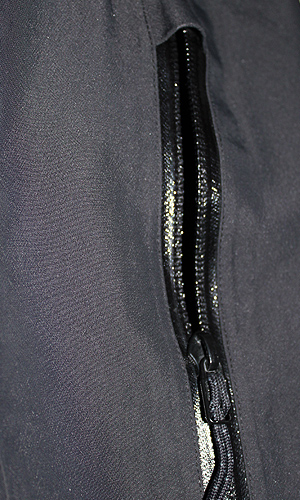 SPECS:
Price: $475 CAN
Sizes: All the regular sizing but Arc'teryx also offers small, regular and long lengths. Thank-you.
Weight: 1 lb, 8.8 oz / 702 grams
Color: Black. Just Black.
PROS:
Fit, comfort and performance—the triple crown of quality touring clothing—are all here in the Thetas. These are a great, "one-pant quiver" pant which have accompanied me in all kinds of conditions and kept me happy.
CONS:
It might be nice to have an extra thigh pocket or two. I do appreciate the thinking behind the minimalist design though. Post-softshell, the chip-bag crinkling noise of the Thetas is a bit of a factor. Easily overcome. The price is a bit of a hurdle. I'm thinking I can get at least five seasons out of these.
Rating: 8.5/10
Fit / Mobility 1.5/2
Packability 2/2
Waterproof / Breathable 2/2
Features 1.5/2
Quality / Price 1.5/2

This is only our opinion. Do you disagree? Did we miss something? Are we totally out to lunch? Join the discussion in the forums here, and let us know what you think. People like/dislike gear for different reasons so chime in and we'll get a well-rounded evaluation. Check back mid-season to see how our review stands up to our in-the-field testing - Brad.
Back to the rest of the reviews.
---