Ahnu Woodacre Shoes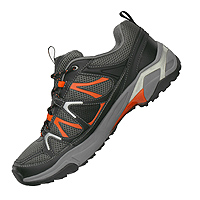 The Ahnu Woodacre shoe is a super breathable multi-disciplinary shoe that can take on a hiking trail, a short jog in the woods or life in the city. It is classified as a trail runner / outdoor cross trainer and, as such, has an aggressive rubber outsole to give good grip and traction on dirt and uneven rocky terrain. To keep your foot centred, the Ahnu Woodacre uses what Ahnu has dubbed "Numentum Traverse Technology". Simply put this is a neutral positioning system that keeps your foot balanced and encourages your natural biomechanics. The goal of this technology is to keep your stride efficient, stable, and balanced.
To keep the weight down on the Ahnu Woodacre shoes, the breathable upper is made from a combination of leather overlays, needed for structure and support, and of course mesh, plenty of mesh. For further support and stiffness, the shoe includes a mid-sole shank that works to provide the stability needed in a multi-disciplinary shoe. In addition, a rubberized toecap is used to both protect your little piggies and to prevent scuff damage to the shoe. For easy on and off, the shoes have pull loops on both the tongue and heal.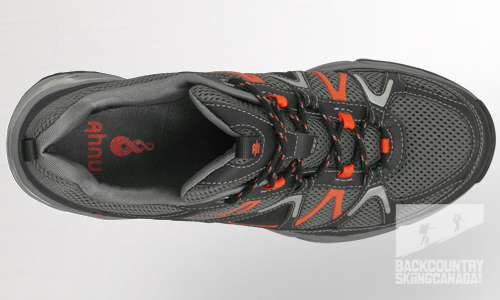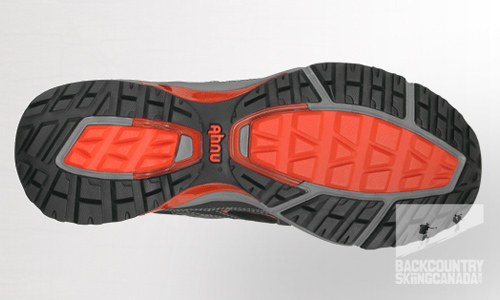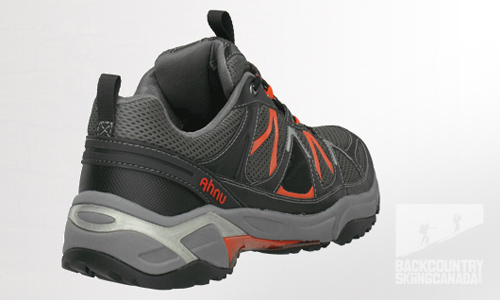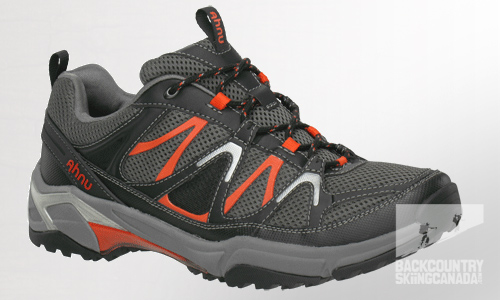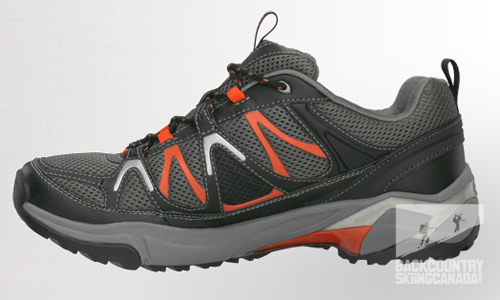 Features:
Shock absorption and cushioning: Lightweight compression molded 55 Durometer dual density EVA midsole and footbed.
Stone bruising protection: 85 Durometer shock dispersal plate
Stability: Non-marking rubber outsole and 98-A Durometer lateral to medial TPU heel strut
Engineered Shank: 98-A Durometer nylon or added support
Breathable mesh upper
TPU overlays on quarters for structure and support
Numentum™ Traverse technology with medial to lateral heel clip for neutral foot placement
Dual density midsole for shock absorption and cushioning
Padded collar
Rubber toecap protector
Verdict:
Overall, I found the Ahnu Woodacre shoe to be a great shoe for walks or runs on wooded tails, time at the gym or simply standing on my feet all day. It is an ideal combo of trail shoe and running shoe. It is comfortable, breathable, light enough for spring and summer use and has excellent traction. In addition, due to the combination of the cushioned and flexible sole (similar to that of a running shoe) along with the aggressive tread, the shoe is suited for a variety of terrain, including off-road travel.
For a day hike I would prefer a dedicated hiking shoe like the Ahnu Elkridge Mid boot, which provides better protection from mud and water and some ankle support for uneven ground. For everything else, the Ahnu Woodacre does the trick.
I was most impressed with how breathable and light the Ahnu Woodacre was to wear. Unfortunately, in the long run, this may also be its main downfall; with all that mesh on the upper, durability comes into question. Although I did not experience extensive wear and tear in the mesh during the testing, I will be keeping an eye on this in the future as I use the shoes over the long term.
Besides durability, the only other thing that may be nice to have in the Ahnu Woodacre would be a waterproof version. This version could use the same eVent fabric that the Ahnu Elkridge Mid boot uses. This fabric would provide some ventilation (not nearly as much mind you) while also providing some durability and waterproofing for those trail days when the sun does not always shine. In fact, Ahnu does offer the Woodacre in a Hydrophobic model called the Ahnu Woodacre Hydrophobic (funnily enough). The Hydrophobic version uses a hydrophobic mesh that repels water, yet still breaths. We were not able to review this model so I cannot say how it performs and breaths but I assume the fit would be identical.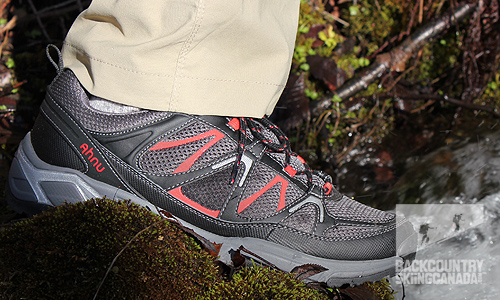 SPECS:
Price: $149.99 CAN
Colour: Bright Chartreuse / Gargoyle
Sizes: 7, 7.5, 8, 8.5, 9, 9.5, 10, 10.5, 11, 11.5, 12, 13
Weight: 1lb 10oz / 736g
PROS:
Super comfy and supportive - they cradle your foot. Extra breathable thanks to the mesh upper. Aggressive tread provides good grip on steeper trails. Pull loops on tongue and heal.
CONS:
Not waterproof but given all the ventilation - can't have everything. Long term durability may be compromised from all the mesh on the uppers.

This is only our opinion. Do you disagree? Did we miss something? Are we totally out to lunch? Join the discussion in the forums here, and let us know what you think. People like/dislike gear for different reasons so chime in and we'll get a well-rounded evaluation.
Back to the rest of the reviews.
---