Adventure Medical First Aid Kits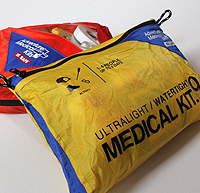 On my to do list for the last two seasons has been to streamline my haphazard backcountry first aid kit which was bulky, missing a few key things and had organically grown over the years. (See below) As with any backcountry gear there's the fine balance between weight and functionality. I was looking for a kit that would be lighter and more compact, organized and, most importantly, enough to keep myself and my fellow skiers patched up until we could get medical help if the need arose.
There are many approaches to compiling a first-aid kit, some recommend that you handpick your first aid items and compile a custom first-aid kit to save money and get exactly what you want. Though I am from a family of nurses, my knowledge of medicine is a layman's knowledge at best so I had a look around for pre-packaged first-aid kit to get me started.
The old Backcountry First Aid Kit was nothing to be proud of...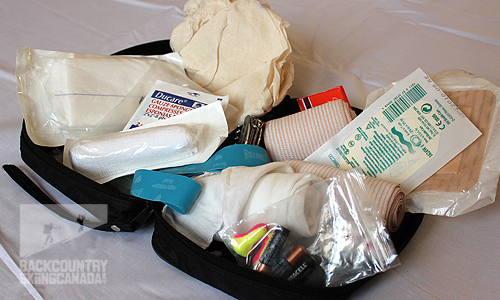 Adventure Medical Kits:
Based in the US Adventure Medical Kits rely on the expertise of world authorities in wilderness medicine and survival techniques to develop and refine first-aid / survival kits for the gamut of outdoor pursuits. Adventure Medical Kits supplies first aid kits in all shapes and sizes so it's hard to know where to start. For short backcountry ski trips I looked at the Adventure Medical Kits Ultralight/Watertight Series and the Adventure Medical Kits S.O.L 3 (Survive Outdoors Longer, not Shit Out of Luck) which also includes gear repair and survival equipment. Whilst the Adventure Medical Kits S.O.L 3 makes a great all round backpacking kit and has some items (such as fire starter and scissors) that I would love to have in my schwag, the Ultralight/Watertight Series seems a better match for backcountry skiing and is more first-aid specific.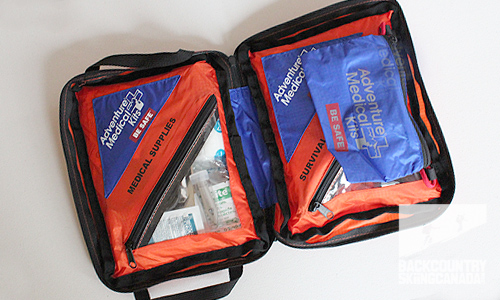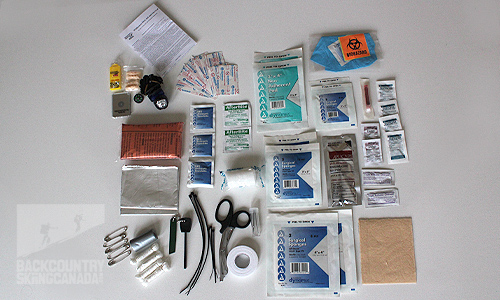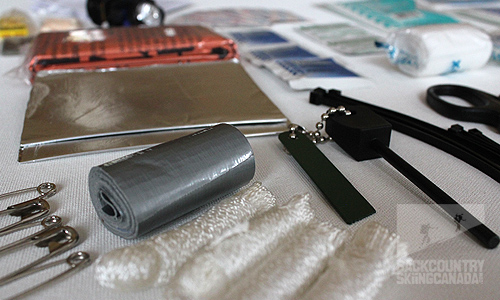 In 2010 Adventure Medical Kits redesigned their Ultralight/Watertight Series adding proprietary DryFlex bags that ensure waterproof storage. These kits come in a seam-sealed outer silnylon bag, which is bright yellow so you can locate it easily. Adventure Medical Kits recommends this Ultralight / Watertight Series (.5, .7 and .9) for backcountry skiing. To accommodate multi-day trips I opted for the .9 which is designed to cater to 1-4 people over 1-4 days.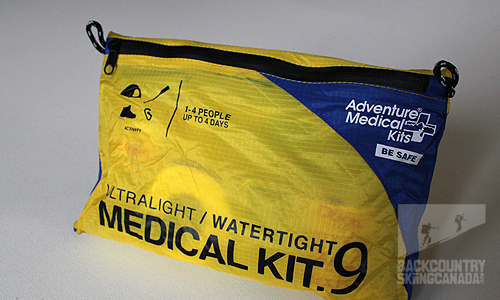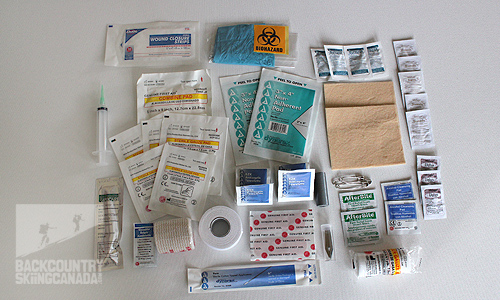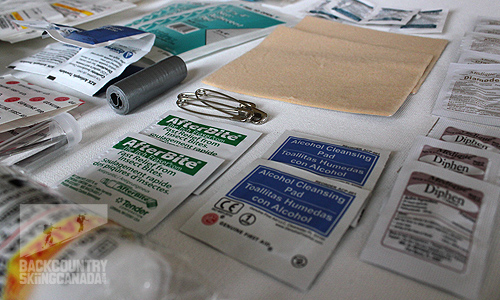 Whats in it?:
Wound Care and bleeding
1 Wound Closure Strips, 1/4" x 4", Pkg./10
1 Tape, 1" x 10 Yards
1 Bandage, Elastic, Self Adhering, 2"
5 Bandage, Adhesive, Fabric, 1" x 3"
3 Bandage, Adhesive, Fabric, Knuckle
1 Bandage, Conforming Gauze, 3"
2 Dressing, Non-Adherent, Sterile, 3" x 4"
2 Dressing, Gauze, Sterile, 3" x 3" Pkg./2
1 Dressing, Gauze, Sterile, 2" x 2" Pkg./2
1 Syringe, Irrigation, 10 cc, 18 Gauge Tip
1 Tincture of Benzoin Topical Adhesive, Vial
6 After Cuts & Scrapes Antiseptic Wipe
1 Cotton Tip Applicator, Pkg./2
3 Triple Antibiotic Ointment, Single Use
1 Gloves, Nitrile (Pair), Hand Wipe
1 Trauma Pad, 5" x 9"
3 Alcohol Swab
Medication
4 Ibuprofen (200 mg), Pkg./2
2 Antihistamine (Diphenhydramine 25 mg)
6 Diamode (Loperamide HCI 2 mg), Pkg./1
Blister treatment
22 Moleskin, Pre-Cut & Shaped (11 pieces)
Other
1 Duct Tape, 2" x 100"
1 Splinter Picker/Tick Remover Forceps
3 Safety Pins
2 Aloksak Waterproof Bag, 6" x 9"
The Verdict:
This is a seriously light-weight, watertight bare essentials kit. I wouldn't want to travel with less. It is much more efficient compared to my previous kit and provides a great foundation. For backcountry skiing specifically, I wanted a little more preparation for trauma incidents and for blister treatment. I have squeezed in a few additional items such as a larger tensor bandage and a triangular bandage. For blister treatments Adventure Medical Kits also supplies (separately for around $10) a dressing called Glacier Gel, this stuff is a blister saviour and an awesome addition to the kit, in fact, I easily burned through a pack of it this season between my friends and I, luckily you can replenish items from Adventure Medical Kits site.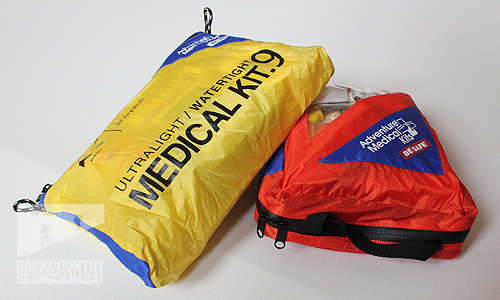 SPECS:
Price: $36
Weight: 8.4oz.
Size: 7" x 9.5" x 2.5"
PROS:
Light-weight, compact and waterproof. The two DryFlex bags allow you to organize your items efficiently. It's great for backcountry skiing first-aid essentials and is very affordable. A great foundation if you want to add more.
CONS:
This is an essentials kit so you may feel more comfortable adding a few additional items.
Note:
Carrying a first-aid kit in your pack does not make one completely prepared for an emergency especially where trauma is involved. It's your tool kit and the knowledge on how to use it depends on you and the wilderness first aid course you have taken.
Rating: 8/10
Innovation 1.5/2
Function 1.5/2
Features 1.5/2
Weight 1.5/2
Quality / Price 2/2

This is only our opinion. Do you disagree? Did we miss something? Are we totally out to lunch? Join the discussion in the forums here, and let us know what you think. People like/dislike gear for different reasons so chime in and we'll get a well-rounded evaluation. Check back mid-season to see how our review stands up to our in-the-field testing.
Back to the rest of the reviews.
---