A day in 4Frnt skis White Room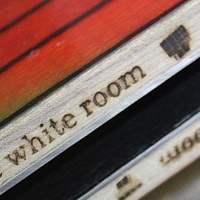 Salt Lake City, Utah, has become a hub of the North American skiing industry with many big and small companies setting up shop in the land of the "greatest snow on earth." In 2011, the Backcountry Skiing Canada crew went down to taste some of famed Champaign powder and attend the Outdoor Retailer Winter Market show. During our stay, we were treated to a tour of 4frnt Ski's famed "White Room" prototype production facility. 
On the Snowbird leg of our trip, during which we skied five resorts in a week, we were fortunate enough to be guided by pro skier Cody Barnhill. Cody's talent is only outdone by his dedication to the ski craft, as he is a primary designer and all around snow guru at 4Frnt skis. After a day of skiing, we met up with Cody at the White Room of 4Frnt, which is tucked away in an industrial district of Utah's biggest city. 
4Frnt's Cody Barnhill making it happen.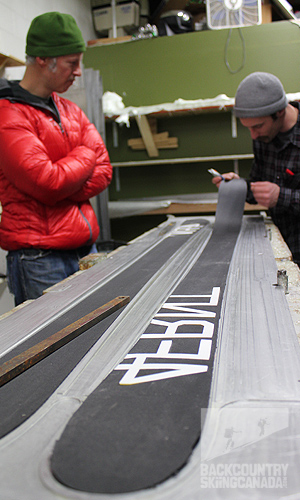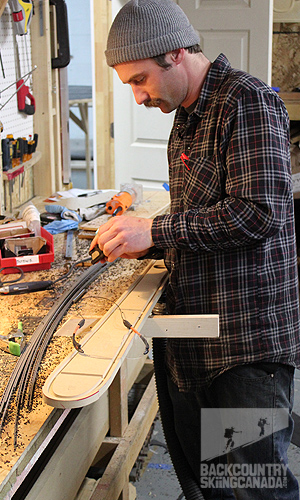 4Frnt's motto is "Rider Owned, Rider Inspired," and after a few moments in the White Room it's evident. There aren't the expected trappings of a corporate culture at 4Frnt. There's a laid-back attitude, a true passion for ski building, a mini skate ramp adjacent to the ski manufacturing room, a refrigerator stocked with beer, music blasting and a lot of ski making going on. 
All of 4frnt's prototype skis are developed in the White Room, allowing them to go from concept to production to the slopes in a day. To develop prototype skis with this turn around allows designers (pro skiers) to continually test products until they are 100 per cent satisfied with the result. With the exception of a few in-house models, the finished product is then sent to Europe for large-scale production, ensuring that what you get has been tested and refined by the best skiers on the planet, not a group of ski designers with nary a snowflake around.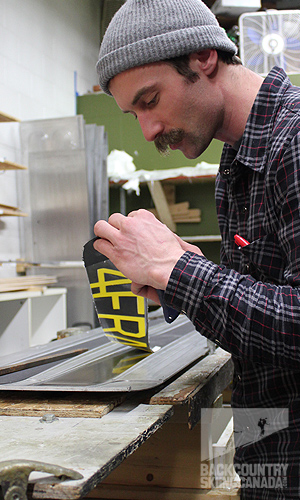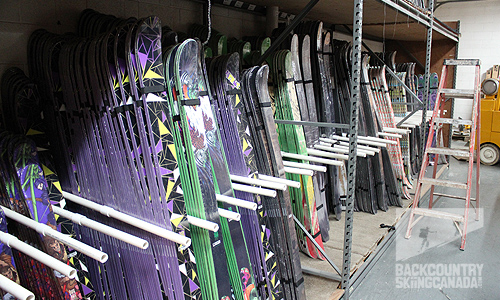 While there, we were fortunate enough to watch Cody and his team lay up a new park ski for phenom team rider David Wise (A week later, David won the X-Games half pipe on the same ski). 4Frnt's dedication to quality and in-house perfection was apparent, and the ease and skill by which they laid up the skis and had them in the press was impressive. It's pretty cool to know that you can buy a ski that was not only designed but also likely built by your skiing hero.