Destination: Arslanbob, Kyrgyzstan
Most backcountry skiing "locals" don't want their favourite mountains shared with the world in magazines like Rolling Stone and Condé Nast Traveler.
Hayat Tarikov isn't like most backcountry skiers.
My friend Hayat will talk with anyone and everyone about the skiing in his home mountains (including Rolling Stone and Condé Nast Traveler). He'll tell you how the skiable terrain includes low-angled tree skiing through ancient walnut forests all the way up to steep, high-alpine bowls and ridge lines. He'll tell you about the cold, dry snow and how you will be guaranteed to get first tracks if you come to the mountains above his home. He'll tell you that a visit to those mountains will be a trip of a lifetime, one that you will never forget.
And he'll be right.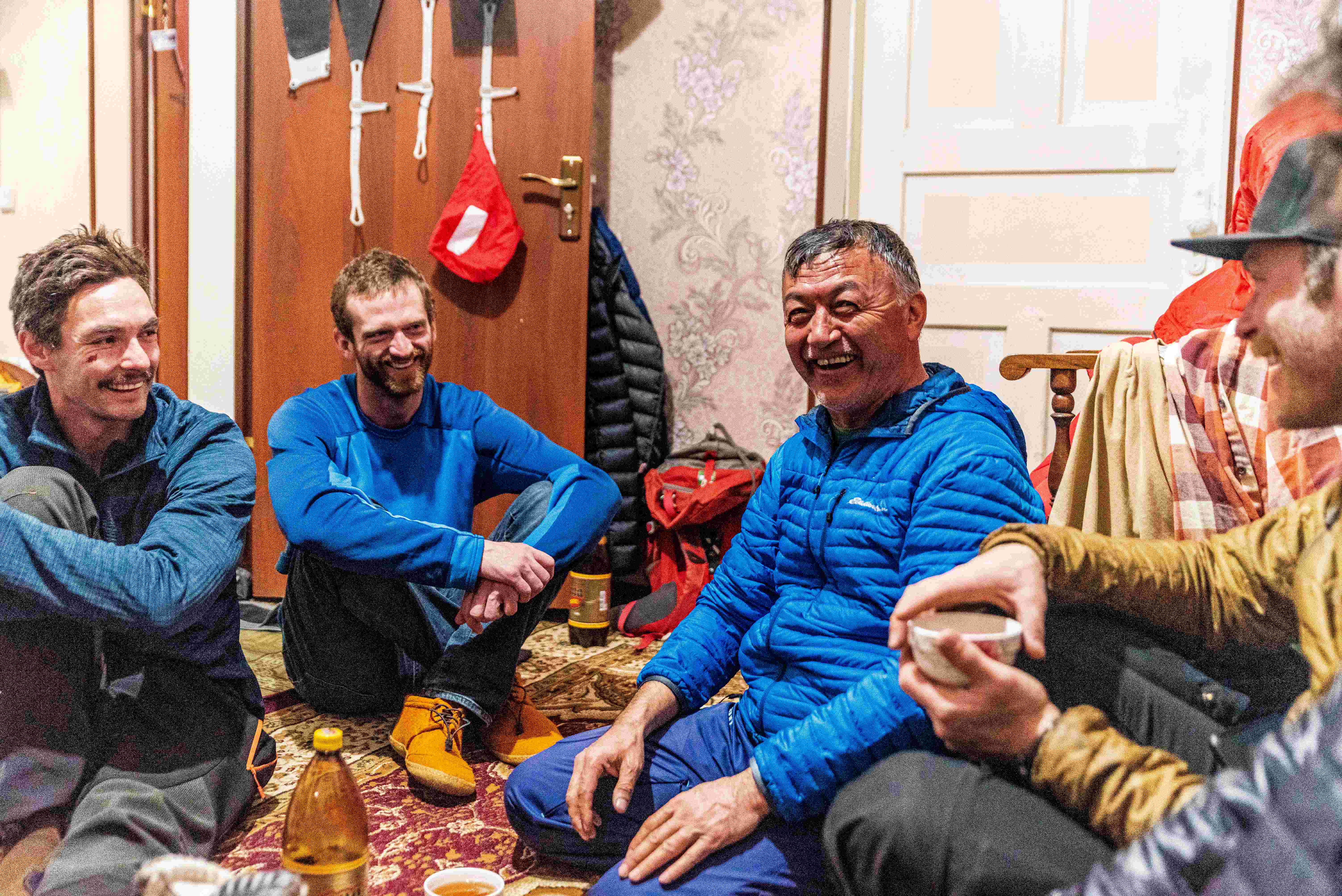 Hayat Tarikov, director of CBT Arslanbob, telling tales of mountain adventures and village life in Kyrgyzstan. Josh Laskin photo.
The Babash-Ata Mountains, above the village of Arslanbob in southern Kyrgyzstan, are one of my favourite places to ski. But a visit to Arslanbob is about so much more than just skiing; it also includes unforgettable engagement with the local communities' authentic, ancient culture.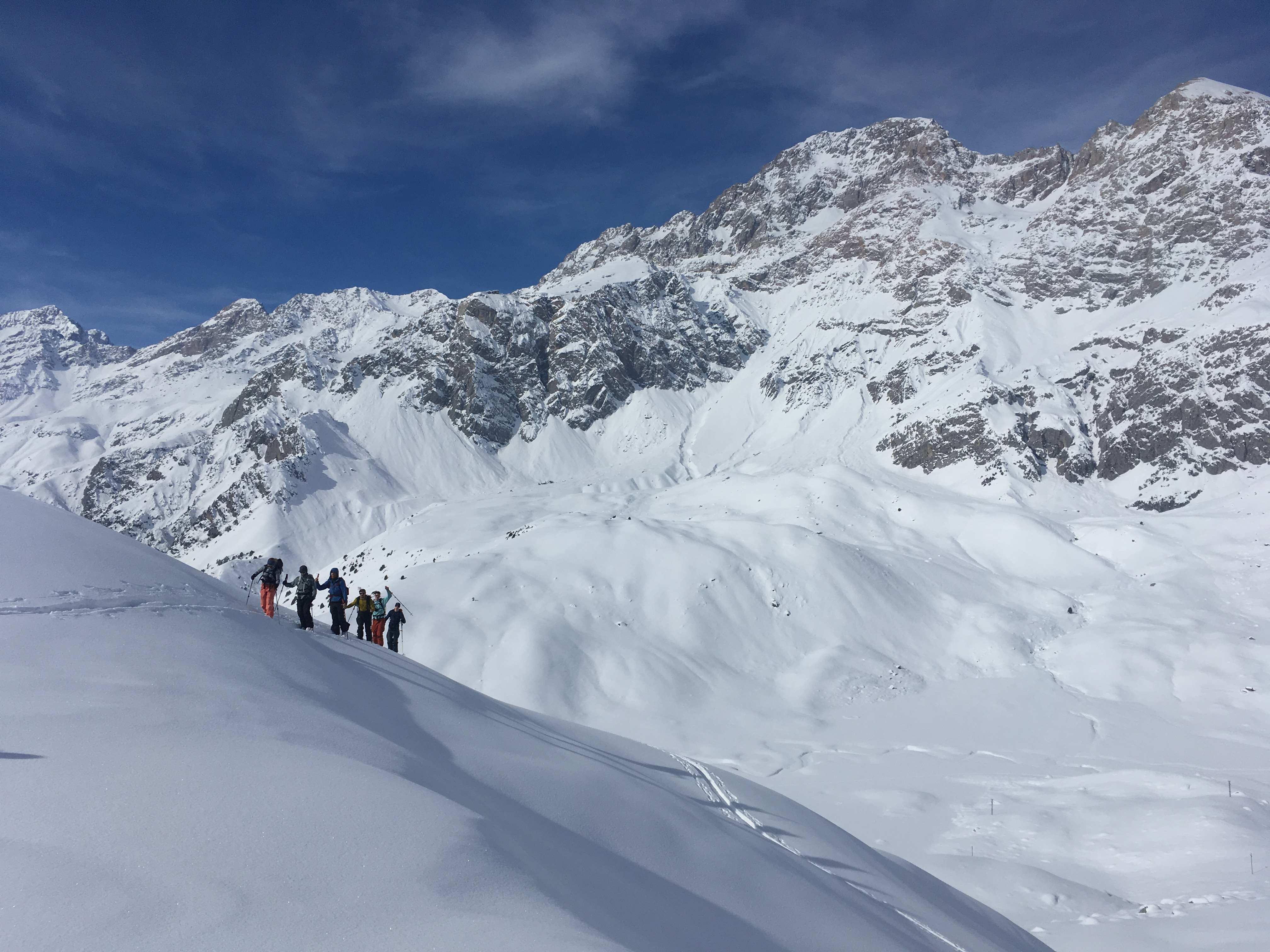 Skinning up to the ridge with the summits of the Babash-Ata Mountains in the background. Jerry Isaak photo.
The reason why Hayat is so willing to talk about his world-class mountains and community is that he is the director of the local Community Based Tourism (CBT) organisation and visitors to his mountains contribute directly to the local economy. The Kyrgyz Community Based Tourism Association (KCBTA) includes 15 active CBT groups throughout the country - including CBT Arslanbob. The main objective of the KCBTA is to improve the living conditions of people in remote mountain regions, by developing rural tourism without harming the natural environment and culture of local people. Each CBT group relies on its local community members to form the backbone of its tourism infrastructure. These community members play various roles, such as guides, porters, hosts for homestays, and cooks. The Community-Based Tourism (CBT) initiative mandates that a substantial majority, specifically 80 to 85 percent, of the profits generated should directly benefit local families and businesses.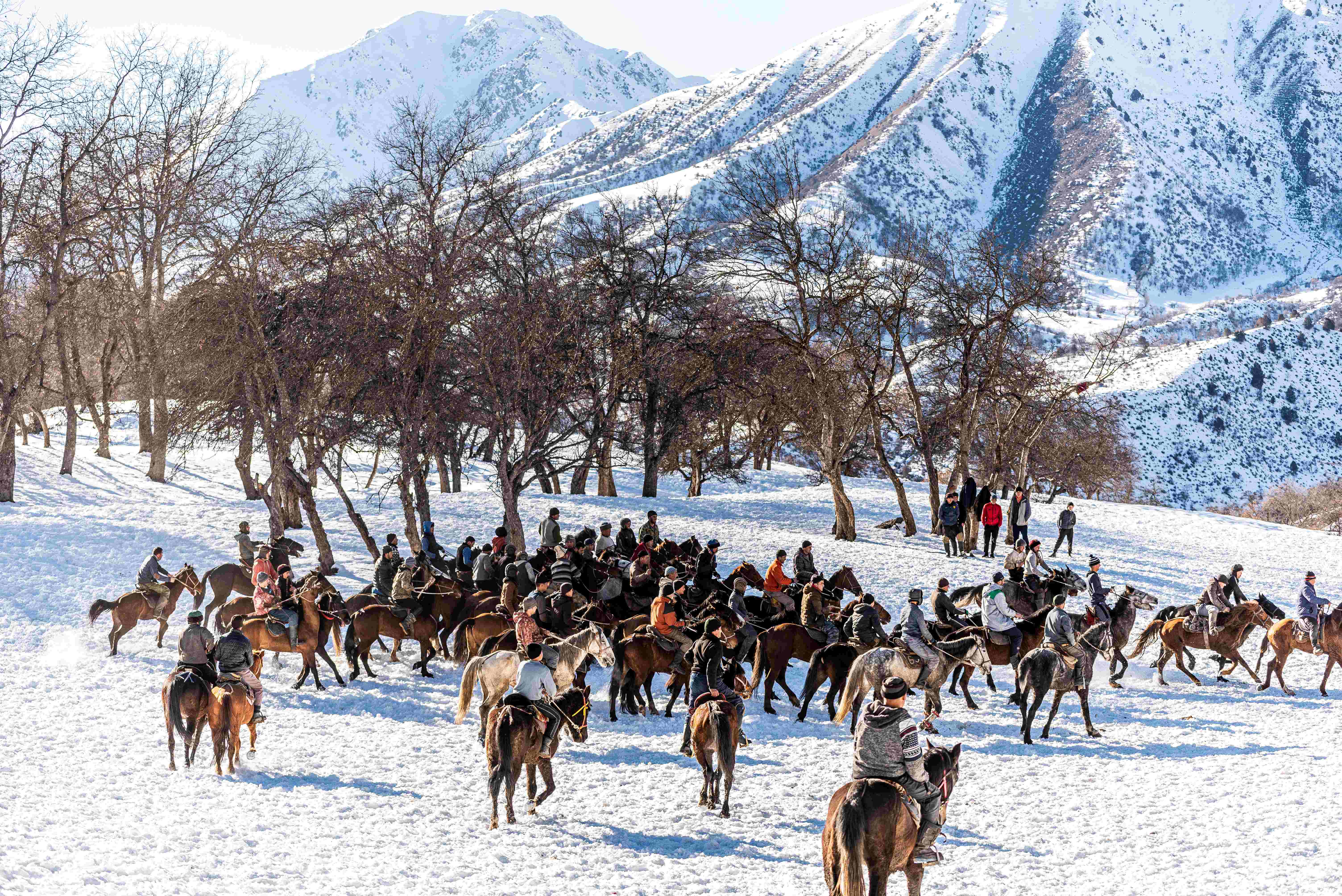 Traditional nomadic horse games are a weekly event in Arslanbob during the winter. Josh Laskin photo.
Hayat was one of the founders of CBT Arslanbob in 2001. The organisation was established to help provide jobs for locals, especially during the winter when approximately 80% of the community is unemployed. Hayat and several other CBT guides taught themselves to ski - as middle-aged men, with no chair lift(!) - so that they could host tourists in their local mountains. Today, over 150 community members are involved, offering visitors a total of 20 homestays to choose from. According to Hayat, "We aren't only doing it for the tourists. The concept of CBT is to help locals. Our main goal here is to give back to the community and our guides. We like to share the wealth."
The hospitality of the CBT guides and hosts is unmatched. Ski touring guests are treated to high-alpine lunches on snow tables (compete with tablecloths and utensils) to winter festivals in the village, complete with traditional horse races and competitions (for the locals).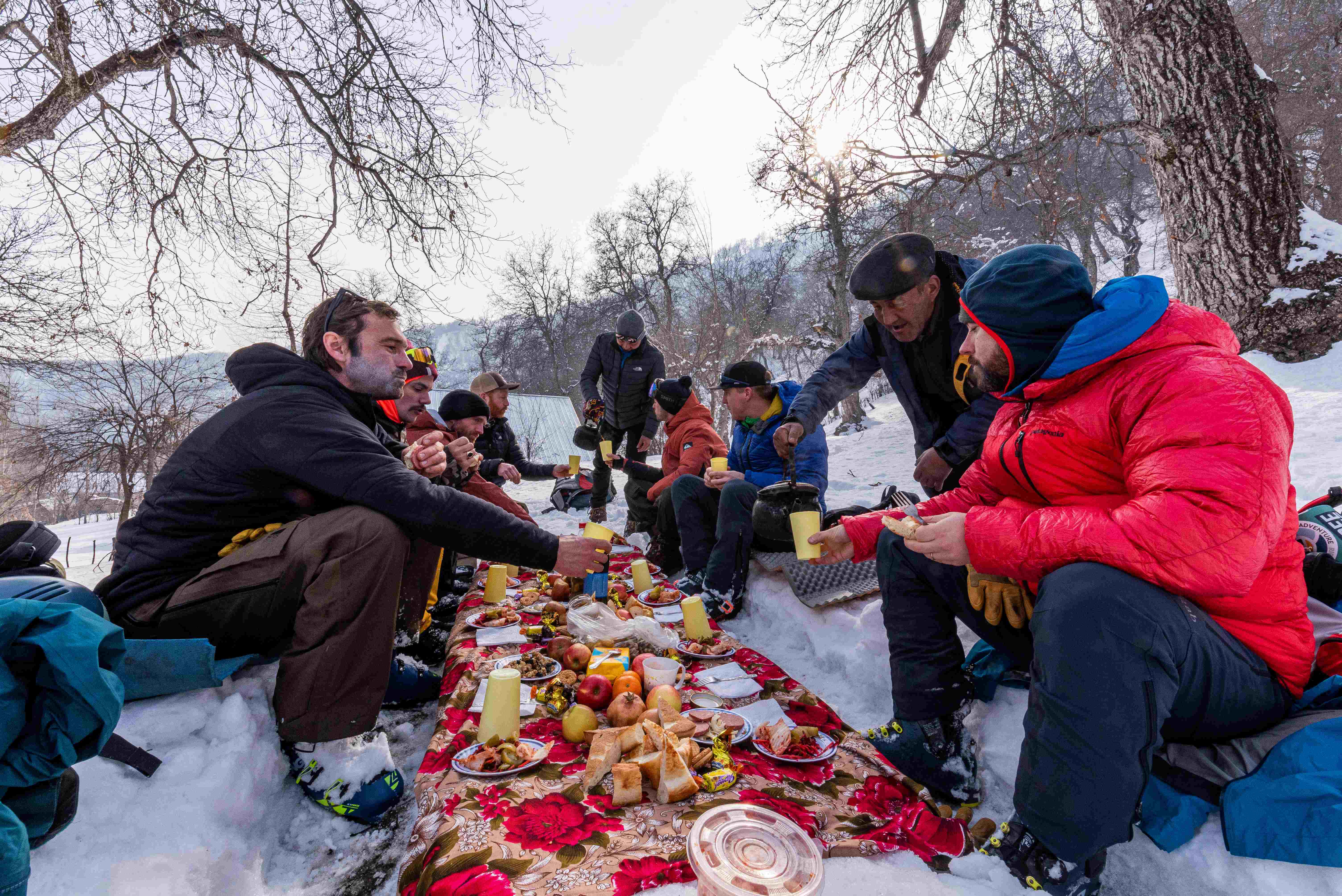 World class hospitality from the CBT group in Arslanbob. Lunch on a snow table in the world's largest forest of Walnut trees. Josh Laskin photo.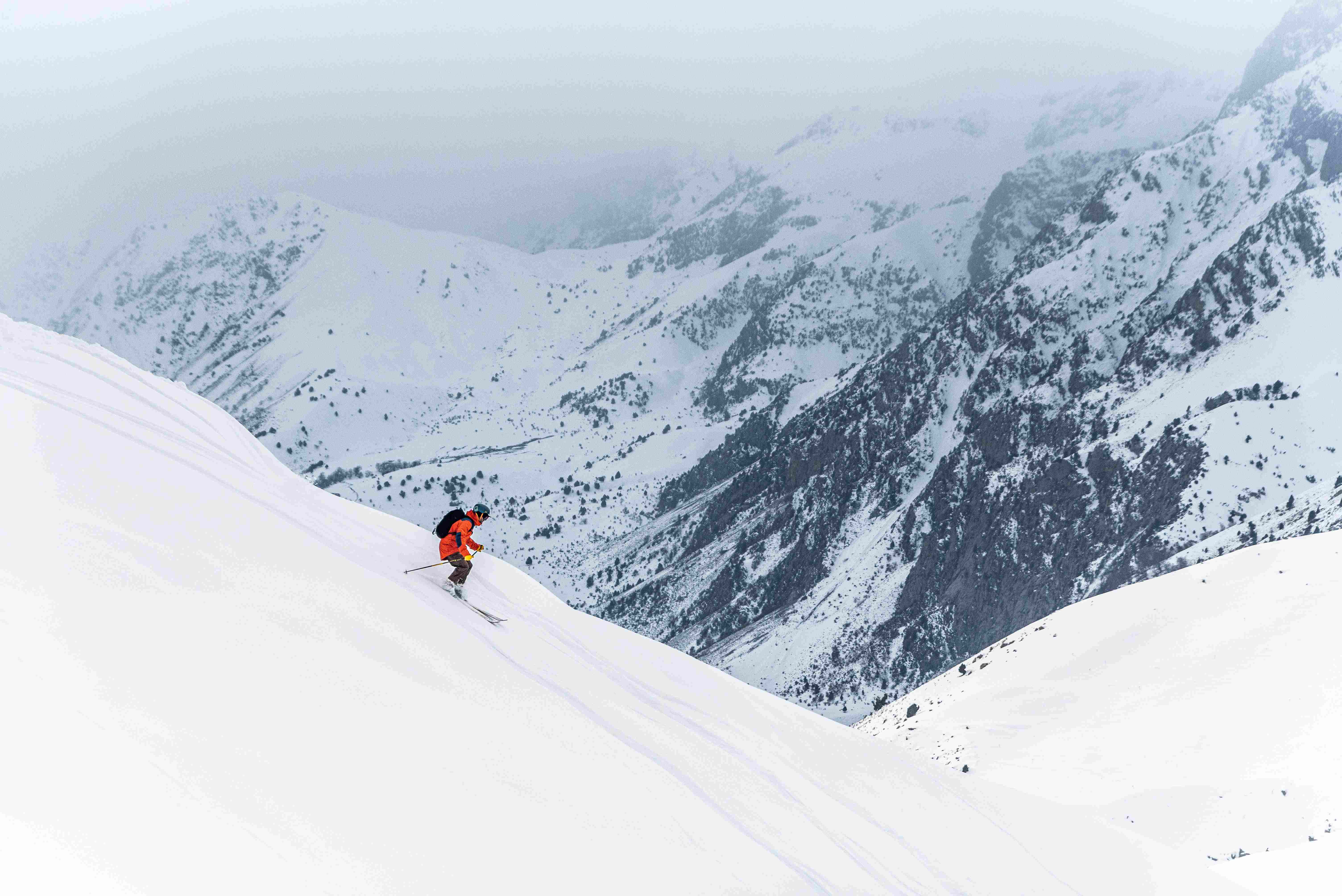 Descending into a north-facing bowl high above the summer pastures. Josh Laskin photo.
The backcountry ski experience isn't for novices though. There are no lifts (other than horses or 30-year old Soviet-era Ladas), no avalanche forecast, and the snowpack is literally the most continental on the planet. The homestays are clean and comfortable (and the food is excellent) but not luxurious. As Hayat said to me, "We like to focus on the simple tourists and not the luxury. We want to keep things simple here and not influence our culture."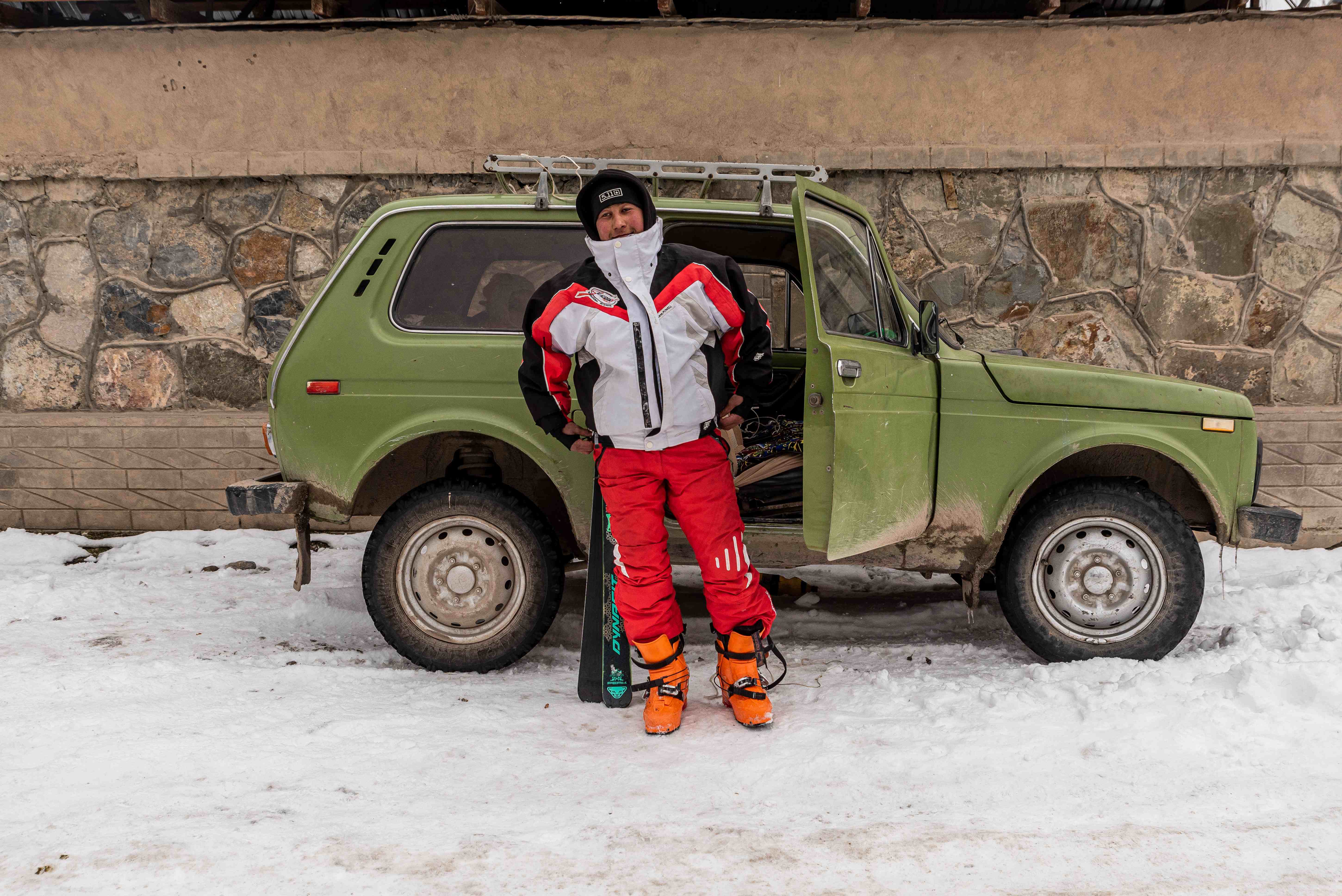 A CBT member posing in front of the Lada ski lift.
Josh Laskin photo.
Interested in visiting Arslanbob as an independent traveller/group? Contact CBT Arslanbob directly through the information on their website or social media channels (Facebook; Instagram). If you'd like a North American tour operator to handle the logistics, New Hampshire-based Northeast Mountaineering offers trips to Kyrgyzstan in partnership with CBT Arslanbob.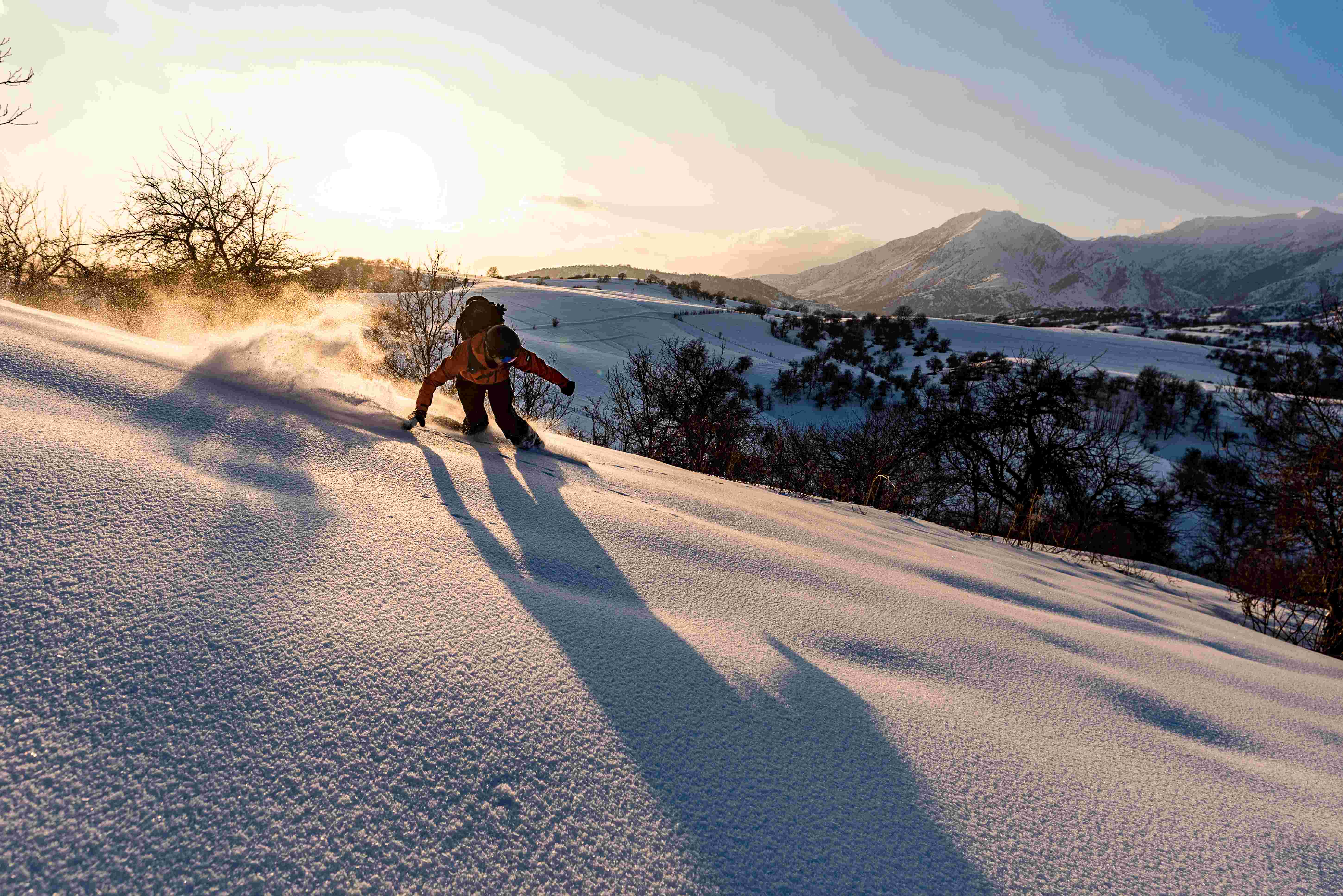 Shredding low-angle pow in the rolling hills above Arslanbob.
Josh Laskin photo.
---
Jerry Isaak is an Associate Teaching Professor and the program lead for ski touring in the Adventure Studies Department at Thompson Rivers University in Kamloops, British Columbia. He is an AMGA certified Ski Guide and has guided backcountry ski adventures in Iceland, Kyrgyzstan, Japan, and throughout the United States and western Canada.