What District in BC Offers the Most Ski Terrain?
"No friends on a powder day" is the old saying. Sure all of us love spinning laps with friends, enjoying fresh snow on the resort or in the backcountry, but there can also be such a thing as too many friends. Long lift lines, busy parking lots and snow that's tracked out within the hour is not something anyone enjoys. That is what inspired a recent GIS project, looking into which regional district in the province offers the most ski terrain per person.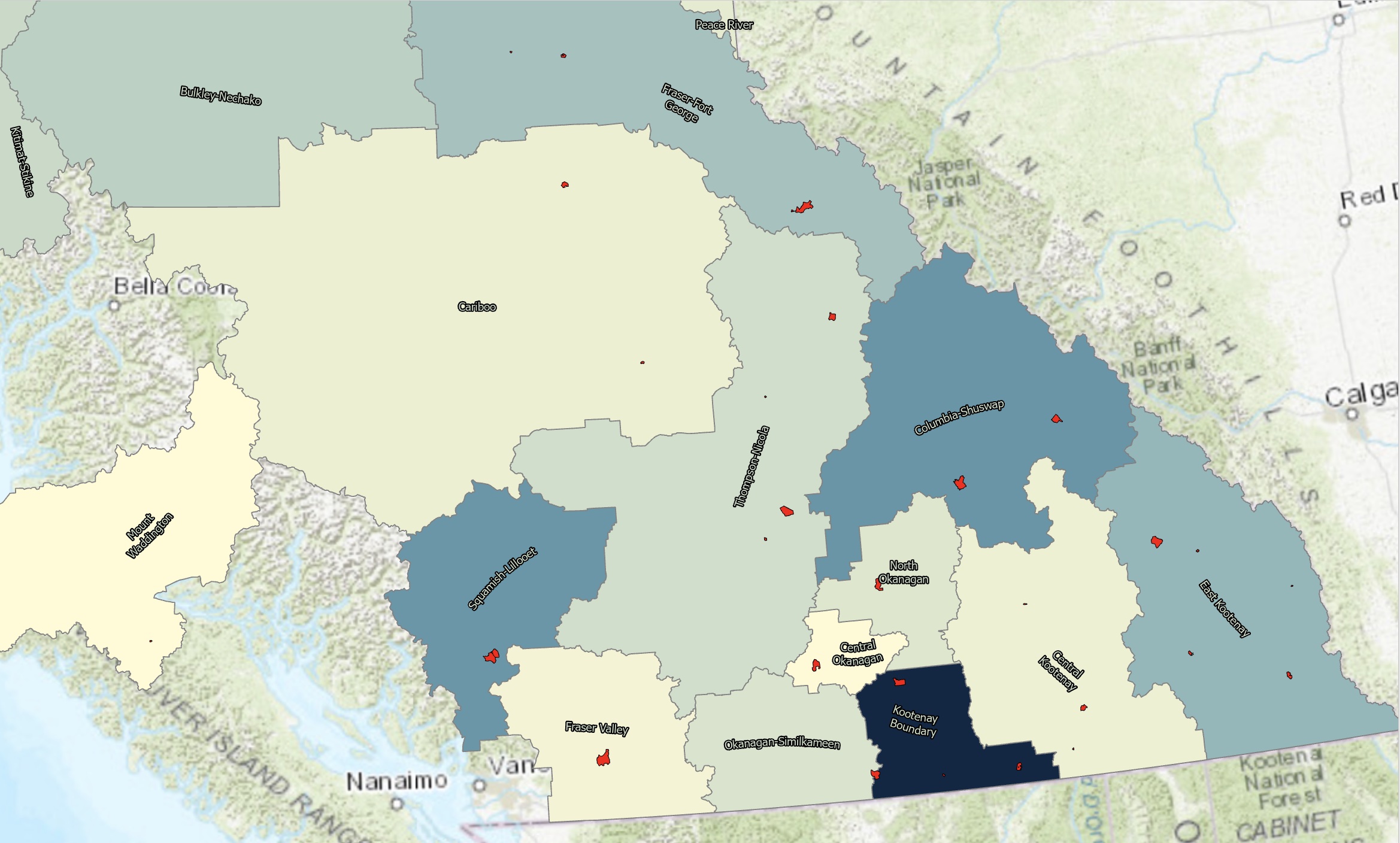 Colour of district corresponds to hectares of ski terrain per person. A darker shade of blue corresponds to a larger value. 
I got population data from the provincial government for each regional district in BC from the 2016 census, as well as all active ski tenures on crown land. In the cases where ski tenures crossed district boundaries, the area was split between districts. Unfortunately, some ski areas were not included due to not being located on private land (for example Mt. Washington on Vancouver Island).
The Kootenay Boundary ended up winning the contest by a significant margin, with 0.24 hectares per person. This is mostly due to the large size of Red Mountain and Big White ski resorts and the relatively low population in the district. However the fact that the large population of Kelowna is not included in this statistic, even though it is the largest contributor to the busyness of Big White highlights how these numbers can be skewed. The areas surrounding Whistler (Squamish-Lillooet), Revelstoke Mountain and Kicking Horse (Columbia-Suswap) come in closely behind.
It is pretty easy to poke holes in this as a useful metric for comparing how busy ski hills are. I at least hope it's interesting to see how, by and large, all of us in BC are lucky to live near so many wonderful ski areas.