Mont-bell Dynamo Wind Parka - REVIEW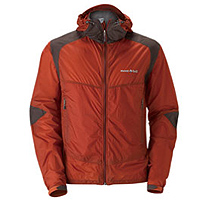 The Mont-bell Dynamo Wind Parka is an incredibly small and compact wind shell which will shed snow, wind and light precipitation to keep you warm and dry on ridge tops and when the weather get nasty. The nylon shell is made up of 12 and 40 denier rip-stop fabric which is semi-translucent and provides some stretch for the skin up or the ski down. Mont-bell uses what they can "Ballistic Airlight Nylon" which provides good durability and increased stretch thanks to the "bias stretch" that has been woven into the fabric. This is essentially a false twist applied to the individual threads to give the Mont-bell Dynamo Wind Parka some inherent elastic qualities in the direction you require them. On top of this a Polkatex DWR finish which is rated for 100 washes while still maintaining 90% of its water repellency has been added to the fabric to increase water repellency over the long term.
Read the full review in our gear review section over here.