Gecko Climbing Skins - REVIEW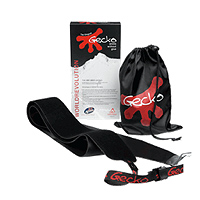 The adhesive on the Geckos is a rubbery compound that works by sticking to smooth, flat surfaces only. The skin does adhere to itself, though the effort required to pull your the two sticky interfaces apart is far easier than any type of traditional glue skin. The make up of this adhesive has not been advertised, but the words 'molecular fusion' have been floating around various online discussions. The closest description I think of is the patch of rubbery glue that magazine publishers use to stick Cds and booklets onto the front of their publications. When you peel that yellow strip off the magazine it leaves no residue, you can screw it up into a ball and then unfurl it again. It sticks to flat things and doesn't get contaminated with hair, dust and other inconveniences, such as snow.
Read the full story on the new Gecko Climbing Skins on our review pages here.