Rab Vapour Rise Lite Alpine Jacket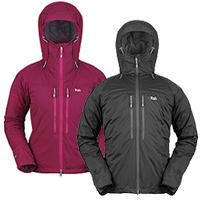 What do you get when soft shell meets hard shell? How about a layer that can breath and cut the wind. This sounds like a 'soft shell' right? What about a layer that can keep the weather out too? This time you would likely say 'hard shell'. If you were to take all of these properties and mix them together you more or less have an ideal ski touring layer be it mid layer or exterior layer. What you end up with is the Rab Vapour-Rise Lite Alpine Jacket.
When soft shells became popular almost a decade ago I thought this was the answer for my backcountry skiing layering needs. However, after a few seasons of wearing a soft shell jacket I found that it was neither warm enough for ridge top winds nor weather proof enough for when it snowed and got wet. Needless to say my soft shell days were short lived. Instead, I converted to more of a wind jacket with some insulate properties. This jacket served me well for nearly a half decade and became know as the "wonder jacket", that is of course until the Rab Vapour-Rise Lite Alpine Jacket came along. Now I refer to the Rab Vapour-Rise Lite Alpine Jacket as the "wonder jacket 2.0".
I have been wearing this jacket as a mid layer for ski touring right over top of my base layer. It provides good warmth through out the day and allows you to simply remove your hard shell for the skin back to the top. The Pertex Equilibrium fabric on the outside cuts any wind and the lightweight tricot lining is soft next to your skin, even if you tour in a short sleeve base layer. It also provides just enough warmth on colder days when the wind picks up. Moisture is managed well, thanks to the breathability of the Pertex and wicking properties of the lining but if things get too hot you can pack the Vapour-Rise Lite Alpine Jacket down to almost nothing in your pack. If you start to sweat you are still relatively comfortable and the jacket dries out fairly quickly.
This is a minimal jacket design to keep things not just light but also packable. There are only two chest pockets which are pack and harness friendly, and the hood is not big and bulky as it is designed as an under the helmet hood.

The Rab Vapour-Rise Lite Alpine Jacket was recently redesigned in spring 2012 and Rab found ways to minimize weight and increase packability in order to improve the previous Vapour-Rise Jacket and hence the new "Lite" moniker added in to the name.
The Rab Vapour Rise Lite Alpine Jacket comes in bright feminine colours for her and manly colours for him.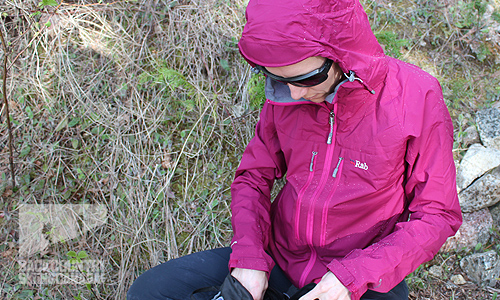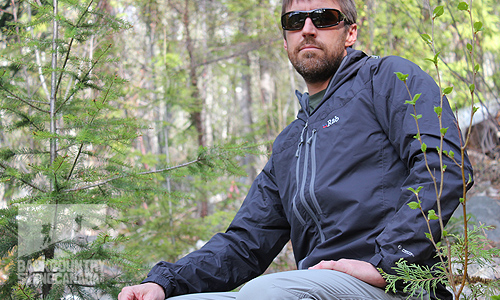 Features:
Outer fabric: Pertex® Equilibrium
Lining: Wicking micro fleece Tricot lining
Hood: Adjustable with wired peak, kitty clip roll down closure
Zipper: 2-way YKK front zip, internal storm flap, chin guard
Pockets: 2 YKK zipped Napoleon chest pockets and 1 YKK zipped internal pocket
Cuffs: Velcro
Hem: Drawcord
Fit: Slim for men regular for women
Two chest pockets with zipper garages.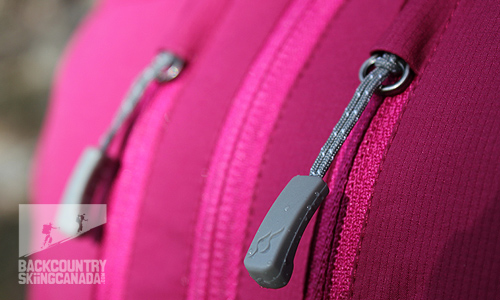 Interior Napoleon pocket with vertical zipper.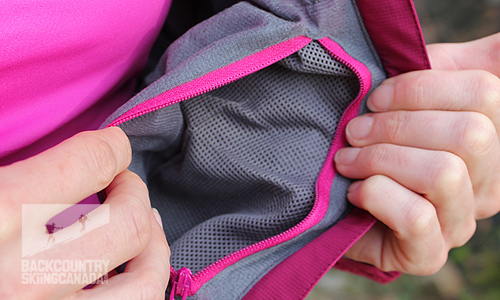 Velcro and eastic cuff adjustments.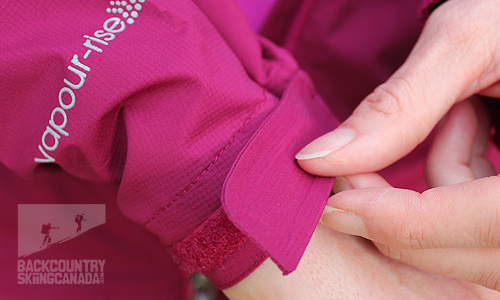 One handed hem adjustment.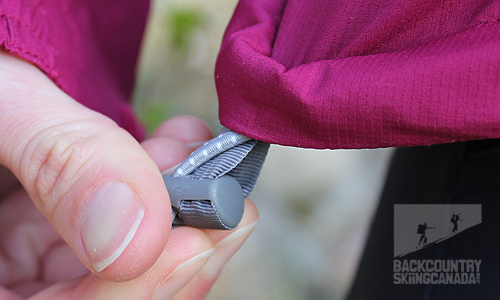 The hood has two front cynches to adjust things snug as well as a wire brim which is not in this photo.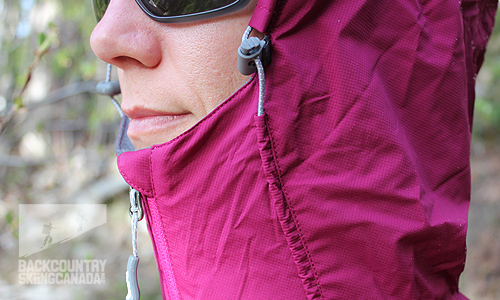 One more adjustment on the back of the hood so you can get it nice and snug.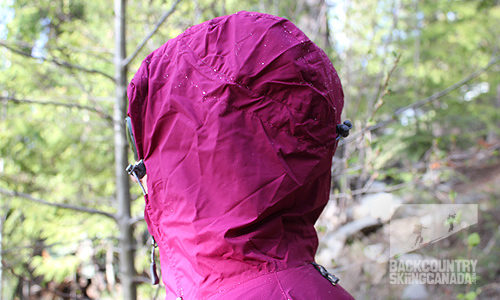 The inner Tricot lining is super soft even on bare skin.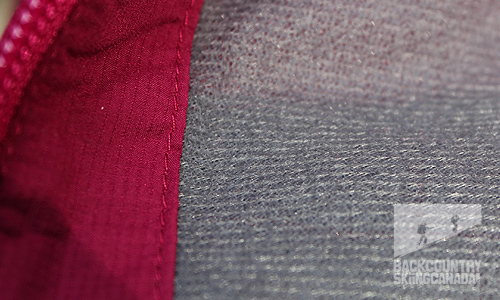 Verdict:
The Rab Vapour-Rise Lite Alpine Jacket is a hybrid soft shell / hard shell jacket that's warm, pretty wind proof and still breaths. In my testing the water repellant capabilities were way better than your typical soft shell, thanks to Pertex Equilibrium fabric and the DWR (durable water repellent) which helps make the Pertex Equilibrium hydrophobic. The DWR will need replenishing so if you find the shell starting to wet out then it is time to re-apply.
The hood is form fitting and has great adjustability, as it's designed to fit under any helmet rather than over. This keeps it small and provides a better fit when you need to keep the weather out. I did find the hood tie down (used to store the hood when not in use) pretty basic. It's simply a clip and webbing and seems like it could be more refined and could do with some additional thought so that it's better integrated (especially when not in use). I have seen some hood storage systems that wrap in the opposite direction and are made from the same fabric as the jacket so they blend in pretty seamlessly instead of sticking out. This one also incorporated a velcro tab so the tie down part was out of the way when not in use which is key.
On the pocket side of things Rab has always had the biggest pockets on the market. Rather than put in another seam to attach the pockets they simply use the top and bottom jacket seams so the pockets are huge - 6" pizza huge. It did take a while to get used to not having hand pockets but you typically have some in your pants anyways, and in order to keep things small and minimal the harness/pack friendly pockets do the trick. The internal napoleon pocket however felt like an after thought. It would be more functional if it was made out of a tight mesh so you could see the contents and it could breath if you put something in there that's not completely dry. The zipper orientation is also vertical and not horizontal so be ready for it's contents to fall out when the zipper is open. An audio port pass through would be a nice add on as well for those music lovers out there.
The best part of the Rab Vapour-Rise Lite Alpine Jacket has to be the tricot lining. It's warm and soft and feels really nice agains your skin unlike the interior of a hard shell or even a soft shell. Rab did a great job of creating an all mountain jacket that does not fall into the soft or hard shell category. This jacket is light and compact-able enough for any of your mountain adventures and I plan on using it extensively over the spring and summer months for climbing and mountaineering trips, in addition to my winter backcountry ski touring layering system as mentioned previously.
SPECS:
Women's Rab Vapour-Rise Lite Alpine Jacket
Price: $180 CAN
Sizes: 8-16
Colours: Anemone, Aegean, Beluga
Weight: 300g / 11oz
Men's Rab Vapour-Rise Lite Alpine Jacket
Price: $180 CAN
Sizes: S, M, L, XL, XXL
Colours: Maya, Apple, Beluga
Weight: 330g / 12oz
PROS:
- good amount of stretch to the fabric
- soft and warm thanks to the fleece liner
- can be used as a mid or external layer
- mouldable wire brim on hood
- repels weather more than you would think.
CONS:
- Elastic cuffs not aesthetically pleasing
- No hand warming pockets
- Interior pocket is pretty basic
- Hood tie down is a little basic and could be refined
Rating: 8/10
Innovation 2/2
Function 2/2
Aesthetics / Fit 1/2
Features 1/2
Quality / Price 2/2

This is only our opinion. Do you disagree? Did we miss something? Are we totally out to lunch? Join the discussion in the forums here, and let us know what you think. People like/dislike gear for different reasons so chime in and we'll get a well-rounded evaluation.
Back to the rest of the reviews.
---