Rab AL pull on, Rab Strata Jacket and Rab MeCo 165 Hoodie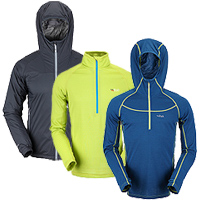 The process of layering is a personal choice and one that requires extensive experimentation in order to determine what works and what doesn't. With a myriad of clothing options on the market today for each of the key components such as base layers, mid layers, softshells, hardshells and puffy down jackets the choices are staggering. Add to this the multitude of new fabrics and the possibilities are quite literally endless.
To add to these choices one of my personal favourite gear manufactures, Rab, has just come out with three new products that layer up well together for backcountry skiing or other aerobic activities. These include the Rab MeCo 165 base layer, the Rab AL Pull On and the Rab Strata Hoody. By themselves each item excels at their designated task but the effect of combing them into a layering system for ski touring is where the real magic happens. The Rab Meco 165 base layer has a merino wool and Cocona polyester blend which is ideal next to your skin, over this the Rab AL Pull On provides a synthetic wicking system to move moisture away from the base layer thanks to the Polartec PowerDry fabric. Top this all off with the Rab Strata Hoodie with its warm and light Polartec Alpha insulation and 20 denier Pertex Microlight outer fabric and you have a great mid /outer layer for when things get colder or you stop for lunch. A waterproof hard shell for added protection from wind, rain and those clawing trees on the descent puts the finishing touches on this otherwise technical and warm (but not too warm) tri-factor layering system. Let's dig a little deeper with each piece and see what they have to offer, shall we?
Rab MeCo 165 Hoodie:
Price: $107 US
Weight: 285g / 10oz (large)
Colours: Carmine, Ink, Black
Sizes: XS - XXL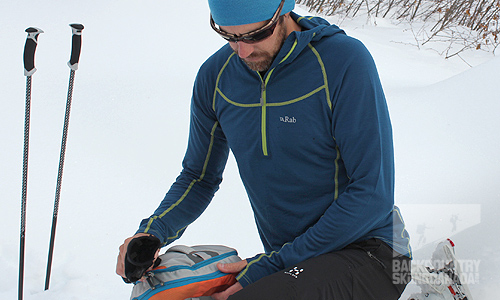 As mentioned above the beauty of the Rab MeCo 165 Hoodie is its fabric blend: 65% merino wool, 35% Cocona polyester. Together they provide quick drying warmth and anti-odour properties which keep that multi day stink at bay. Since the 165 is a mid weight layer Rab put in an extra deep venting YKK chest zip (with chin guard) that allows you to open it up really wide to vent any heat build up. I am so fussy with my base layers that I would not wear anything without a chest zipper of some sort as it is a great feature for temperature regulation. Add to this the flatlock low bulk seams and thumb loops and you have a base layer that fits well and isn't noticeable under mid layers. What more could you ask for?
Rab is famous for their deep, deep zips and this one is no exception.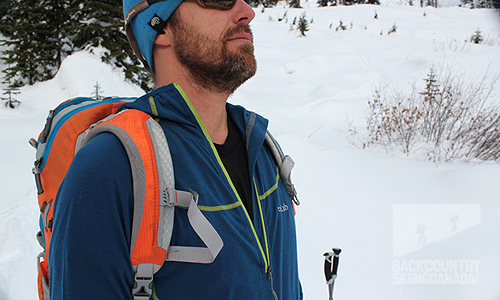 The incorporated hood provides good protection from the wind without the need for any adjustments thanks to it's elastic hem.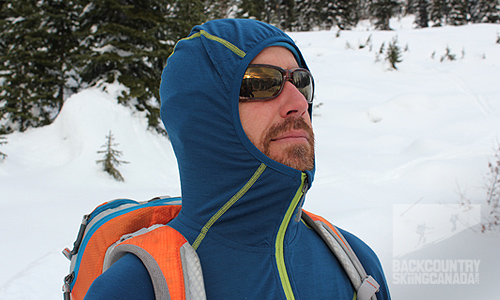 Thumb loops are standard issue to ensure this base layer stays put as you layer over top of it. It also provides a good seel under gloves.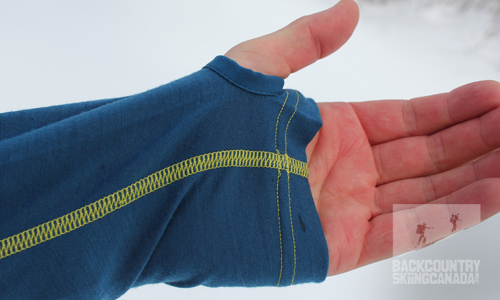 ---
Rab AL Pull On:
Price: $87 US
Weight: 195g / 6.9oz (large)
Colours: Sulphur, Blue, Black
Sizes: S - XXL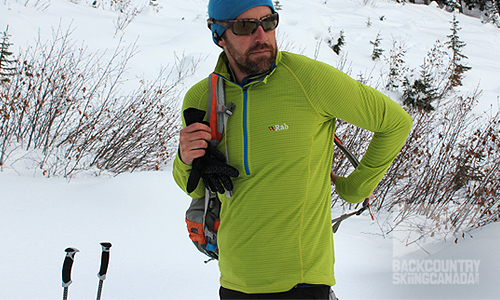 The Rab AL Pull On, which stands for 'Another Layer,' is a 100% polyester base layer for cold conditions or light mid layer for high energy activities such as ski touring. It's made from lightweight, stretchy, quick drying and moisture wicking Polartec PowerDry which keeps you warm by transporting moisture to its exterior where it evaporates instead of making you cold and clammy. Rab has once again incorporated the deep YKK zip on the front chest to allow for temperature regulation during activities where the intensity range varies. An antimicrobial technology called 'Polygiene Stay Fresh' is used to control odour and the flatlock low bulk seams facilitate layering and eliminate pressure points under your pack straps.
The Rab AL Pull On has the same deep, deep zip as the Rab MeCo 165 Hoodie.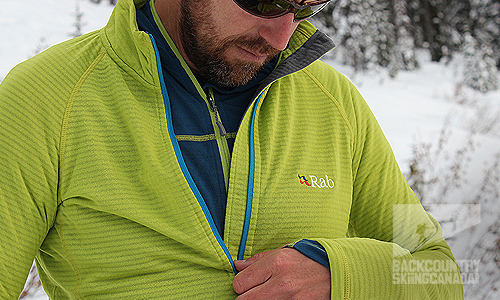 No hood on the Rab AL Pull On but the high collar and zip allow you to keep the heat in when you get cold.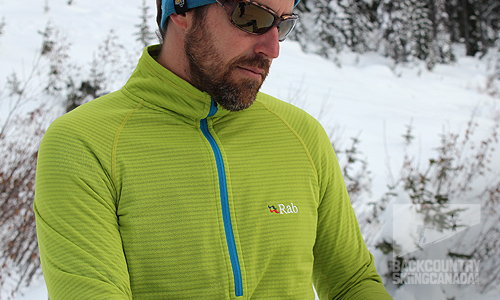 A close up of the waffle pattern on the interior of the Rab AL Pull On. Warm but not too warm, and feels good against bare skin as well.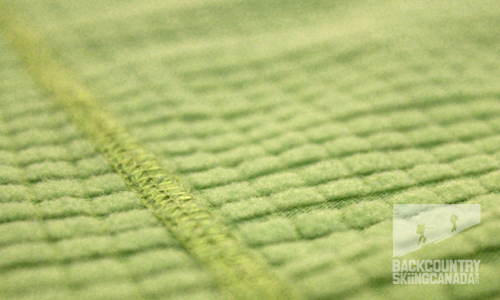 ---
Rab Strata Hoodie:
Price: $225 US
Weight: 430g / 15.2oz (large)
Colours: Apple, Ink, Black
Sizes: S - XXL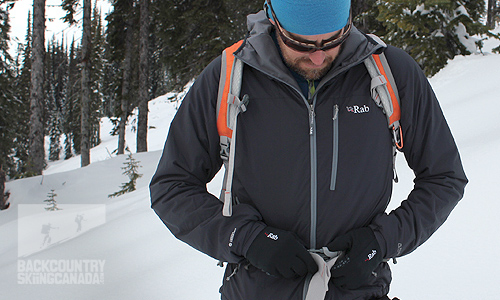 The Rab Strata Hoodie is a lightweight insulating layer that can also do double time as an outer layer jacket while ski touring or hiking. Its brand new Polartec Alpha insulation (80g/m²) keeps you warm while a 20 denier Pertex Microlight outer fabric provides some wind and water protection while also allowing through-flow of air to minimize moisture build up and maximize comfort. The Rab Strata Hoodie is designed to be used while moving quickly in cold conditions and keeps features to a bare minimum in order to remain light and comfortable. It has two hand warmer pockets and one deep chest pocket (that Rab is famous for) which easily stores items on the go or for self-stuffing the jacket for storage. The hood can be worn over or under a helmet and has a clasp for rolling it up and getting it out of the way if you prefer. The cuffs, similar to the hood, have no adjustability but instead are elasticized to provide a simple and easy fit. The interior uses zonal woven nylon and polyester mesh fabric to allow more heat to escape around your core and less at the shoulders, arms and waist. Dual hem drawcords provide more refined adjustment in order to keep snow and cold away.
Zippers have zipper pulls and zipper garages, here's the close up.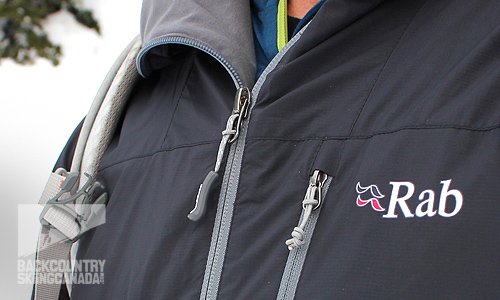 No adjustability on the cuffs in order to keep weight to a minimum, elastic cuff hems instead.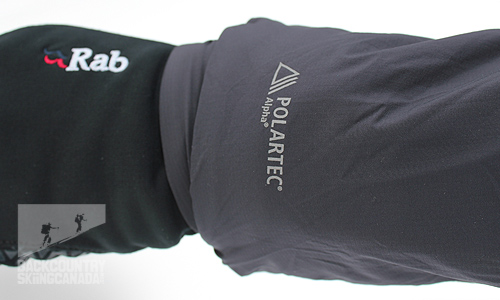 Classic Rab napolean pocket is extra, extra deep.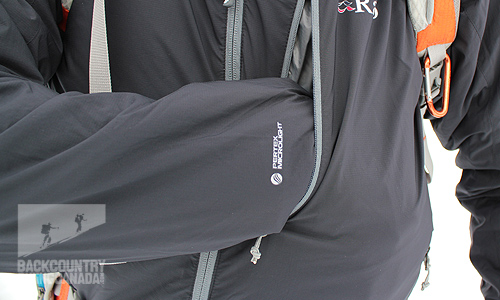 The hood has a nice high collar and no adjustability so again an elastic hem is used to keep weight and bulk down.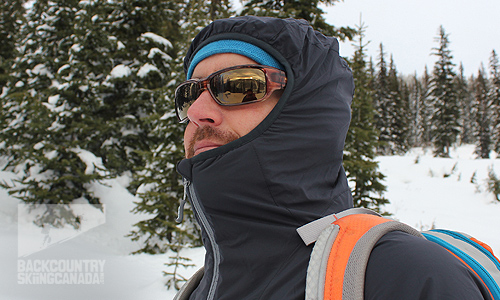 The back view is clean and simple.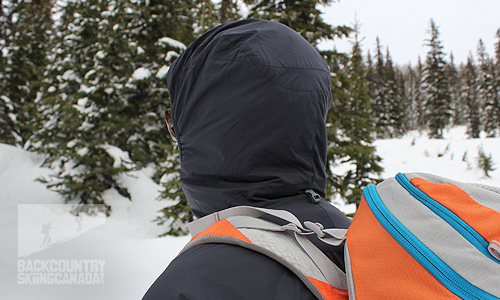 Zipper garage keeps the zipper out of your face and the elastic collar keeps the drafts out.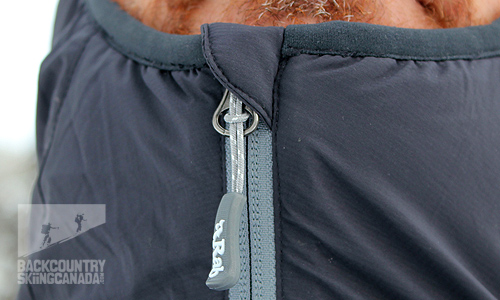 Verdict:
It's hard to find anything critical to say about the Rab MeCo 165 base layer, the Rab AL Pull On or the Rab Strata Hoody. They work incredibly well for ski touring on their own and get even better when you put them all together as a technical layering system.
Having spent far too many years in one jacket for every purpose kind of clothes it's a game changer to have pieces that are designed with a specific task in mind and that mesh so well together to offer up a solution that improves the enjoyment of backcountry skiing by making you comfortable, warm and dry.
If I had to choose my favourite features of these pieces they would have to be (in no specific order) flat lock seams that don't pinch under pack straps, extra deep YKK front zips to dump extra heat, Polartec Alpha that cuts the wind but doesn't over heat you, Merino Wool + Cocona which makes the ultimate no-stink base layer fabric, Rab's famous huge chest pocket and… ok, you get the idea.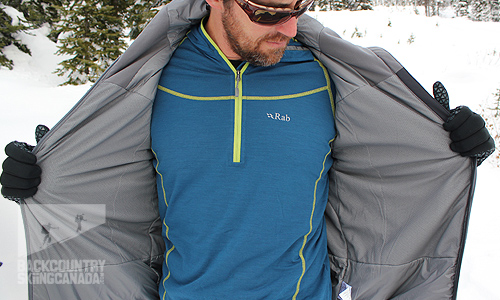 PROS:
- All three products are extremely well built and designed in traditional Rab form.
- The materials used in each piece are all high performing and the latest and greatest.
- Simple and functional style with nice colours to choose from.
- The AL Pull On is a steal of a deal at well under a C-note.
- Deep chest pocket on the Rab Strat Hoodie.
- Flat lock seams and deep chest zip on the Rab AL Pull On and Rab MeCo 165 Hoodie.
CONS:
- The Rab MeCo 165 Hoodie is on the expensive side but then again anything with Merino Wool in it costs more to produce and, therefore, more to buy.
-The hood tie down on the Rab Strata Hoodie is a little basic and can get in the way.
Rating: 9/10
Fit / Comfort 2/2
Warmth 2/2
Moisture Management 2/2
Features 1.5/2
Quality / Price 1.5/2

This is only our opinion. Do you disagree? Did we miss something? Are we totally out to lunch? Join the discussion in the forums here, and let us know what you think. People like/dislike gear for different reasons so chime in and we'll get a well-rounded evaluation.
Back to the rest of the reviews.
---