Patagonia Super Alpine Jacket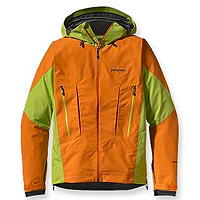 The first word that jumped to mind when I saw the Patagonia Super Alpine Jacket was "Bright!" This garment could easily be worn by flag men working with highway construction crews…at night. When I put the jacket on, however, my first thought was "Bomber!" The Patagonia Super Alpine is a very rugged hardshell that will serve you well in any mountain environment, whether you're scaling Mount Logan, ice climbing "Amadeus" or skiing the Wapta Traverse. It's made with 3-layer nylon GORE-TEX® Pro Shell technology that's light but durable and capped with a DWR (durable water repellent) finish. The welded seams are reinforced at every critical junction and the hood is deep enough to fit your helmet but the dual-cinch system snugs it in around your face and keeps the elements out. Perhaps my favourite feature of the jacket is its Gasket Dry Cuffs, which combine a rubber gasket (similar to what you'd find on wet suits) with a Velcro closure system. When worn with my gloves, the seals at my wrists were virtually waterproof. Unlike some bomb-proof shells, the Super Alpine is well cut and comfortable – the pleated front ensures the jacket stays close to your body and the underarm gussets help keep everything in place when your arms are fully extended. It's like combining your favourite hoodie with a Flak jacket! And it definitely breathes better than that cotton university sweater of yours. Aside from being constructed with 40-denier GORE-TEX, the Super Alpine also optimizes breathability with a micro-grid interior and long pit zips.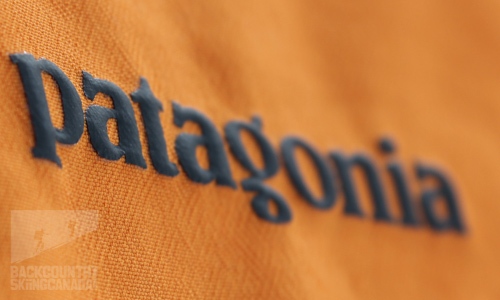 Features:
Three-layer, 3.8-oz 40-denier GORE-TEX® Pro Shell nylon with a DWR finish.
Helmet-compatible hood with laminated visor for good visibility in poor conditions.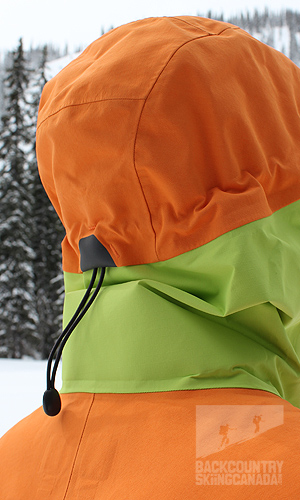 Touch Point System embedded cord locks in hood and hem for quick adjustments to seal out weather.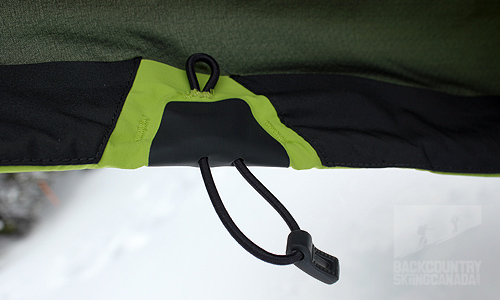 Gusseted underarm panels let you extend your reach without raising the body of the jacket, and of course pit-zips.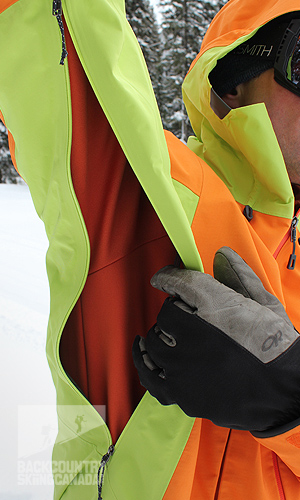 Two Outer Pressed Pleat Pockets: Harness and pack-compatible chest pockets have pressed pleats that increase capacity without adding seams.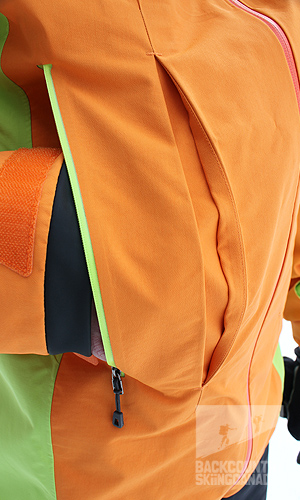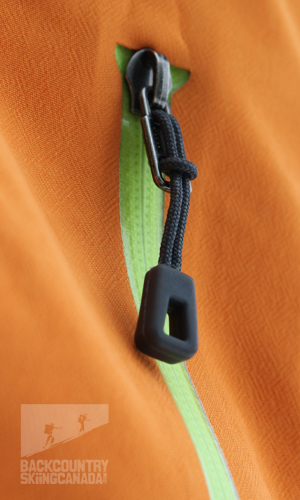 One inner pocket.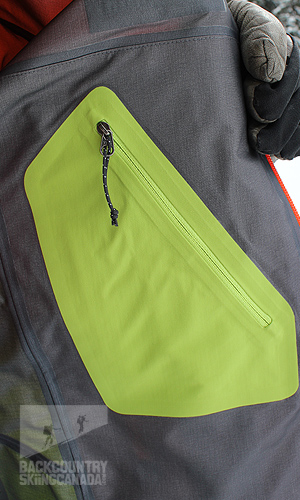 Rubber gaskets and Velcro at the wrists to seal out the elements.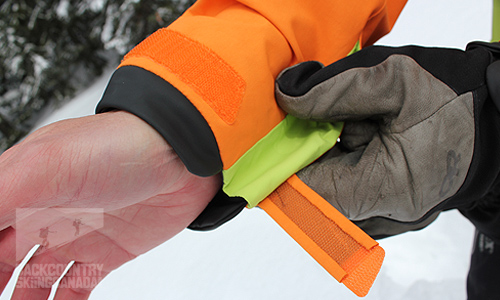 Verdict:
A lot of hard shells can feel like you're wearing a suit of armor – they protect you from the elements but they're stiff and boxy. That's not the case with the Patagonia Super Alpine. As mentioned above, this is a very comfortable jacket with exceptional detailing, from the rubber gussets at the wrists to the integrated "touch point" buttons in the waist and hood that can easily be used to release cord tension even if you're wearing bulky mitts. The chest pockets are perfectly situated so they don't interfere with the hip belt of your pack but you can comfortably rest your hands in them. (Some jackets with high chest pockets are designed for the arms of a Tyrannosaurus Rex.) Also, the pockets are so deep I can easily store my skins in them. The pleats and gussets are just enough to ensure the jacket stays in place no matter what activity you're involved in but the Patagonia Super Alpine jacket still looks streamlined. Even the zippers are sleek – they're trim, watertight, and laminated in place to reduce weight and bulk. The one downside I noticed with the jacket was the length of the sleeves. I have a six-foot ape index (which is normal for my 5'11" frame) and I noticed that when my elbows were cocked at 90 degrees, the end of the sleeves still came to my fingertips. With my arms fully extended over my head, the sleeves ended at the first knuckles of my thumbs. If I was an ice climber this would probably be fine but when skiing there seemed to be an excessive amount of fabric at the elbow. That said, I'd rather the sleeves be too long than too short.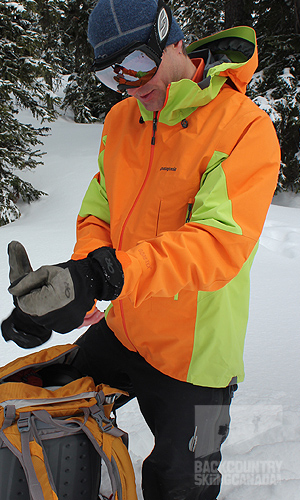 SPECS:
Price: $649 US
Size: XS, S, M, L, XL
Colour: Lagoon, Forge Grey, Mango
Weight: 524 g (18.5 oz)
PROS:
- Sleek, comfortable design
- Rubber gaskets and Velcro at the wrists to seal out the elements
- Two pleated chest pockets deep enough to store your skins and high enough so they don't interfere with your pack's waist band
- "Touch point" buttons that are easy to locate and easy to use, even with gloved hands
- A deep hood that's big enough for a helmet but still cinches tightly around your face
CONS:
- The sleeves seemed too long for my arms
- It's one of the more expensive hard shells on the market at $649
- The dayglow colour scheme of the jacket is a bit too bright for my tastes. I'd probably go with the more demure "lagoon" colour
Rating: 9/10
Fit / Mobility 1.5/2
Packability 2/2
Waterproof / Breathable 2/2
Features 2/2
Quality / Price 1.5/2

This is only our opinion. Do you disagree? Did we miss something? Are we totally out to lunch? Join the discussion in the forums here, and let us know what you think. People like/dislike gear for different reasons so chime in and we'll get a well-rounded evaluation.
Back to the rest of the reviews.
---