Ortovox Pro Alu III Shovel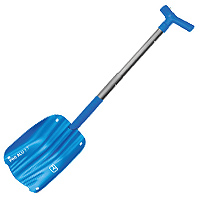 Lightweight, rigid, compact and functional are all words that are sure to pique the interest of any backcountry skier. The Ortovox Pro Alu III shovel should as well, as it is all of those key attributes, and more. The latest version of Ortovox's classic aluminum shovel, it is refined and re-designed for 2013. The Alu III (the third revision of their aluminum shovel) is the successor to the Alu II, the claimed "best selling avalanche shovel in the world".
It goes without saying that the avalanche shovel is an extremely important piece of safety gear when venturing out of bounds. In the event of an avalanche, digging out a buried body is of paramount importance. In addition, it is almost always the most time consuming aspect of a rescue, and the most physical. The strength, weight, size, and ergonomics of your shovel is very important. Recognizing this, Ortovox has put in a great deal of effort engineering and design to optimize their shovels with these factors in mind.
Unlike some aspects of your avalanche gear, the shovel is one piece that is sure to be used at some point. Hopefully, the probe and transceiver never have to be used, except in training circumstances. The shovel is different. Digging snow shelters, test pits, backcountry kickers or cars out of the ditch all require a good shovel.
Given its importance, how does the Alu III perform?
Here is the Orotovox Alu III in collapsed and extended mode.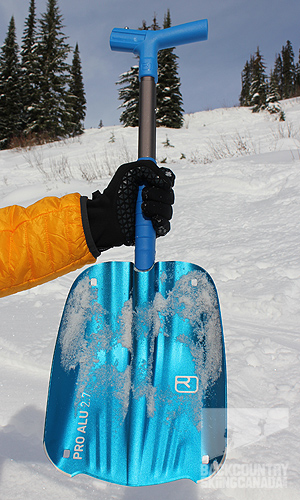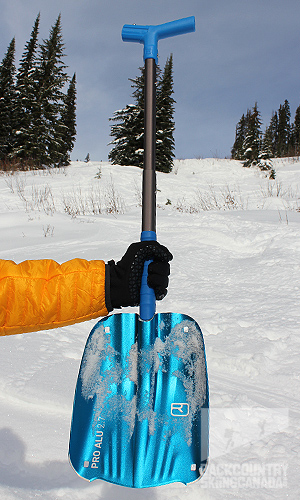 Features:
- Pack-friendly shovel
- Rubberized grip zone at base of shaft
- Telescoping handle
- T-grip Pro ergonomic handle, reversible
- Stabilization ribs, high sidewalls
- Blade can be used to make a rescue sled
Here's the Alu III blade front and back.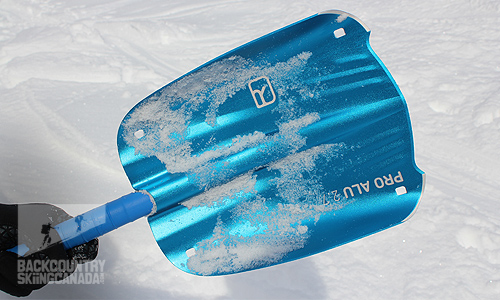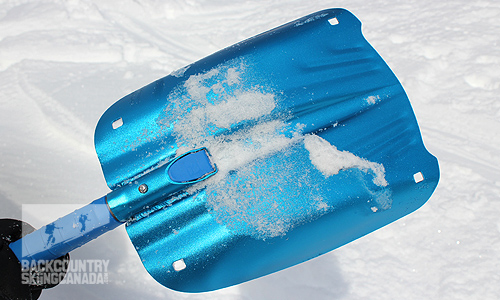 The T-grip handle works for lefties and righties alike.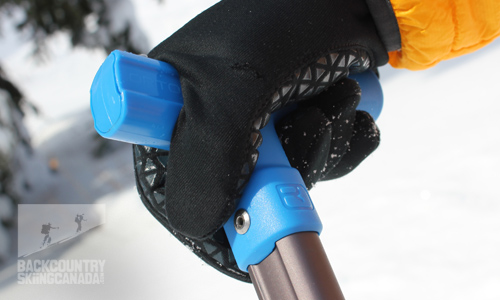 A ruberized lower grip prevents slipage while digging.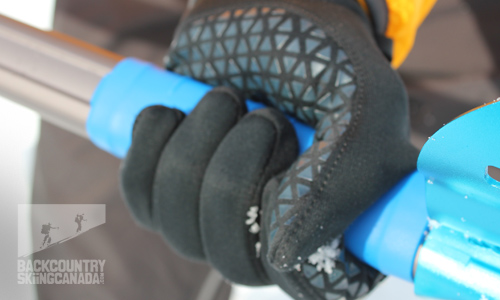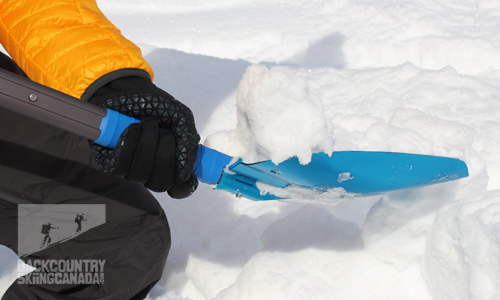 A curved serrated edge cuts through avalanche debris with ease.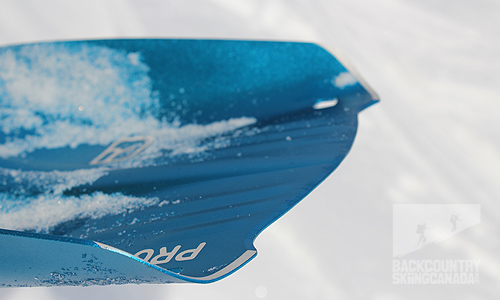 The Orotovox Alu III also works in "hoe-mode" for moving snow efficiently.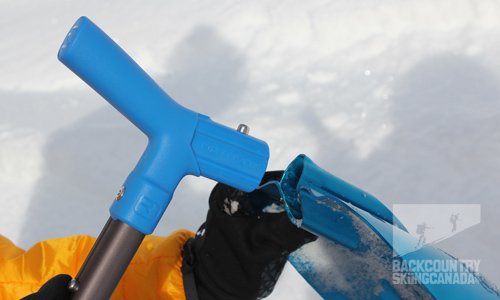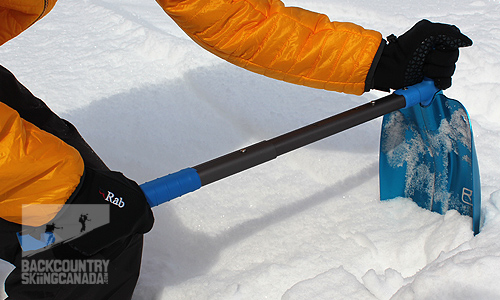 Verdict:
The Alu III excels in the areas of strength, weight, size, and ergonomics. High-grade aluminum construction (and fiberglass handle), robustly welded connections, and strong blade-shaft interface make for a strong and durable package. The high-grade 6061 aluminum (shaft) and 5052 aluminum (blade) materials also make for a very lightweight shovel. The welding and attention to detail on the blade-welds is particularly impressive, and solid. The shovel's 2.7 litre scoop volume feels very adequate, and the stabilization ribs makes for a strong blade that has little chance of folding or collapsing.
In the field, the hoe (90-degree clearing) function is very useful. When employing the conveyor belt shoveling method, this feature really shines. Moving snow down the conveyor belt was exceptionally faster, while keeping the snow closer to the ground. When snow is lifted and thrown, instead of dragged across the ground, it wastes energy and risks hitting people with potentially icy or debris laden material. The hoe function excelled at this, moving snow faster and with less energy than a conventional shovel. While the 90-degree clearing feature is not new, it is executed very well on the shovel and can help save precious seconds in a rescue.
Other well executed and ergonomic features include the non-slip step grooves on the top of the blade that prevent feet from slipping off when cutting blocks or breaking through icy avalanche debris as well as four small holes on the blade that enable the blade to be fashioned into a rescue sled. While the non-slip grooves do not provide a large platform, they do work effectively. Using Vibram soled ski boots, it was rare to see a foot slip off the shovel, and it was easy to gain good purchase.
As a top of the line avalanche rescue shovel the Alu III excels. Tough, rigid, compact and lightweight with an excellent 90-degree clearing function, it checks all the boxes. A competitive price tag makes this shovel the full package.
For a full review of the Kodiak Shovel that we reviewed last season have a look over here, we have also reviewed the K2 Rescue shovel and the BCA A1 and Arsenal shovles over here.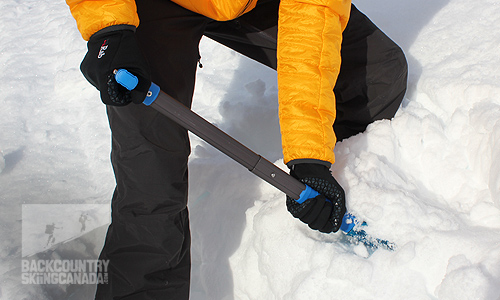 SPECS:
Price: $75 CAN
Weight: 790g / 1lb 12oz
Blade Material: Aluminum
Shaft Material: Aluminum
Handle Material: Fibreglass
Shaft Length: 84cm / 33in
Assembled Length: 110cm / 44 in
Scoop volume: 2.7 litres
PROS:
Right away, the extremely rigid and durable blade, shaft and handle are very noticeable on the shovel. The rubberized shaft near blade makes for a very firm grip and prevents hands from slipping. Smooth shovel back creates a clean profile when digging test pits. A very easy to use and rigid hoe function is very useful in a variety of situations. The sharpened edge cuts through crust and chunks of snow with ease, aiding in quick shovelling. This is especially useful when icy, firm avalanche debris. Easy to grasp, reversible (for left and right-handed users) T-Grip, in both standard and hoe form inspires confidence. The added holes for creating a 'dead man' anchor is a nice additional feature.
CONS:
- There is a small amount of play in the shaft when it is extended. Not enough to inhibit performance, but it is noticeable.
- Not the lightest shovel on the market but definitley well withing the norm.
- Other than that, there were no other downsides, design flaws or weakness to be bound in the Ortovox Pro Alu III shovel.
Rating: 9.5/10
Ease of Use 2/2
Technology 1.5/2
Features 2/2
Weight 2/2
Quality / Price 2/2

This is only our opinion. Do you disagree? Did we miss something? Are we totally out to lunch? Join the discussion in the forums here, and let us know what you think. People like/dislike gear for different reasons so chime in and we'll get a well-rounded evaluation.
Back to the rest of the reviews.
---