Mountain Hardwear Ghost Whisperer Down Jacket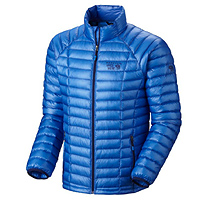 The first time I picked up the Ghost Whisperer Down jacket with Q.Shield I was baffled. How can a jacket with 850-fil down weigh so little? I was equally impressed when I put it on and could instantly feel the warmth. At a mere 7.2 oz. (claimed), the Ghost Whisperer Down jacket is the lightest in its category. Top it off with the water repellant Q.Shiled coated down fill and the Ghost Whisperer is an inspired product that is helping revolutionize the way we think of down insulation.
I wore the Ghost Whisperer in wet-cold and dry-cold weather conditions and was never disappointed by its warmth or comfort. It's slightly ample mid section offers plenty of room for layers and a beacon underneath without feeling like a tent. Ergonomically it was very comfortable and easy to move in and with good reach.
The Ghost Whisperer features a no-frills, simplistic design by nature. It has two simple front hand pockets, a lightweight draw cord at the hem to keep the wind out, and a quilted construction to hold the down in place. It also compacts into one of the pockets for an unbelievably small package – great for storage considerations. While we tested the version without a hood, there is a model with hood available. The only thing I felt was missing in this simplistic design was a chest pocket for cell phone or what-have-you, which would have been a nice addition for minimal weight penalty.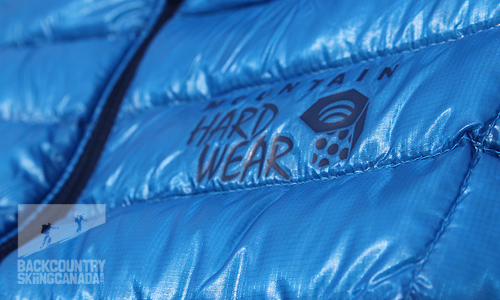 The Q.shiled down treatment is what Mountain Hardware calls "a giant leap forward in down performance." The down is infused with a water repellency to help maintain insulation when "exposed to moisture," which is kind of hard to quantify. When I poured straight water over the jacket and allowed the water to soak into the thin, proprietary "Bodywhisperer" ripstop outer fabric, it did maintain loft and insulating properties fairly well. However, the outer material was still damp and cool. If you were caught in a deluge it would unlikely compete with wool, but regardless the Q.Shield worked as promoted.
As for durability, I wouldn't trust this jacket as an outer shell in any situation where it would see excessive wear and tear. This isn't to say that the "Bodywhisperer" fabric isn't durable, but common sense suggests a material this thin would abrade or tear easier than heavier shell fabric against sharp sticks or rock. The Ghost Whisperer is, as touted, a mid-layer through and through.
Have a watch of our water test video below and see how the Mountain Hardwear Ghost Whisperer Jacket with Q.Shield performs:
Features:
- Q. Shield down protects down from moisture
- 850F down fill
- Lightweight 7.2 oz.
- Two front hand warmer pockets
- Jacket stows into small pocket
- Lightweight single pull hem draw cord
- "Bodywhisperer" 7d-10d nyldon ripstop fabric
Micro pull zips keep things light.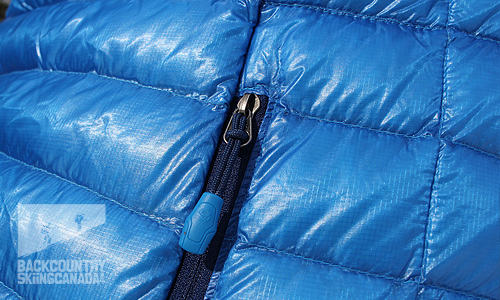 Ditto for the single micro hem adjustment.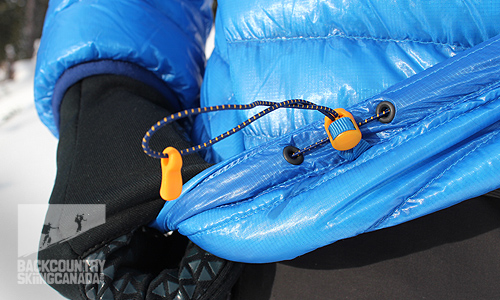 Cuffs are simple and straight to the point.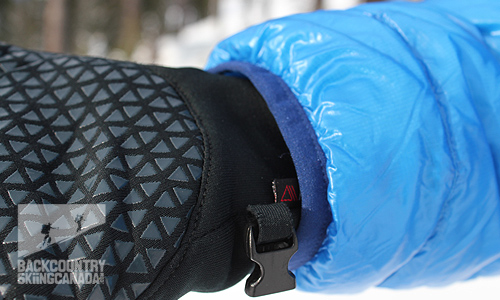 High collar with small zipper pull.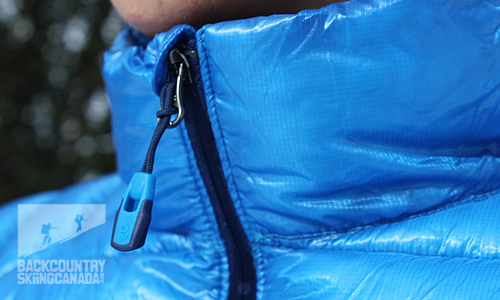 Nothing to show here, just simplicity.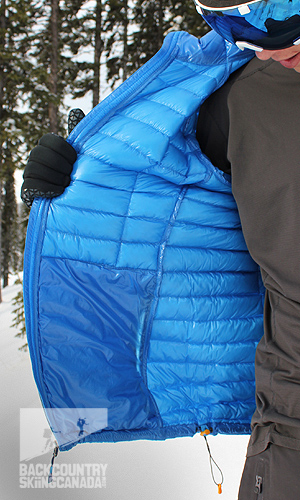 Verdict:
Mountain Hardware's Ghost Whisperer down jacket with Q.Shiled down treatment is a remarkable jacked for its intended use as a mid-layer. It is remarkably light, quite warm for its weight and packs into an impressive, minute size. While you're not going to find a lot of frills, it makes up for it in useable simplicity.
The Q.Shield down treatment seems to do the trick, but the fact that the thin "Bodywhisperer" ripstop fabric still absorbs moisture means there's no guarantee your jacket, and in turn you, will be warm if sweating profusely or standing in a downpour.
Overall, the Ghost Whisperer is an excellent product full of innovative down-fill technology. Is it a game-changer? Not exactly. But for its intended purpose it is certainly one of the best mid-layer down choices available.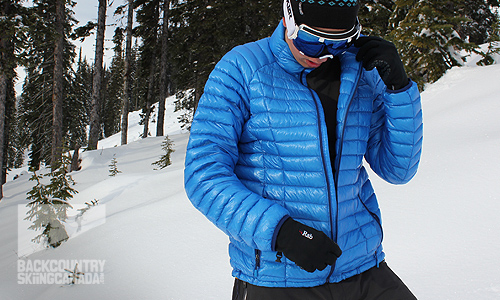 If you are interested in the hooded version of the Mountain Hardwear Ghost Whisperer Down Jacket with out Q.shield then look over here for that review.
SPECS:
Price: $300 US
Insulation: Q. Shield 850F down fill
Weight: 204g / 7.2oz
Colours: Steam, Capri, Black, Radiance
PROS:
- Insanely light weight
- Great weight to warmth ration
- Repels moisture to keep you warmer
- packs down to nothing
CONS:
- Fabric feels delicate and you will not want to tree ski in this one
- Would prefer the hooded version to keep you that much warmer
- On the pricey side
Rating: 9/10
Fit 2/2
Packability 2/2
Warmth 1.5/2
Features 1.5/2
Quality / Price 2/2

This is only our opinion. Do you disagree? Did we miss something? Are we totally out to lunch? Join the discussion in the forums here, and let us know what you think. People like/dislike gear for different reasons so chime in and we'll get a well-rounded evaluation.
Back to the rest of the reviews.
---