Mammut Element Barryvox Transceiver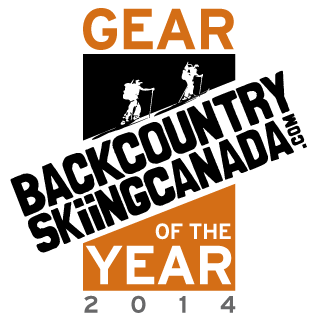 The Mammut Barryvox Element Transceiver has been welcomed into Gear of the Year's hallowed halls because it delivers as promised. It's a super-simple, easy to use transceiver with a big brain behind it. At 60 m, its range also impressed.
The Backcountry Skiing Canada Team.
---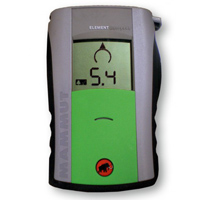 Because avalanche transceivers are such critical pieces of gear for backcountry skiing, having a high-quality unit that you are comfortable with, like, in my case, the Mammut Element Barryvox Transceiver, is very important. Transceiver these days are getting more and more sophisticated but in many cases, simpler is better—especially when the shit hits the fan.
Mammut is a Swiss company that primarily makes apparel. They began with climbing rope 150-or-so years ago and have grown into a big brand in Europe and globally. We reviewed the Mammut Ransom Jacket and loved it as a lift-service jacket. The Swiss sense of clean, economical design comes across in the company's apparel, as it does with their transceiver(s).
To select the best transceiver, you have to first ask yourself a couple questions: Are you level-headed under pressure? Do you lead large groups of people into the backcountry? In my case, I can answer "somewhat" to both of these questions but what I appreciate about the Element transceiver is its super-duper simplicity from a users' standpoint. Fortunately, what lies underneath is sufficiently sophisticated. The Element falls into the simple interface category, like the BCA Tracker 2 we have reviewed elsewhere on the site. And, lest I forget, be sure to check out our safety gear review page where we've reviewed a whack of other transceivers.
As a preamble here…transceivers are only helpful if you, and the people you are with on a particular day, know how to use them. Knowing how to use a shitty old transceiver is way better than not knowing how to use a cool, flashy new one. Take an avalanche class or two if you are heading into the backcountry. It's amazing how helpful classes can be. We've got some good info in our safety section that might help convince you to build your knowledge a bit. Read it and take a class.
The image below shows the top of the device in "off" mode. See how the tab fits into the holster. It's all pretty idiot proof.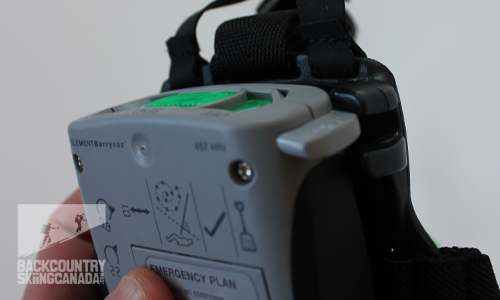 Here is a shot from above. To get it out of off mode is simple but not so simple that it'll happen when you don't want it to. Going from SEND to SEARCH mode is easy too.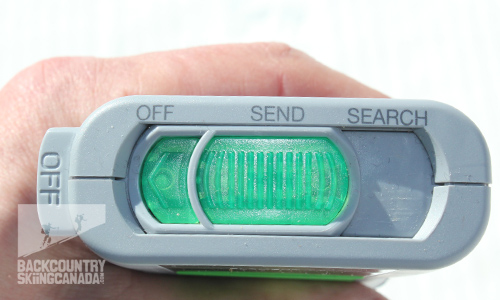 At the outset of a session in the backcountry, the Element has a "Group Check" function and it also tells you how much life your battery has. The Group Check function allows you to do a quick check to ensure that your mates' transceivers are transmitting.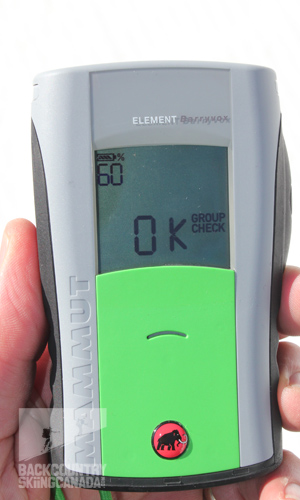 This is the symbol you see when you change back in to transmit mode. This is accompanied by a helpful audio tone for confirmation. The Element, and the more expensive "Pulse" from Mammut/Barryvox, are the only two transceivers using directional tones to help keep you going in the right direction.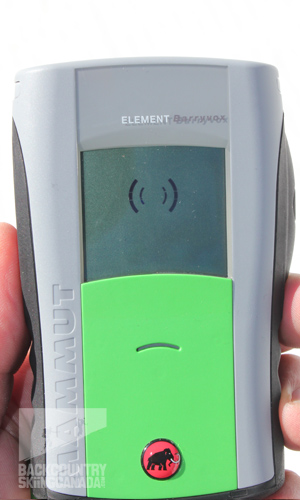 This symbol is what you'd see after switching into search mode in the event of an accident. It's searching for a signal.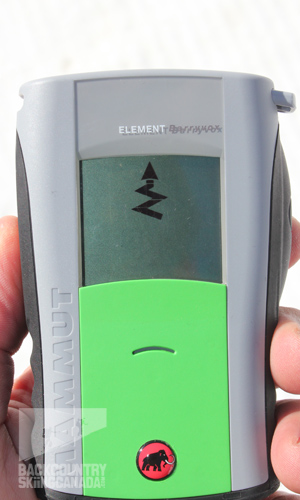 Here, the Element has picked up a burial. The transceiver has very clear indicators. For example, here below we see one burial, 25 meters out, to the right.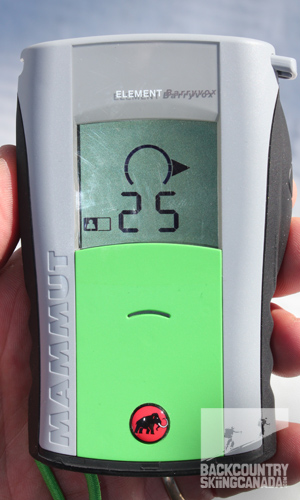 This image here shows the Element in fine search or "landing strip" mode. Again, imagine excellent audio reinforcement to indicate proximity to the burial.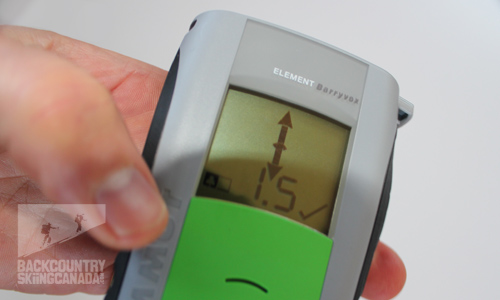 Here is the Element transceiver "holstered." I have used four or five different transceivers over the years and this is the most comfortable yet. It's small for a three antennae model so, if it's your thing, you can fit it easily into your thigh pocket as well.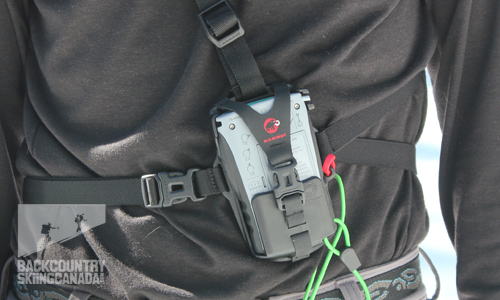 Finally, on the flip side there are some handy Swiss-style infographics to remind you of the basics. Better as a quick refresher than something to consult in the case of an accident.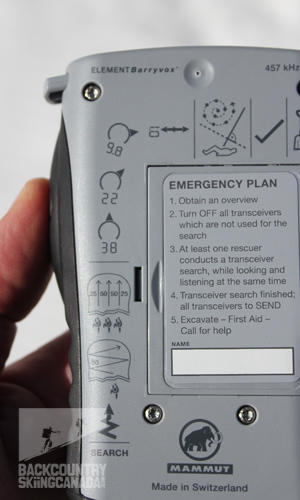 Verdict:
I am very pleased with the Mammut Element transceiver. I took an AST class last year and it really helped with my confidence when we ran through some scenarios. Transceiver choice is super subjective (unless there is some kind of significant performance issue). I really appreciate the simplicity of this unit. It allows me to focus less on how the transceiver works and more on locating the burial. In this way, it's a good tool. I am a fan of the Element's graphics more than those of the Tracker and Tracker 2. This again, is a personal preference. I'm not interested in the technology as much as I am in the functionality and, for me, the Mammut Element transceiver worked very well. In terms of distance and sensitivity, in one scenario it picked up a signal from 60 meters—best in the group!
SPECS:
Price: $355 CAN
Type: Digital
Antenna: 3
Dimensions: 113 x 75 x 27mm
Weight: 315 grams / 7.4 oz
Battery: 3 AA (200 hours battery life)
Frequency: 457 kHz
Search range: 50m (but I measured 60)
PROS:
Very simple to operate. Excellent range, ergonomic design. Good transceiver for someone looking for the basic necessary functions (but still handles multiple burial and has bonus functions like directional audio prompts). The firmware is updateable.
CONS:
The instructions that came with the version I got are a little weak. Online tutorials are helpful and I think current models come with better documentation. Occasionally, the unit recalibrates in the field and emits an audio signal. I guess it's good to know it's happening. The screen scratches a little easily—no biggie.
Rating: 9/10
Ease of use: 2
Technology: 2/2
Features: 2/2
Weight: 1.5/2
Quality / Price: 1.5/2

This is only our opinion. Do you disagree? Did we miss something? Are we totally out to lunch? Join the discussion in the forums here, and let us know what you think. People like/dislike gear for different reasons so chime in and we'll get a well-rounded evaluation.
Back to the rest of the reviews.
---