Lange XT 100 Womens Low Volume Ski Boot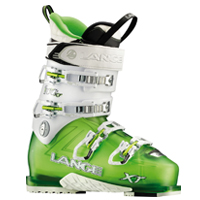 Backcountry and sidecountry ski touring is exploding around the planet. Every resort is now advertising their out of bounds terrain, and giving courses and guided trips. All the cool kids are doing it, and manufacturers want in. The 2012/2013 season brings touring skis, bindings, and boots from nearly every brand.
Lange joins the party with their XT100, a stylish, performance-oriented boot with the family pedigree of the brand's racing roots. Slide into a pair of these beauties and shred the resort in comfort and control all day, then click into touring mode for a few laps of side country, never sacrificing that famous Lange performance. A flex of 100 combined with a 4 buckle design, and Lange racing last of 97mm, delivers solid control, edging, and stability. Those buckles are micro-adjustable for the perfect squeeze. The canting angle can also be adjusted via the hex screws at the ankle to +/- 1 degree. The innovative, quick-lace thermofit liner is taller than your average touring boot, has a power wrap tongue, and hugs the calf in cushy comfort. Heat-moldable, of course, for a custom fit. The beefy 40mm power strap adds another level of lockdown. The combination ultra-grip and DIN-compatible sole gives traction when kicking steps or clunking around in the bar at après, but doesn't sacrifice safety when pairing this boot with a downhill binding. The ski/walk lever has a handy strap to easily grab while wearing gloves. The boot also comes in a variety of flexes, from 90 to 130, with regular volume and low volume versions, as well as some women's specific models. All are essentially the same boot, available in last widths from 97 to 100mm.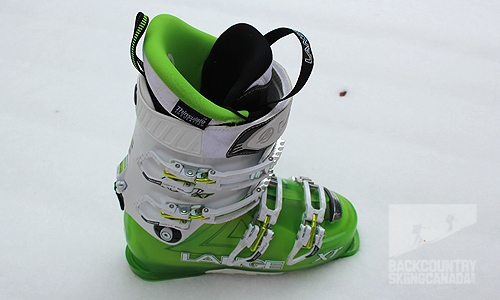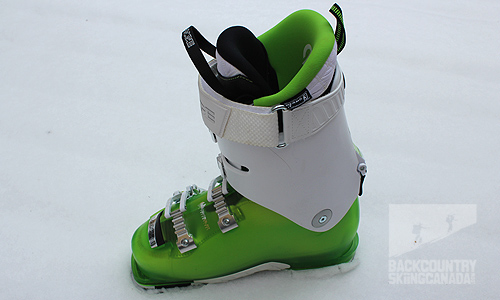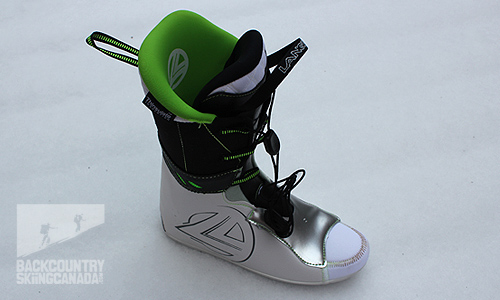 All these features weigh something, though, and the XT 100 is one of the heaviest "touring" boots on the market. Also, no tech binding fittings here, but Dynafit/ Onyx/ Plum users are usually after a lighter boot, anyway.
My first day in the XT100's was a sidecountry special, mixing laps in bounds with favourite past-the-ropes lines. The boots' features were easy to use, but I noticed the weight as soon as I started to head uphill. The walking flex also felt stiffer than any of my previous touring boots, with a range that felt a bit limited. But these boots shine on the downhill, and once the skins had been ripped I was whooping like a little girl. The power and control were the best I've experienced in a touring boot. Back in bounds the boots continued to impress on groomers, crud, and powder. Day 2 was a full backcountry day with more up than down, and I must say I was wishing for my ultralight gear. Again, the downs were great. Day 3 of the test was another full backcountry day, this time in less than perfect snow. The extra work on the uphill was rewarded with great control in choppy, icy spring conditions. My super light rig usually goes noodly on that stuff, but these boots held on and made things more enjoyable.
So, who is this boot for?
- the strong backcountry skier who's willing to haul a heavy rig all day in order to ski with tight downhill performance
- the mostly in bounds skier who wants to be ready for an impromptu sidecountry lap without running to the truck to change gear
- people working on skis who are after a solid-performing boot with great comfort and weight compared to downhill boots, who might need to flip into touring mode
- occasionally on the job (instructors, ski patrollers, guides)
- anyone who doesn't mind a little extra weight for a nice solid ride
Adjustable buckles with a few twists.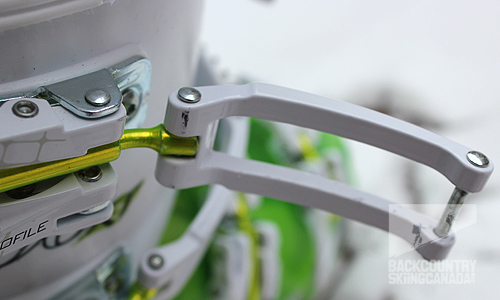 Buckle catch for a little more room on the skin up.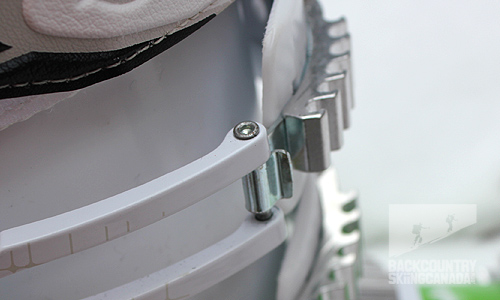 Replaceable toe sole.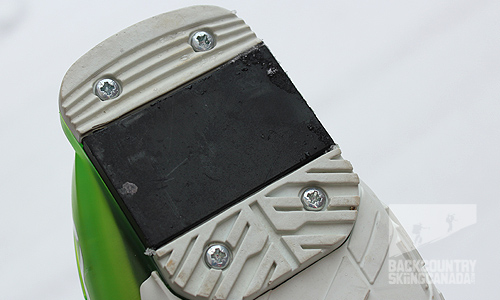 Rubberized sole to helpo with summit scrambles.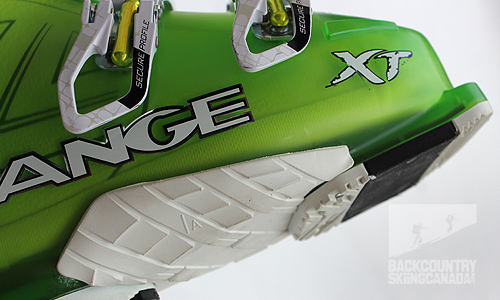 Semi-transparent shell and toe close up.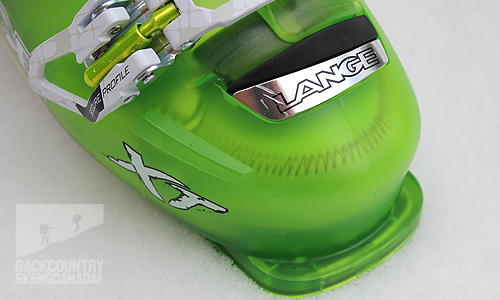 Top view.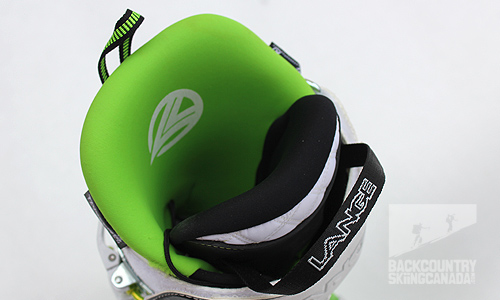 Hike mode engaged.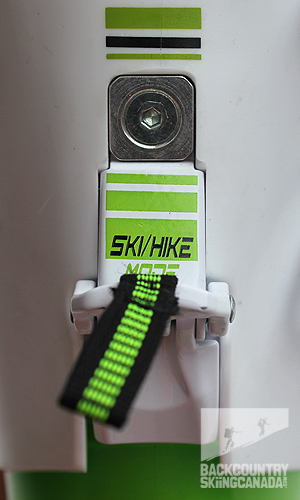 Verdict:
A heavier, high performance touring boot, perfect for strong skiers, or sidecountry lappers. Check them out. Lange knows how to make boots, and has been an industry leader for decades. The XT 100 offers a solid entry into the backcountry market for the brand.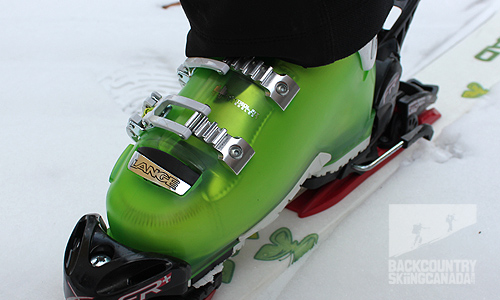 SPECS:
Price: $549.95
Weight: 2120g / 4.67lb
Sizes: 220-275 in ½ steps
Last: 97 mm
Flex index: 100
Shell Material: Polyether
Cuff Material: Polyolefin
Liner: Thermofit RL3, laced, full WarmInside, power wrap tongue
Power Strap: 40mm
Buckles: 4 extruded alu-light, 3 position, micro adjustable
Canting: +/- 1 degree
PROS:
High performance, technical feel, great comfort and control, DIN-compatible grip sole
CONS:
Heavy, somewhat tiring on a full backcountry day, stiff walking flex, no tech binding fittings
Rating: 7/10
Fit/Comfort 1.5/2
Cuff Rotation 1/2
Function 1/2
Weight 1.5/2
Quality / Price 2/2

Join the discussion in the forums here, and let us know what you think. People like/dislike gear for different reasons so chime in and we'll get a well-rounded evaluation.
Back to the rest of the reviews.
---