K2 Rescue Shovel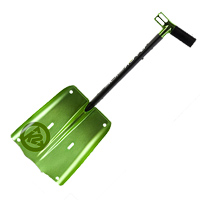 K2 is a leading manufacturer of alpine skis and related products and with the recent growth in the backcountry skiing segment K2 has moved into designing and manufacturing an array of products for the backcountry skier. They range from skis, skins, poles, packs, probes and of course shovels. You would naturally think that a relative new comer to the backcountry game would follow the lead of other established manufacturers and produce 'more of the same', not so. The new K2 Rescue Shovel is not only multi-functional, it is strong and innovative as well.
K2's mantra for their backcountry products is one of multi-functionality and the Rescue Shovel is no exception. The K2 Rescue Shovel comes in two varieties, the Rescue Shovel and the Rescue Shovel Plus. For an extra $10 and 105 grams the K2 Rescue Shovel Plus provides hardware hidden in the handle that allows you to build a rescue sled using the shovel, your ski poles, a bit of cord and of course a pair of skis with tip and tail holes. The K2 Rescue Shovel also has a number of innovative features of it's own that it also shares with the K2 Rescue Shovel Plus, this is what we will talk about next.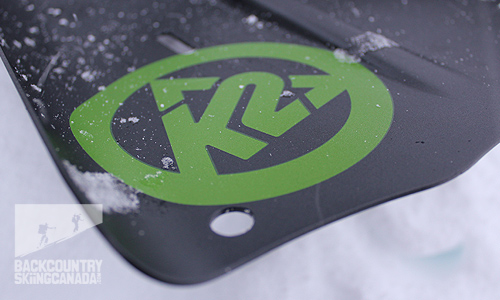 The purpose of any avalanche shovel is to move snow and be able to dig out an avalanche victim. Many shovels on the market today sacrifice this core functionality in order to make a lighter product which appeals to the many who are obsessed with the weight of their gear. While the K2 Rescue Shovel is not the lightest shovel out there it does fall smack in the middle of the 520 and 1100grams range of shovels currently on the market. Most of us routinely use our avi shovels for digging pits, practicing avi scenarios and preparing winter camp sites, rarely do we ever actually use our shovels for digging in avalanche debris (thankfully). Avalanche debris is hard. Concrete hard. So naturally avalanche shovels need to be able to chop snow with the leading edge and not bend or give into the stresses that we put on them as we relentlessly wield 180+ lbs of body weight to dig through the debris. In our testing the K2 Rescue Shovel felt sturdy and was solid when to chopping, hoeing and shovelling snow of all types. The shovel blade size was adequate for companion rescue and could move snow efficiently. The blade is made from 6061 T6 heat treated aluminum to provide strength with out added weight.
The K2 Rescue Shovel has several 'thumbs up' features illustrating that the design team was looking to go beyond the average avi shovel:

Hoe mode: Reposition the handle to use as a hoe to move snow downhill and improve the ability to easily perform a shovel shear test.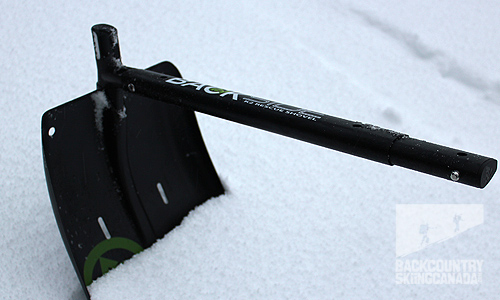 Serrated edge: Improves the efficiency of chopping blocks, however the leading edge is mellow enough so that it should not bend or cut up your pack while stowed.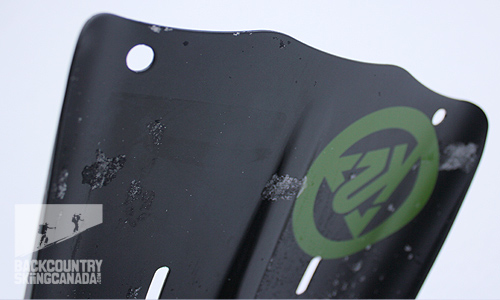 Deadman anchor: There are 4 circular holes and two slots which will accommodate 5/6mm cord or a sling which will allow you to build a deadman anchor.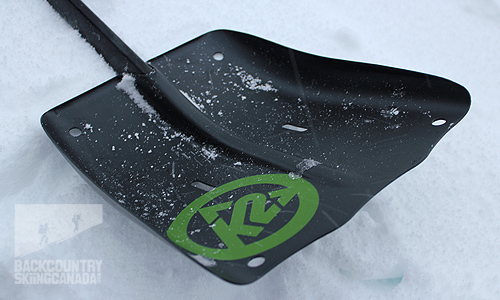 Minimal blade curve: Packs easily in your pack and provides a flat platform for your stove and carves flat consistent snow pit walls.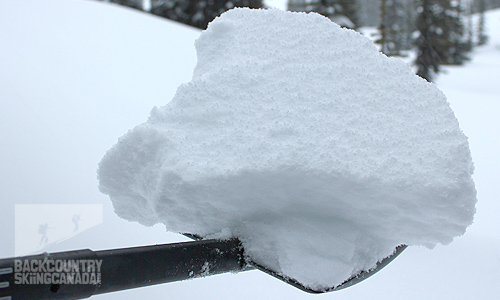 Grip: Nice wide handle to easily grip with gloves on, however not if you are left handed (allowing the handle to be reversed would add accessibility)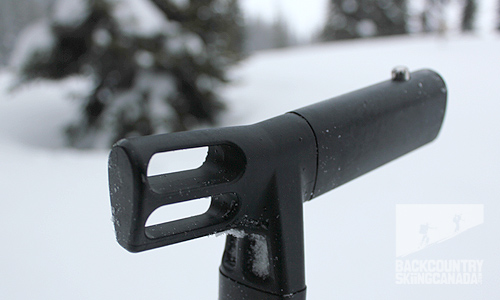 Extendable handle: A two section shaft allows you to extend the handle from 28cm to 64cm and is an oval trapezoidal shape for strength, comfort and ease of assembly.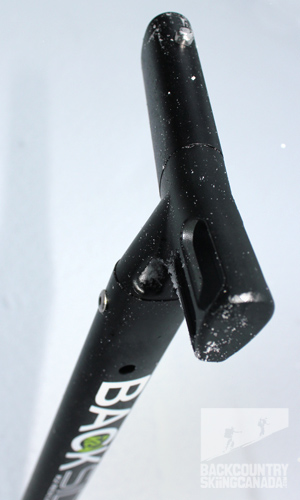 Blade: The top edge of the blade is flat and provides a solid platform for your ski boot when a kick is required to get the blade into solid snow. At 25cm x 28cm its size is well suited for companion rescue.
Check out the video for more details:
Verdict:
K2 has done an admirable job creating the K2 Rescue Shovel especially since this is their debut on the backcountry skiing stage. The K2 Rescue Shovel comes with many features that make it a solid buy on its own even without the added rescue sled hardware that comes with the Plus model. While not the lightest shovel on the market (which is ok) it does provide adequate strength to stand up to more than just the typical powder snow we are familiar with digging in. After all, you can go too light with avalanche shovels and risk realizing your shovel ain't working as well as you would like in a crisis situation, a risk that is diminished with a shovel like the K2 Rescue Shovel.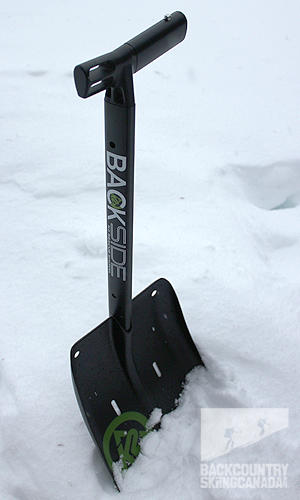 SPECS:
Price: $80 US
Sizes: 1SZ (5cm x 28cm / 9.5" x 11")
Weight: 695g / 25.7oz
PROS:
Solid construction, efficient serrated edge for cutting, extendable handle for better ergonomics and hoe mode option.
CONS:
The handle is only optimized for right handed people and it would be good to be able to remove the handle and flip it around for our lefty friends.
Rating: 9/10
Ease of Use 1.5/2
Technology 2/2
Features 1.5/2
Weight 2/2
Quality / Price 2/2

This is only our opinion. Do you disagree? Did we miss something? Are we totally out to lunch? Join the discussion in the forums here, and let us know what you think. People like/dislike gear for different reasons so chime in and we'll get a well-rounded evaluation.
Back to the rest of the reviews.
---