Icebreaker Merino Base and Mid Layers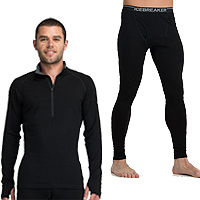 We took delivery of several merino baselayers and midlayers from Icebreaker a few months ago and we'd like to tell you what we think. You know Icebreaker, right? They are one of the big merino wool apparel manufacturers whose advertising features super hot, exotic models, sometimes with the heads of sheep.
Though their advertising is an interesting part of the overall brand, we'll try to stick to the facts and focus specifically on the apparel. A word or two about the company's origins to begin with. Jeremy Moon, a New Zealander, launched Icebreaker in 1994 when he realized that virtually all of the undergarments at the time were made of synthetic materials. The special qualities of merino were just being discovered and, in a leap of faith, Jeremy packed his suitcase and began driving around New Zealand trying to sell merino underwear. Icebreaker was born.
The company now sells its apparel in more than 37 countries (including at the ROAM store, here in Nelson). Though the clothing is made from New Zealand merino wool, the garments themselves are made in China. These days, what isn't? It's clear that their founder comes from a marketing background because, as well as making great products, they also have a great story about what they believe and how they make what they make. Include some sexy packaging and great point of purchase displays and heck, I'm in.
We've sampled a range of Icebreaker apparel and got a good idea of what the brand offers. More specifically, we checked out items from their "Bodyfit" line, (which is all merino), their GT line of technical base layers (which is made from a combo of merino and LYCRA—we love this stuff) and one item made of Realfleece (a fleece type material made of 100% merino).
The purpose of this review isn't to highlight the merit of merino wool. It's clear that most reputable manufacturers are producing merino that has the same properties of breathability, warmth (even when wet), low stink factor, comfort and natural ingredients. Where the differences seem to lie is in cut, selection, styling, fabric blends and overall appropriateness in a backcountry context. This is the stick by which we will measure the assortment of items we looked at.
A note on the photos. We are too modest—and perhaps considerate—to act as underwear models. Though you may find some Backcountry Skiing Canada models in their skivvies elsewhere on the site, it won't be below. You'll just have to look around for yourself. These pics, apart from the last, all came from Icebreaker. Also, we have reviewed apparel from other makers of fine merino gear, like Smartwool and Ibex. Be sure to look over those reviews if you want to do a comparo.
Let's start from the bottom up.
Icebreaker GT Ski + Mid Over the Calf Socks:
Price: $31.99
Colours: Black/oil/silver, jet/black/gulf, bone/cherub/blizzard
Sizes: S-L
Fabric: 80% merino wool, 16% nylon, 4% elastane
Socks have sure come a long way (baby) and these offerings from Icebreaker are a good example. I have had other merino socks that haven't performed nearly as well. I think these are likely standouts because they have a little Lycra in the mix so they've kept their shape after months of wear. I have worn them for almost a week solid on a backcountry hut trip and they still didn't stink. They feature the de riguer "anatomic toe box and areas of strategic light and medium cushioning" to make them work like a charm. I don't think they are made specifically for alpine touring (probably just alpine….) but, full disclosure: I probably have seven pair of ski socks and these are my faves.
---
Icebreaker Bodyfit 200 Boy Shorts:
Price: $44.99
Colour: Black
Sizes: XL-XL
Fabric: 100% 200gm merino wool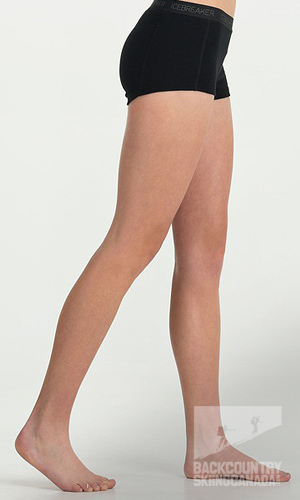 Made for a woman, but named for a boy. I interviewed the tester of these undies and she had nothing but good things to say. If you haven't yet tried merino boxers or undies, try 'em. You'll never go back. The 200 number indicates the weight of the merino. These boy shorts have no back seam and use flatlock stitching to prevent chafing. Important for some women, including our tester, there's full butt coverage to prevent wedgies. They are flattering to boot and great for a day in the backcountry!
---
Icebreaker Bodyfit 200 Scoop:
Price: $139.99 Colours: Black, cherub, isle, cognac
Sizes: XS-XL
Fabric: 100% 200gm merino wool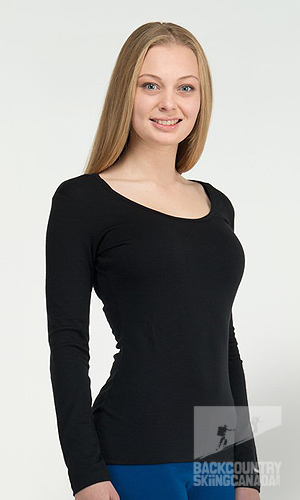 Icebreaker offers many, many different tops and bottoms—some of them are more at home in the backcountry than others. The Bodyfit Scoop pictured here (not my wife - I'm taken) fits into the not-so-backcountry-friendly category. The scoop makes for a chilly chest and may be better suited for around town wear. And heck, why not enjoy all the wonderful attributes of top-grade merino in a flattering cut that may invite, rather than ward off, the occasional draft.
---
Icebreaker Pursuit Legless GT 260 g/m²:
Price: $109.99
Colours: Black/monsoon
Sizes: S-XXL
Fabric: 97% 260 g/m² merino wool, 3% LYCRA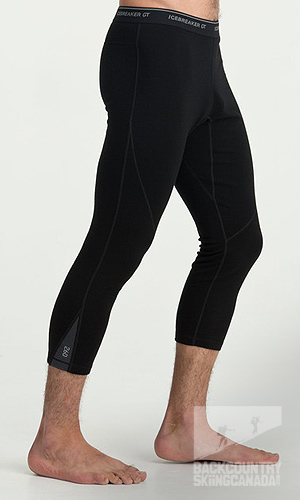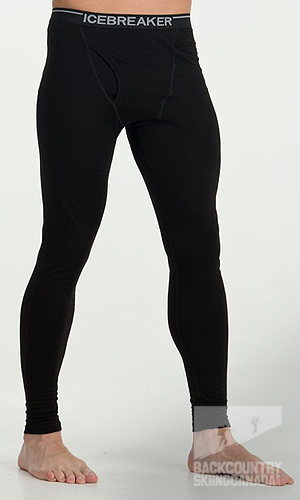 These are part of the GT line that includes 3% Lycra. The GT items seem to hold their shape a little better than the Bodyfit and the 260 is a mid-weight merino. If you have never tried legless long johns, get in 'em! They pair beautifully with the Icebreaker sock mentioned above and entirely eliminate the bunch-up factor you can sometime experience when trying to stuff long johns into socks, then into ski boots. I wear these touring under a hardshell pant and have always been happy with the warmth and comfort—regardless of the temperature. HOT TIP: the merits of legless bottoms like these are not widely understood by the masses. In other words, even though I say they are better than the "full" version, they are often offered as clearance/closeout and may be significantly discounted.
---
Icebreaker Pursuit Long Sleeve Half Zip:
Price: $139.99
Colours: Rocket, black/monsoon, cadet
Sizes: S-XXL
Fabric: 97% 260 g/m² merino wool, 3% LYCRA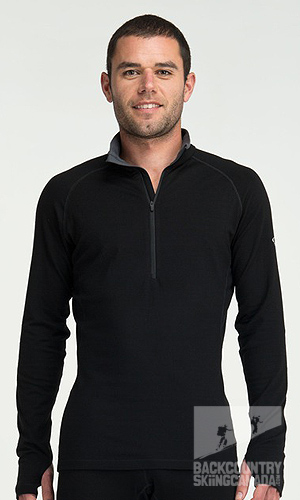 I'll skip repeating the info I shared regarding the leglesses above. Much of the same holds true for the Pursuit Long Sleeve Half Zip. Of note, though, are the "thumbies"—some people like them, some don't. The zip neck is good to vent with as well. I am one of those rare people who find merino a little itchy sometimes. I like the option of not zipping this up too tight around my neck.
---
Sierra Long Sleeve Zip:
Price: $209.99
Colours: Black/black, admiral/cobalt, mars/monsoon, nova/canal, grass/turf
Sizes: S-XXL
Fabric: 100% merino wool, realfleece.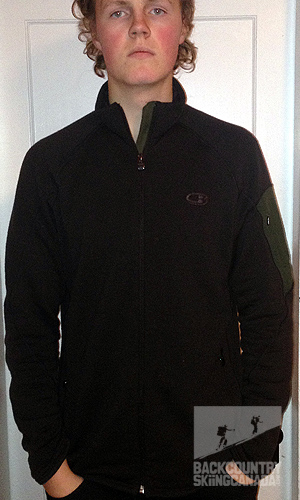 (this isn't underwear so we took a live shot)
Full disclosure: I am wearing this piece as I type. I have the brown and green (I guess it's last year's model) and it delivers as advertised. The Realfleece material is super soft, not bulky and it's also very warm. I haven't yet worn it in the backcountry because I think it looks sharp enough as a home/city piece. I also like midlayers (which this is) to have hoods so I can double up if it is chilly. I'm not saying it wouldn't work in the BC; rather, I am suggesting that it works well as a slightly more formal, urban piece. I am swimming in gear so when something comes along that I can wear to an occasion more formal than an uptrack—like a meeting at a coffee shop—that's what I use it for. Nice zipped hand and stash shoulder pockets. Raglan sleeves.
Verdict:
If you are looking for merino garments to keep you dry, warm and generally happy on a ski tour, definitely check out Icebreaker. The website features an almost overwhelming array of styles and colours from which to choose. The different weights and fabric blends available make for a lot of flexibility too. I like the "technical" fabric with a little LYCRA thrown in because it hugs my body nicely. I like the thicker, 260g/m² merino on my lower half, and the less thick 200 on top.
PROS:
Good quality, remarkably functional, very stylish base- and mid-layers. Cool "baa code" feature enables you to trace your garment back to a specific sheep farm in New Zealand.
CONS:
Their marketing messages come on a little too strong—but that's just my hang-up. It's of no consequence to the apparel. It's a little spendy but that seems to be the case with most good merino.
Rating: 8.5/10
Fit / Comfort 1.5/2
Warmth 2/2
Moisture Management 1.5/2
Features 2/2
Quality / Price 1.5/2
This is only our opinion. Do you disagree? Did we miss something? Are we totally out to lunch? Join the discussion in the forums here, and let us know what you think. People like/dislike gear for different reasons so chime in and we'll get a well-rounded evaluation.
Back to the rest of the reviews.
---