Helly Hansen Mission Jacket and Cargo Pants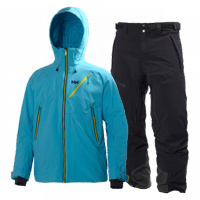 Scandinavian design maintains that functional and stylish products should be affordable to all, not just the wealthy. Helly Hansen adapts this concept with this year's relaxed fit, Mission lineup. The jacket and cargo pants are a two-piece ski suit with integrated attaching system, giving the comfort and protection of a onesie with the style of a professional. Both are warm, soft, water resistant and breathable. Thanks to Helly Hansen's innovative H2Flow temperature regulation design on the jacket you can stay warm but not overheat under most conditions. Both the Helly Hansen Mission Jacket and Helly Hansen Mission Cargo Pants use Primaloft Warmcore insulation and are rated to a minimum 20,000mm waterproofing.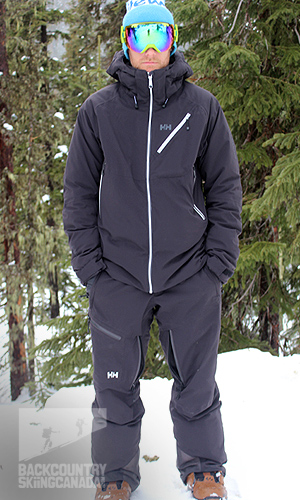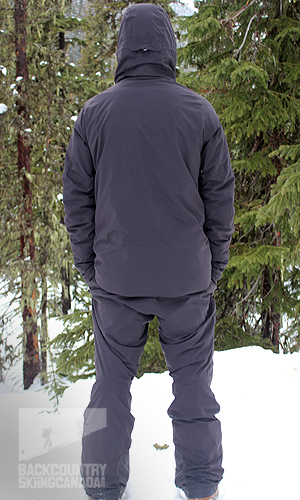 Tabs for adjusting the hood and moving YKK zippers are handy and stylish.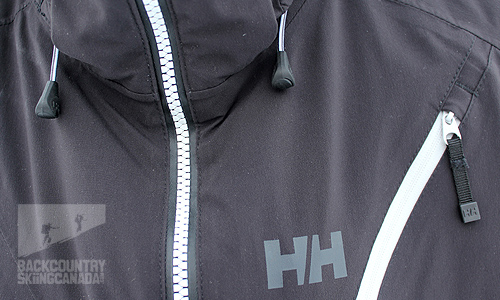 The 2014 Mission Jacket keeps tradition with last year's models as Helly Hansen reintroduces Recco Reflectors, water-resistant zippers, mesh-lined armpit vents, and a low-profile ski resort pass slot. There's also a handy goggle wipe and an insulated, adjustable, helmet-compatible, removable hood. Design improvements include the separation of the fleece-lined, hand-warmer pockets from a chest pocket and the addition of a low-profile inner pocket for securing valuables. This design evolution provides the perfect number of pockets with discrete, waterproof YKK zippers. In addition, an innovative 4-snap powder skirt system across the abdomen keeps snow out—with or without attaching to the pants. Be aware that if you have been "drinking it blue" often, a beer belly might prevent full use of snaps. This jacket is extremely warm, so opening vents & hand warmer pockets will enable breathability. Also, the H2Flow design will help keep sweat off your back.
The H2Flow back panels' design is to breathability as the soft inner fabric is to comfort. Snaps on the powder skirting attach the Mission Jacket to the pants to seal the deal.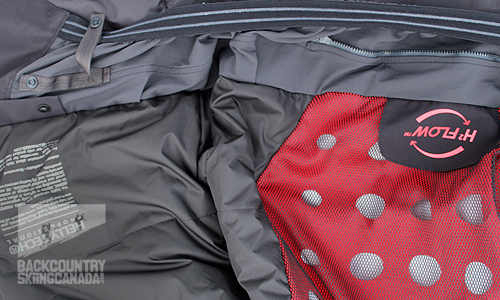 The belt loops can attach the jacket and/or support a belt.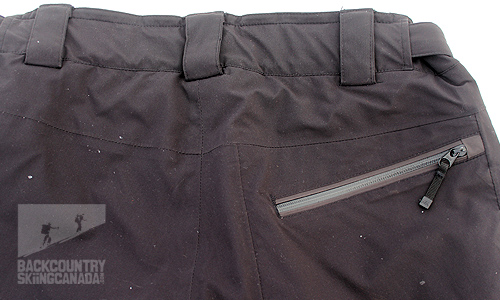 A built-in Velcro belt works well for a relaxed fit and easy adjustability.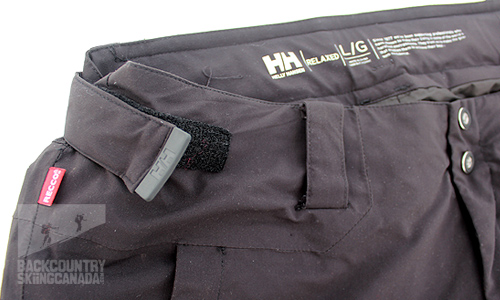 The warm, waterproof Mission Cargo pants are soft and stretchable, added ingredients for comfort. Articulated legs and knees give a tailored cut to this stylish pant. Below the double snap & zipper fly are 2 hand pockets, 1 thigh "cargo" pocket and 1 rear pocket that will ensure you have space for everything you carry below the belt. Belt loops are present for optional reinforcement, but the Velcro works well for a relaxed fit. Inner thigh, mesh lined vents will allow fresh air to circulate and maintain comfort during spring skiing and tours. Elastic bands around the ankles hold the pant tight to your boot without sliding and allows pipe venting to the waist. A Recco reflector is installed in the bottom left ankle. The reinforced hem adds durability and a colour break for stylish pants that will last.
Cargo pocket access and mesh vents are inline for comfort on articulation.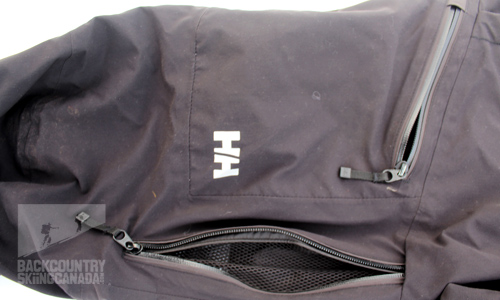 Included with the tags upon purchase are "The Plan" booklets highlighting some backcountry dangers, red flags, plan basics and rescue tips. Links to websites providing valuable information around the world are also given. Another tag can be used for a free lift ticket at one of fifteen resorts in North America or one of five resorts in Europe. Just a little icing on your backcountry and/or resort cake.
Innovative powder skirt design with attachments to pants guarantees comfort.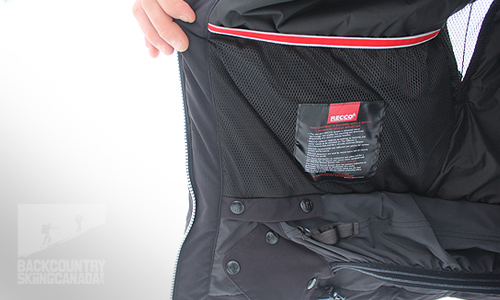 Jacket Features:
- YKK water resistant zippers
- Low profile ski pass pocket
- Inner mesh goggle pocket
- Inner zippered pocket
- Fleece lined hand warmer pockets
- Wrist gaskets
- Mesh lined armpit vents
- Chest pocket with detachable goggle wipe
- Able to attach jacket to pants with zipper & snaps
- Removable & adjustable helmet compatible hood.
- Recco system inserts
- 20,000mm minimum waterproofing
- Warmcore by PrimaLoft
- Soft mechanical stretch fabric
Helly Tech Professional fabrics are comfortable, warm and waterproof. Wrist gaskets are a plus.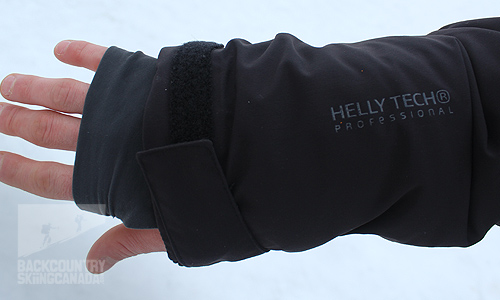 Cargo Pant Features:
- Helly Tech Professional 2 Layer fabric with fully taped seams.
- Relaxed fit with articulated legs and knees
- Inner thigh mesh vents
- Attachable to Mission Jacket.
- Elastic ankle gators with pipe venting
- Reinforced hem
- 2 hand pockets, 1 back pocket, 1 thigh pocket
- Built in adjustable belt with optional belt loops.
- Recco system inserts
- 20,000mm minimum waterproofing
- Warmcore by PrimaLoft
- Soft mechanical stretch fabric
A reinforced hem inside the pant means durability for a high friction area.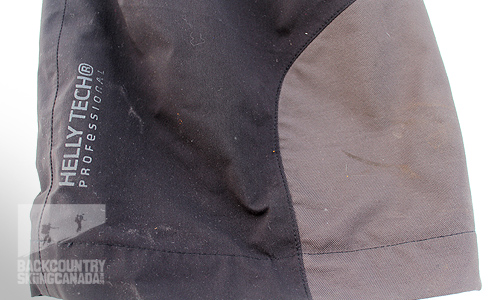 Comfort is the name of the game with Helly Hansen's Mission jacket and cargo pants. The soft, stretchable material is great for waterproofing and breathability. The jacket is warm so I have used the vents often. The relaxed fitting cargo pants are comfortable and stylish and not too hot in spring conditions, however I recommend the use of long johns under the pants in -10C temperatures and colder. Unfortunately the integrated jacket & pant combination only works with the Mission Jacket & Mission Cargo Pants, maybe something to watch for in the future with other Helly Hansen products. Regardless, the jacket's innovative powder skirt option will help keep snow out and the pant's adjustable Velcro belt is sizeable, working for just about any waistline without the use of a personal belt. I definitely approve and highly recommend this product to anyone looking to stay dry and comfortable in the mountains however as a dedicated ski touring set up remember thats it's insulated so it's not ideal for high earobic activities.
SPECS:
Price: $500.00 US Mission Jacket / $250.00 US Mission Cargo Pants
Colours: Ice Blue / Clementine / Black
Size: S - 2XL
PROS:
- Everything I want in a ski jacket & pant.
- The perfect amount of pockets.
- Innovative powder skirting.
- Jacket loops for pant attachment.
- A stylish, quality product.
CONS:
- Only 3 colours.
- Integration of jacket and pants only works with Mission models. Wrist gaskets do not have watch hole.
- Too "hot and heavy" for a long-day, ski touring kit.
- H2Flow execution not the sexiest solution.
Rating: 7.5/10
Fit                    2/2
Packability        1/2
Warmth             1.5/2
Features            1.5/2
Quality / Price   1.5/2

This is only our opinion. Do you disagree? Did we miss something? Are we totally out to lunch? Join the discussion in the forums here, and let us know what you think. People like/dislike gear for different reasons so chime in and we'll get a well-rounded evaluation.
Back to the rest of the reviews.
---