Gregory Palisade 80 Pack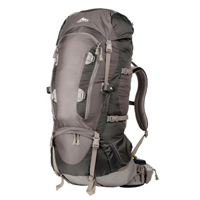 Gregory Mountain Products have been making packs for about 35 years so they have figured out a thing or two. The Gregory Palisades 80 is proof of their successful track record and experience. Though we have taken this pack out ski touring, it isn't specifically designed for winter pursuits so we have included it here in our "off-season" section.
I have tried many packs over the years and the quality of a pack comes down to a couple simple criteria: 1) does it fit and feel comfortable? 2) are there features that make hiking (or skiing) with it pleasant? 3) does it easily fit the things I need for the type of activity I am undertaking?
The Gregory Palisades 80 gets high marks in each category. I haven't experienced many of the updated features now common with big packs like this so I was very impressed. I took this pack out on several overnight backpacking trips and was amazed at how much stuff I could carry—and how light it felt on my back. At 82 L for a size medium, the Palisades 80 is the seconds biggest in the Gregory backpacking line. It can easily accommodate a sleeping bag and pad, food and clothing enough for several days.
Let's take a look at some of the features that I think are remarkable, shall we?
Here's something that makes the pack ideal for long hikes into an area, followed by a summit bid. Or even a travelling pack with a day pack feature…the entire top panel comes off and is fitted with a waist belt for conversion to a fanny pack.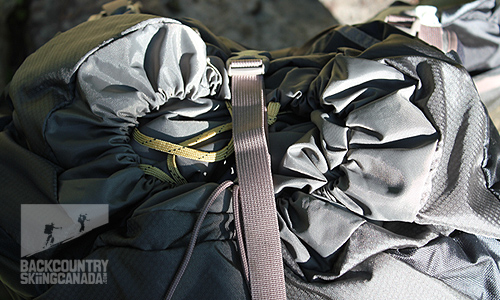 Here is the bottom pocket for a sleeping bag (or whatever). This pocket is cinchable and offers one of three "ways in" (the other access points being the front and top)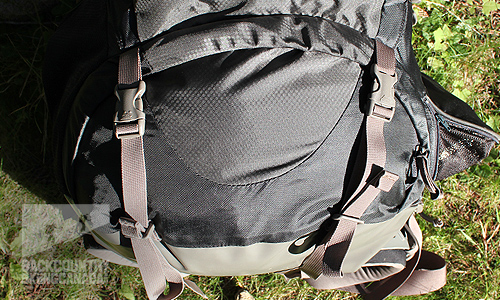 Either side of the waistbelt features cool little pockets suitable for a mobile phone/camera or snack. Handy.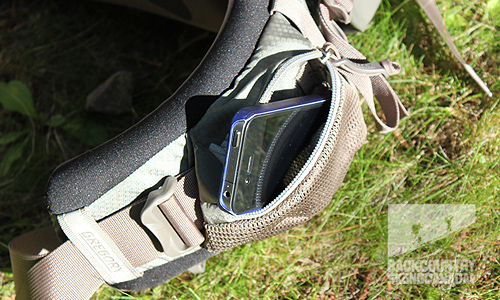 Easy grab water pocket on the right. The Palisades also features space for two hydrations bladders if that's more your style.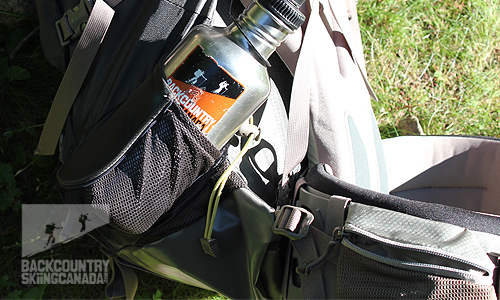 The bottom is made of this very durable and water-proof material. Good news if you ever want to put your pack down in a puddle.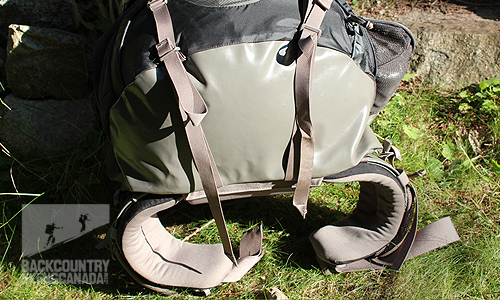 Perhaps the most important feature, comfort wise, is the pre-curved harness and waistbelt. This is what allows you to carry large loads far without noticing. Super comfortable and a major advancement over the materials used in the past. It's tough to see here but the waistbelt also adjusts to five different angles so you can customize it to your hiking style. More comfort. The shoulder harness component adjusts the harness angle dynamically to eliminate pinching and chafing. Gregory refers to this complete system as Response Custom Fit Suspension. Back and front view of a not-stuffed-to-capacity Gregory Palisades 80.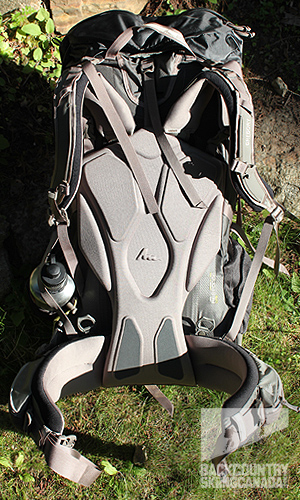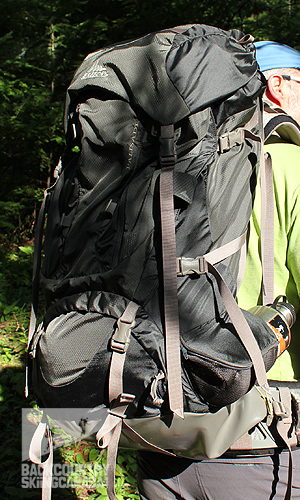 What is this man smiling about?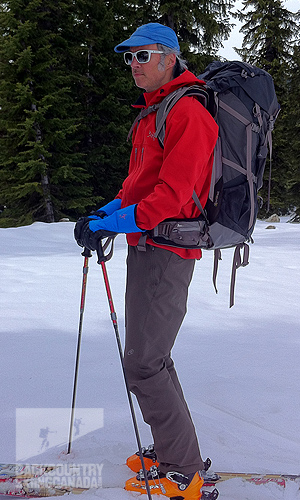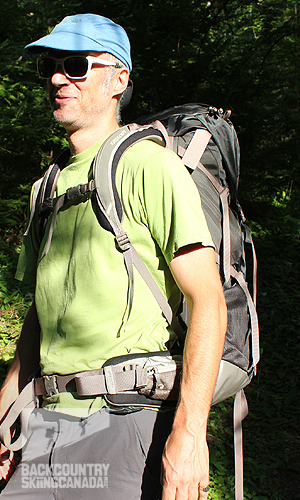 Features:
- Response™ CFS Suspension<
- 3D pre-curved harness and waistbelt components
- Quick-adjust 5 point angle waistbelt adjustment
- Auto-cant harness
- Anti-barreling cross-stay
- Dual density, ventilated, molded foam back panel
- Co-molded, anti-slip lumbar pad
- Top pocket converts to a fanny pack
- Hideaway side water bottle holder and dual waistbelt pockets
- Dual hydration ports and sleeve
- Water-resistant zippers
- Water and wear-resistant bottom panel
- 210d HT double diamond ripstop and broken twill nylon fabrics
Verdict:
This is an excellent backpacking pack that's remarkably comfortable, relatively lightweight and well thought-out. The big bonus for me is the fact that it enables me to carry biggish loads (40/50 lbs) for long distances without being exhausted. Many packs tend to bruise my boney hip bones—not this one.
SPECS:
Price: $339
Colours: Iron grey and cinder cone.
Sizing: S, M, L
Weight: 6 lb 3 oz / 2.80 kg (Medium)
PROS:
Economical, full featured backpack that's comfortable well designed.
CONS:
I wish there were a few ski compatible features (ski lashing system, ice axe loops) so I could more easily use this on big ski tours as well. It's not advertised as a ski pack but, personally, I'd like to have just one big pack for summer and winter.
Rating: 8/10
Comfort 2/2
Durability 1/2
Features 2/2
Innovation 1.5/2
Quality / Price 1.5/2

This is only our opinion. Do you disagree? Did we miss something? Are we totally out to lunch? Join the discussion in the forums here, and let us know what you think. People like/dislike gear for different reasons so chime in and we'll get a well-rounded evaluation.
Back to the rest of the reviews.
---