Endeavor Stealth Split Board Bindings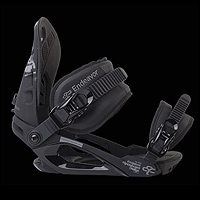 Endeavor Snowboard Design of Vancouver are known for their grassroots approach to board design and as well as for the lengths they go to, to make their products look good. They are not as well known for their bindings, so I put a pair of Endeavor Stealth Bindings through the paces on a couple different boards on the hill and in the backcountry to see if they should be on your radar.
When I took the Stealth's out of the box to install them I was struck by two things. Fist they were very light. Second the finish that was on the plastic – it seemed soft to the touch, almost like it was covered in fabric – not sure it provides any practical advantage but it is definitely cool and combined with a flat black finished gives the binding a unique look.
These bindings look cool and are nice and light, but how do they perform? I first paired the Stealth's with the Endeavor's all mountain board the Next, and spent a few days test driving them through a variety of conditions on the ski hill and in the slackcountry. Endeavour makes these bindings with a 30% fiberglass to nylon blend which in my opinion puts them in the not too stiff, not too soft category. The asymmetrical high backs on these binding have a good feel and seem to have a good energy transfer through soft snow. Where the Stealth bindings really loose marks is on it's straps. They were difficult to get centered on my boots without having to crank the ratchets all the way down to the edge of the ladders. In addition to this difficulty I also found that no matter how much I cranked down the toe straps they had a tendency to slip off while lapping runs.
For a more complete backcountry test, I put the Stealth's on my splitboard and took them out for a few tours. I was quite happy with how these bindings tested in the backcountry. The fact that they were light and not too stiff makes them nice to tour up with. When it came to the down they also did the trick powering my split board through the pow. The straps were not as much of an issue in the backcountry, because there is far less off and on, but there were a couple times when I noticed weird slippage in the toe area.
One other area of concern that emerged with this binding was within a couple days of using it the EVA heel piece started to come unglued from the base plate – not anything a little epoxy couldn't fix, but certainly a flag for durability issues.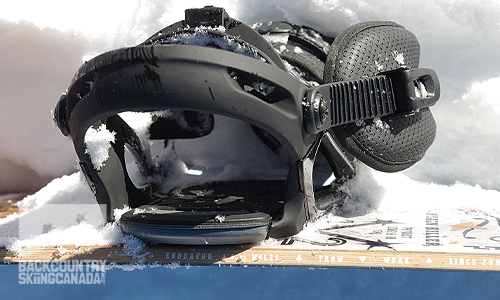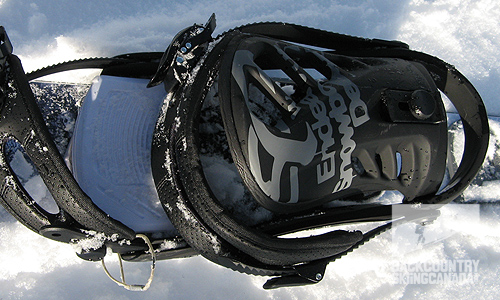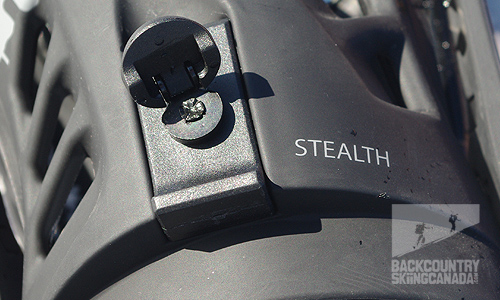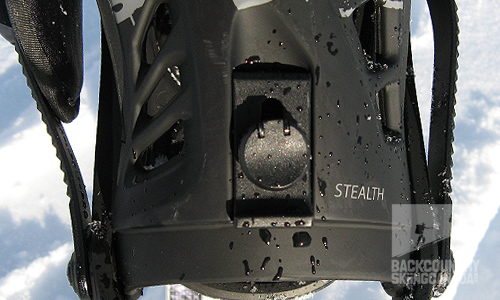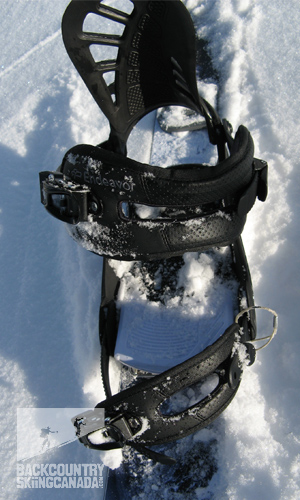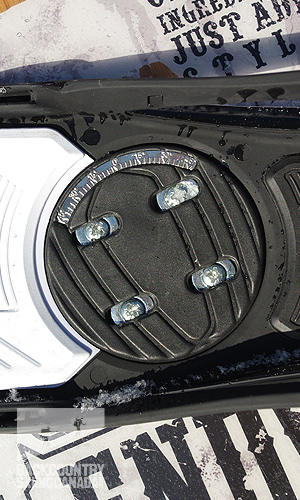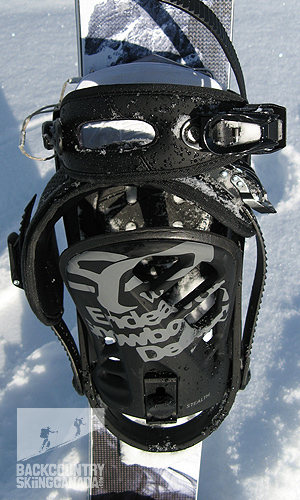 Verdict:
The Stealth bindings did much better in the soft snow of the backcountry then they did on the variable conditions of the resort. The straps definitely are not the best, but these bindings price out at about $200 taxes in, which makes them a more affordable option for a split board if you don't have the cash for a split board specific set.
SPECS:
Price: $180 CAN
Colours: Grey on matte black or black on matte white
PROS:
- Nice and light – when you are pushing a split board up every bit helps
- Highbacks have a nice intermediate stiffness - comfortable on the up track, good response in the pow
CONS:
- Toe straps have tendency to slip off
- EVA started to peel off base plate a few days out
Rating: 6/10
Innovation 1/2
Function 1/2
Aesthetics 2/2
Features 1.5/2
Quality / Price .5/2

Join the discussion in the forums here, and let us know what you think. People like/dislike gear for different reasons so chime in and we'll get a well-rounded evaluation.
Back to the rest of the reviews.
---