The A-Frame ski carrier in combination with the PickPocket Ice Axe holders make this pack great for ski mountaineering trip such as this one.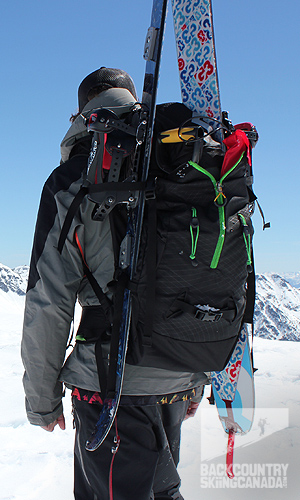 Because this pack is so spacious it was nice to insert gear from the top loader and access equipment and supplies from the double zippered back panel, which is padded for comfort. The backside of this panel has a pocket perfect for a water bladder and the insulated hydration sleeve kept my thirst quenched with ice-free water.
The double zippers that open to the inner contents make it easy to grab what you need when layering your pack from the top. The padded back panel ensures comfort and gives little notice to this secret entrance.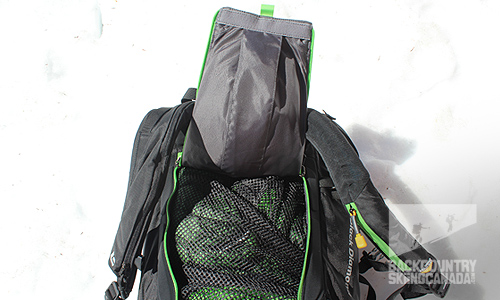 The ease of gear access doesn't stop there, an AvaTool front pocket holds shovel and probe snug and ready for use at any burial site. The problem with this pocket however is that it was not measured for all shovel handles as my Ortovox KodiakShovel handle protruded out from the top Velcro. On a positive note it is large enough to hold your wet skins to keep them separate from your inner dry goods. Having two clips on the top pouch may be somewhat redundant, but it helped to hide my shovel handle and keep it from falling out of the AvaTool front pocket.
The AvaTool front pocket keeps rescue gear handy but isn't measured for all shovel handels.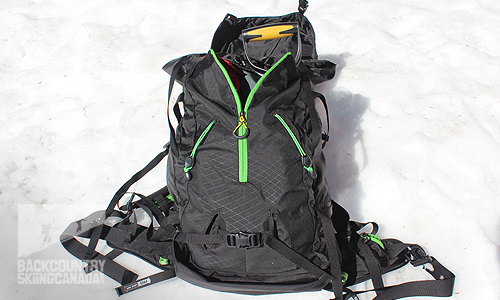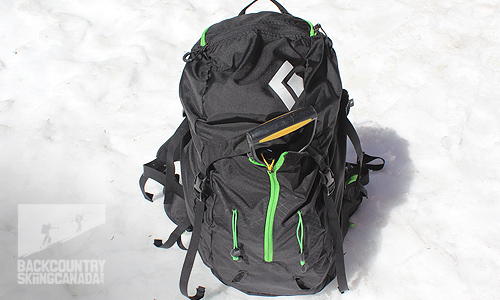 The double top pouch pocket is great for separating valuables from wet/damp gear, however it would have been ideal to have one of these zippers pockets underneath the lid for added security.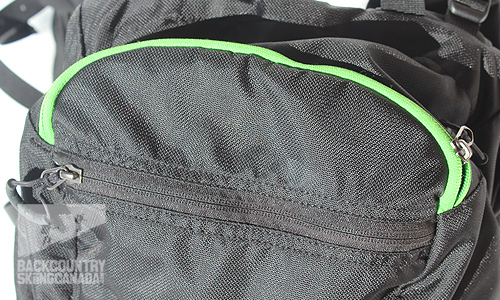 Black Diamond states that this pack is ideal anywhere from sidecountry laps to full day tours and overnight trips but falls short of hut trips due to its "limited" weight carrying restriction of 60 lbs. I personally found that weight is not an issue with the new ErgoActiv hip belt design that pivots with your movements. This feature took a little getting used to while seeking the position of comfort, but helped remind me that the bulk of the weight should be carried on the hips with the sternum and swing arm straps assisting in holding the pack secure to the spine.
ErgoActiv is an innovative feature that I hope to see on future Black Diamond packs. When you move, the pack moves with you but remains securely fastened on your hips.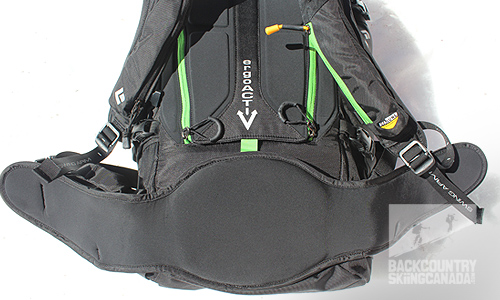 Although I never had to use the AvaLung, the comfort of knowing it was there kept me confident while touring Kokanee Glacier Park's backcountry. The AvaLung is an additional safety feature to prolong life expectancy while completely buried in an avalanche by providing a mouthpiece and tube that extracts oxygen from the surrounding snow and ventilating the carbon monoxide away from air supply. It may also protect the trachea from inhaling snow and prevent ice masking. The mouthpiece remains sanitary by storing it in the strap adjacent from the insulated hydration sleeve, be sure to have it exposed and ready while navigating avalanche terrain, whether skinning up or sliding down.
The AvaLung is conveniently located off your left shoulder and should be ready for use any time risk of avalanche is possible.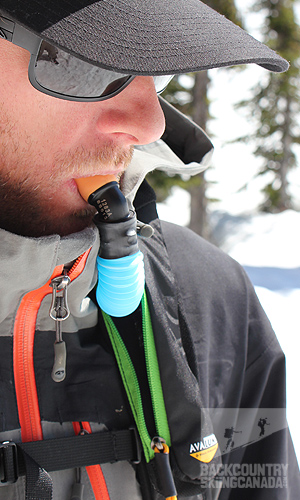 Black Diamond already has plans to upgrade the Anarchist by adding a hidden mesh helmet carrier, diagonal ski carrier and a fleece lined top pocket for goggle storage.
Features:
Large top-loading with drawstring to cinch closed
Back panel with attached inside pocket
2 top pockets to separate valuables
Rope Strap
2 PickPocket ice axe holders
ErgoActiv hip belts with stash pockets
Insulated hydration sleeve
AvaLung
A-Frame Ski Carrier
AvaTool Front Pocket
Verdict:
It is no surprise that Black Diamond packs are ones you can trust and the Anarchist is no exception. Although it is geared towards ski mountaineers, guides and snow professionals it will get the job done for anyone doing long tours and/or overnight trips into the backcountry. I would recommend some changes to improve the functionality of this product, namely the AvaTool front pocket made larger for all backcountry shovels, and perhaps adding a few more color schemes to the mix. I do look forward to seeing the evolution of the Black Diamond AvaLung series as they make strides to keep users safe. I also hope to see the ErgoActiv system implemented on any pack over 32L as its comfort and ergonomic design makes sense while hauling precautionary safety gear to peak elevations. I definitely recommend adding this pack to anyone's fleet that can afford it and is serious about backcountry skiing or summiting peaks in challenging backcountry terrain.
The vent (left) where oxygen is taken from surrounding snowpack is made available to your airway from the breathing apparatus (right). The ErgoActiv hip belt has a stache pocket and adjustable straps for custom comfort.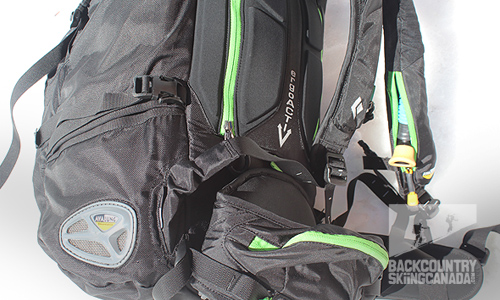 SPECS:
Price: $299.95 CAD
Volume: 45L
Weight: 1.98g / 4 lbs 5 oz
Size: M/L 45L, S/M 42L
Colours: Black with green trim
PROS:
All features are consistent with need for advanced backcountry travel and ski mountaineering. Comfortable & Ergonomic.
CONS:
Expensive, AvaTool Pocket doesn't fit all shovel handles, could have located one top pocket beneath for hiding secure items, only comes in one colour.
Rating: 7.5/10
Comfort / Fit       2/2
Features              1.5/2
Durability            1.5/2
Function              1/2
Quality / Price     1.5/2

This is only our opinion. Do you disagree? Did we miss something? Are we totally out to lunch? Join the discussion in the forums here, and let us know what you think. People like/dislike gear for different reasons so chime in and we'll get a well-rounded evaluation.
Back to the rest of the reviews.
---