The overall geometry of the Carbon Megawatt has not changed much from the first generation Megawatt. The tip has a massive rocker on it to float in deep snow of any kind and a semi-rocker tail which allows for a fun surfy ski. A tapered sidecut and traditional camber underfoot rounds things out for solid performance in powder, corn snow , schmoo and variable conditions. The Carbon Megawatt's size dictates that it's ideally a 90% soft snow / 10% hard snow ski. Given that the weight of the 188 comes in at under 10 pounds the Carbon Megawatt is ideal for ski touring. Lightweight paulownia wood is used for the core and carbon fibre reinforcements provide torsional stiffness along with what Black Diamond calls their "Formula One Technology" which you can actually see on the top sheet (look for the three ribs running the length of the ski). For a ski which is 125mm at its narrowest point the BD Carbon Megawatt is surprisingly torsionally stiff. This is also due in part to the torsion box cap construction, which allows you to perform big high speed arcing turns when required.
To keep things in the BD family (sort of) we mounted the Black Diamond Carbon Megawatt Skis with the Fritschi Diamir Eagle Bindings which are the second lightest alpine touring binding in the Diamir Fritschi line up (Black Diamond is the North American distributer).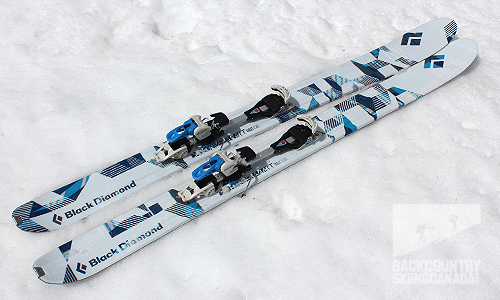 Features:
Construction: Torsion Box Cap, Carbon Fibre and paulownia wood core
Formula One Technology: Three ribs run laterally down the length of the ski for maximum torsional stiffness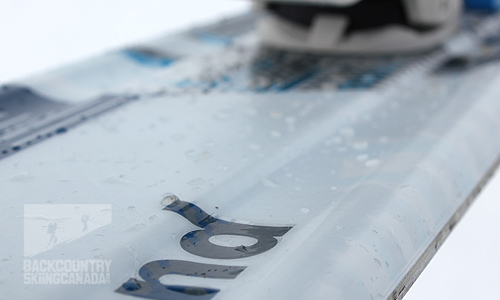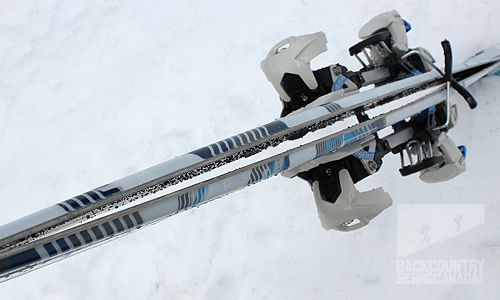 Tails: Semi Rockered and SkinLock tail tabs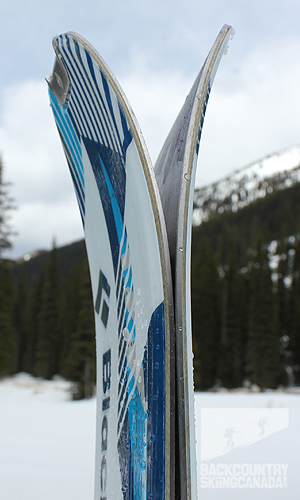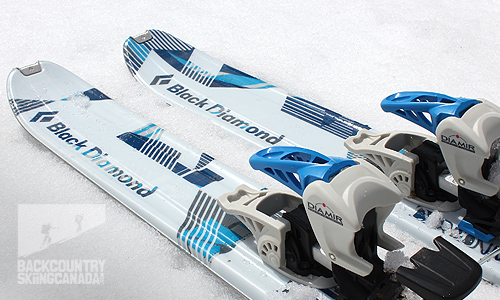 Tips: Rocker tip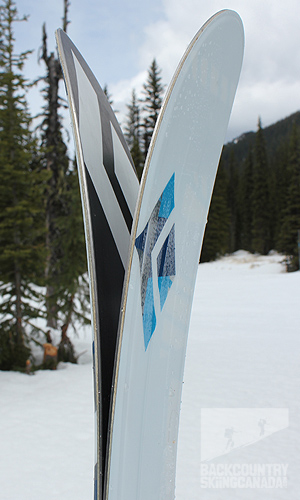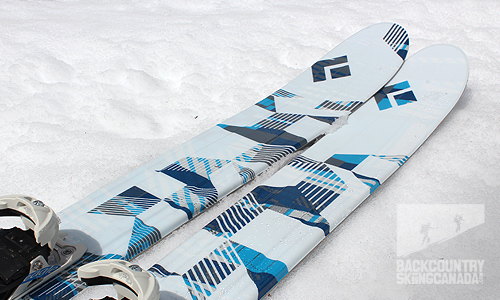 Black Diamond Ascension Nylon Split Skins:
The Pair of Black Diamond Carbon Megawatt Skis we received came with a pair of Ascension Nylon Split Skins, which were in pretty rough shape upon arrival and obviously cut by someone who was either in a very big rush or not that talented at cutting straight lines. At any rate, I was interested in giving the Split Skins a go as I had never used a pair before and wanted to see how they would perform in a variety of conditions. Given that the BD Carbon Megawatt Skis are 125mm at their narrowest point they qualify for use with the Ascension Nylon Split Skins (the ski must be a minimum of 120cm wide so that you have enough traction underfoot from the skin as there is a 10mm wide Dyneema-reinforced strip down the middle which provides no grip). The Black Diamond Ascension Nylon Split Skins are light in weight given their girth; they tip the scales at 708 grams or 1lb 9oz per pair. The weight savings is thanks to the Dyneema-reinforced strip down the middle which also reduces drag on the skin track substantially. But if drag is reduced do you still have enough grip, you ask? This was my main concern as well and in all of my testing I would say that they were less grippy than other skins I typically use but this would be in the range of roughly only about 10%… if I had to give it a numerical rating. This could also be attributed to the shoddy cutting job that was performed before I received the skins. The oversized tip attachment is also made to fit the fattest powder ski tips you can throw at them and the patented STS tail system provides you with up to 10 cm of adjustability in overall length.
So what are the pros and cons of the Black Diamond Ascension Nylon Split Skins? On the pro side I would have to say number one is their weight savings as they are much lighter than regular Ascension skins. The number two benefit is that same great Black Diamond tip and tail attachment system that you find on all BD skins. On the negative side of things you will experience some grip loss due to the lack of 100% skin coverage, but this is minimal compared to the benefit of the weight savings. The Black Diamond Ascension Nylon Split Skins retail for $199.95 US and are the only climbing skin companion I would use for the monster width of the Black Diamond Carbon Megawatt Skis.
You can see the lack of climbing skin in the middle of the ski below.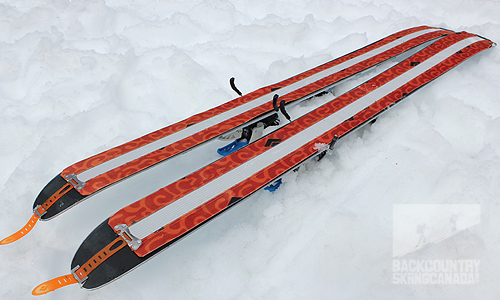 The tip machanism front and back.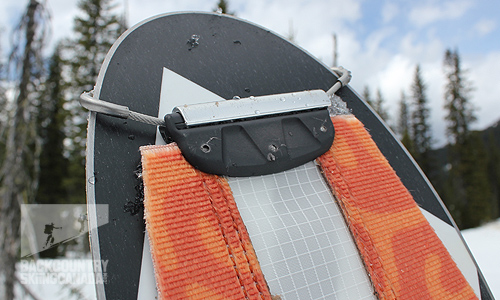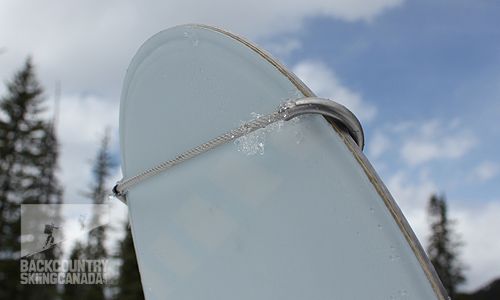 The standard Black Diamond tail clip works like a charm and offers plenty of adjustability.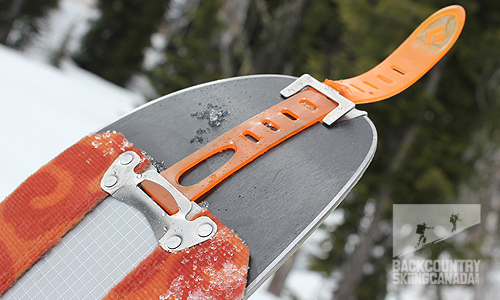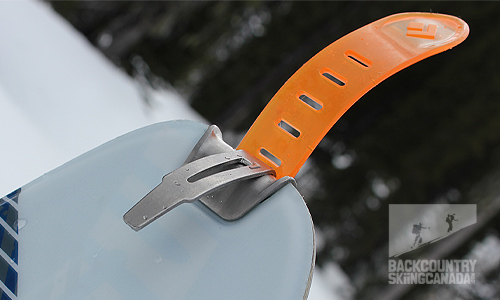 Verdict:
The Black Diamond Carbon Megawatt Skis are a fat, powder slaying, corn snow eating machine. They are the widest ski we have reviewed to date just inching out the Skevik Anton skis by a few millimetres on the tips. This is no "one-ski-quiver" - it's made for powder and lots of it. It can ski the hardpack groomers if it has to but it's most at home in the backcountry. Getting this much ski up on edge and railing a turn takes commitment, but this isn't what it was made for so judging it by this criteria would not be fair. I tested the Black Diamond Carbon Megawatt Skis at the resort, in the backcountry and for 7 days at Kokanee Glacier Cabin (link), oddly enough located in Kokanee Glacier Park. The week coincided with alpine temps of +15 so there was not a flake of powder to be found anywhere (trust me, we looked). My apprehension of the ability of these skis to perform in these conditions was quickly extinguished on the first day of touring when we skied corn snow that soon turned into elephant snot. Like powder, the Carbon Megawatt Skis had no trouble with these spring-like conditions. Jokes were made that my skis were wider than some of the split boards in our crew but I can guarantee that the Megawatts would win in the weight department. If you are looking for a dedicated powder slaying ski then this is it -fun and surfy and the weight was not really noticeable for a ski of this width. If I was to focus solely on big mission days or ski traverses, a slimmer ski would be more ideal but for what it's designed for, the Black Diamond Carbon Megawatt gets two thumbs up.
For the 2013/14 season, Black Diamond has taken the Carbon Megawhatt to the next level by adding in ABS sidewalls and reducing their weight by an astounding 200grams. Be sure to keep an eye out for those at your local ski retailer in fall 2013!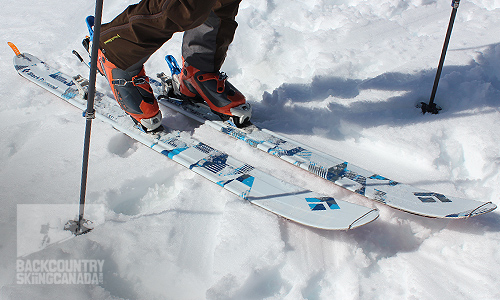 SPECS:
Price: $829 US
Weight (per pair): 4 kg / 9 lb at 178 cm, 4.2 kg / 9 lb 5 oz at 188cm
Dimensions: 147-120-126 mm at 178 cm, 153-125-130 mm at 188cm
Turn Radius: 38m at 178cm, 42m at 188cm
Awards: Backcountry Magazine - Editors' Choice 2013, Powder Magazine - Skier's Choice 2013
PROS:
- Top sheet is indestructible
- Super fat for the pow and warm corn snow days
- Light for such a fat ski
CONS:
- Too much ski for a one ski quiver
- Some tip chatter given the amount of early rise on the tip
- For a true backcountry ski a flat tail is preferred for plunging the ski as an anchor
Rating: 8/10
Powder Performance         2/2  
Groomer Performance       1/2     
Stability                           1.5/2
Weight                              2/2
Value                                1.5/2

Join the discussion in the forums here, and let us know what you think. People like/dislike gear for different reasons so chime in and we'll get a well-rounded evaluation.
Back to the rest of the reviews. 
---