The 2012 Alias with single clip design & quick access to the spacious AvyTool pocket.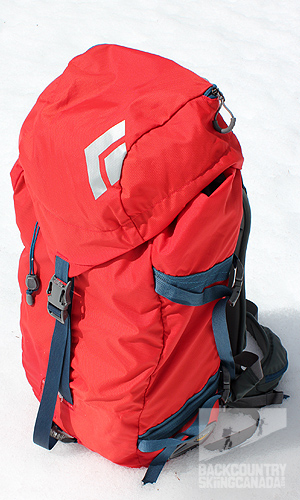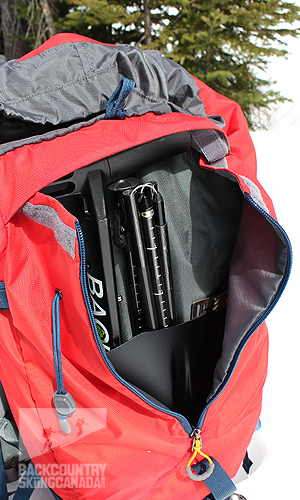 The 2012 Alias came in a bright color and included the ErgoActiv hip belt design, a system that allowed the back to move with you as you climb along the skin track. There could have been more loops and tabs to hook extra gear to and unfortunately there was no back panel access. All of the zipper tabs were built with sizable extensions to make access easier. There was only one stash pocket on the hip belt with room for two.
The 2012 Alias won't soon be lost in the trees with its right colors.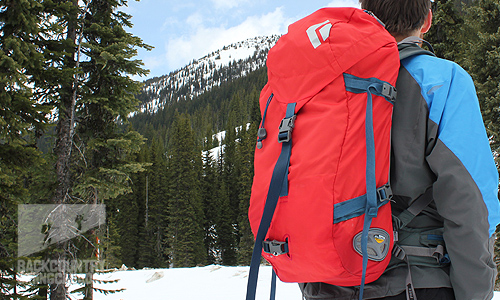 The Avalung tube is stored in a zippered sleeve until you may need it.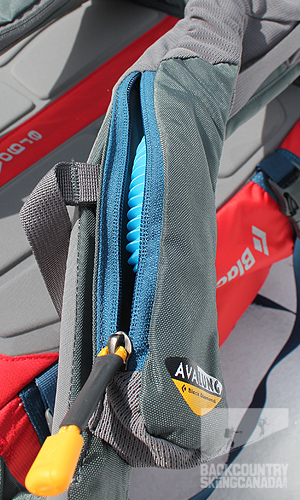 The AvaLung technology is available in the Alias pack for about $100 extra, but it is a nice option to have.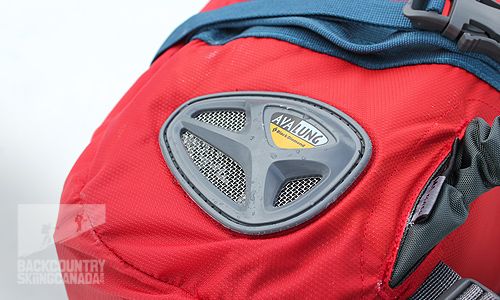 Improvements were made to the 2013 detachable lid, now with a hidden pocket underneath to tuck away valuables.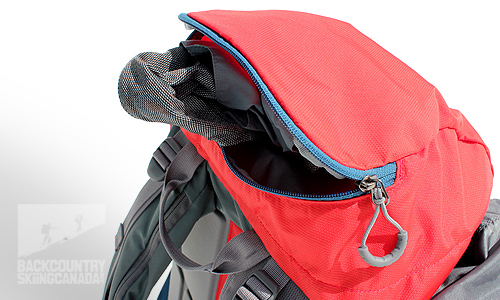 Top loading is great with a large mouth and synch-cord to keep it all secure.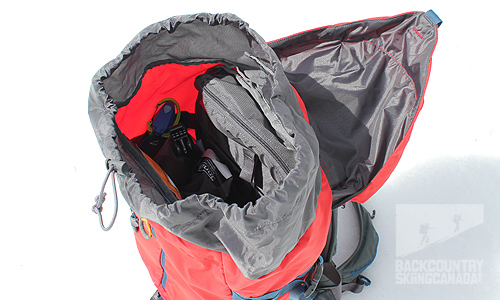 The ErgoActiv hip belt is only available on the 2012 AvaLung model. The pivot point allows for the pack to move with your torso as the belt is fixed to your hips.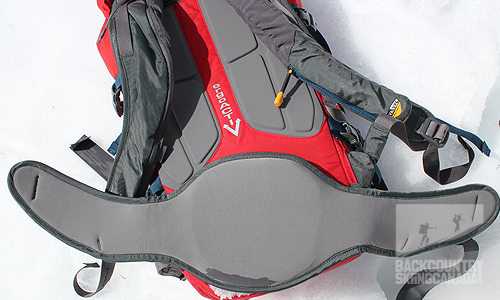 Black Diamond gives you the option to purchase the Alias pack with, or without the AvaLung for about $100 savings. The only difference between the two is sacrificing the weight and AvaLung feature. The brand new 2013 Alias AvaLung comes in a lighter colored "Vapor Blue" while the regular comes in black (featured below). The pack was dissected and probed by the Backcountry Skiing Canada team to identify its pros and cons, here's what we came up with:
The funnel shaped, single clip, Black Diamond Alias Pack is stylish & made of durable materials. Large AvyTool front pocket is large and easy enough to access.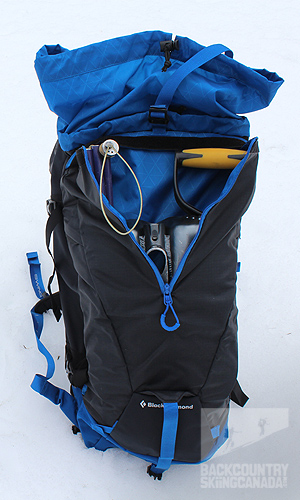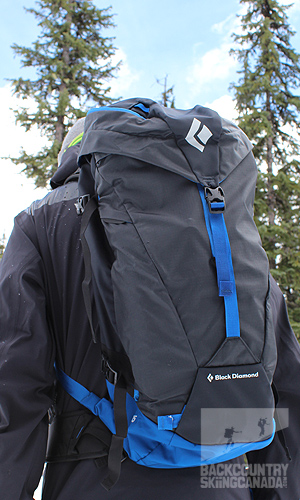 The detachable lid is quite large with three pockets in total. The top pocket has a secondary mesh pocket within to keep items separated, and there is a hidden pocket accessible from underneath. The zipper for the hidden pocket is the only one without a extended zipper tab, keeping its profile low.

The detachable lid has a spacious top pocket with separate mesh pocket and a secondary hidden pocket underneath.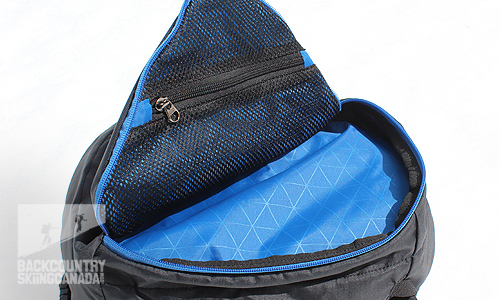 Under the lid is a large skirt with two draw cords for extra packing ability. Maintaining the single clip design, a secondary parallel clip that runs over the skirt cords to keep contents secure yet ease of access to the AvyTool pocket in an emergency situation.
The hydrophobic foam back panel is designed with comfort; it doesn't absorb back sweat and looks cool to.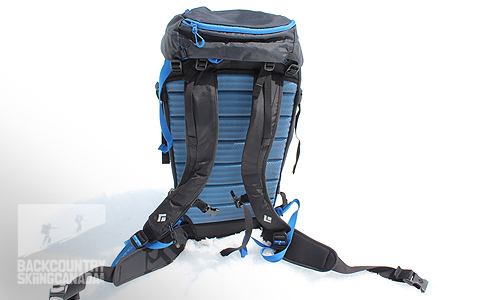 The AvyTool pocket is designed adequately for the size of your tools. There should be no problem fitting your shovel handle, blade and probe into this area, and still room for wet skins, which is a major plus. The zipper tab on this pocket is larger then the rest on the pack, as it should be, to make access fluid. Velcro keeps the top of the pocket closed and still makes access easier.
The back panel is designed with hydrophobic material to keep back sweat from absorbing and increasing overall comfort in any weather. It is divided into seven panels to account for flex in motion. Unfortunately the backcountry scientists didn't add access into the pack from this point.
Like most Black Diamond packs, the Alias comes with an insulated hydration sleeve, quick release swing arm adjustments, hip and sternum clips, A-frame ski carrier and four side synch clips to keep the pack tight. I like that there are places to tuck away unwanted, dangling straps so they don't get snagged on trees. Especially for the pickpocket ice axe holders, which may not be included in everyone's backcountry arsenal.
There are ample clips, loops and tabs to attach gear to the exterior including everything from climbing rope to snap back ball caps.
Insulated hydration sleeve keeps water tubes from freezing.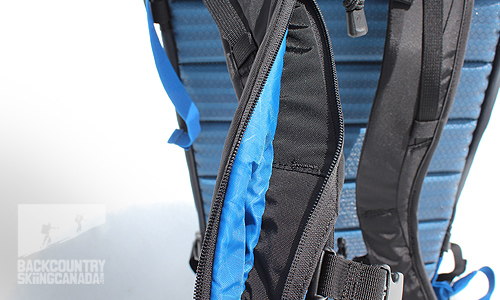 All clips have sex appeal and tuck away options for unused straps keep dangling straps to a minimum. The adjustable, easy release swing arm tailors comfort and quick exits if need be.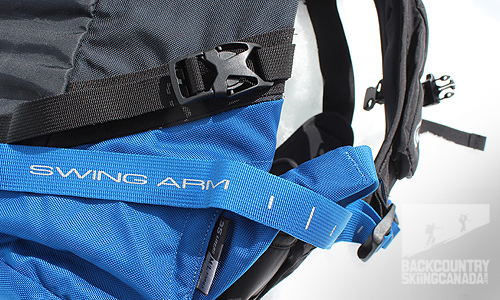 The hip belt comes with one stash pocket and all zipper tabs are large enough to grab with gloves.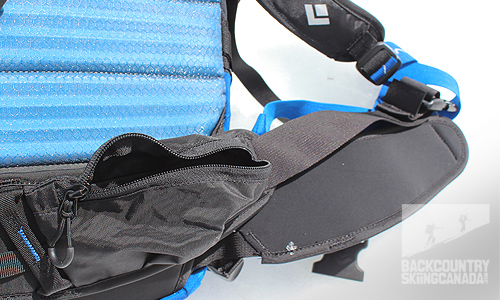 Features:
- ReACTIV swing arm
- Hip belt stash pocket
- Avy Tool organizer pocket
- Tuck-away rope strap
- Tuck away Ice tool Pick pockets
- Top loading access with duel synch cord
- A frame ski carrier
- Insulated hydration sleeve
- Detachable Lid with two separate pockets.
Verdict:
Overall the pros outweigh the cons for this pack. Black Diamond makes the AvaLung technology optional and if you are staying out of high-risk terrain or ski bumming outside the resort boundary this pack will hold what you need to bring. The shape and design of the pack looks and feels great with the back panel that does a great job with comfort. I would recommend this product for anyone venturing into the backcountry. While 2013 brought improvements to the Alias I was surprised to see the removal of the ErgoActiv hip belt. I had gotten used to this system and enjoyed what it had to offer, but BD decided to go another way. 
SPECS:
Price: $169.95 USD / 2012 AvaLung $279.95 USD
Fabrics: 840 Denier - Ballistic Nylon, 210 Denier - Nylon ripstop side panels
Volume: 33 L / 2012 Avalung 35 L
Weight: 1.36 kg (3 lbs) / 2012 Avalung 1.69 (3 lbs 12 oz)
Colours: Black / 2012 AvaLung Orange
Size: S/M & M/L
PROS:
- Top skirt closure is quite large with two synch cords.
- Two parallel top clips for double security of you inner contents.
- Lid has three pockets, two top and one under.
- Avy tool front pocket has a big zipper tab and Velcro for adequate protection but quick release of contents when in need.
- Pick pocket ice axe option is hidden & tucks away when not in use to avoid useless dangling rope. Most clips not in use have tuck away option.
- Lots of tabs, clips and loops to attach gear inside and out.
- Comfortable hydrophobic back foam.
- 4 side straps to tighten pack around inner contents.
- AvyTool pocket is large enough for any shovel blade and deep enough for most handles.
CONS:
- Removal of ErgoActiv Hip belt in this years model.
- Top clip attached in front of AvyTool pocket, this will have to be released to get inside the pocket.
- Only one stash pocket on hip belt.
- Funnel shaped with only one access point may make retrieving bottom items difficult.
Rating: 8/10
Comfort / Fit       1.5/2
Features              1.5/2
Durability            1.5/2
Function              1.5/2
Quality / Price     2/2

This is only our opinion. Do you disagree? Did we miss something? Are we totally out to lunch? Join the discussion in the forums here, and let us know what you think. People like/dislike gear for different reasons so chime in and we'll get a well-rounded evaluation.
Back to the rest of the reviews.
---