Black Diamond Starlet Skis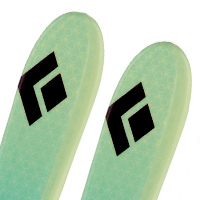 They say 1lb on the foot is like 10lb on the back. I don't know if the math on this is true all I know is the more weight I carry the harder it is on my body and the more I have to work my bootie to keep up to my other half (not that it's a competition but hey, every little bit helps). This is why I love that manufacturers like Black Diamond are coming up with lightweight backcountry specific solutions – for ladies. Enter stage left – the Starlet – the backcountry darling of Black Diamond's Efficient Series. She's the sexy version of the Drift and is the widest women's ski in the Black Diamond Efficient Series. The Drift and the Starlet are based on the Verdict ski, however they are almost 2 lbs lighter and built specifically for the backcountry. With dimensions of 138/100/123 the Starlet skis are big girls with a wide, soft-flexing, semi-rocker tip that makes them built for riding powder. For the girls out there that like the exposure of a mountain-top boot pack the flat tail allows for mountaineering utility (boot-packing anchors) as well as maximizing length. They also have a neat, integrated tail skin attachment clip built for Black Diamond skins (or a variety of other skins). 
The Starlets in action on the up and the down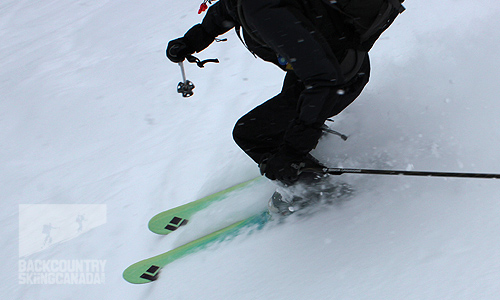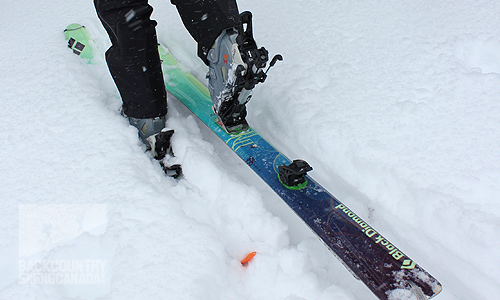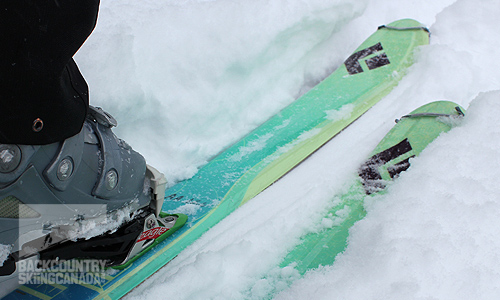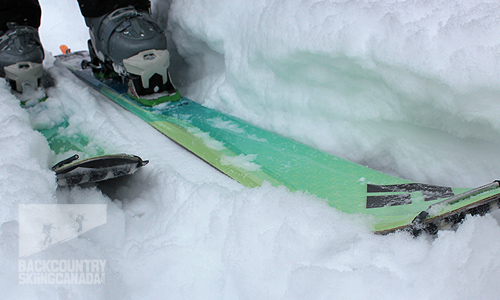 Construction:
So what's at the heart of the Starlet? The Starlet begins with a lightweight, fast-growing and easily renewable wood with the strength of poplar and the weight of balsa otherwise known as Paulownia. The Paulownia core is then wrapped up like a long burrito in fibreglass at angles of 45 degrees to maximize torsional power and control. After another layer of Uni-directional fibreglass, carbon fibre reinforcements are added to optimize strength without adding weight. She's finished off below with a racing edge and HIGH-SPEED SINTERED BASE. The racing edge is a thin profile edge that shaves off about 80 grams per pair. Overall she's given some form and stealth with three major ribs on top a.k.a Formula One Technology which also helps to lighten her up without compromising on strength. It's worth noting that Black Diamond's philosophy is that a woman's ski should be high performance, so the torsional stiffness is the same for the equivalent length male-specific skis, meaning the available power doesn't change just the expected applied longitudinal force.
Cap Construction with Racing Edge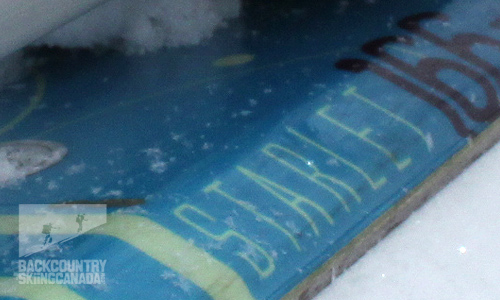 Early rise tip to make these babies float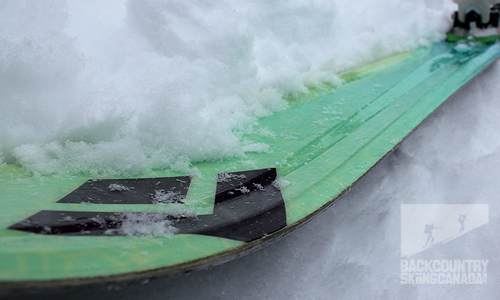 Formula One Technology close up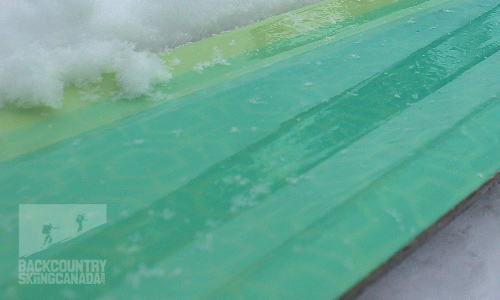 Integrated tail piece for Black Diamond skins and many more varieties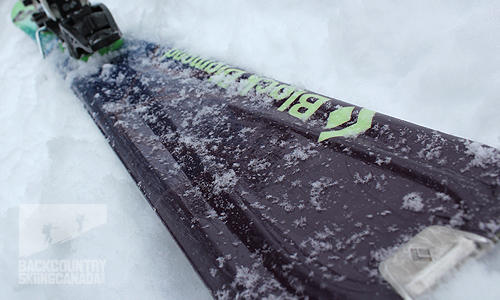 The verdict:
The Starlets are made for backcountry powder. They are featherweight for the up. On top of that the early rise tip makes it easier for breaking trail in deep pow.  Despite what one may think, the beauty of their weightlessness is that it doesn't compromise the down. Thanks again to the early rise they float on the surface of the snow making it easier to keep the speed up when it's real deep. They maneuver beautifully with long- and medium-radius turns and clean up crud like the ladies they are. Being fat and on the softer side they are more work in bounds, but in their element – the backcountry – I felt like I could really let it go and push my skiing to the next level.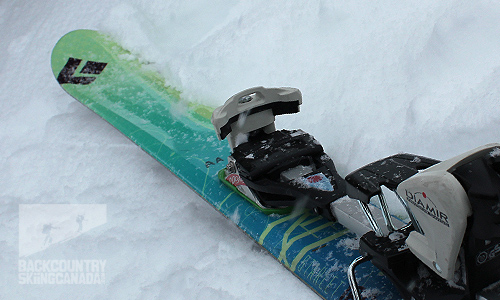 SPECS:
Price: US$659.99
Length: 156cm, 166cm, 176cm
Dimensions: 134/100/121 mm (166 cm)
Turn Radius: 20.0 m (166 cm)
Weight: 2.82 kg, 6 lb 3 oz (166 cm pair)
PROS:
These gals shine in the back country. They are gloriously lightweight without compromising the dance on the way down. It's little wonder that they were voted Gear Guide Editors' Choice for 2011 for their any-condition versatility and light-weight construction
CONS:
The Starlet isn't a ski for princesses who only ski inbounds as it's width takes a little more effort to move from edge-to-edge on hard pack.
Rating: 8.5/10
Powder Performance         2/2  
Groomer Performance       1/2     
Stability                           1.5/2
Weight                              2/2
Value                                2/2

here, and let us know what you think. People like/dislike gear for different reasons so chime in and we'll get a well-rounded evaluation.
Back to the rest of the reviews.
---