Black Diamond Ascension Nylon STS Skins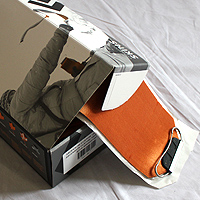 Black Diamond has a long history in the manufacturing of climbing specific gear and was formed out of Chouinard Equipment in 1989. Black Diamond or 'BD' as they are often referred to now manufactures alpine touring specific skis, boots, distributes Fritschi bindings and also makes a wide array of skins. In their skin line up they have a pure mohair skin, a mohair mix skin, and the more traditional nylon skins called the Ascension skins.
My first pair of skins 10 years ago were Black Diamond Ascension skins. I still have them to this day and they are working as hard as ever on the original glue. Keep in mind, they are purple and only 85cm wide but they still work. These days the Ascension Skins come in four flavours, however for this review we are going to focus on the Black Diamond Ascension Nylon Custom STS Skins.
Ascension Nylon Split STS Skins:
Lightweight skins which feature a unique "split" which utilizes a webbing in the middle to reduce weight and drag.
Ascension Nylon Custom STS Skins:
Black Diamond's creme de la creme skin which is pre cut to fit your skis with ease and flexibility of the STS tail attachment.
Ascension Nylon STS Skins:
This is the same skin as the custom STS but you have to fit them to your skis - so a little more work and skill is required.
Ascension Nylon STD Skins:
In this case the STD is not a communicable disease but rather the BD nylon skin without the STS tail attachment for those who like to KIS (Keep It Simple).

Material:
The Black Diamond Ascension Nylon STS skins are made from nylon Orange Plush and provide good traction and durability. Nylon generally climbs better and offers more traction than mohair. Nylon can also be considered more durable, stiffer and is hydrophobic. However, the nylon skins do not glide as well as mohair skins. In 2009 the BD Ascension skin material was made 10% more supple and packable while still being stiff.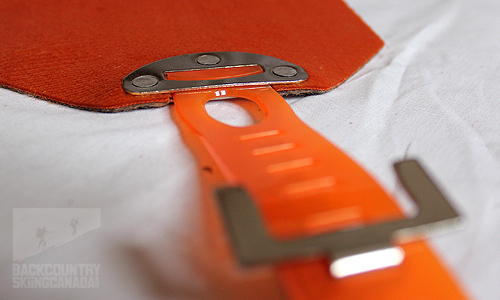 Flexibility:
The patented STS adjustable tails are now 20% longer than before providing up to 10cm of length adjustment. The redesigned tip attachment is also adjustable (without any tools required) to allow you to use one skin with multiple skis if they are within a reasonable comparable width.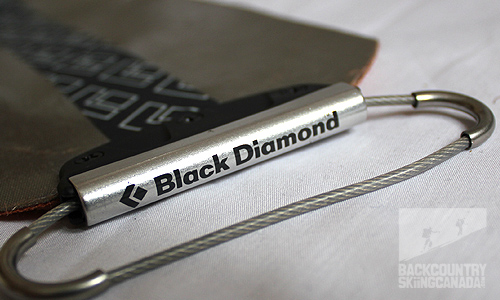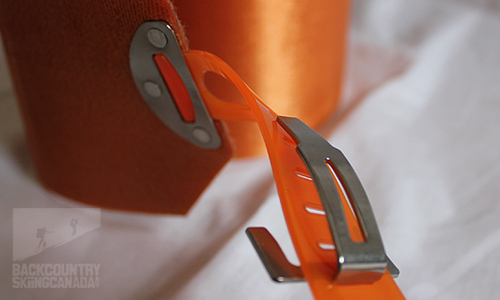 Features:
- Durable Orange Plush synthetic hair and hydrophobic construction
- Easy-to-tension STS tailpiece with a tough elastomer strap that allows for 10cm of length adjustment
- Adjustable width tip loop fits a wide range of skis
- Stick well to your skis while still super easy to get on and off
- Tail clip integration with BD skis
Fitting your skins:
1. Cut the skins to length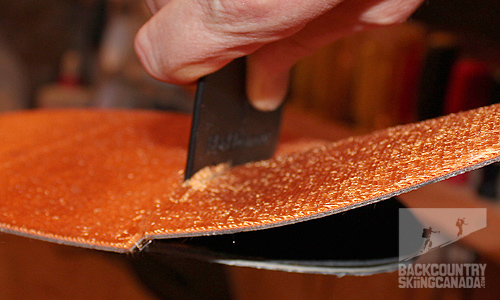 2. Attach the adjustable tip loop assembly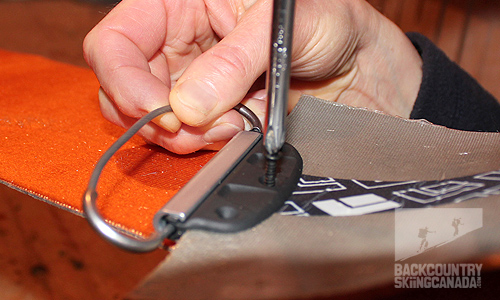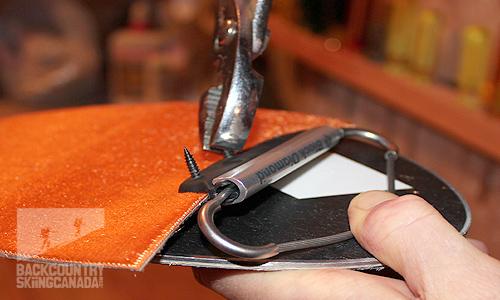 3. Trim skins to sidecut width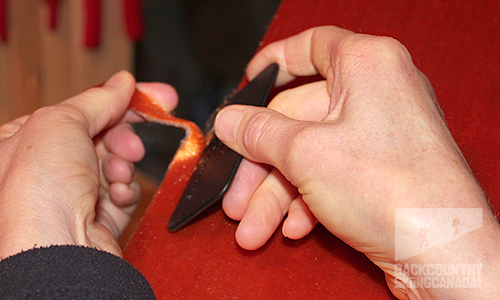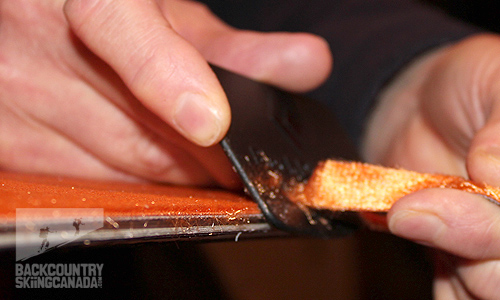 4. Adjust the tip loop and/or tail clip