Womens Arcteryx Fission SL Jacket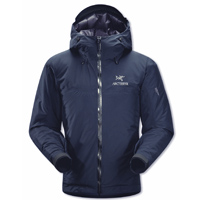 Being a female skier in the Canadian Rockies, my closet is a testament to the gender stereotype of almost always being cold. I own countless layers of down, synthetic insulation and fleece, and I spend several anxious minutes agonizing over which layering configuration to bring before each and every ski tour. Adding to the dilemma is my issue with carrying a large, bulky pack. My ultra warm down jacket is so bulky that if I bring it, I need to take a bigger backpack to accommodate it. 
Fact: the hypothermia injury rate is 2X higher for females than males. Clothing recommendations to reduce this risk include having a middle layer of insulation and an external layer that is wind and water resistant and also allows for evaporation of moisture. The Arc'teryx Fission SL accomplishes this in just one jacket.
Arc'teryx has been making the Fission SL for a few years now but just recently came out with a women's specific version. Being of small stature, I wasn't going to spend all that money on a jacket that wasn't going to fit me properly. In addition to that, I was skeptical that an insulated Gore-tex jacket in the Rockies would be all that useful to me. Turns out I was wrong. I have been practically living in this jacket since I received it a few weeks ago. 
I recently took it on a three day trip and was honestly surprised at how warm it was, given the weight of it. I spent about an hour just standing around in -16 and my core temperature was fine. It is no replacement for a good down jacket in cold weather, but is far less bulky and I can pack it into my regular touring pack. I encountered a brief but wet snow squall, and the jacket beaded nicely. I had no issues with condensation on the inside, which I often get when I wear my Gore-tex shell over a down sweater. Strangely enough, I also felt warmer in this jacket, than in the aforementioned shell/sweater combo.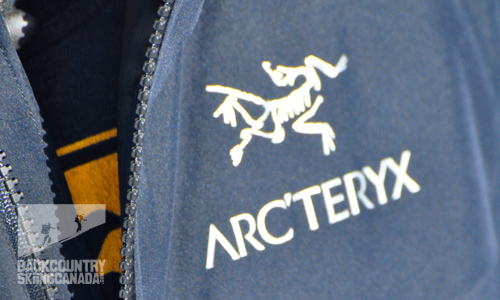 Features:
Laminated ThermaTek non-quilted insulation:
From what I understand, ThermaTek is a synthetic insulation that Arc'teryx has coated in DWR (Durable Water Repellant, a finish that is applied to the outer fabric of the jacket to repel water) so that the insulation will not absorb water. This gives it the benefit of retaining warmth when wet, unlike down. The insulation is bonded to the face fabric with adhesive glue dots rather than stitching or quilting, which eliminates cold spots caused by clumping of insulation. The drawback is that it is very expensive and not as soft and squishy as down or some other types of synthetic insulation.
Gore seam tape: Seams are fully taped
Insulated compatible storm hood:
The hood is large enough to pull over your helmet, and has 3 cinches to adjust it so it fits well with and without a helmet. The hood is fully insulated and has a fitted collar to seal out wind.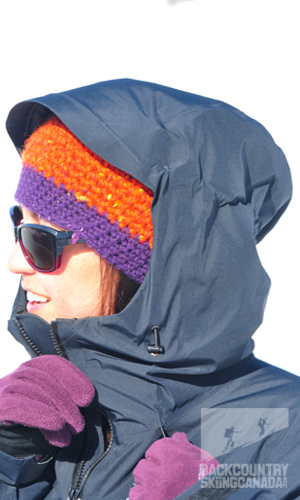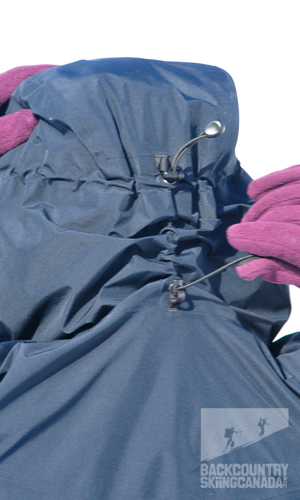 Athletic Fit:
The hip length athletic fit is just long enough to cover my bum, and stretches below where the hipbelt from my backpack sits, so the jacket doesn't ride up underneath my pack. I think that the jacket fits loose for the size.
One Hand Adjustable Cinch Cords:
The toggles for the waist and hood can be tightened up with just one gloved hand, very convenient. Even without gloves on, I have difficulty locating the small tab that adjusts the sides of the hood.
Pockets:
The jacket has 2 external, fleece lined pockets which feel nice on bare hands, and are big enough to put gloved hands into. However the pockets are located between the ThermaTek insulation and the Gore-Tex shell. This leaves the items in your pockets susceptible to the cold. There are two oversized mesh pockets on the inside of the jacket where you could store items that you want to keep warm, ie. iPhone. However the internal pockets lack a closure system so for someone like me who is prone to losing things, I will not store valuables in those pockets. So far the mesh seems to be quite durable but time will tell. What I do like about these pockets is that they are big enough to store your gloves, a water bottle, or stash your climbing shoes as you walk to the crag!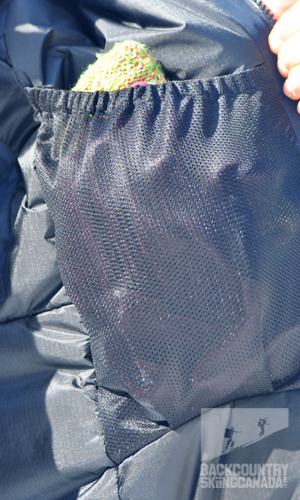 Laminated Zippers:
Personally, I think the pit zippers are non-essential on an insulated jacket. If I am too warm, or if conditions are warm and wet, I am probably just going to opt for a shell instead, as the ventilation acquired from pit zippers is probably not enough to cool me off while being active. However I talked to a friend in Revelstoke with the same jacket and she mentioned that she liked the pit zip ventilation system.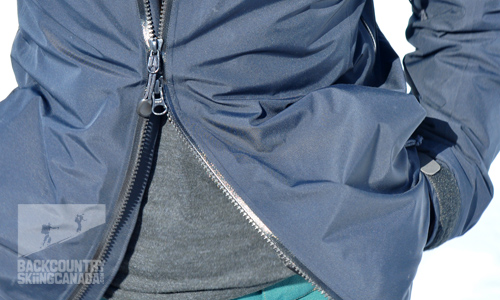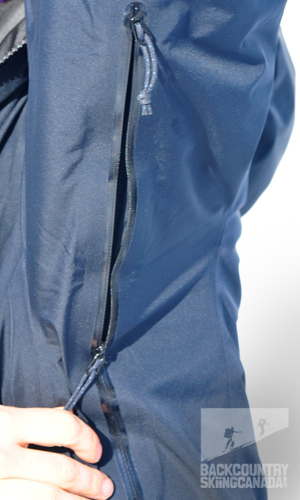 I am always a fan of the 2 way external zipper, and find it particularly useful for belaying or any application where you are wearing a harness. My experience with this jacket, as with other brands, is that the 2 way zipper can be a bit finicky to zip normally, but I find this to be a minor inconvenience for a feature I value greatly.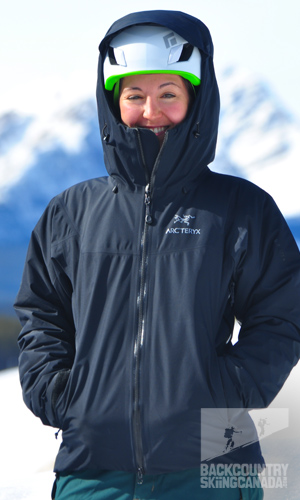 Verdict:
I think the Fission SL is a well designed jacket. It eliminates the need for a mid layer, but can can accommodate one without causing restriction for colder days. An uninsulated shell and a mid layer may offer more flexibility, but for days spent ski touring, when you are active for the majority of your day, and snacks and lunch stops are not extended nor extensive, then I think this jacket may be almost perfect. 
SPECS:
Price: $750
Size: XS-XXL
Colors: Black, Cayenne, Squid Ink
Weight: 614 g / 1lb 5.7oz
PROS:
- Helmet compatible insulated hood that is fully adjustable
- Oversize mesh pockets
- Fleece lined outer pockets
- 2 way zipper
- Simple design that looks good
- Highly breathable jacket
CONS:
- High price
- Internal mesh pockets lack a closure system
- Pit zippers
Rating: 7.5/10
Fit                    2/2
Packability       1/2
Warmth            2/2
Features          1.5/2
Quality/Price   1/2

This is only our opinion. Do you disagree? Did we miss something? Are we totally out to lunch? Join the discussion in the forums here, and let us know what you think. People like/dislike gear for different reasons so chime in and we'll get a well-rounded evaluation.
Back to the rest of the reviews.