Black Diamond Anthem Pack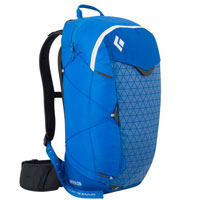 Black Diamond continues to improve their backpack line with features you know and quality you trust. With the option of having the AvaLung technology, you can choose the right pack with or without this major feature. This will save your pocketbook about $100 or give you peace of mind with this potentially life saving feature.
New this year and designed for day trips or laps outside resort rope lines Black Diamond's Anthem pack comes in two sizes with enough space for a basic self rescue kit and a little extra gear. A helmet carrier and a couple of loops save space so you can attach you helmet and other gear to hang on the outside of the pack. When not in use, the helmet carrier tucks away and is sealed with velcro to keep a low profile.
The Anthem packs a lot of punch for a daypack. You will be surprised how much it can carry.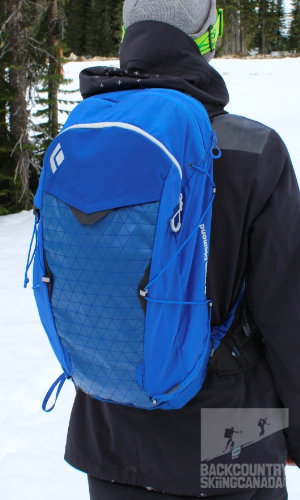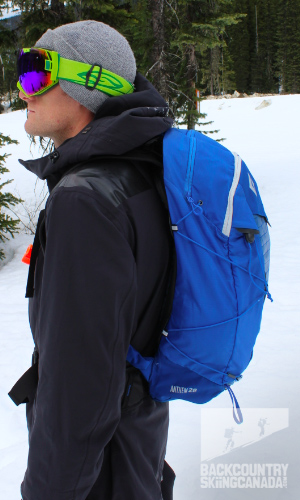 The very top of the pack has a quarter moon zipper that holds the adjustable clips for the diagonal ski carry feature. The pocket provides more than enough room so consider tucking away an extra Cliff Bar.
All straps and clips may be tucked away when not in use to maintain a low profile, sleek looking pack.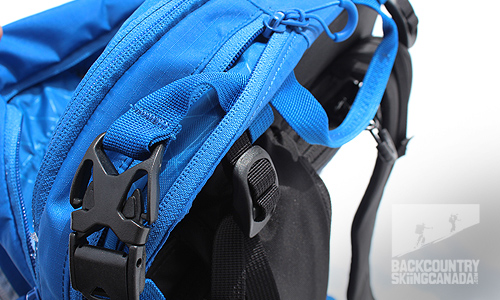 As part of the "reactive" series, the Anthem includes the Swing Arm design that floats with you as you move. The arms attach as one and as one moves forward the other moves back. This is a nice feature for both the up, and the down. The sternum strap is adjustable up and down for proper placement on your torso and the padded shoulder strap has loops to attach additional gear to.
The largest zipper tab allows easy access to the AvyTool front pocket that houses all your safety gear neatly.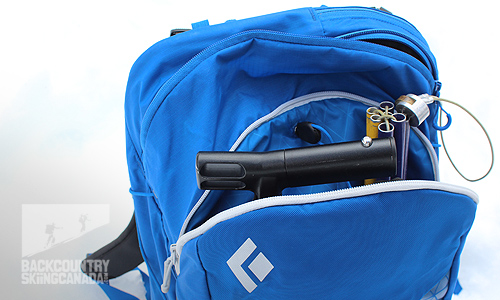 Two top loading pockets allow you to separate your dry gear from the wet and the AvyTool pocket, which has the largest zipper tab, keeps your probe and shovel handle separated and in line. It is deep enough to accommodate any shovel handle and wide enough for most blades. Also inside this pocket is a synch cord to keep the entire pack as tight and as compact as it can be. The synch cord threads down the sides on the outside of the pack, leaving another possible option to attach gear to the outside.
The top accesses the main pocket and divides into a pouch large enough for extra goggles, gloves, mittens and/or toques.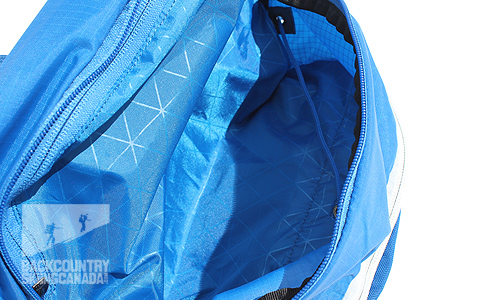 The main pocket provides the majority of space, and is accessible by both the top and through the back panel. The top, however, has a great feature with an upside down zipper that, when closed sections this area into a pouch or small pocket, sizeable for goggles and extra mitts, toque etc. The back panel is made up of hydrophobic material that will not get soaking wet as you sweat your way to the peak. The two zippers have tabs and the access runs nearly the entire length of the pack. Behind the back panel is another zippered pocket with key clip and the main pocket which has a pouch with a securing elastic band. A drain hole is also provided in the bottom of this pouch but not anywhere else, perhaps designed for breathability.
You can access the main pocket from the top or back panel for easy or gear retrieval.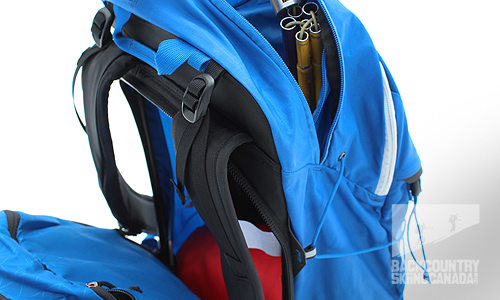 The hip belt has standard adjustability with only one stash pocket, but a strong loop on either side can be used to attach gear to. The padded material around the hip belt will keep pressure from building up on your hips as it is designed with comfort in mind. It also has the same floating design as the shoulder straps (aka swing arms).
Features:
- Insulated hydration sleeve
- Top loading with back panel access
- Swing Arm shoulder straps and hip belt
- Diagonal Ski Carrier with hide away straps
- Hide away helmet carrier
- Hydrophobic  back panel
- Dual Top loading with back panel access
- Large AvyTool pocket with separators
- Padded hip belt with stash pocket
- Mitten friendly zipper tabs
Verdict:
The overall rating on this pack is high for good reason. The ability to turn a 26/28 L pack into much more with exterior attachable options is a major plus. For example, if you can put your jacket inside a 40L pack on the climb then why not just attach it to a 28L pack. Features like the helmet carrier, diagonal ski carrier, zigzag synch cord and countless hooks, loops and tabs can add volume to the pack and are of low profile when not in use. This all contributes to the sleek look of the Anthem.
I am a fan of top loading packs with back panel access because when loading my pack I can layer the contents and not have to unpack everything to retrieve something from mid layer. This in addition to numerous pockets makes it impossible to be unorganized. I suppose the size of the Anthem will discourage overnight hut trips, but the padded, swing arm hip belt and shoulder straps ensures comfort during long days out. Black Diamond continues to impress with upgrading features and design while maintaining systems that work. I can trust that they, like the Anthem, have my back this season.
Diagonal ski carry can help free your hands when summiting a peak.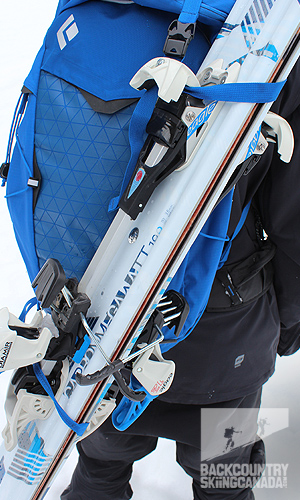 SPECS:
Price: 259.95 US, AvaLung: 269.95 US
Materials: 210 Denier Ripstop Nylon, 840 Denier Ballistic Nylon.
Volume: 26L, 28L (both available with or without AvaLung)
Weight: 28L -1.25kg / 2lbs 10oz,  With AvaLung - 1.58kg / 3lbs 7oz
26L - 1.15kg / 2lbs 8oz, With AvaLung - 1.53kg / 3lbs 6oz
Colours: Black or Cobolt. AvaLung: Vapour Blu,e White
PROS:
- Lots of pockets
- A lot of places to attach gear to the outside
- Low profile design, with hide away options
- Largest one zipper tab is AvyTool pocket.
- Looks cool, two colours.
CONS:
- Only one hip belt pocket, why not two?
- The inner zipper of the top pocket is upside down, why not duel?
- No drain hole in AvyTool pocket.
- No place to hang your water bladder.
Rating: 9/10
Comfort / Fit       2/2
Features              1.5/2
Durability            2/2
Function              1.5/2
Quality / Price     2/2

This is only our opinion. Do you disagree? Did we miss something? Are we totally out to lunch? Join the discussion in the forums here, and let us know what you think. People like/dislike gear for different reasons so chime in and we'll get a well-rounded evaluation.
Back to the rest of the reviews.
---